RAIN OR SHINE
Kobey's is open Fridays through Sundays, year-round, rain or shine. In its 36-plus years in business, it has only been forced to close one day: the 2012 San Diego Rock 'n' Roll Marathon, which used the Valley View Casino Center parking lot for runners.
FIXING PHONES
On any given weekend, there are six different sellers specializing in iPhone repair.
THE COUCH MAN
One seller, John Oswalt, known as "Futon John," has sold futons at Kobey's for 30 years. The swap meet is his only retail location.
LOYAL SELLERS
There are more than 25 sellers who have sold at Kobey's for at least 25 years. There are 250 permanent sellers with permanent spaces.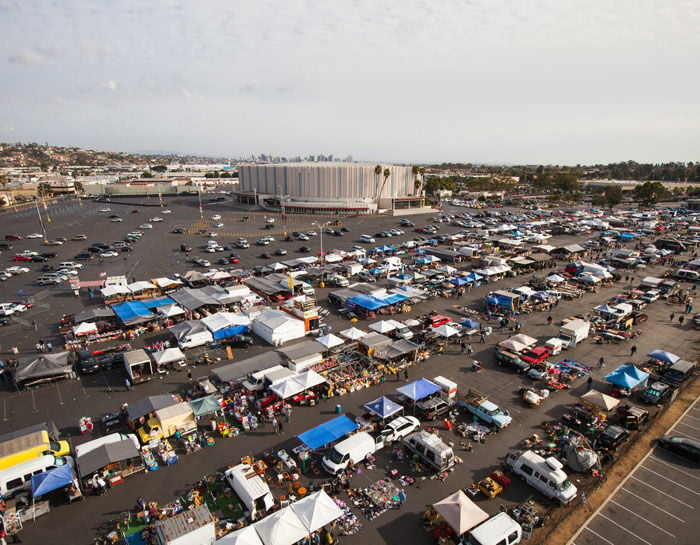 Kobey's Swap Meet
SMART MOVE
Monte Kobey moved from Phoenix to San Diego in 1976 to launch his swap meet at the Midway Drive-In.
A MODEL CHILD
The "face" of Kobey's is Monte Kobey's grandson Anthony Pretto, who posed along with his sister Liza in the company's early billboard and advertising campaigns. He now serves as operations and advertising director.
HUMBLE BEGINNINGS
The initial swap meet had only 13 sellers and 200 shoppers; today there are more than 1,000 sellers and 25,000 shoppers each week—amounting to more than 1 million shoppers per year. Sunday is the busiest day, with more than 750 sellers and 10,000 shoppers.
R.I.P. KOBEY
Monte Kobey died in 1989 from the AIDS virus, contracted from a blood transfusion during heart surgery.
PASSING THE BATON
Kobey's daughter, Kimberly Kobey-Pretto, took over the business from her father and has served as president and CEO of The Kobey Corporation since 1988.