Stats
9,000 square feet with five bedrooms and six baths, plus a guesthouse
Neighborhood
Rancho Santa Fe
Few people understand the difference between a house and a home quite as well as Dr. Sean Daneshmand. The local perinatologist works with high-risk pregnancies, and in 2010 he founded Miracle Babies, a nonprofit that gives financial and emotional support to families with premature newborns in the NICU. His co-founder? None other than his wife, Marjan, who, as a local attorney in private practice, is accomplished in her own right. The couple shares their Tuscan-style estate with their 11-year-old daughter, Natalie, and two poodles.
The Daneshmands know firsthand the stress and struggle that come with having a baby in intensive care. Like so many of her dad's patients, Natalie was born a preemie. "My life is my daughter. I live and breathe because of her," Sean says, admitting that he was well into his career before he fully appreciated the importance of family. These days, his work is based on the very simple idea that "as different as we all may be, we all love our children the same."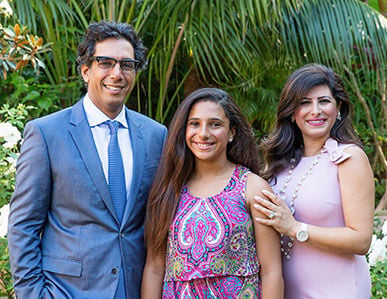 Dr. Sean Daneshmand with his daughter, Natalie, and wife, Marjan
If family is the key ingredient to a happy home, consider its design details the accoutrements. The Daneshmands' house is part Versailles, part stone-walled castle—filled with ornate chandeliers and brocade fabrics. Marjan, who moved here from Iran when she was 11, did most of the decorating.
"She is the mastermind behind everything," Sean says. And although her Persian background may not have been the defining factor, it definitely had an impact. "I think in general Persians love beautiful antique pieces," Marjan says. "My mother is a major antique collector, but my sisters are both into modern—so I am the only one!"
When the Daneshmands purchased the house, it was mostly move-in ready, but they made a few changes to put their stamp on it, including an overhaul of the upstairs bathrooms and expanding the kitchen. "The kitchen was so ugly," Marjan says. "I almost didn't buy the house because of it." Today it's French country, one of her favorite styles.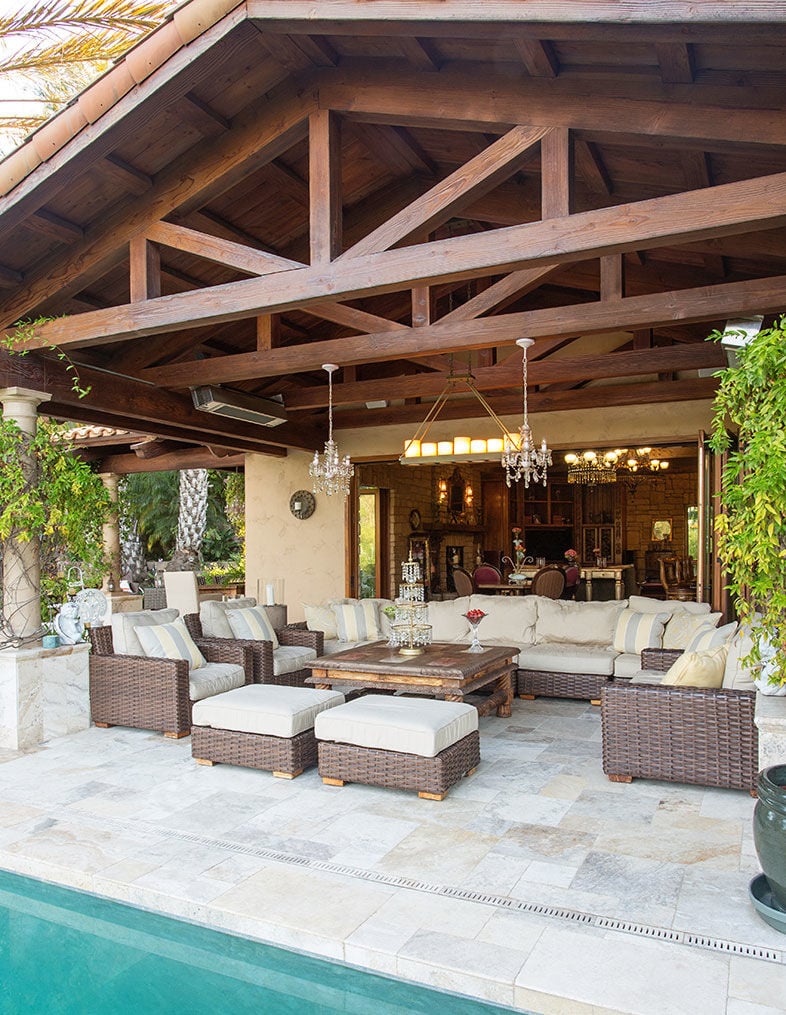 Chandeliers and a tiered crystal tray add a touch of elegance to the cozy outdoor seating area just off the family room.  
It took her several years to furnish the three-story space. "It was definitely a slow process. I was waiting for pieces that went with the house and were unique," says Marjan, who worked with J. Clinton Walters Design on the interiors.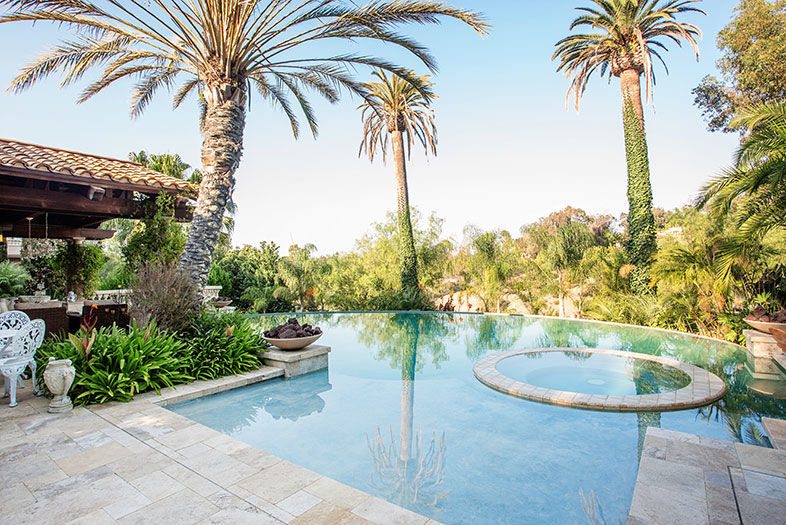 An infinity-edge pool overlooks the two-acre property's garden of fruit trees and towering palms. 
"It's a large house, but at the same time, it's a very homey house. Every part has a unique space and feel," says Sean, who especially loves the office and family room. Both spaces feature floor-to-ceiling woodwork commissioned by the previous owner and hand-carved by local artisan Kevin Wood. The office is constructed entirely of wood with dramatic coffered ceilings and "beautiful lighting," as Sean describes. After moving in, Marjan tracked the same craftsman down and hired him to make a matching bar area, also in the family room.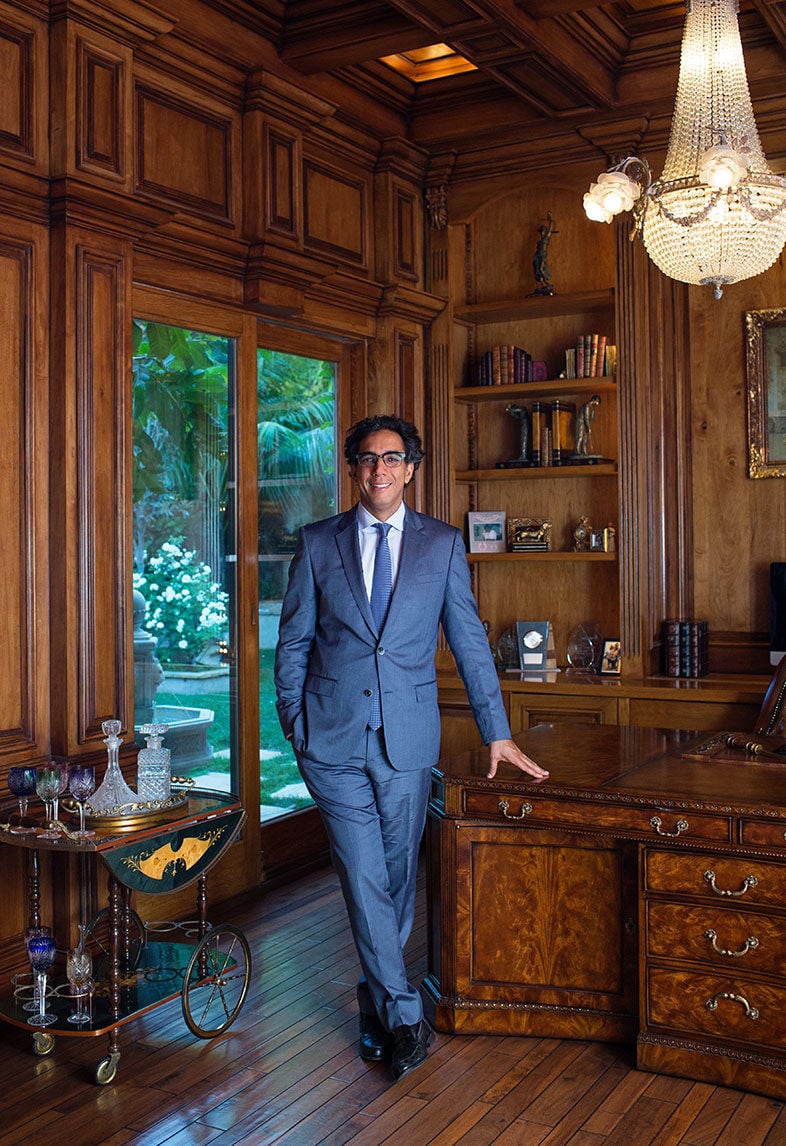 Dr. Sean Daneshmand stands in his office with floor-to-ceiling woodwork hand-carved by local craftsman Kevin Wood.
This is where the Daneshmands spend most of their time. The interior's travertine tiles extend across the terrace, creating a seamless transition from inside to out. Accordion doors open up to an exterior living area with cozy couches, a long wooden dining table for entertaining, and an infinity-edge pool, which overlooks the multilevel garden of passion fruit vines and plum trees.
"The yard is amazing," Sean says, noting some of the two-acre property's hidden spots. Stairs and a path lead to a gazebo with extra seating and more fruit trees. Inside, on the upper level, there's a spiral staircase off the master suite that climbs to a Jacuzzi with a retractable roof. "It's my daughter's favorite place."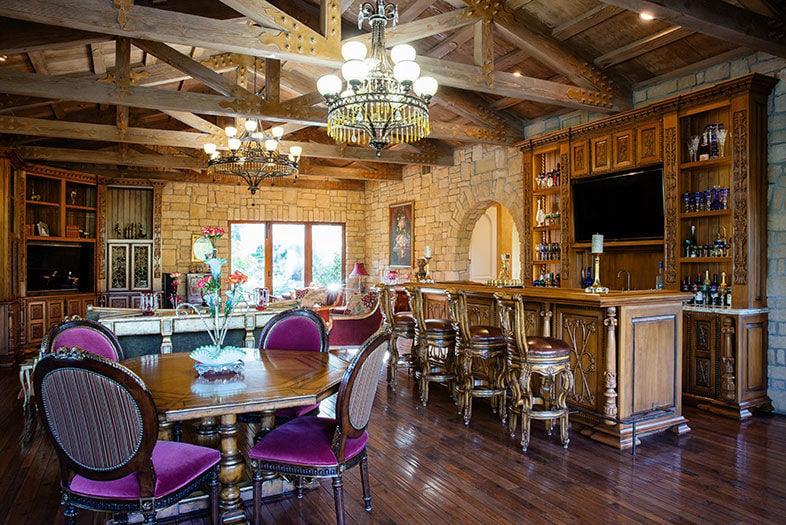 The family room features stone walls, exposed beams, and more custom woodwork.
Secret passageways aside, it's the things money can't buy that define this place. Sean tells a story about when the family moved out of their last house, and all the furniture was gone. "I told Marj, 'I see the house now, and it's bare, and I understand the difference between a house and a home.' The house really becomes beautiful with what you make in it. And it doesn't matter where it is. This is a home because there's a lot of love in it."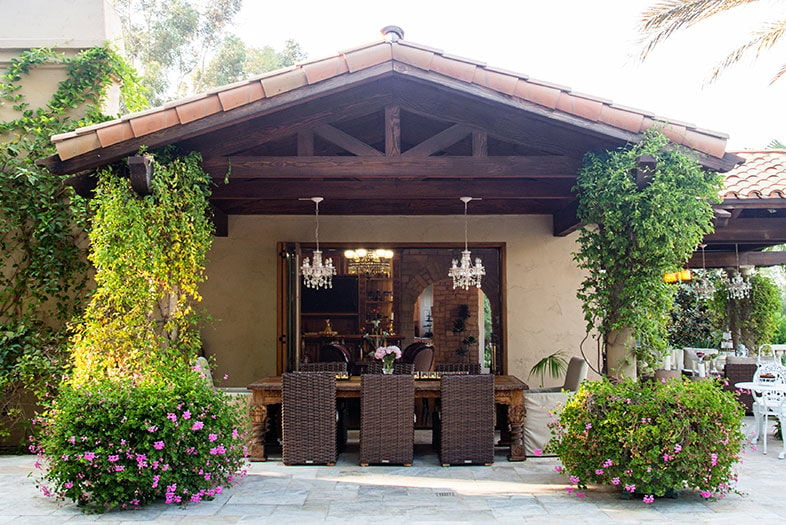 Jennifer Siegwart Rebecca Batista