You're technically looking at phase three of Lucy and Sergio Hernandez's decade-long home remodel. It all began with a two-bedroom, one-bath bungalow they purchased in 2010.
Three years later with two kids in tow—Dorian, now six, and Harlow, now eight—they were drawing up blueprints for an extension of the home to accommodate their bigger family. Then Sergio's brother, homebuilder Paul Hernandez, stepped in with a bold idea: bulldoze the place to the ground and forget working with its 70-year-old studs. "That was exciting," Sergio recalls, "but also a lot of sleepless nights, like, we just destroyed a perfectly good house."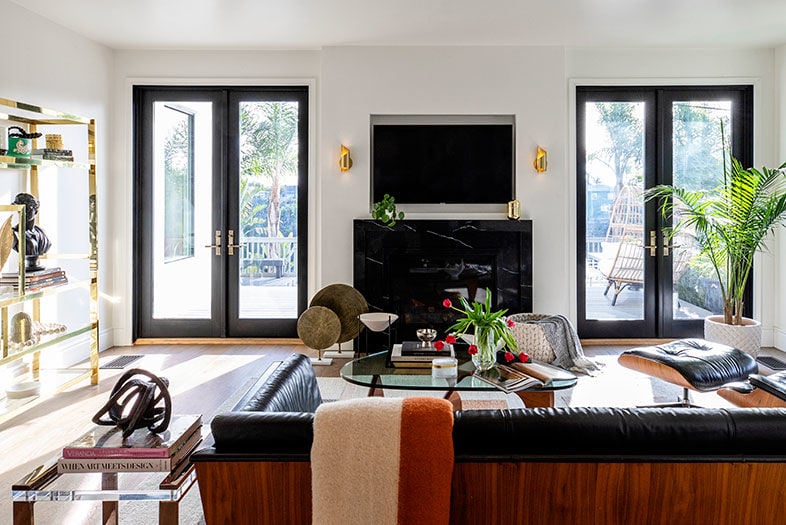 Living Room
"Our living room is not a kids' paradise," Lucy admits. "My husband and I have a bad tendency of making our homes look like museums." While the Eames chair and couch, both from Design Within Reach, underscore their modern style, she says they'll swap them out for a sectional in due time. The two doors in this room are meant to pour light into the open-concept kitchen. "I wanted the biggest windows and doors I could afford," Lucy says. "It brings the outside in."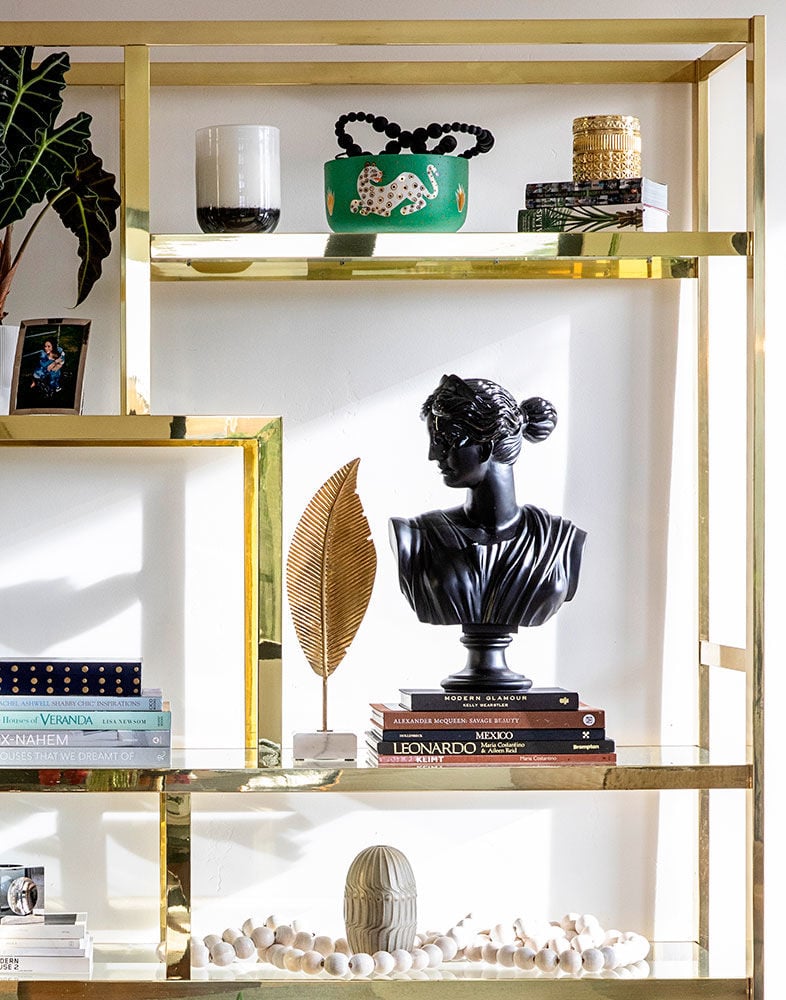 Shelf Stuffs
Lucy loves books as decor, shown by those styled on this vintage Milo Baughman étagère shelving unit. Each title is sourced with purpose. "Klimt is one of the first books I bought when I wanted to own a home. I loved art deco. Today I pull that into my gold accents [like the shelf]." Of the Alexander McQueen tome, she adds, "I find his darkness appealing."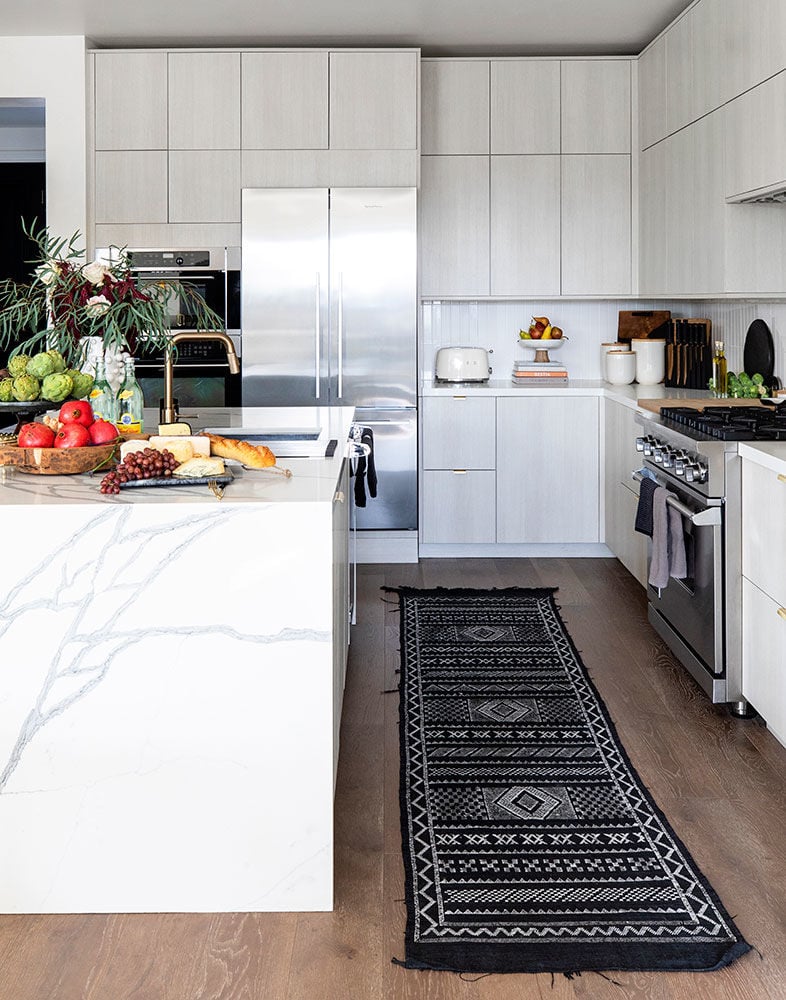 Kitchen
You'd think Lucy would have the most pride in her closet, but it's actually the kitchen, because she paid for it, thanks to her blog. "My husband has always been the breadwinner and still is. The kitchen felt like my turn to do something for our family." She also negotiated the price of the runner herself in Morocco.
In the long run, what they got in return was a house that's perfect for them—"a little luxe, a little modern, a bit of rock and roll," as Lucy puts it. "I'm a total city girl. I love the grit of it. I'd always pictured myself in New York."
In fact, she'd been planning to move from LA to the Big Apple before she met Sergio while visiting a friend here. (He was deejaying at the time, and Lucy mustered up the courage to introduce herself.)
They've lived all around central San Diego ever since, but always eyed Kensington for its walkability and location. They liked the proximity to downtown (where Lucy stages photo shoots for her fashion blog, lucyswhims.com) and to University Heights (where Sergio established his ultrasound clinic, Sonohealth). When the couple moved into that bungalow 10 years ago, they brought a little edge to their historic hood—and had to rein in their new build plans just a little.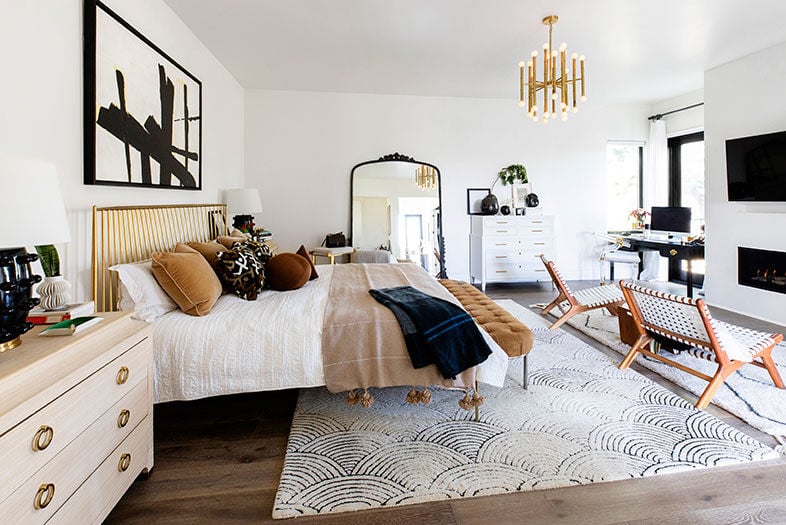 Master Bedroom
The couple designed the master to feel like a hotel suite, with a doorless entrance into the bathroom, 10-foot-tall ceilings, and plenty of space for their wares, such as the Jonathan Adler chandelier, World Market chairs, and West Elm bed frame, plus cushions by Kelly Hinchman.
Master Closet
The master closet is a wonderland of high heels, bags, and city-slicker threads. "I'm not Suzy homemaker," Lucy jests. "I wear leather." Kelly Hinchman of Studio H Design outfitted the closet (and attached bath) to feel like a boutique. Lucy's shoes are organized on shelves that roll out for easy access and there's plenty of hanging space, even for Sergio's duds.
"Initially, we wanted a concrete cube, then we looked at the neighborhood and realized that wouldn't work here," Lucy says. Instead, they settled on a subtle, modern Spanish Colonial exterior to blend in, and opted to build up instead of out into their canyon. "The plans took a long time to draw up."
That's because, as Lucy admits, she and her husband are indecisive. Thankfully, that's offset by their patience and their mindset to work in phases. They also had interior designers to help. First came Christie May of Rockwell Interiors, who worked closely with their architect to ensure the flow of the home fit their needs.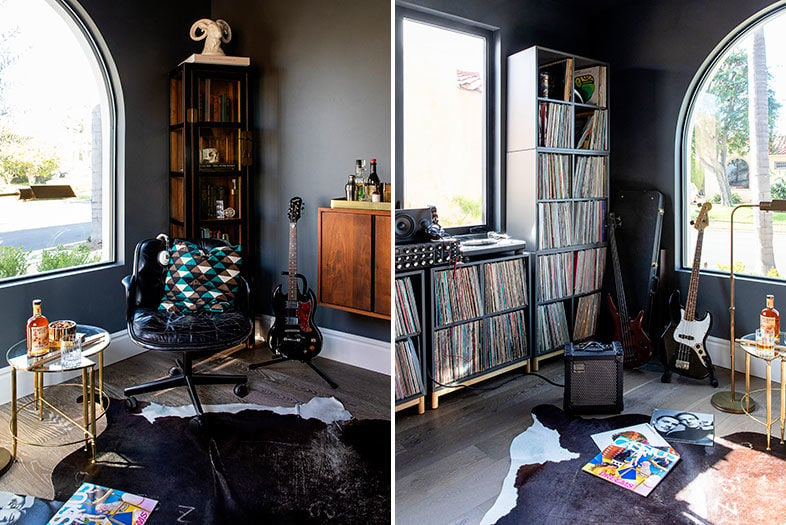 Office
Noticeably absent from Sergio's "office" is a desk. This room off of the entryway is reserved for his music library, instruments (including Dorian's drum set and Harlow's piano), and a little booze on a vintage floating shelf neighboring the Charles Pollock executive chair from Design Within Reach. "One stipulation was to have a space for myself, where I could listen to music, read a book, a place to escape," he says. It's also the only room in the house that's all black. "It's a moment," Lucy adds.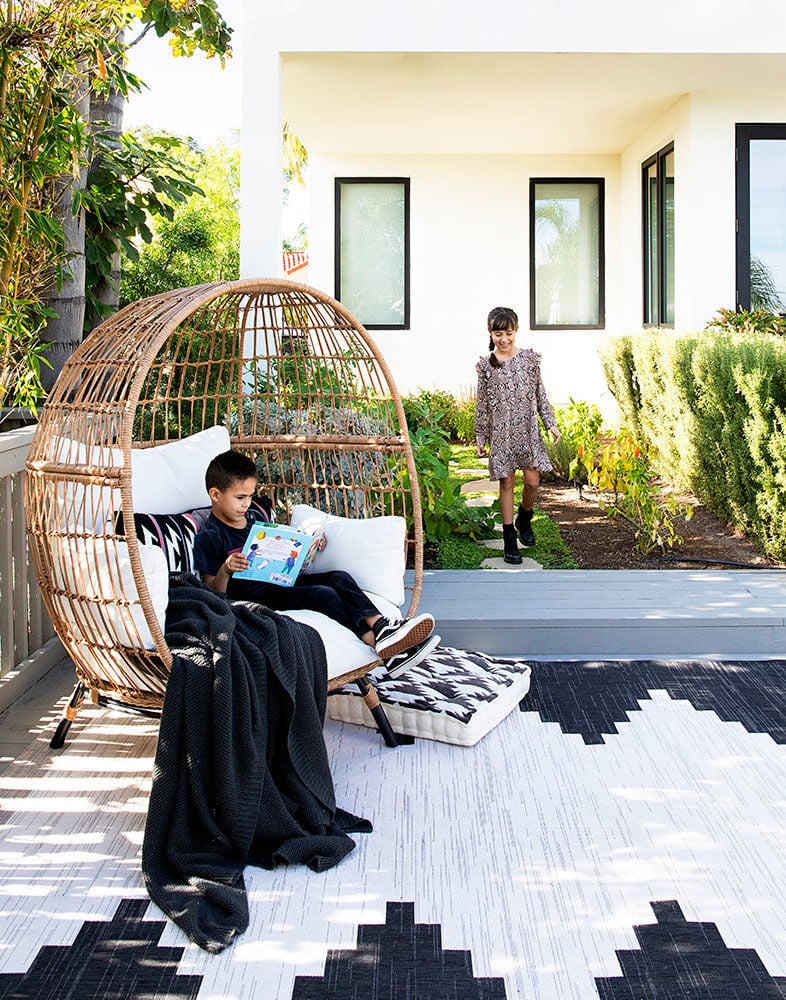 Garden
Because their outdoor space is mostly hardscaped, Lucy's one request was a garden for growing fresh produce. Harlow's walking through it, while Dorian's comfy in a rattan chair from Target.
After three years, the interiors were fully livable—phase two, check!—and they called on interior designer Kelly Hinchman of Studio H Design for help with phase three: decorating to their modern-meets-edgy liking.
Phase four is to finish their outdoor spaces, meaning five balconies and a rooftop deck that counts as the third floor, hopefully by summer. Save for his office, this is what Sergio's most excited about.
"I've always wanted a rooftop. We've got this beautiful 360-degree unobstructed view. You can see mountains to the east, terra-cotta tile roofs in Kensington. Once that's finished, this will be a beautiful place to entertain. It's all good to go."
Well, almost good to go, because the kids are advocating for phase five: pool, please!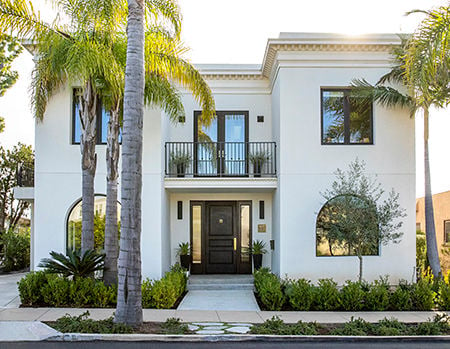 Vitals
Neighborhood: Kensington
Layout: 3,200 square feet; 3 stories; 5 bedroom / 3 bath
Project: New build Interior
Designers: Rockwell Interiors and Studio H Design Group
Contractor: Paul X Hernández Construction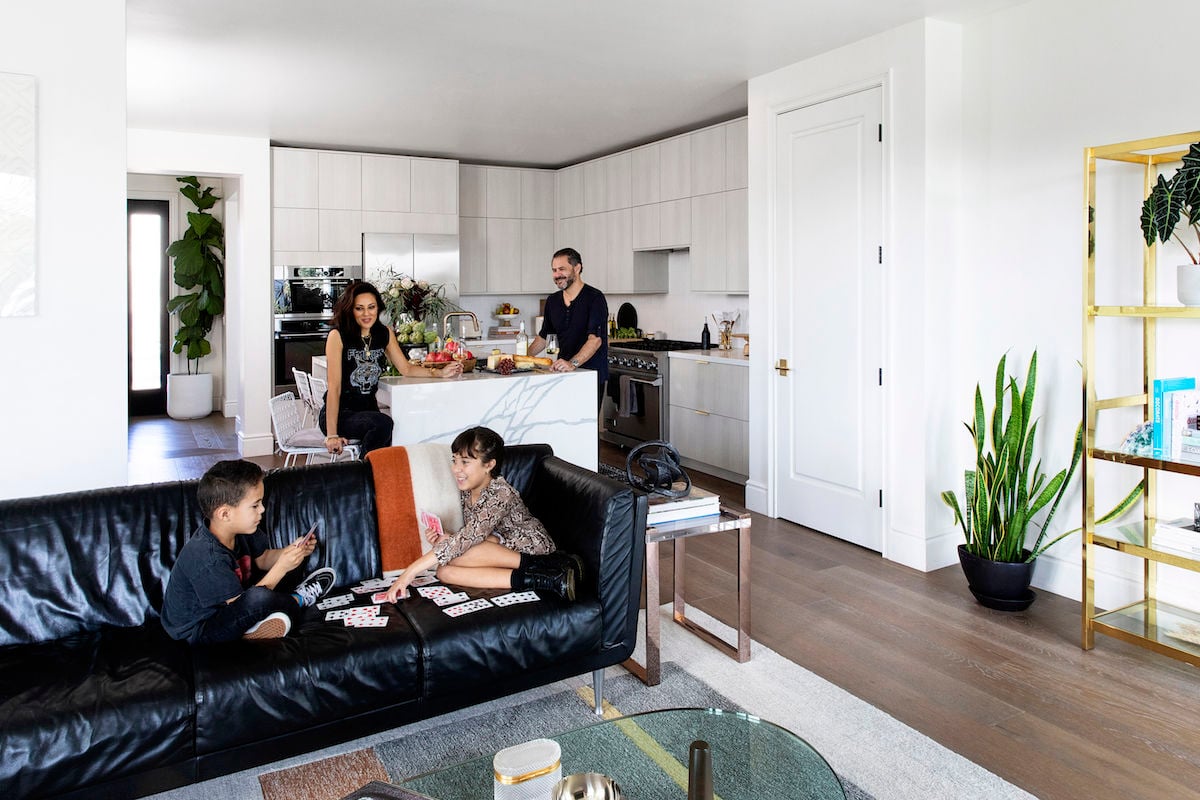 Photos by Jenny Siegwart