Each month in 2023, we're asking a local artist to recreate one of our iconic covers from the past 75 years. For July, we tapped celebrated binational artist Panca to reimagine
San Diego Mag
's February 1965 cover. Check out
the recreation here
and learn more about Paris in the Q&A below:
Tell us about how you found your distinguished style and how you honed your skills. 
It developed just as I did, quietly waiting to be found. Growing up during the '80s-'90s with Gen X around me I, was exposed to weird MTV cartoons quite young as well as having frequent visits to museums in Mexico City when we would visit family. Films from the golden era of cinema in México with my parents very-much influenced me as well.My life came to a cathartic point where I was forced to look inward and I realized it was the one constant thing I really enjoyed and I could express myself with much more clarity and depth, it clicked. Once I accepted that my style was weird, imperfect, and raw, I was able to accept it as my own so it was easier to lean into it. It felt right. The environment I was in was quite bizarre so it allowed me to mirror my surroundings. It gave me the same comfort I longed for as a bored child surrounded by adults. Now as an adult myself I realize it's part of many things much deeper than my personality, so I am happy to embrace it. Style is everything.
What artists do you admire or look up to?
I really admire artists who chase their dreams with genuine love. I'm devoted to being present and being supportive of them. I'm in awe of women confronting stigma related to dealing with generational trauma and also cultural or social dynamics. Some female artists that I constantly refer to creatively are Susan Sontag, Patti Smith, Diane Arbus—she went there; she saw a side that was also beautiful but not photographed, and she made it poetic and raw. It inspired my "Los Perdidos" series. Éric Rohmer; these films feed my soul. Lady Pink, Maya Hayuk, Miss Van, Mab Graves, Camille Rosé Garcia.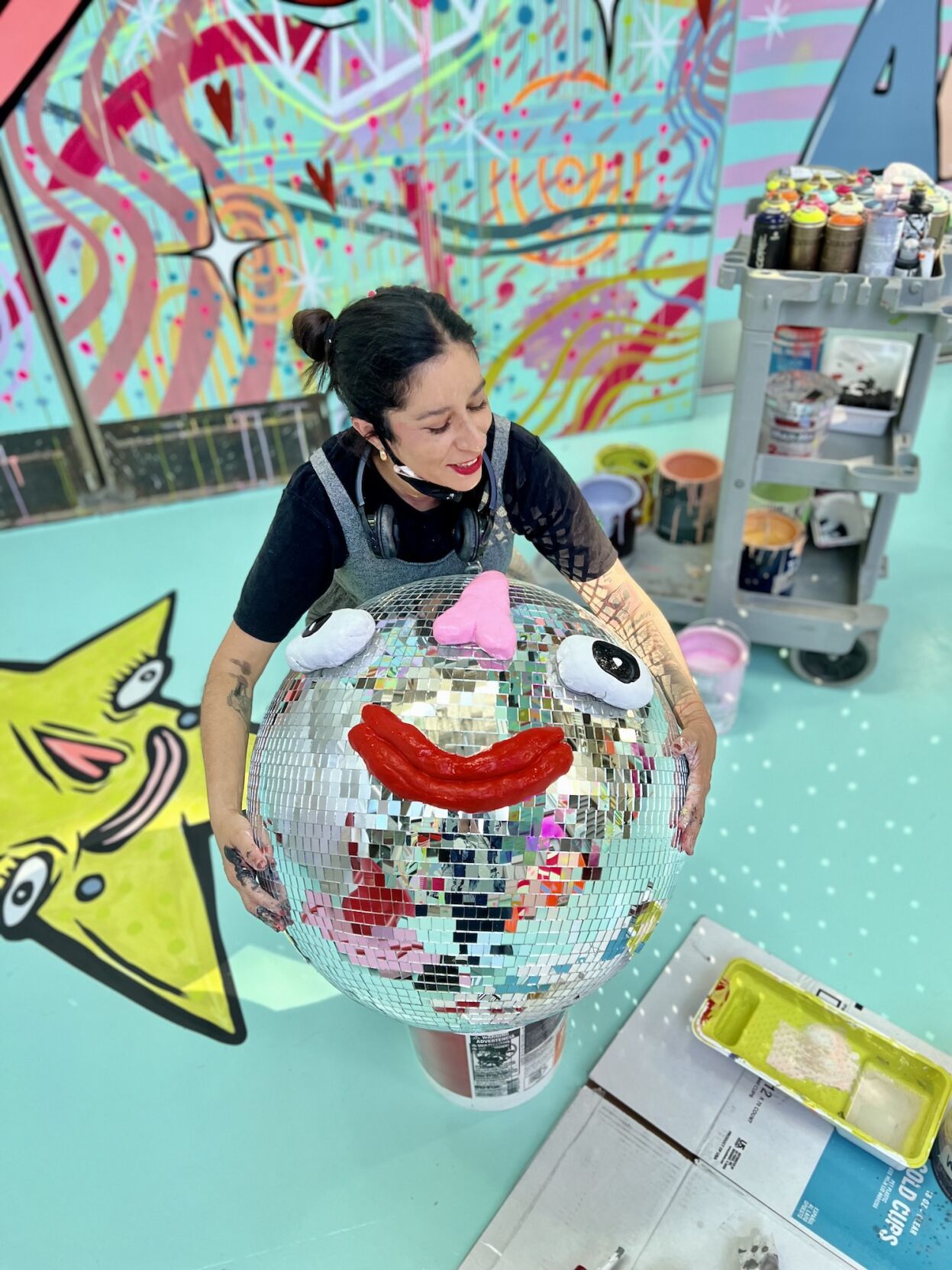 Well, these women made me think, "Wow, such strength," and they inspired me greatly. Representation matters. When I started it was a boys club so I have nothing but respect. Goya! David Alfaro Siqueiros has always been a master as well as that generation of painters during that time in Mexico. Sofia Coppola, I saw her films during my teens and it was really impactful to me. It allowed me to see that pain could be made into something quite brilliant and beautiful.Nina Simone (I mean wow), Amy Winehouse (I feel you), Flor Garduño…a photographer that has work [that is] so dreamlike and ahead of her time. Mr. Rogers, I mean this list could be epic and never ending. The Golden Girls. But Keith Haring was an artist I was able to learn about before his death and it really spoke to me. The more I grew up, I really have just learned that I follow the same idea that the art is for everyone and along with Jean-Michel Basquiat. I also saw that grit was the secret ingredient.
How do you think your art reflects the southern California lifestyle? 
I think that my art strongly reflects the Southern California experience but also that of a binational person living, creating, working between the border or frontera. I grew up here, went to surf camps as a kid, had skateboarding posters all over my walls and especially the colors, raw in your face images from skateboard culture totally influenced my style. The color palette alone from then is very much in my work. Those neons pop out and the fact that I grew up close to IB and now that I am back and I live closer to Barrio Logan-Sherman Heights, it's a very different experience and don't have a specific style that can be categorized. Yet the people of the community spill into my work and it's the same as when I was in Tijuana. I just embrace it. It's real and beautiful.
What do you have on the horizon work-wise?
Right now I am doing a pop up with Modelo beer and that will happen this summer. That is a big one! I am going to be finishing the new phase of El Más Allá which will open this summer to kids and complete my installation there which is a big deal because I started during the pandemic and it's been a hard process for me.
Where do you like to go to get away and relax? 
At one point I had this ritual of after a show or big mural taking the red eye from Tijuana to Yucatán-Quintana Roo and just disconnecting for a week but it's just a whole thing nowadays and I am enjoying going to Valle de Guadalupe for a nice day or weekend trip. I miss living in Baja, but I am reconnecting with San Diego and finding a nice day at Lafayette or just the beach is relaxing. I'm walking the harbor and enjoying that.I'm a fan of taking the train to LA to just have a museum day or go see a show and then come back. It's close and I get to relax seeing the ocean along the way. Also, home. I am a big hermit who really enjoys being home and I get to be with my senior pets and recharge by watching a film, gardening or going for a walk. It's the little things.
Where can people find your work?
Right now mostly around San Diego and the Tijuana/Baja region. Places like The New Children's museum. Bread and Salt, Mujeres Brew House, Holy Paleta, La Dona in OB, The new MCASD shop, Mortis Studio in Golden hill and a solo pop up show at Mi Vida Logan this summer. I'm excited that this summer I'm working with Modelo beer on several pop-up events in the community.