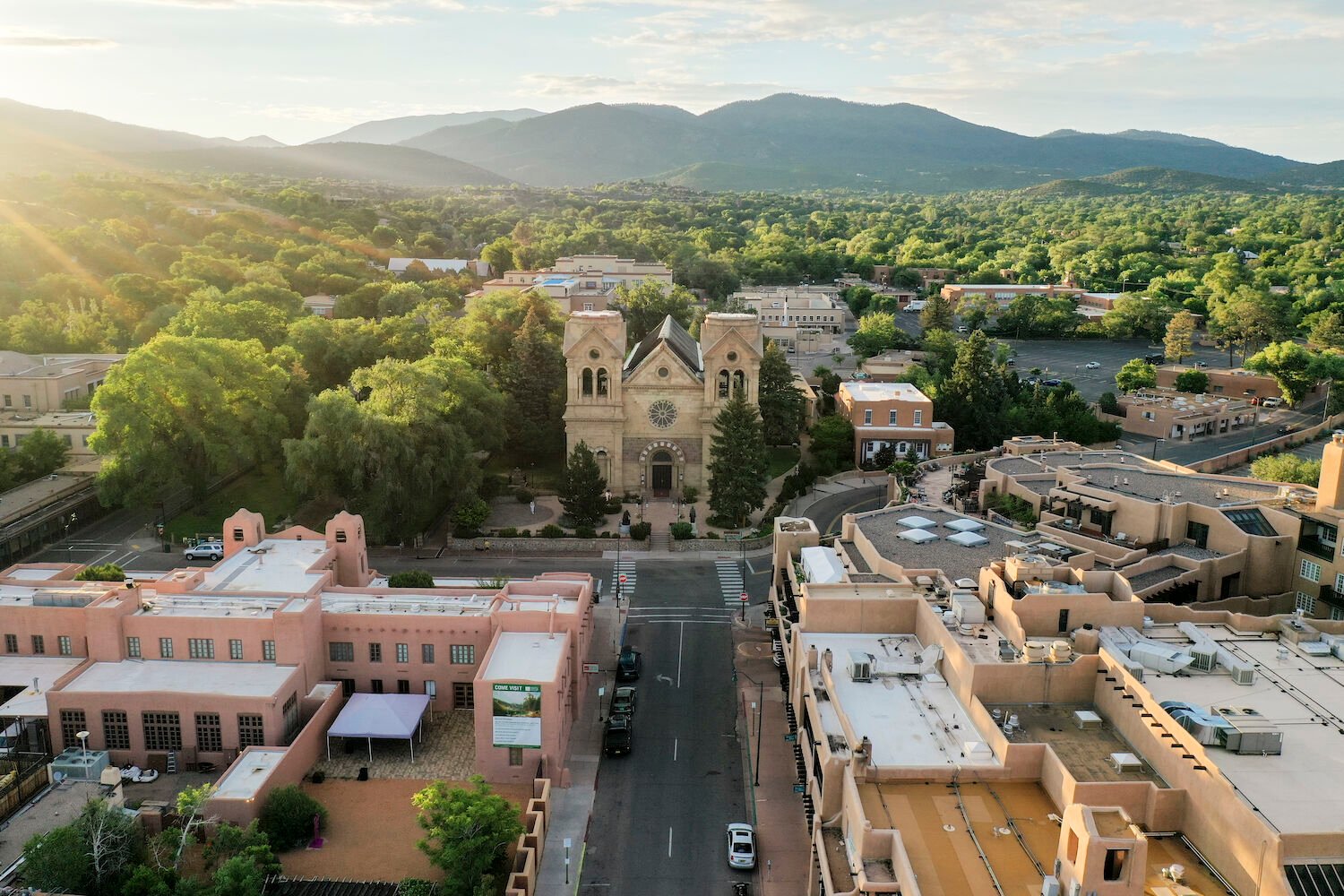 Courtesy of Santa Fe Tourism
During the weeks I spent learning to write in Santa Fe, New Mexico, my afternoons took on a predictable rhythm. Between classes, I'd sit in a courtyard on St. John's College campus, reading Willa Cather and Cormac McCarthy. I might take a break to run the nearby Atalaya Trail, weaving through sagebrush and piñon pines.More than likely, I'd get caught in a sudden summer rainstorm. Clouds often brooded over the Sangre de Cristo mountains, allegedly named because of the bloody tint they take on in the southwestern sunset. By evening, the thunderhead clouds would retreat and leave the sky scrubbed clean. With a day of lectures and workshops behind us, our cohort of writers would head downtown for smoky margaritas.Attending grad school residencies in the nation's oldest capital convinced me that Santa Fe is an enchanted place— the ideal escape for artists, art appreciators, and anyone even remotely creatively inclined. Sage and wildflowers bloom along winding roads lined with adobe homes. Bundles of drying chile peppers hang from eaves.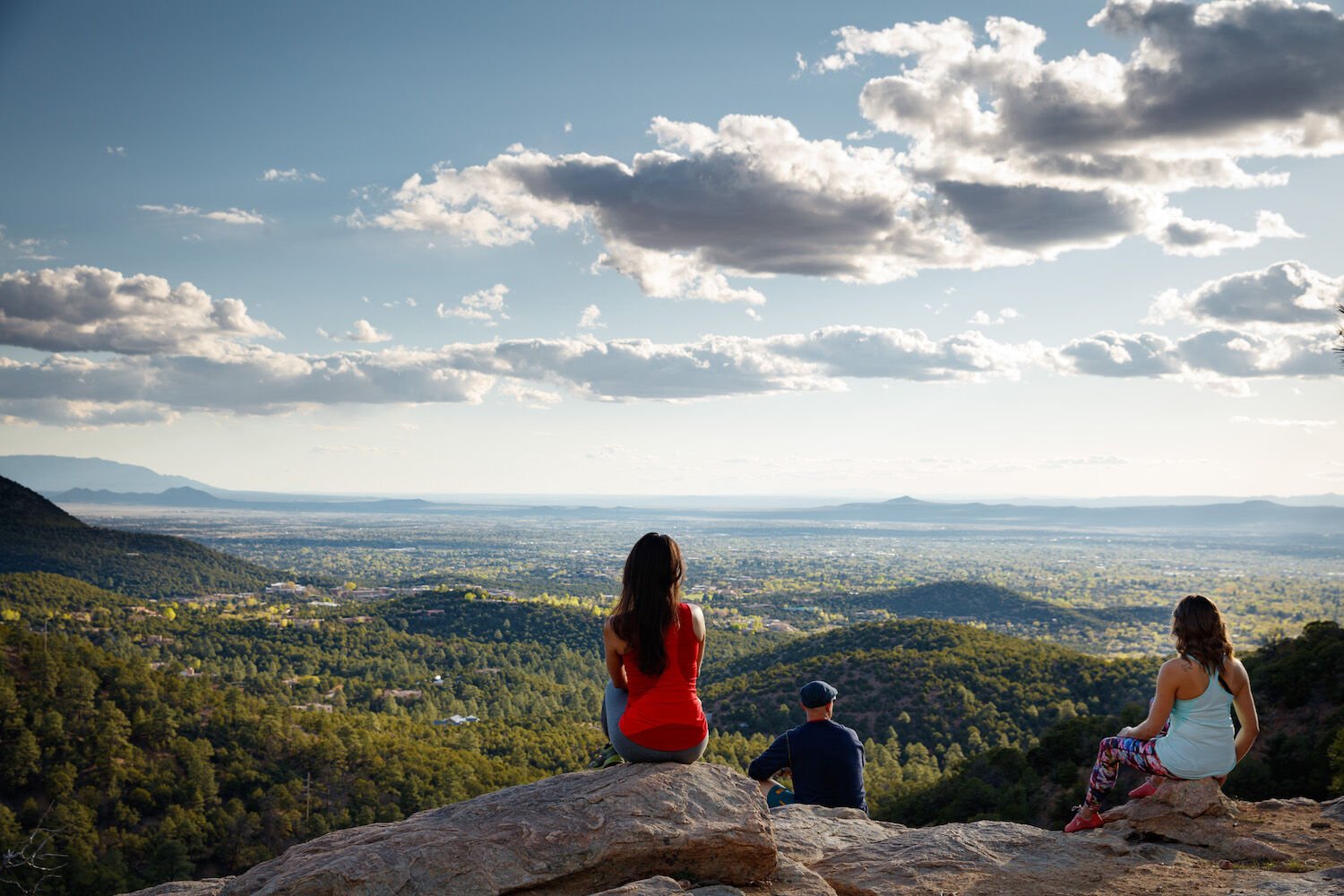 Photo Courtesy of Tourism Santa Fe
The city is compact with a highly walkable downtown. Despite its small size, Santa Fe ranks alongside New York and Los Angeles as one of the country's top art markets. It's a place where artistic traditions and mediums converge, from Native American painting to Pueblo pottery to contemporary sculpture.In fact, artists of all stripes have long been drawn to Santa Fe. The city's creative roots reach back much further than its 1610 founding. Early Pueblo tribes crafted pottery and wove baskets and blankets in the area. After the 17th-century Spanish conquest, Pueblo villages began making the turquoise and silver jewelry that's still sold in galleries and street markets all over Santa Fe.In recent history, transplants, including the abstract painter Agnes Martin and the aforementioned novelist Willa Cather, have drawn inspiration from the landscape's light, texture, and color. As New Mexico's most well-known resident artist Georgia O'Keeffe put it, "There is so much more space between the ground and sky out here[—]it is tremendous." She was right; the sky does seem to stretch out endlessly above the city.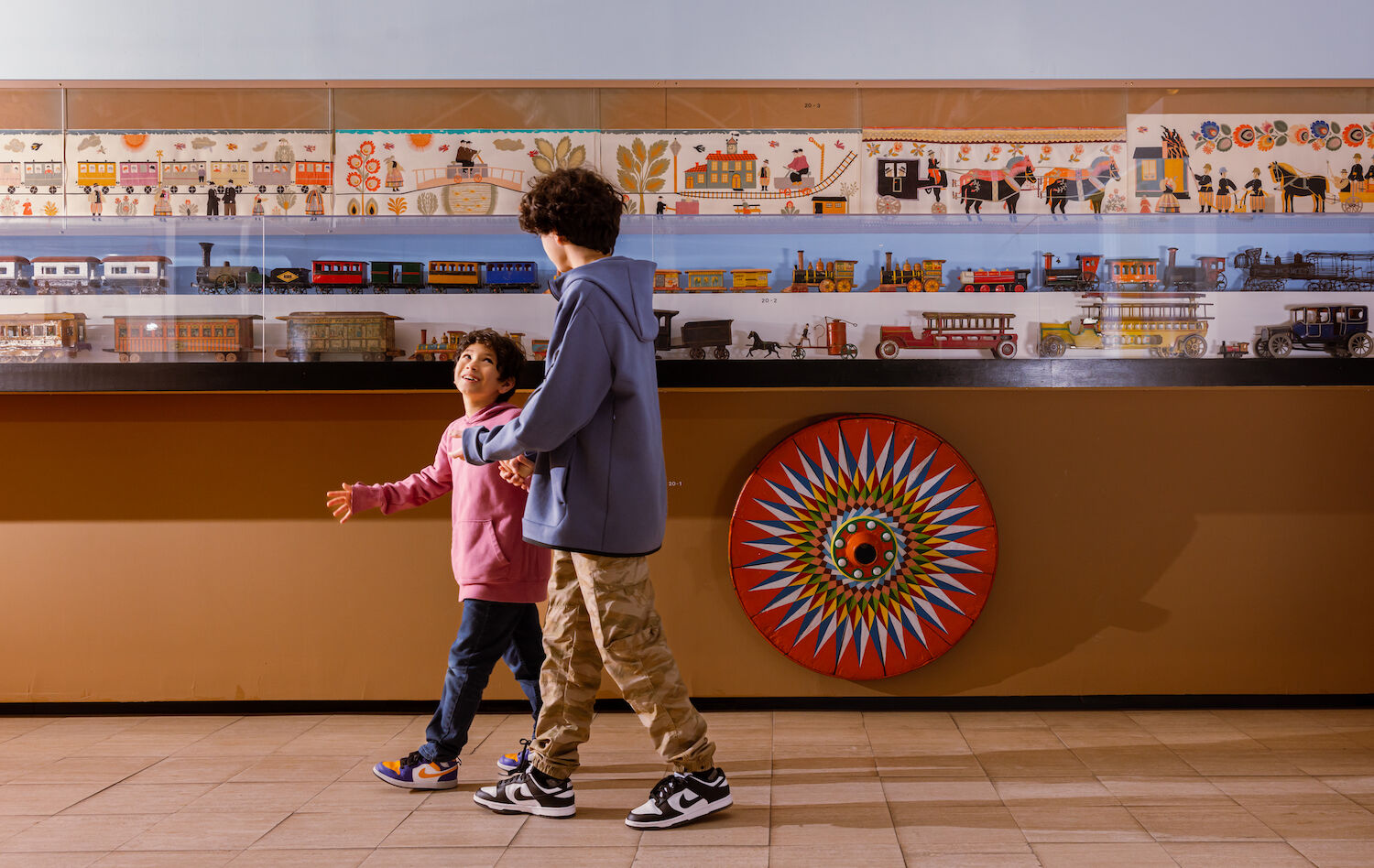 Photo Credit: Tira Howard
The author Julia Cameron, best known for her cult-popular book, The Artist's Way, also lives here. In her bestseller about how to establish a creative practice, Cameron prescribes the Artist Date: a block of time set aside to, in her words, "nurture your inner artist."If this sounds too woo-woo for your taste, think of the Artist Date as creative exploration—and there is, in my opinion, no better place for such an endeavor than Santa Fe. You don't have to be an artist to design your own retreat in the city. All you need is a weekend and the willingness to absorb the visual, musical, and culinary magic of New Mexico's capital.Start by dipping into Santa Fe's extensive—and borderline overwhelming—palette of visual art. A meandering walk along Canyon Road (with a stop for sustenance at The Teahouse's garden patio) will lead you to contemporary, abstract, modern, western, and Native American art galleries.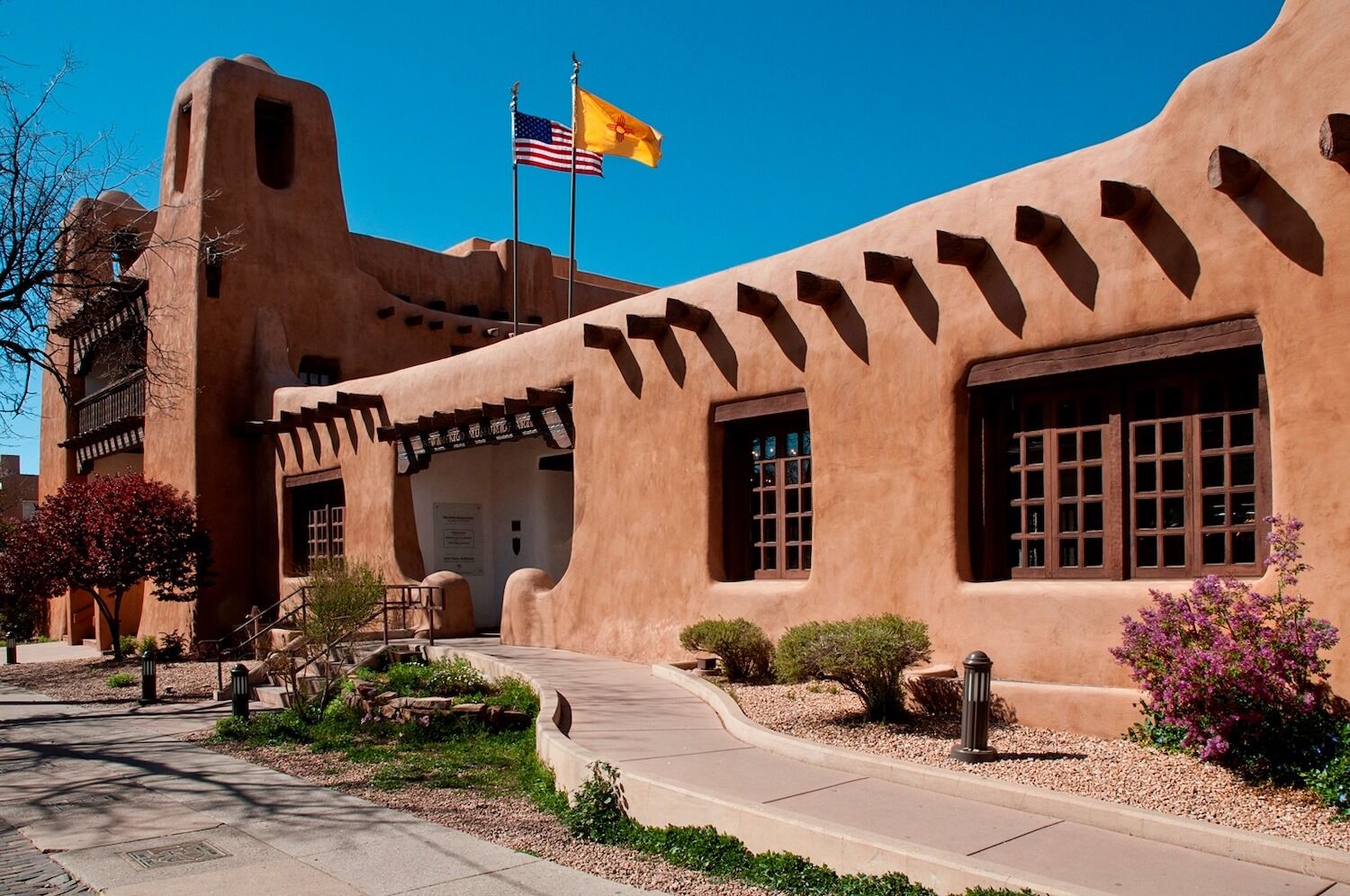 A few minutes down the road in the city center, you'll find the IAIA Museum of Contemporary Native Arts and, a block away, the New Mexico Museum of Art. Both museums neighbor Santa Fe's central plaza, a historic hub where musicians play in a gazebo and teenagers lounge beneath leafy trees.You will, of course, want to pay your respects to O'Keeffe while you're there. A short walk from the plaza, the Georgia O'Keeffe Museum is the world's only museum dedicated to an American female artist. O'Keeffe's two homes—in Abiquiú and Ghost Ranch— sit some 40-plus miles northwest of Santa Fe and are open to visitors. If you're up for a drive, they're well- worth the day trip to see her studio up close, along with the landscape that infused her work for decades.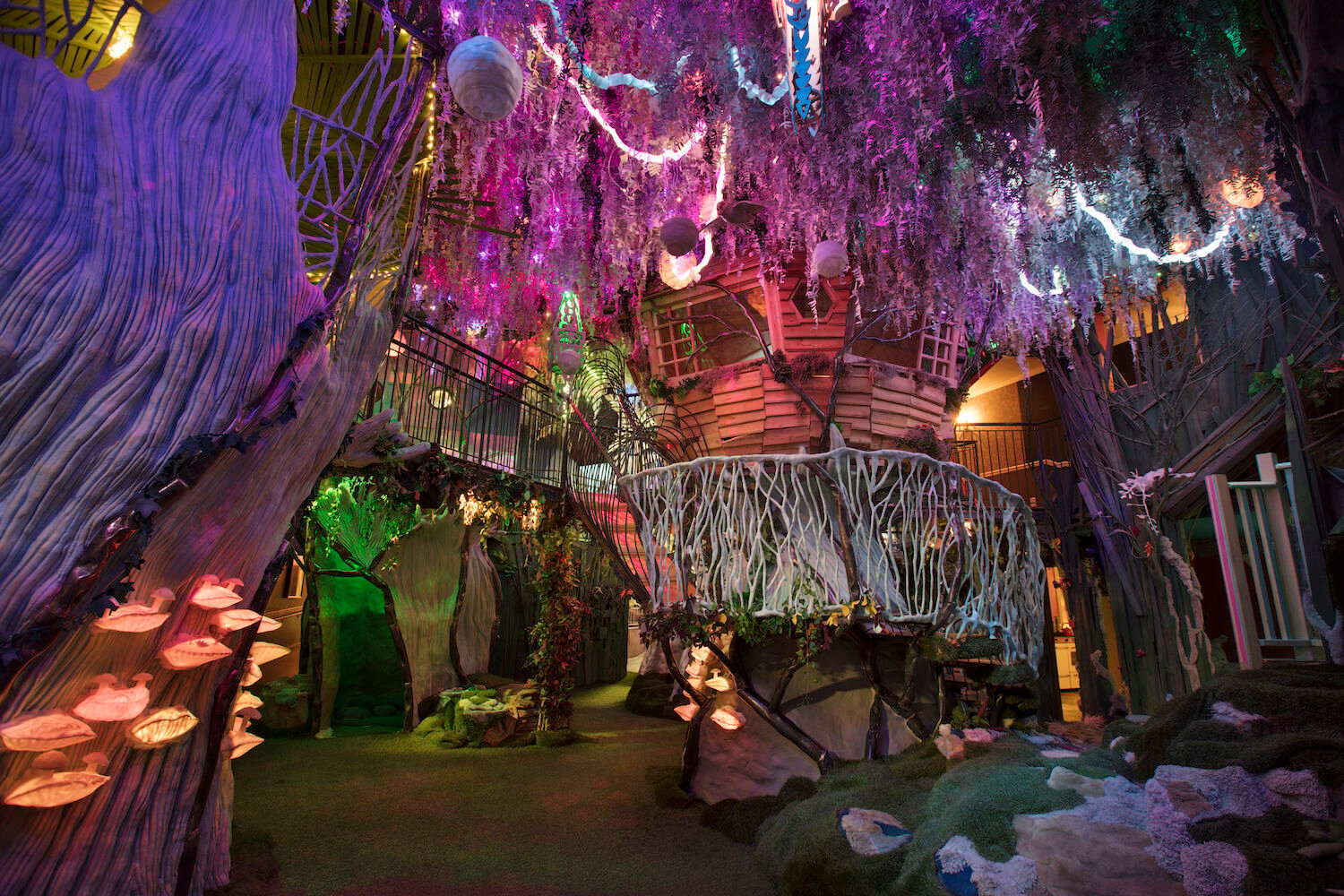 Photo Credit: Kate Russell
Just off the historic Santa Fe Trail and rising above the city, "Museum Hill" is home to even more art. Visit the Museum of International Folk Art—the largest collection of global folk art in the world—before rambling through the Santa Fe Botanical Garden. For fans of contemporary work, SITE is an artist-led space that curates rotating exhibits. And if you want to get weird, there's Meow Wolf, an interactive experience that bends and blows the mind with 70 rooms of immersive art.But an Artist Date is about more than looking at others' works, as Cameron would remind you. It's about pleasure and play. As you plan your excursion, she admonishes, "Think delight. Think fun. Do not think duty." If music is what moves you, the Santa Fe Opera offers open-air performances set against a mountain backdrop. Or maybe flipping through novels and magazines at the locally owned indie bookstore Collected Works will inspire you. Perhaps the earthy flavors of New Mexican dishes are the keys to unlocking your previously untapped artistic genius. Anything's possible.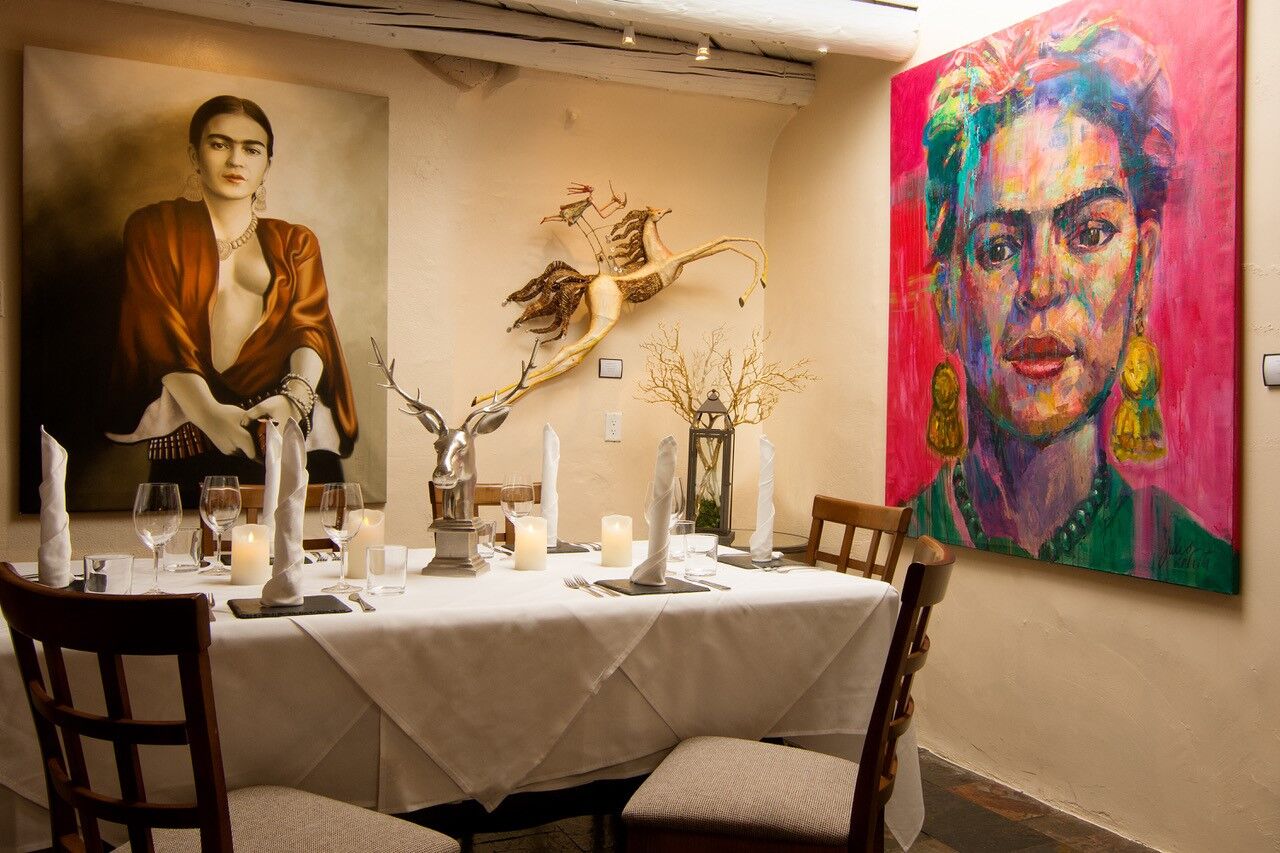 Santa Fe's food scene blends Mexican and indigenous Pueblo cuisine, resulting in dishes like carne adovada and enchiladas drowned in the ubiquitous green chile sauce. (A New Mexican senator is currently lobbying to make roasted green chiles the state's official scent.)For classic New Mexican fare, try La Choza or its sister restaurant, The Shed. James Beard Award–winning chef Fernando Olea is behind Sazón, which serves dishes based on indigenous Mexican tradition. In between meals, sip a cortado at Iconik Coffee's Lupe location. The cafe's white stucco courtyard and jumble of potted plants invite whatever doodling, reading, or composing that you're inclined to do. In the evenings, order a mezcal negroni at La Reina or a smoked- sage margarita at Secreto Lounge, a cozy bar tucked into the historic Hotel St. Francis.Above all, let the landscape work its magic on you. Hiking Atalaya Trail above the city, you might just feel like sitting down to sketch the expanse spread beneath you. Even those who don't identify as creative may be surprised to find themselves reaching for a camera in Santa Fe, hoping to capture the way the shadows move across adobe walls and pink clouds pile up over the Sangre de Cristo range in the evening.Writing about the New Mexican landscape, O'Keeffe said, simply: "It's the most wonderful place you can imagine." This might be hyperbole, but then again, who can argue with her paintings? You'll have to go see for yourself.