The food pyramid is a hierarchy of half-truths. It has long painted an incomplete picture—one in which dairy and meat are pillars of health and nutrition—while failing to address the fact that animal agriculture assumes a starring role in driving climate change.
The Game Changers, a documentary that debuted at the Sundance Film Festival in 2018, implies a positive correlation between a plant-based diet and high-level athletic achievement. It chronicles the lives of vegan athletes and explores the vegetarian diets followed by some Roman gladiators.
The documentary resonated with Vincent Dotson, an avid boxer and Saint Louis transplant who developed an interest in the studies presented. According to the film, researchers reported observing more efficient blood flow and higher oxygen levels in athletes who followed plant-based diets when compared to omnivorous competitors from the same athletic disciplines.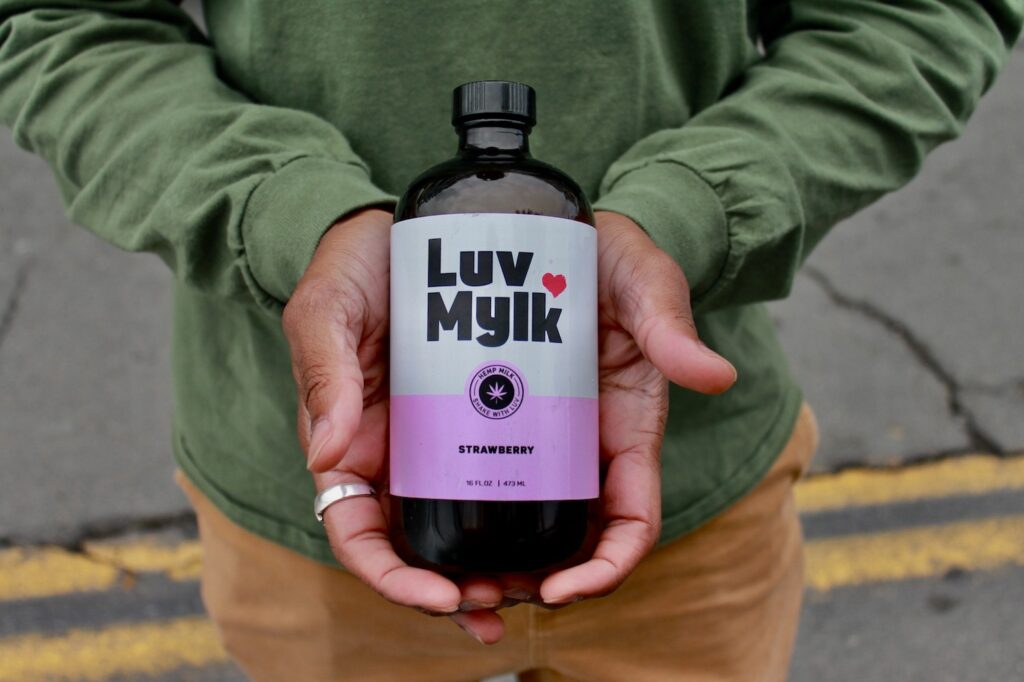 Dotson ran an unofficial experiment of his own, where his meatless Mondays segued into four-to-five vegetarian days a week and, eventually, to the omission of red meat and dairy altogether. The positive health effects he experienced offered swift confirmation of what he'd seen on the big screen.
"I felt like I was running smoother and more efficiently," he says. "Being from the Midwest, I loved milk—I was raised on milk—but I was looking for a non-dairy alternative to switch to."
He was working in sales at the time, but, he continues, "It wasn't fulfilling to me. It was just a job to pay the bills." Around this time, the pandemic was bringing the world to a standstill, which allowed Dotson time to pivot toward a lifelong calling.
"Since I was a child, I've always wanted to build something from the ground up on my own. I've always felt like an entrepreneur, and I love cooking. It's very therapeutic for me," he explains.
While researching the best ways to craft plant milk from scratch, Dotson learned that hemp seeds have far more to offer than comedic comparisons to marijuana. Hemp comes from the same cannabis sativa plant available for purchase at your local dispensary, but it can't get you high. It is, however, high in a number of macro- and micronutrients.
Almonds and cashews have been champions for plant-based progress and were obvious contenders. They've shapeshifted into butters, milks, crusts, and spreads. But they require thousands of gallons of water to produce a handful of servings, more than most other nuts and legumes—not-so-savory numbers for crops grown in one of the most drought-affected states.
So Dotson got to work in the lab (his apartment kitchen) with hemp seeds, which thrive with less than a third of the amount of water needed to grow almonds. He began with a vanilla mylk, but chocolate was the first flavor suitable for outside sampling. Dotson crowdsourced opinions from friends, family, and roommates, who convinced Dotson his prototypes were a marketable, ready-to-sell product. "They were my first customers," he says. "I would do drop-offs at houses, apartments, and dorms. It reminded me of the old-school milkman set-up, where they would travel around and leave milk outside your door."
Luv Mylk currently offers five varieties—unsweetened, chocolate, strawberry, vanilla, and horchata—all made from organic plants.
Dotson's product is also gluten-free, rich in iron and calcium, and full of omega-3s and -6s. Plus, it is nut-free, a rare distinction in the world of vegan milks.
The future of Luv Mylk remains hemp-based, but Dotson is contemplating investing in pasteurizing equipment to extend Luv Mylk's shelf life beyond seven to 10 days, making his products more compatible for use in coffee shops and cafés. No word yet on where lattes would rank on the food pyramid—however, if hemp in coffee can slow deforestation, let's get to frothing.