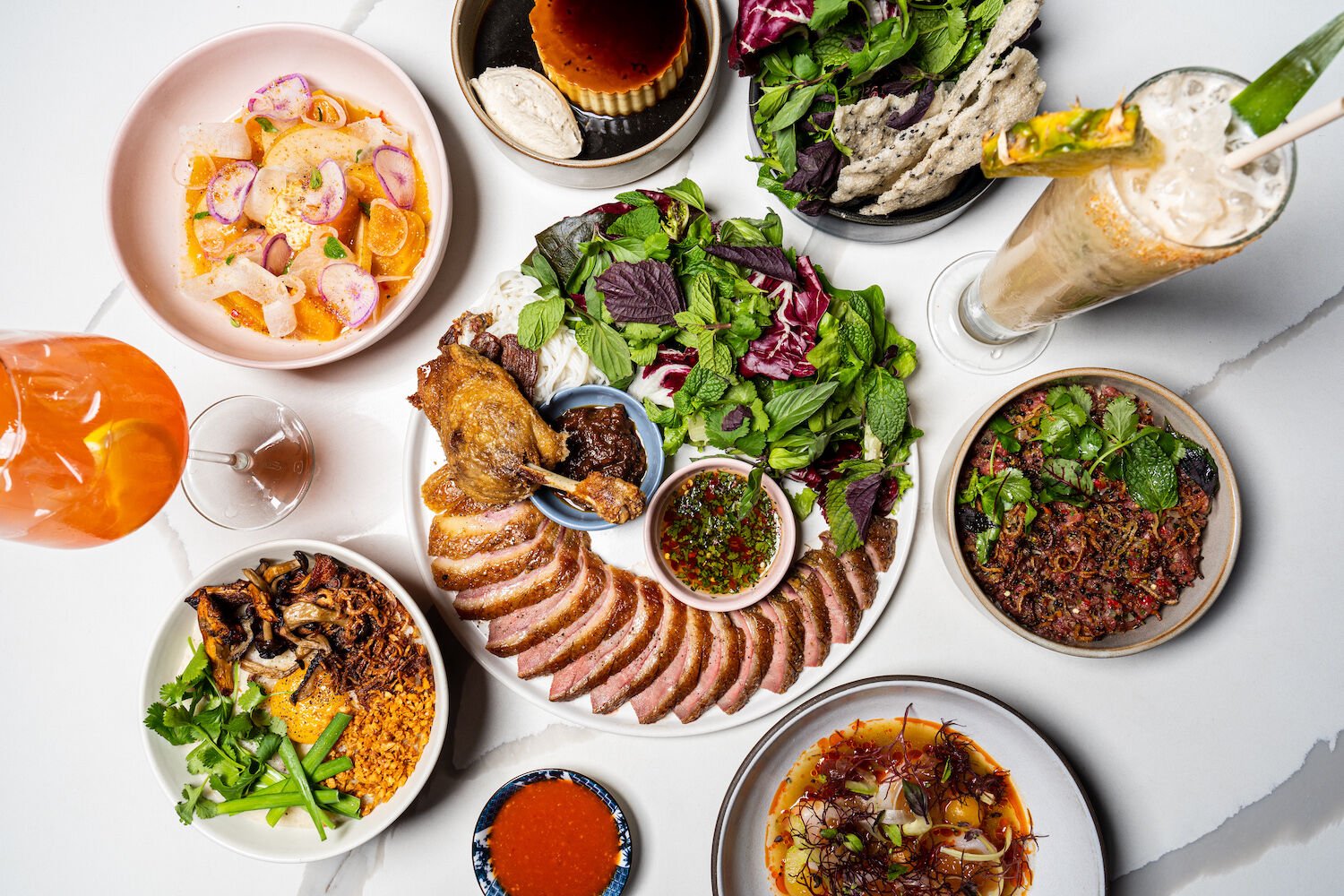 Photo Credit: Kimberly Motos
The Perfect Order: Congee, Beef Tartare, Roasted Duck
---
Fish sauce is a hell of a magic trick. Unscrew the cap, and its bottle releases one of the most violent aromas in the modern food world. A real, "Oh-dear-god-what."
But that funky bottle of soda-colored, salty fermented fish liquid has been the secret sauce of cooks for more than 2,000 years. The earliest forms were found in ancient Greece and Rome, where they removed the bones and marinated the meat in salt and herbs, then squeezed it to release its concentrated serum. Called garum, that elixir sold for obscene amounts to the wealthiest foodies of Caesar's realm. It was the truffle of the sea.
Why? Because fish sauce is essentially pure liquid glutamates (the "G" in the unfairly maligned MSG)—the savory compound central to umami, one of the five basic tastes of the human mouth (and arguably the best one). Glutamates are the reason black truffles taste like a forest intoxicant. They're why Parmesan cheese, tomatoes, mushrooms, and ribeyes inspire food lust.
Use fish sauce as the base of a more complex sauce, or in a marinade or vinegary dip, and its seafood-case-gone-wrong scent mellows. What's left amplifies every flavor; adds a resonant meatiness to each bite. It's a staple in many Asian kitchens and my own, and most Americans have tasted its charms whether they realize it or not, since Worcestershire is at its core, a bottle of anchovies.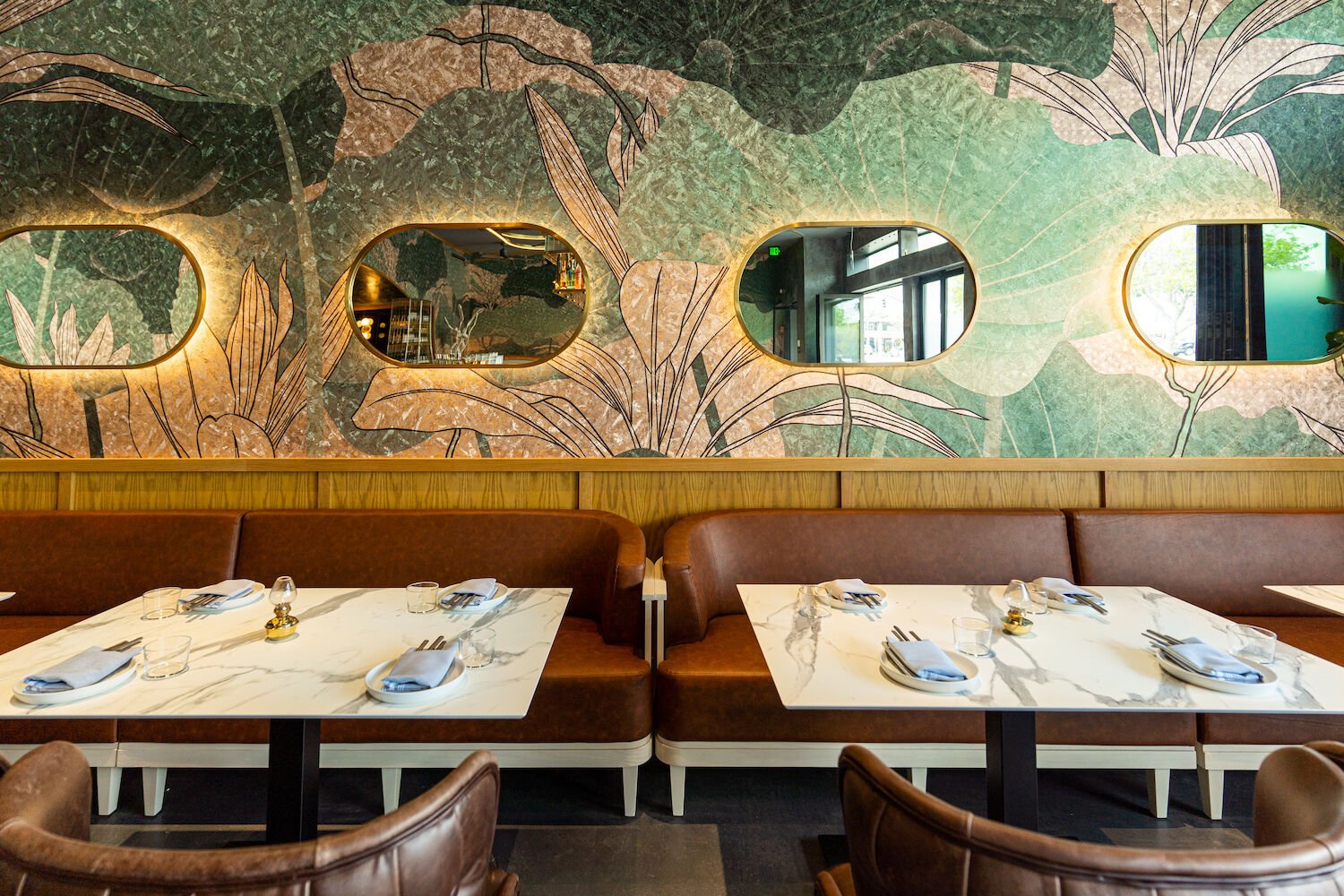 Photo Credit: Kimberly Motos
Kingfisher in Golden Hill is a showroom for fish sauce from chef Jonathan Bautista. It's in the shrimp, poached in Thai flavors (makrut lime leaf, lemongrass) and tossed in fish sauce, lemon juice, palm sugar, and an un-shy amount of Thai chiles. It's in the crispy chicken wings, that famed Viet specialty.
They're marinated for a full day in fish sauce, palm sugar, and black pepper, then dipped in a slurry of Sauternes, potato starch, and wonder flour—the result turns chicken wings into a creation that brings to mind the phrase "saucy kettle corn." They are not yet serving fish sauce Negronis, though I have to guess it's imminent.
The indoor-outdoor space is in Golden Hill, looking west over East Village and downtown. It's the gray box around the corner from the Cricket Wireless store, an elegant improv of a space lined in brass. Inside, the wallpaper is floor-to-ceiling flowers and tropical green and lime green with some pink petals—a motif I'm calling Golden Girls goth.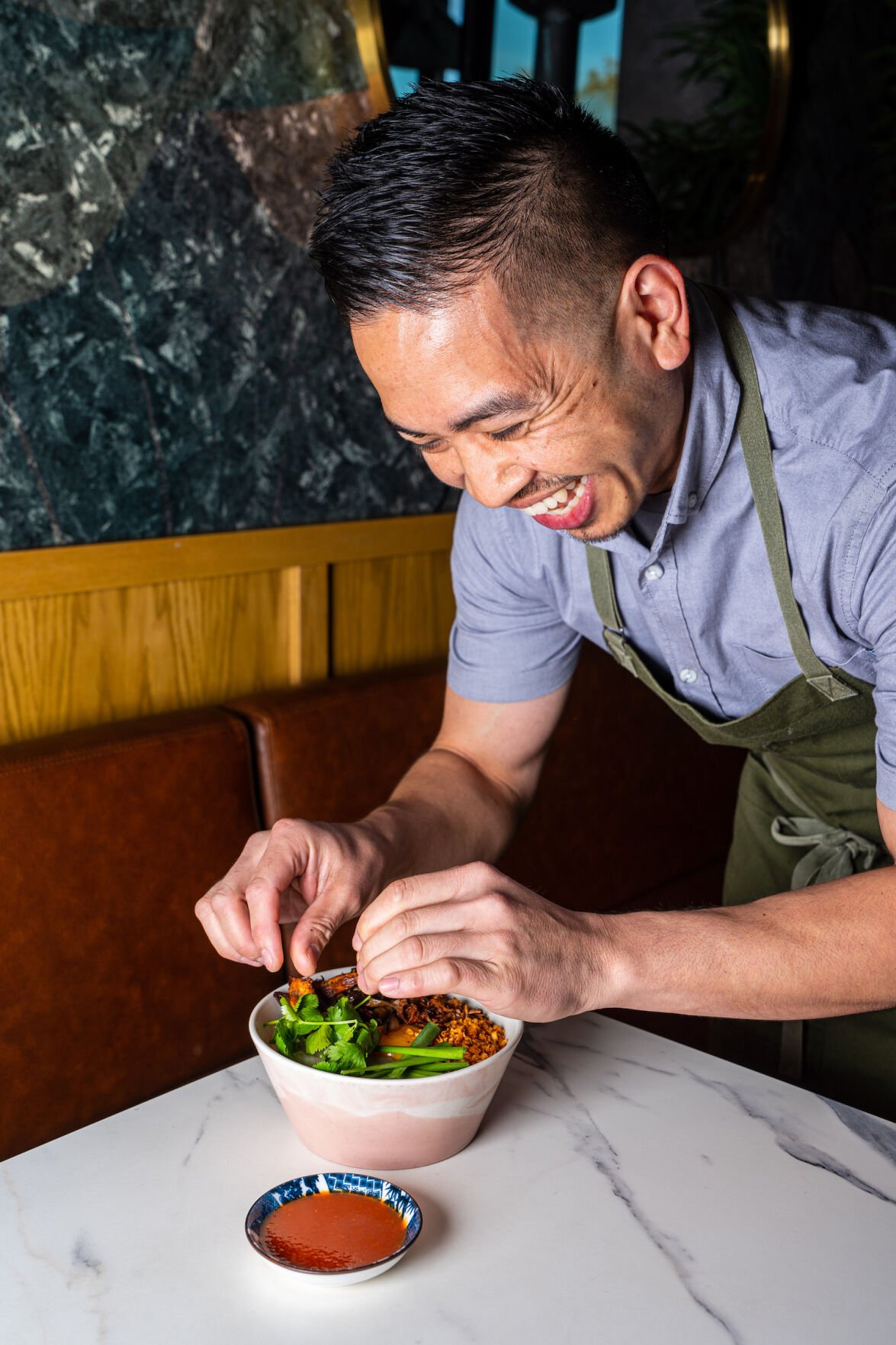 Photo Credit: Kimberly Motos
This place is also a prime example of a welcome trend in San Diego: Asian and Mexican chefs and those from other non-European/Western cultures who learned to cook in well-regarded French-Californian kitchens taking their training and applying it to the food they grew up eating.
For decades, French was just about the only cuisine that seemed available for serious chefs in the U.S., so it became an established training ground. In Kingfisher's case, Bautista is Filipino, and he was the chef de cuisine of George's at the Cove. Tara Monsod is doing the same at Animae, and Wormwood's success hinges on the chefs spiking Baja into the food of central France (the cream-saucy part, like Nouvelle Aquitaine).
Hell, zoom out a little more and find the trend has wider legs in our region. The entire Valle de Guadalupe and its restaurants came up via this very concept—chefs like Jair Téllez of Laja, Roberto Alcocer of Malva (and Valle Oceanside), and David Castro Hussong of Fauna are all French-trained, as are others in Baja.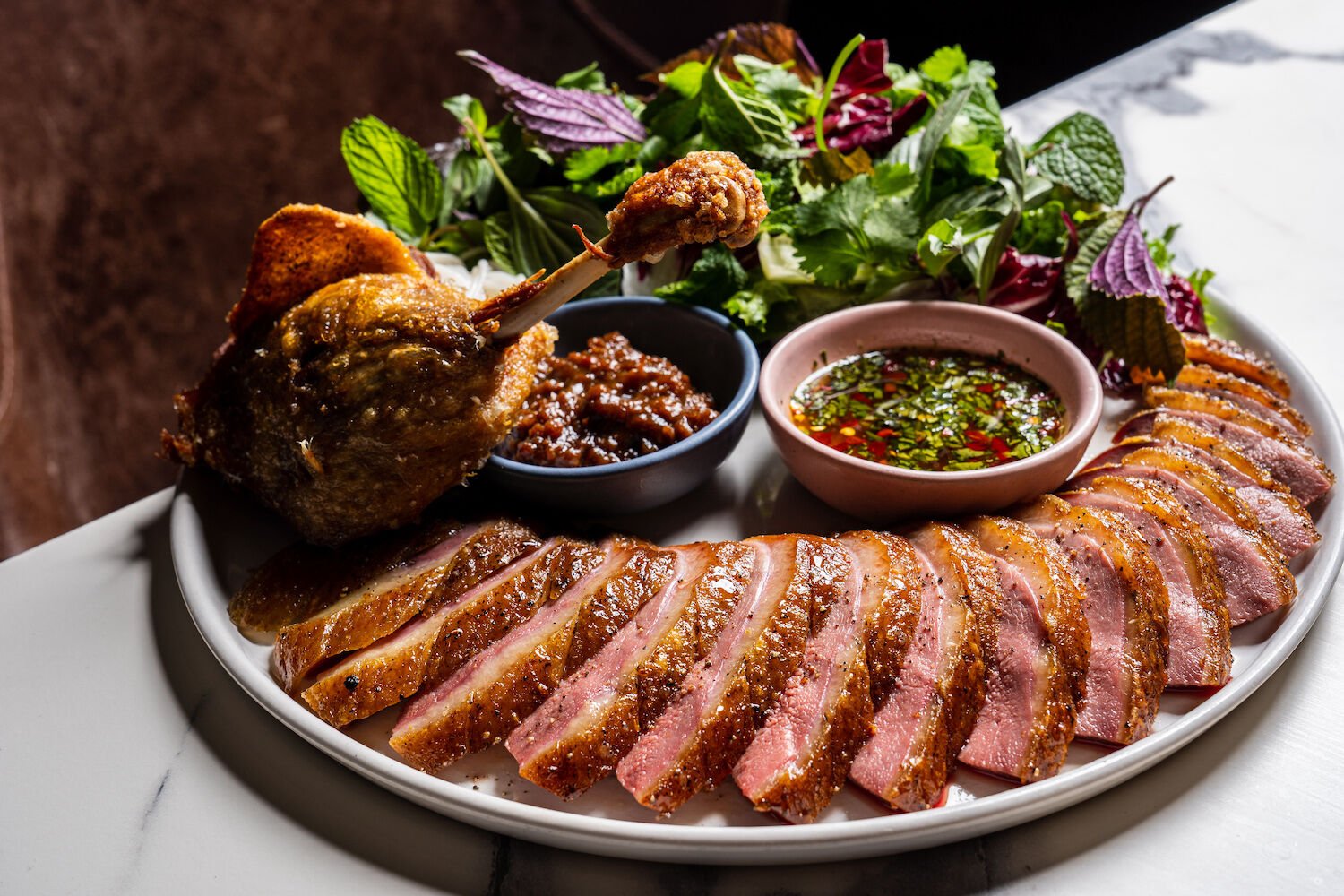 Photo Credit: Kimberly Motos
French-Asian food gave the world one of its best sandwiches (bánh mì, which combines French liver paté with Vietnamese pickled veggies). At Kingfisher, you see the connection in the beef tartare, a French-Polynesian classic. It's said to have originated with Genghis Khan, whose army was too busy conquering things to pause and cook their meat.
Kingfisher gives it a fresh spin by swapping out English fish sauce (ahem, Worcestershire) for the various Asian versions, which are more elegant, less doctored, and more fish-forward. The egg yolk is cured in the fish sauce, the raw beef tossed with Thai chiles and herbs, and bitter greens, then given a Pop Rocks texture with puffed quinoa and crispy shallots.
Somewhere in Bautista's kitchen, there is a lever. When pulled, the trap door in the ceiling releases the herbs. It rains mint here. Tiny rainforests of basil. This pile of flavor leaves is one of my favorite signature markers of Vietnamese food (think about the fresh garden that arrives with a bowl of phở). Kingfisher's owners—the Phan family, who also own beloved-local restaurant, Crab Hut—have posited the concept as modern Vietnamese. But it's also a bit Filipino and any (mostly East Asian) influence the kitchen sees fit to incorporate.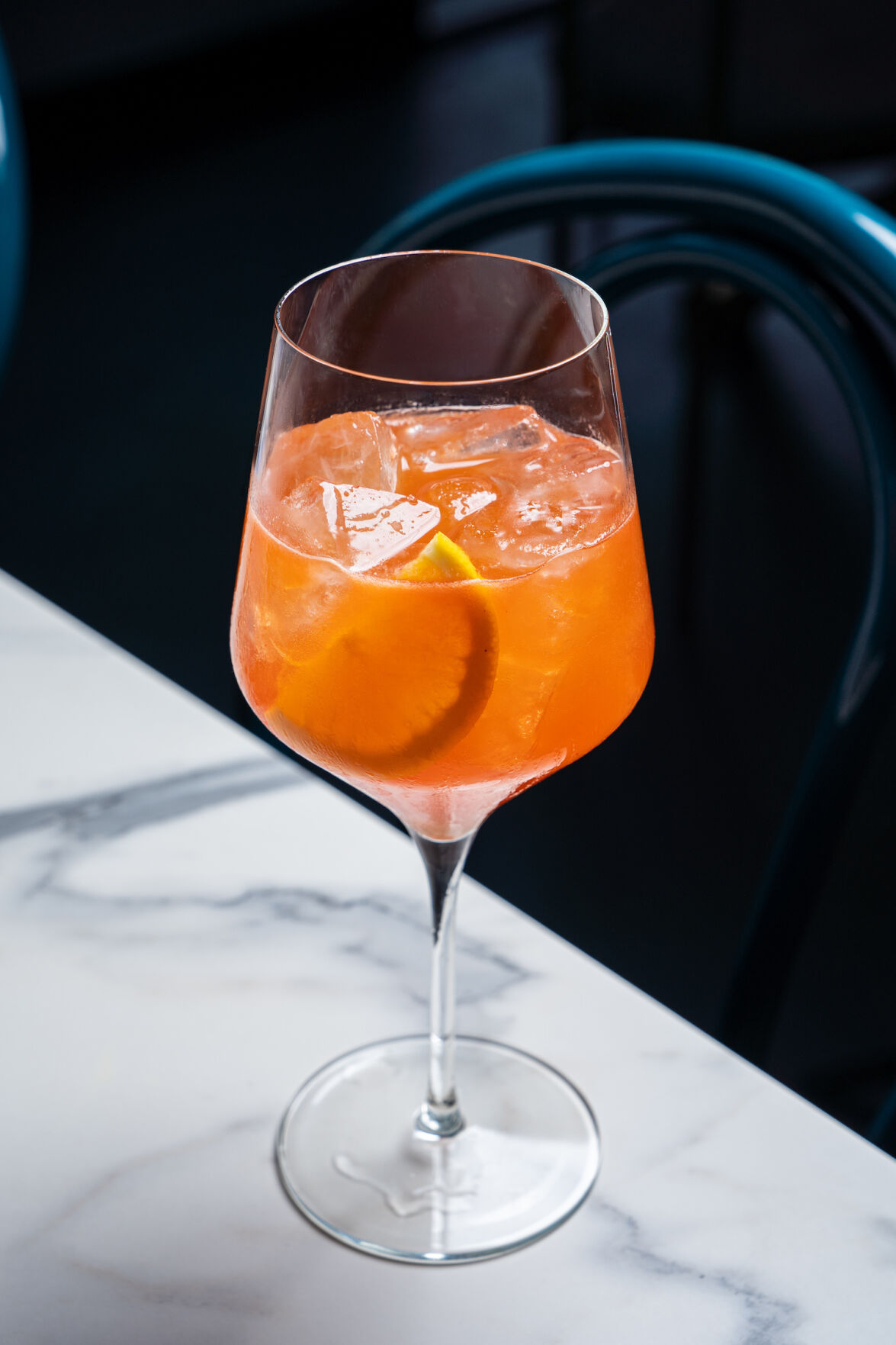 Photo Credit: Kimberly Motos
At the long, oval bar anchoring the center, there are craft cocktails with various Asian riffs, like a Vietnamese Spritz with jujube and lychee; a gin sour with banana and lemongrass; a "Saigon Moped" with gin, debittered bitter melon, sesame leaf, and lime.
The smoked duck is the marquee entree that sells out every night—dry-aged for two weeks, glazed with palm sugar and pepper, sliced out on a massive dish, with enough salty-sweet meat to feed four. I've had it perfect and I've had it a tad dry. The diver scallops are tragically good, lightly poached in salt water, then served in a broth made of pineapple juice and fish sauce. That combo sounds like a prank, I realize. But break down the elements—sweet, salty, acidic—and that's the formula for most perfect dishes on the planet. A dish of roasted eggplant shines on a duo of sauces—a vegan seaweed-mushroom XO sauce and vegan demi.
The biggest hit of the menu, though, is the porridge. Bautista's congee. Asian grits. A humble dish that many remember eating their whole lives, but never like this. At the risk of offending moms the world over, Bautista's does what some of the best restaurants do: take a dish you have an emotional connection with and make it better than you ever remembered. His rice porridge is topped with chanterelles, crispy garlic, garlic chives, egg yolk for richness, and housemade sambal. Mix it up. It's soul-resuscitating stuff.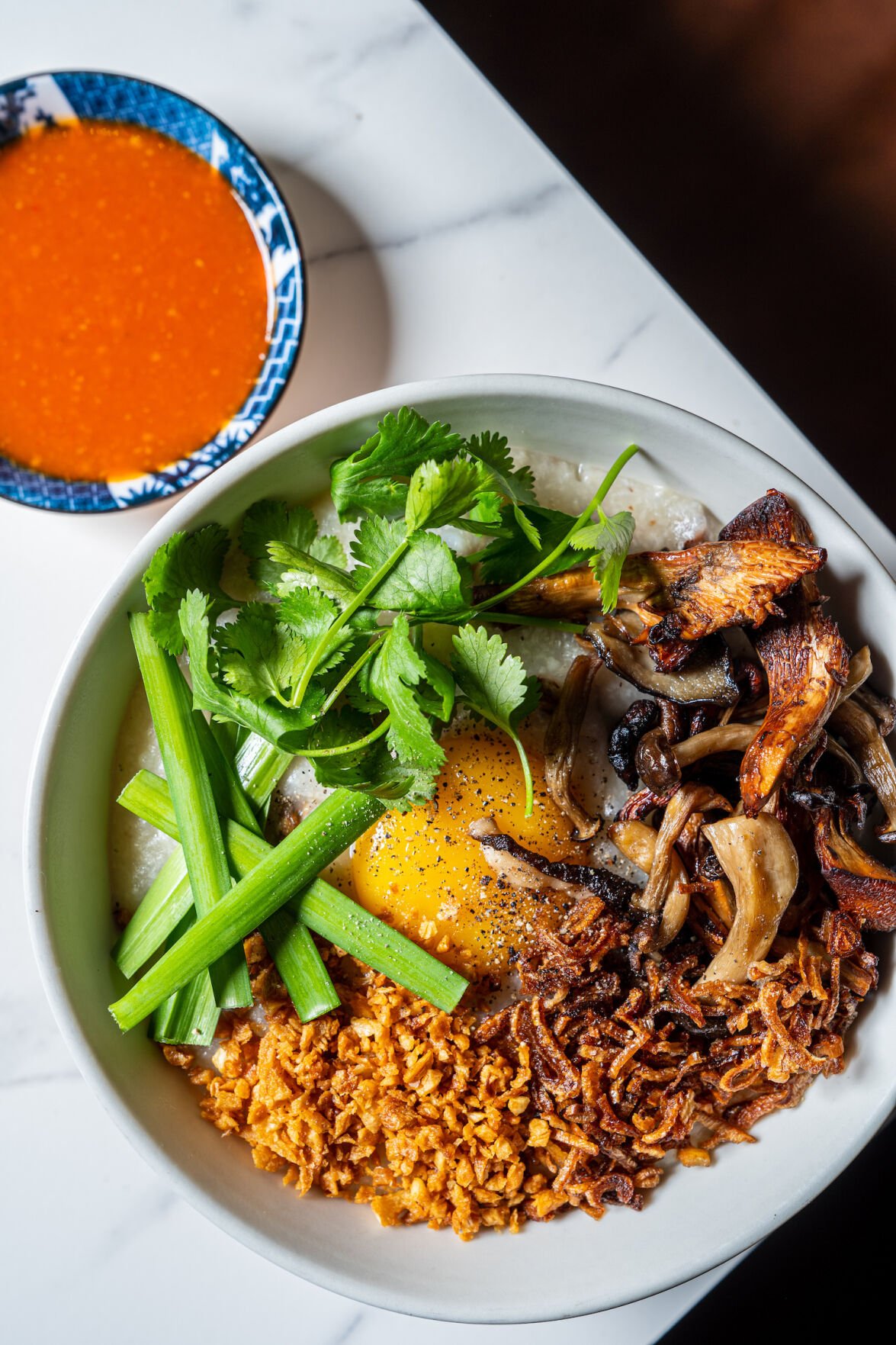 Photo Credit: Kimberly Motos
My chief complaint about Kingfisher has to be the thing that makes it so compelling—yeah, the fish sauce. With great power comes great responsibility. Like anything with such a potent taste (truffles, kimchi, blue cheese), it can be a tad exhausting.
For dessert, Bautista does a riff on a silky jiggler almost every culture has a version of: flan. Mexican versions tend to be heavy, with condensed milk; the Vietnamese version is light, with Filipino flan right in the middle. Kingfisher's Vietnamese coffee flan splits the difference between the latter two, resting the custard in a pool of coffee syrup with a quenelle of Maldon salt-miso cream. Light and dark in the same bite.
One thing's for sure. The arrival of this restaurant has kicked off a very important question: What is the best restaurant located in a strip mall next to a 7-Eleven? With both Kingfisher and Sushi Ota, the city's Slurpee-adjacent food scene has never been so alive.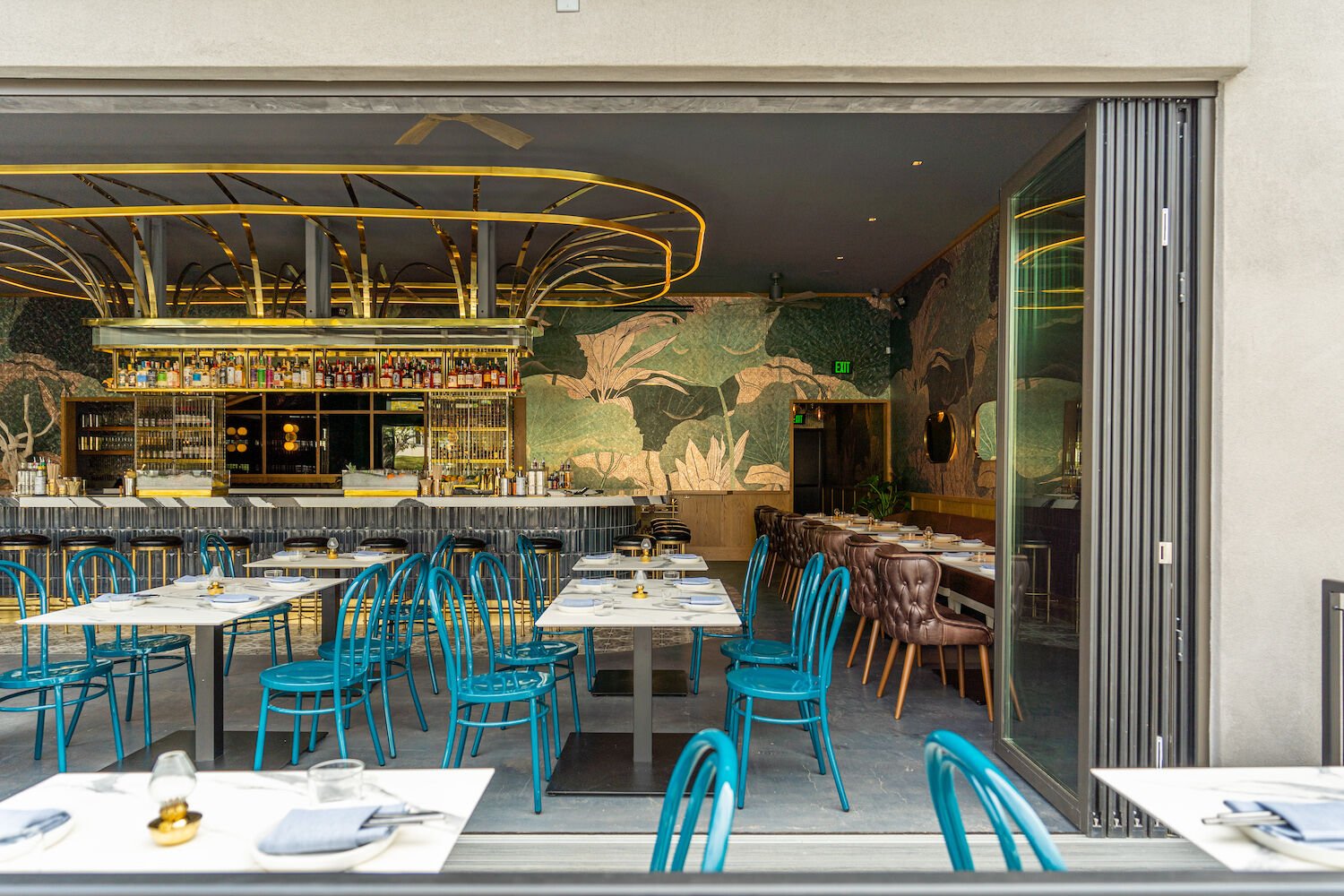 Photo Credit: Kimberly Motos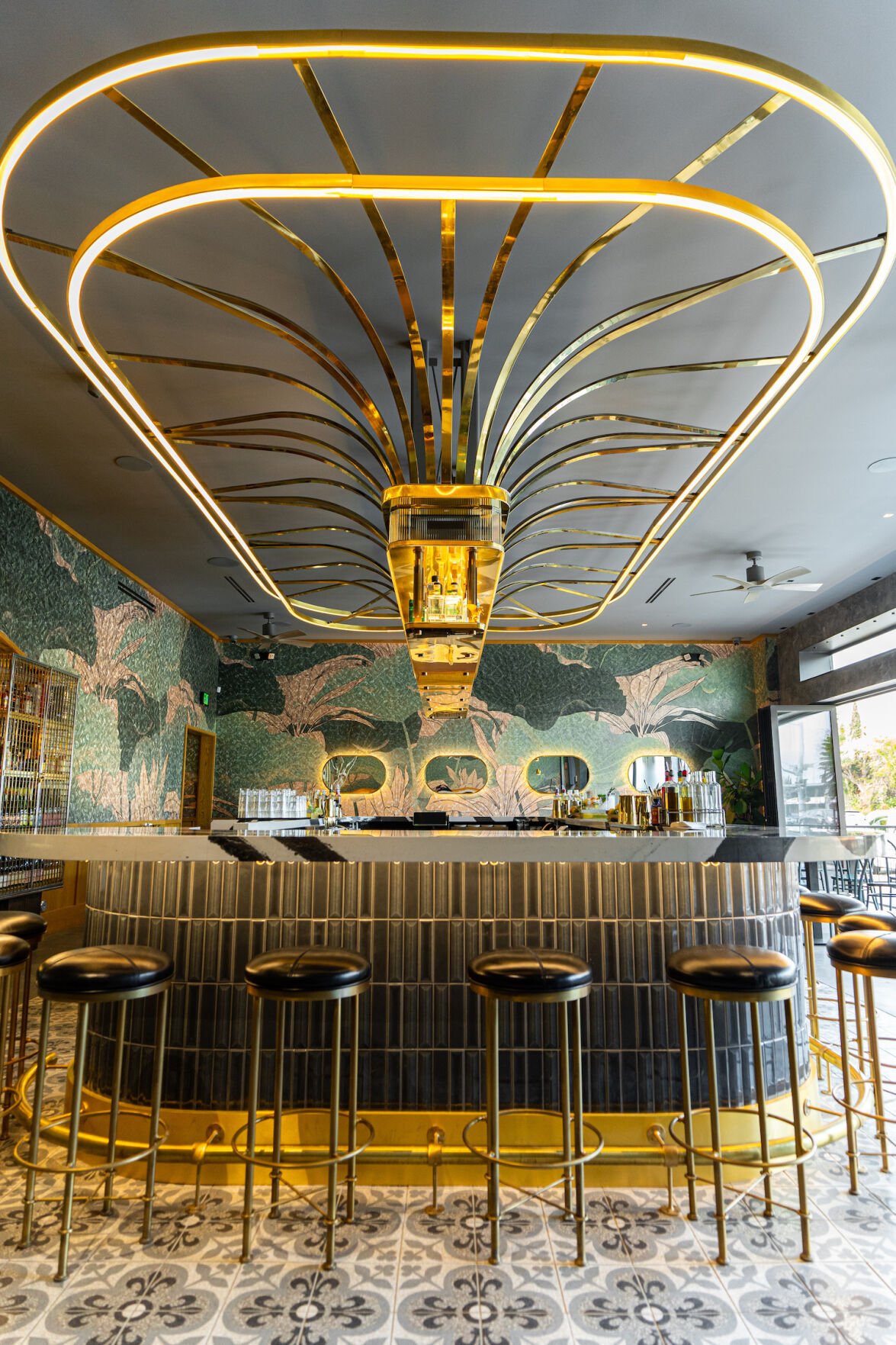 Photo Credit: Kimberly Motos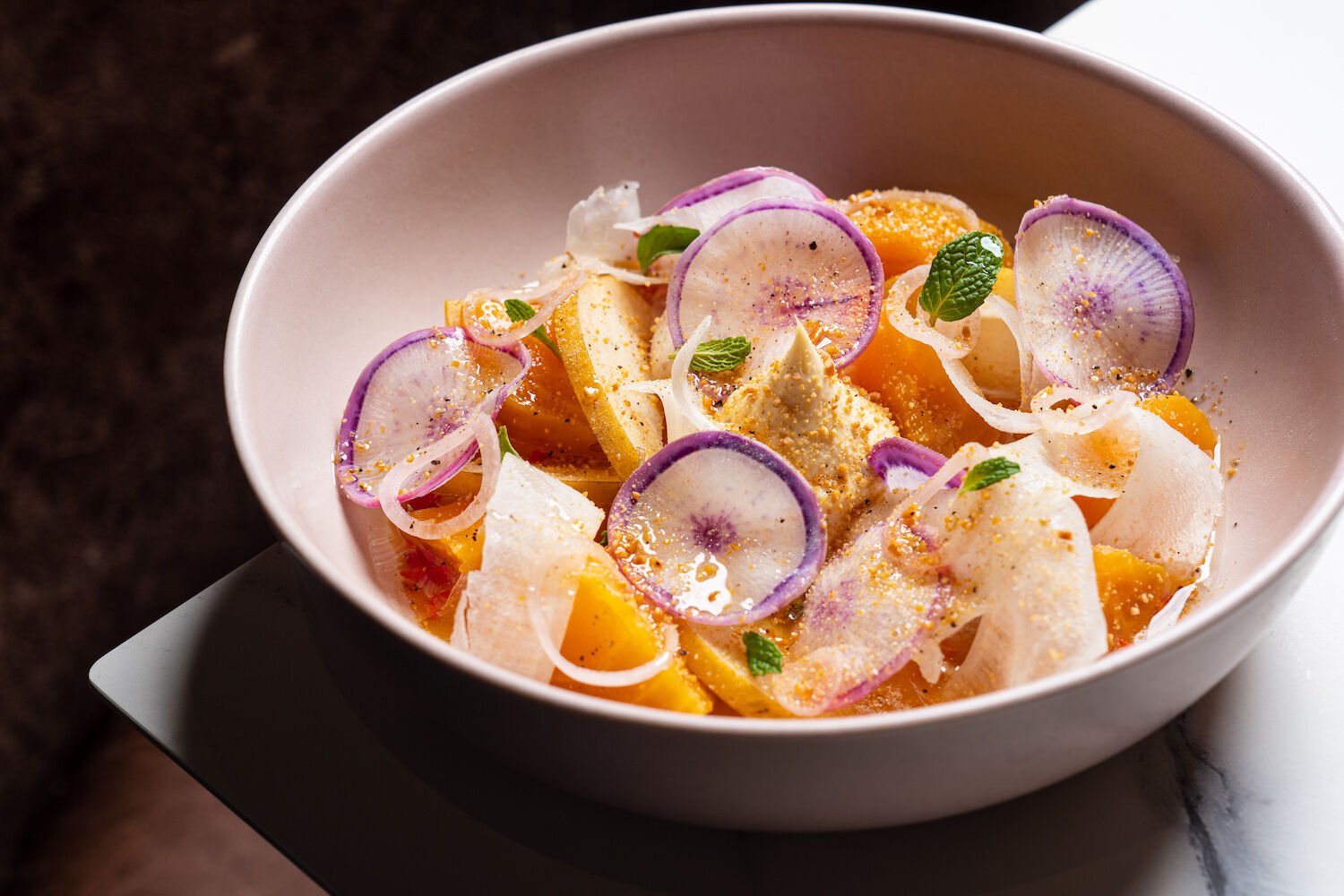 Photo Credit: Kimberly Motos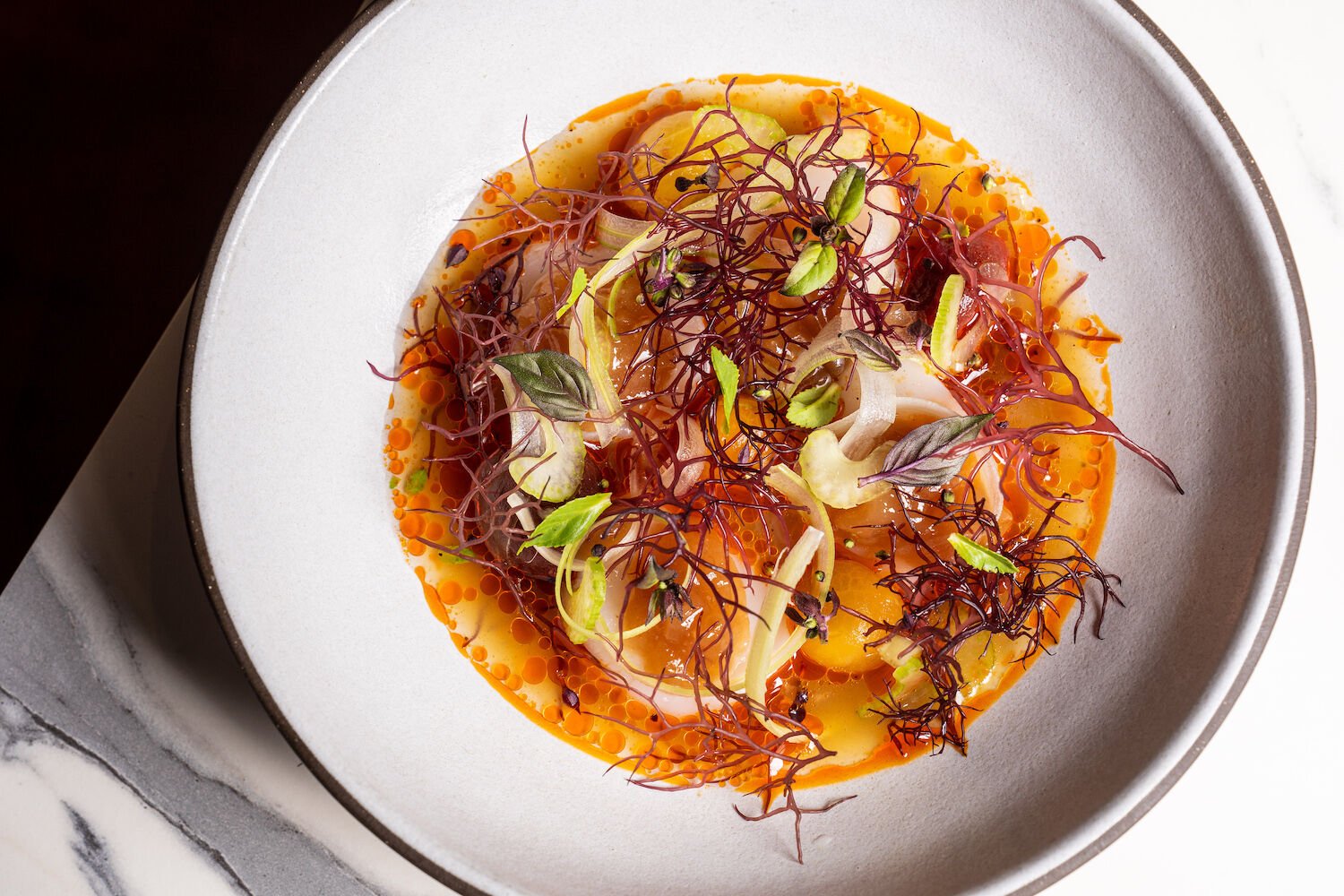 Photo Credit: Kimberly Motos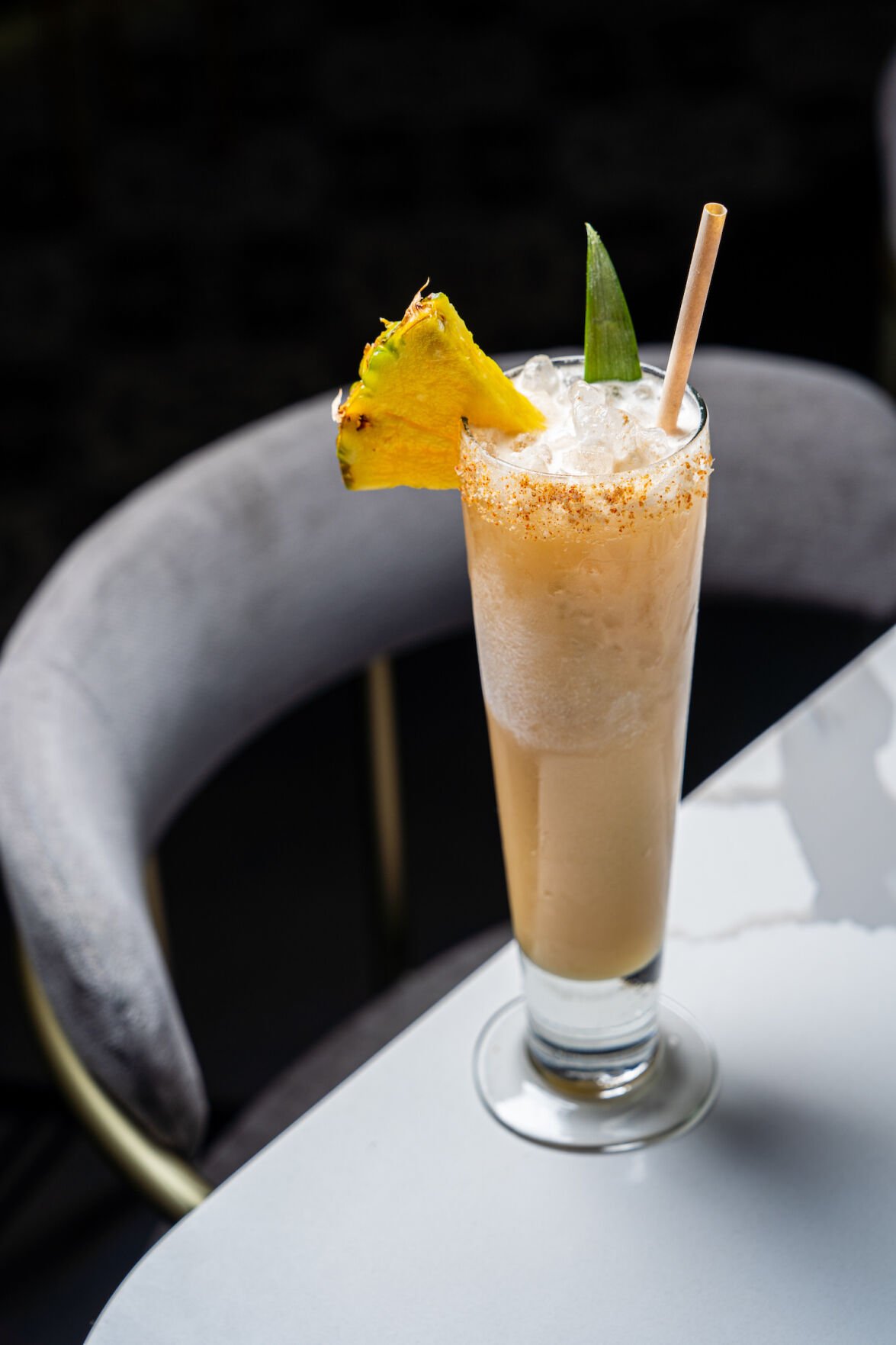 Photo Credit: Kimberly Motos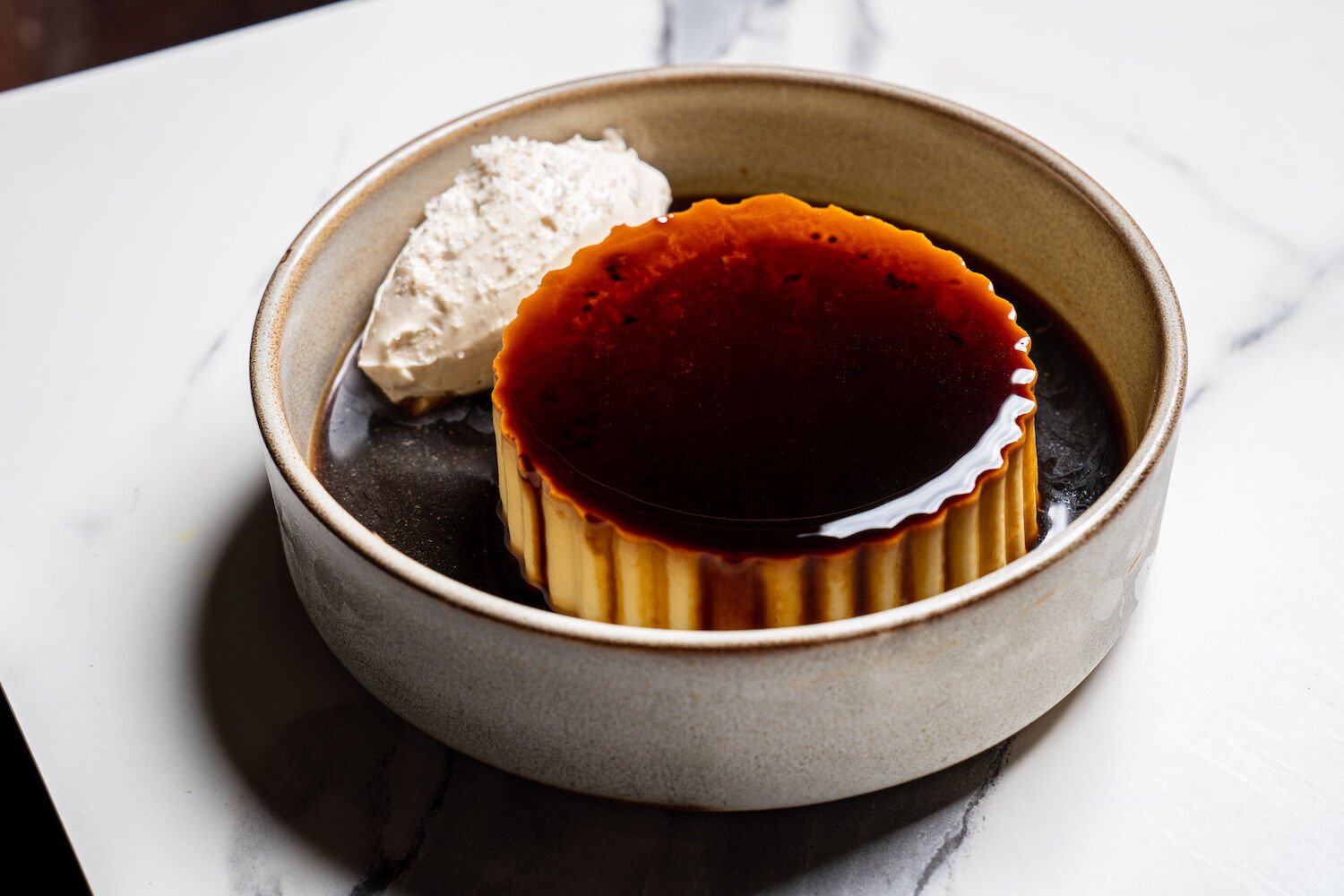 Photo Credit: Kimberly Motos