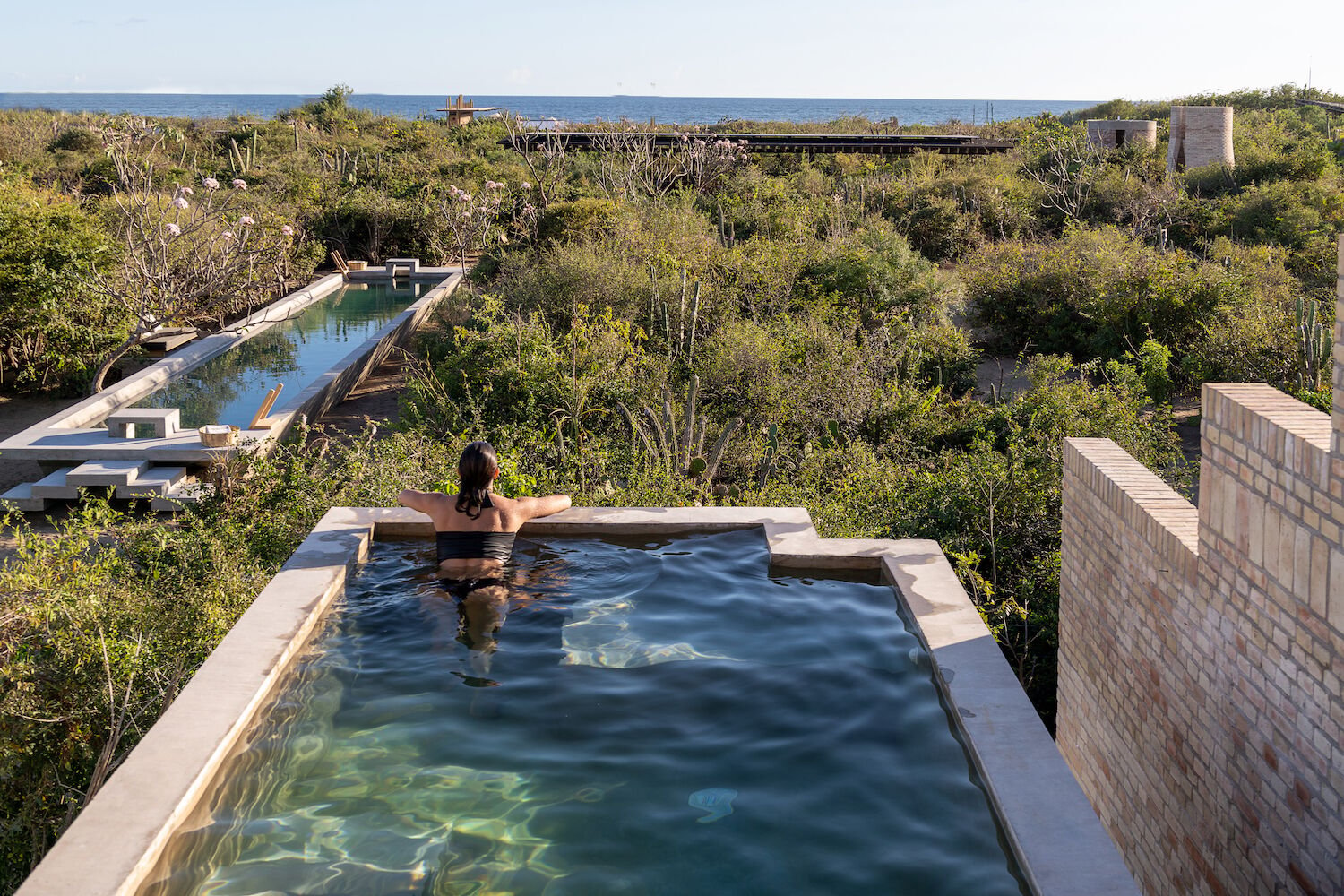 Jamie Navarro
Long overlooked in favor of places like Puerto Vallarta or Mexico City, the Oaxacan coast is today's preferred destination for design-driven travelers. Thanks to attention from some of Mexico's most notable artists, architects, hoteliers, and designers, a small enclave 45 minutes north of Puerto Escondido has become a hotbed of sustainable design and vanguardist architecture in recent years.
Flanked by the Sierra Sur to the east and the Pacific to the west, the burgeoning architectural hub is attracting travelers eager to experience nature on nature's terms, while residing in boutique accommodations curated by some of the country's most lauded creatives.
Terrestre Hotel is the newest property to open along the high-design corridor and the latest collaboration between renowned Mexican architect Alberto Kalach and acclaimed boutique hotel firm Grupo Habita. The result is a brutalist nod to Mesoamerican design and an ode to the rugged beauty of the coast. Fully solar powered, the property's 14 two-story suites, complete with a private bilevel terrace and plunge pool, offer sweeping vistas to the Pacific and across the lush grounds' two saltwater pools, seven-chamber hammam, and open-air restaurant.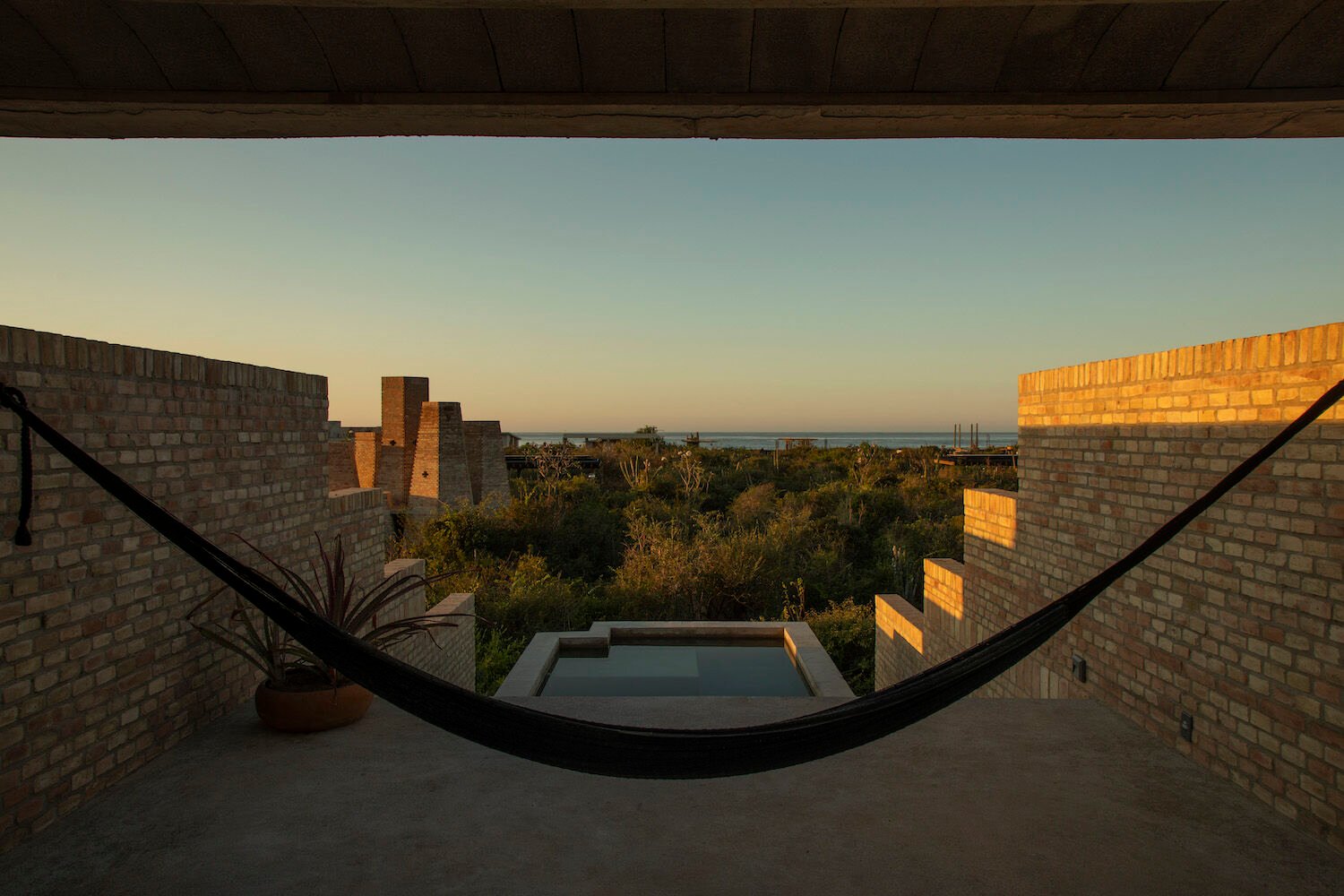 Jamie Navarro
Inside, guests will find vaulted ceilings and a neutral palette of luxe materials like artisanal brick, jute, and tzalam with custom furniture by Oscar Hagerman. A collaboration between Kalach and environmental engineer Luis Urrutia, the nearby Punta Pájaros is an eight-villa beachfront regenerative hospitality project. The freestanding thatched-roof villas were designed low to the ground to blend in with the environment while sitting atop thin wooden pilotis to encourage vegetation.
Punta Pájaros' ecological design manages to remain luxe—think hand-knotted rugs, vintage rattan furniture, and raised porcelain sinks—with interiors by CDMX–based Decada. Villas include a kitchen, dining area, living room, private terrace, and pool, and seemingly endless views of the Pacific. With on-site reception and a palapa restaurant—as well as a small-batch mezcaleria, Cobarde—guests will likely have everything they need during their stay.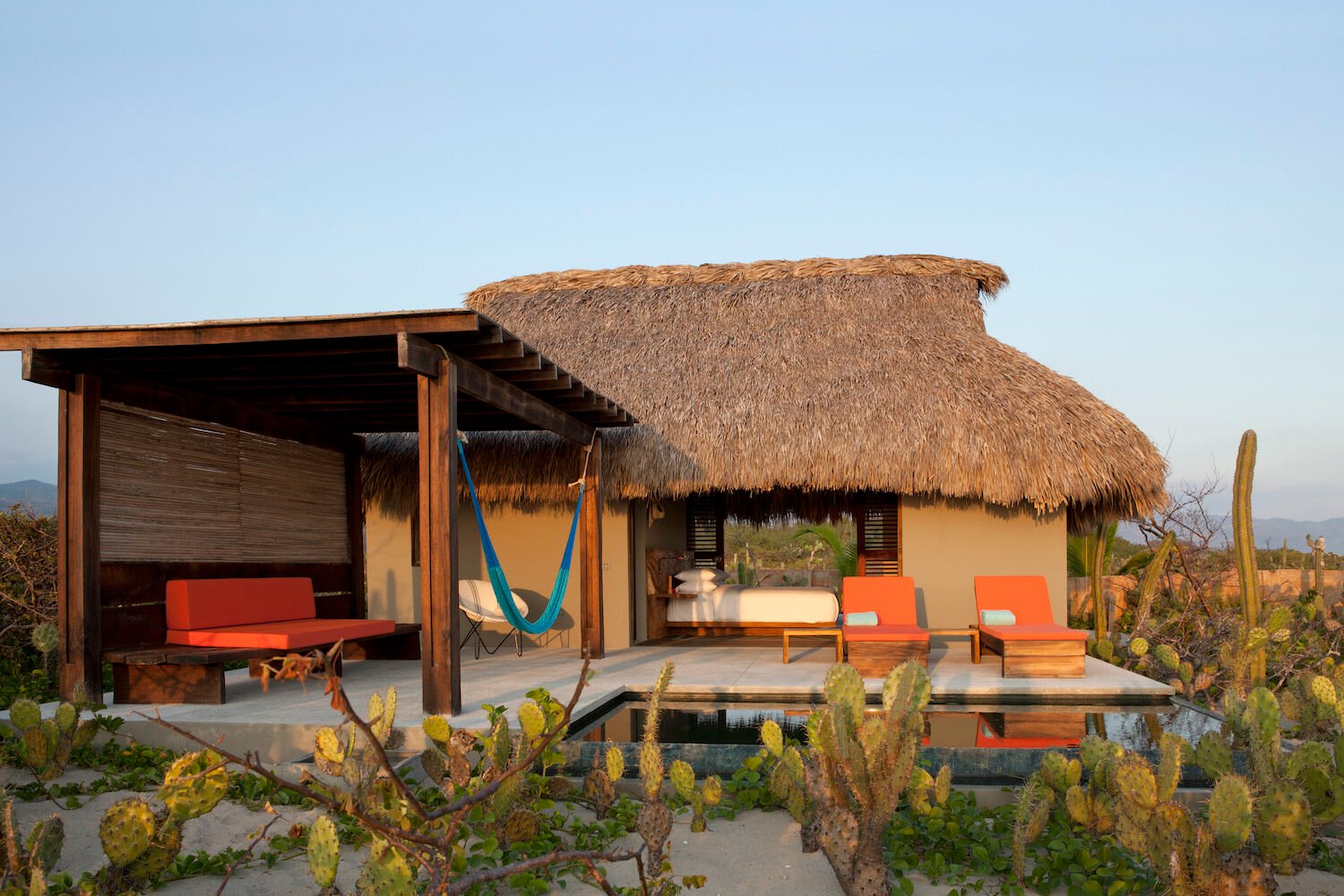 Undine Pröhl
The more secluded boutique property Hotel Escondido offers more traditional luxury accommodation while never straying far from the environment-first ethos of the area. The design-forward hotel by Grupo Habita and architect Federico Rivera Río includes a 165-foot infinity pool, beach club, and direct access to the virgin coast. The 16 bungalows come with a private terrace and accompanying pool.
At the same time, midcentury furniture—also by Decada—contrasts with concrete bathrooms and geometric wood flooring for a refined surf-shack vibe. Lounge in the property's many hammocks, arrange a spa treatment, or dine at the open-concept restaurant.