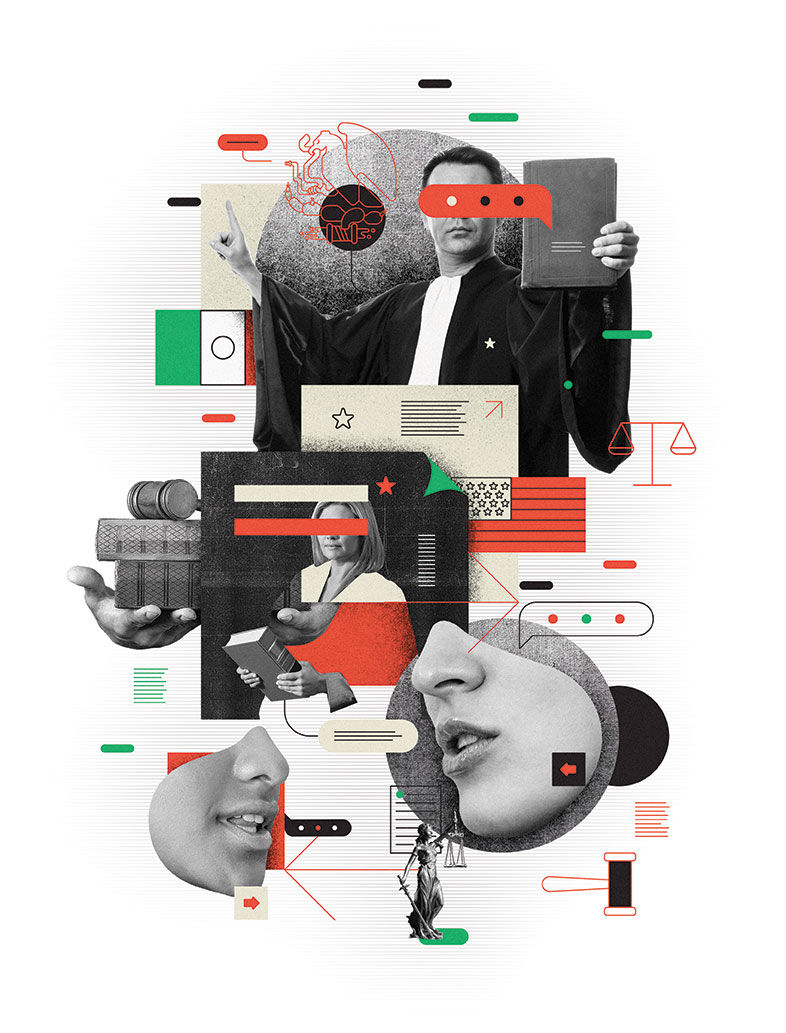 Illustrations by Israel Vargas
Dulce Torres is a public defender in Tijuana and one of the few attorneys working in the city's legal system who understands the art of arguing in court. Only one or two of her colleagues have likewise trained in oral litigation, and prosecutors are quick to spot them. "They don't want some of us defenders," Torres mentions with a grin, "because we argue against them." And strange as it sounds, Mexican prosecutors aren't used to being argued with.
Torres is a graduate of the Instituto Latinoamericano de Derecho y Justicia. The ILDJ sounds like a Mexican university, but it's not. Otherwise known as the Latin American Institute of Law and Justice, it's part of San Diego's own California Western School of Law.
Cal Western is the first law school in the country to offer a curriculum taught entirely in Spanish. The ILDJ trains law students and attorneys from all over Latin America—not to practice law in American courts, but to bring improved trial skills back to their home countries. Next month, ILDJ is hosting more than 300 law students and attorneys from all over Mexico at Tijuana's Hotel Real Inn for the final rounds of a nationwide mock trial (or "moot court") competition.
The need for this has arisen over the past quarter century, as one by one, the nations of Central and South America have undertaken significant legal reforms aimed at reducing corruption and injustice, specifically by adopting American-style open hearings. The movement recently spread to Mexico, which in 2008 reformed its constitution to guarantee, for the first time, that anyone accused of a crime will receive a public trial.
They don't want some of us defenders, because we argue against them. —Dulce Torres, Mexican public defender, ILDJ graduate
The Mexican government gave its states eight years to put the necessary infrastructure in place. "It's a massive undertaking," explains ILDJ director Justin Brooks, describing how the reforms began taking shape in the state of Chihuahua and spread piecemeal throughout the country ahead of a June 2016 deadline. "For 400 years, Mexico had no trials, and now they've made them mandatory."
Brooks has taught at Cal Western for two decades, where he's best known as the founder of the California Innocence Project, a pro bono legal team that works to free the wrongfully convicted from prison. Its most famous client, Brian Banks, was a high-profile NFL prospect who spent six years behind bars for a rape he didn't commit. His story was told in the 2018 film Brian Banks, where Brooks was played by Greg Kinnear. No fewer than 29 other clients have also been exonerated thanks to the project's work, and Brooks's team of attorneys and law students continue to pore over thousands of case files each year, working out of Cal Western's Cortez Hill offices to correct injustice where they find it.
Along with the Mexican Moot Court Program, Brooks's work with ILDJ includes three other programs. One of them, REDInocente, echoes the Innocence Project's mission to provide legal recourse for the wrongly convicted, expanding the effort to Spanish-speaking nations, where it's arguably a bigger problem.
For instance, prior to reform, Mexico's legal system operated under a standard of "guilty unless proven innocent." Prosecutors and judges worked behind closed doors, issuing written investigative reports and affording defense attorneys little opportunity to question the legitimacy of cases being built against their clients. Combined with a notoriously corrupt police force, justice in such a system proved not just blind, but mute. "Whatever they'd write in a police report," Brooks notes, "was introduced as fact."
Ever since Mexico completed its transition to a public trial system in 2016, defense attorneys have been empowered to make oral arguments on behalf of clients. The problem with that, Brooks says, is that "nobody knows how to do them."
Like the American public, Mexican lawyers mostly know how trials work from watching TV and movies. For 19 years teaching international law at Mexico's Tecnológico de Monterrey, ILDJ associate director Karen Sigmond would start the first day of class by asking her students to describe the typical American courtroom. "Ninety-nine percent could describe it," she says. "Where the judge sat, the bailiff, the flags—everything." However, "When I would ask them to describe a Mexican court, many of them had no clue."
Courtroom dramas have a long tradition in American entertainment, but Mexican culture offers no equivalent genre. Because Mexico consumes so much American TV and film, even those pursuing degrees at Mexico's roughly 1,400 law schools have grown up only faintly aware of how their own system works. Sigmond notes that Tecnológico de Monterrey and other Mexican law schools have moved to adapt to the reform. But who can teach trial skills in a country that never before had trials? The answer, offered by Cal Western: American lawyers.
San Diego is a gold mine for this, because we have so many American lawyers who speak fluent Spanish. —Justin Brooks, ILDJ director
Having grown up in Puerto Rico, Brooks speaks fluent Spanish. So when Chile started implementing its own trial reform more than 20 years ago, he felt compelled to travel there and teach public defenders the tools of the trade—how to make opening arguments, how to cross-examine a hostile witness, the right time to shout "Objection!"
Those training missions evolved into the original pillar of the institute: Acceso Capacitación, or training access, which offers three-day seminars taught in Spanish by American lawyers with experience in litigation. "San Diego is a gold mine for this," Brooks says, "because we have so many American lawyers who speak fluent Spanish."
When I would ask my students to describe a Mexican court, many of them had no clue. —Karen Sigmond, ILDJ assosciate director
One of those lawyers is Carlos Varela, a Cal Western graduate and San Diego native who worked two decades as a local prosecutor before being appointed a San Diego Superior Court judge in October. Varela's parents originally came here from Mexico; when he learned about the nation's 2008 reform, he felt a sense of duty to contribute to improving its justice system, and got involved by teaching Acceso Capacitación.
Varela says young law students have been eager and excited to learn public trial skills, and that the process of teaching them actually made him a better lawyer in turn. But he's also encountered some resistance. That's because it's not just law students training at the ILDJ, it's also career prosecutors and judges. "The judges are just as green in this new system as the lawyers," he adds. "They're going through these growing pains as well."
Torres can attest to that, too. Out of the 12 judges she might argue before at Juzgados Penales, Tijuana's criminal courthouse, she estimates only three have fully embraced judicial reform. The others go through the motions, grudgingly, while prosecutors read quickly through the lengthy documents they were trained to produce, thereby entering them into the court's transcript. "It's hard for them to see new things," Torres says. "They're stuck here, with the things that they know."
The judges are just as green in this new system as the lawyers. —Carlos Varela, San Diego Superior Court judge and Cal Western grad
A practicing attorney since 2007, Torres was still fairly new at it when the reform was announced. She and a few Tijuana peers started attending Acceso Capacitación in 2012, to prepare themselves for the future. She was immediately impressed by the institute's mantra, "aprender haciendo," or "learn by doing." As with its Mexican Moot Court Program, the Acceso coursework gives students a chance to use the skills they acquire in a practice setting, and to receive feedback and notes from their teachers.
Torres continued with Cal Western when it started offering the ILDJ's fourth program, a Maestría en Derecho con Especialización en Litigación Oral. The yearlong program combines live online video training with weeklong sessions on the Cal Western campus to offer a globally accredited LLM, also known as a master of laws degree. Torres is currently one of only a few Tijuanense attorneys to possess it.
So when the state of Baja California transitioned to public trials in June 2016, she was well prepared. In her first public hearing, she represented a pair of men arrested during a traffic stop, and argued that their detention had been unlawful. The judge agreed, and the case was tossed out.
Aspiring to become a judge herself one day, Torres has since made the move from private attorney to public defender, knowing it will give her far more opportunity to practice trial work.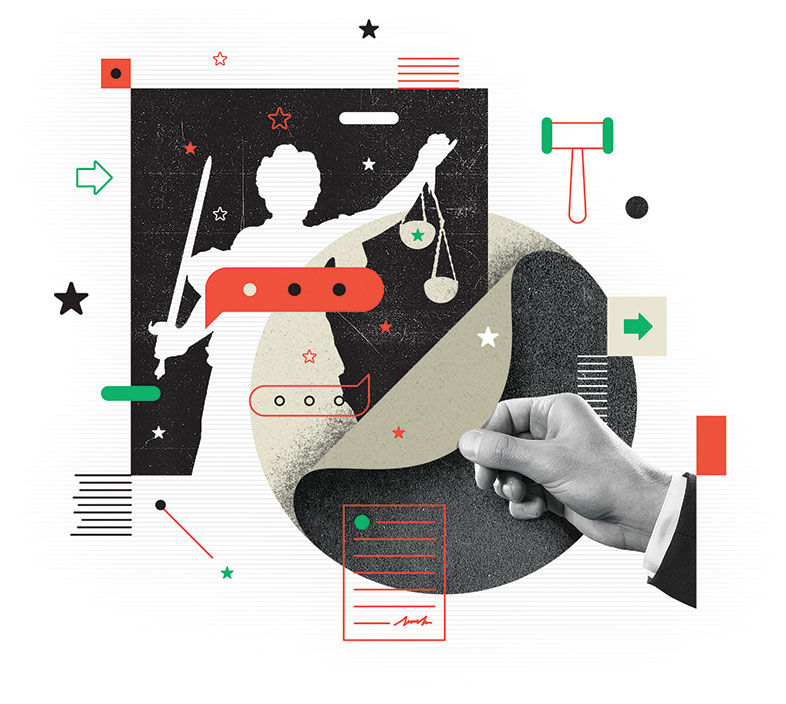 In Mexico, judicial reform is still in its infancy; it will take a generation for trial culture to fully develop everywhere.
Another alum of the Acceso training and LLM program, Umberto Montiglio, practices law farther south, in Santiago, Chile, which implemented American-style trials in 2005. He credits public trials with establishing greater public trust in the law in the wake of Augusto Pinochet's dictatorship, adding that trials in Santiago now last eight or nine months on average, whereas closed-door investigations previously dragged on for six or seven years.
Montiglio recalls that early on, "judges of an older age, and professors at universities, they were very reluctant to change. But like most things in life, that lasted for a couple of years maybe, then they realized change is inevitable. They had to adapt."
Younger lawyers who embraced the change led the way. Some, like Montiglio, drew inspiration from American culture. "I've seen every movie of lawyers at trial," he boasts. "That part is what I like most about my job." Like Torres, he became a public defender to make better use of the skills he picked up at Cal Western. He's also been working to pass on those skills, teaching a course he once took, "Train the Trainer," both at the institute and internationally.
Many of Cal Western's Acceso students have gone on to establish academies in their own communities, bringing trial skills within easier reach of their colleagues. And that's by design—aprender haciendo. "We're training the pioneers," Brooks says. "We send them all back to their home states and say, 'You've got to be a pioneer in this. You've got to get a team together next year; you've got to become coaches.' And now I'm seeing my students becoming coaches, becoming professors at the schools."
In this way, the alumni of Cal Western's Latin America programs are becoming part of the foundation for justice throughout the Western Hemisphere. The potential of such efforts to cement rule of law within America's closest trading partner is why a US State Department grant funds the Mexican Moot Court Program.
"We're part of stabilizing Mexico's justice system," Brooks emphasizes, "which ultimately is part of stabilizing the entire country. Their economy, everything. You can count on it."
By the Numbers
These four programs were brought under the ILDJ banner last fall.
Acceso: Approximately 6,000 attorneys
Moot Court Competition: 1,800 Mexican law students
Maestría: 105 students currently enrolled and 297 alumni
Red Inocente: 130 students throughout Latin America