City Heights
Entry Point
City Heights is a neighborhood for first-time homebuyers who want a central, urban locale.
What's Here
Bounded by El Cajon Boulevard in the north and highway 94 to the south, this neighborhood is one of San Diego's oldest and most diverse. Storefront signs appear in a variety of languages, as immigrants from Vietnam to Somalia and Syria have settled here. The culinary landscape reflects this, too: Restaurants like Pho' HÒa, Minh Ky, and Red Sea Ethiopian have become institutions, and Fair @ 44 is a thriving international food and flea market that convenes every Wednesday. Nearby is the renovated Boulevard Transit Plaza, where commuters can take a Rapid bus downtown or all the way to Rancho Bernardo.
Why Now
The neighborhood is in transition and changing. For example, Little Saigon, which takes up six blocks on El Cajon Boulevard, got its official district designation in 2013 but was still hard for visitors to locate. New signs were installed on the 15 in February to help guide people. Housing costs rose the past year to a median sale price of $455,500. Ami Lewallen, a resident and broker at Red Rhino Realty, says there's evidence around town of more changes to come. "We're seeing lots of refurbished buildings on the north side of El Cajon Boulevard, spilling into Little Saigon. The neighborhood is more than likely the next boom."
What You Can Get
Houses tend to be older and smaller than what you'd find in the 'burbs, but that's part of the charm. Three-bedroom, one-bath homes clock in at around $490,000 to $540,000, and condos here start in the low-$300,000s. If you love those historic two-bedroom Craftsman bungalows, you can find one priced in the mid-$500,000s.
On the Horizon
Price Philanthropies Foundation and local architect Rob Quigley (who designed the Central Library) have plans to turn the block between Fairmount Avenue and 44th Street into a thriving civic center with affordable housing for families and seniors. And the youngsters haven't been forgotten either: Ninety-year-old Herbert Hoover High School is getting a major overhaul with a new performing arts center and classroom building.
El Cajon
What's Here
The 92021 ZIP code stretches from portions of the city center on Main Street and Broadway all the way east to the desertscapes of La Cresta and Blossom Valley, and the community of Flinn Springs, with its expansive, stream-filled county park.
Why Now
Home prices jumped nearly 15 percent over the past year, as more young families and first-time buyers are moving to the neighborhood. With a median sale price of $540,000, houses are well below San Diego's median of $630,000. Parents are also moving to enroll their kids in immersive Mandarin classes at Riverview Academy in Lakeside, one of the few foreign-language academies in the area. There's lots of new dining options in this side of East County, offering relief from having to drive downtown: Consider Sycuan Casino's 15 new eateries and Grand Ole BBQ y Asado opening a second location in Flinn Springs.
What You Can Get
Buyers can get more bang for their buck (and find homes with lots of open space). You'll see big yards, more bedrooms, and even estate homes in rural communities. A 2,398-square-foot three-bedroom house on a third of an acre is priced at $639,900.
On the Horizon
A new community of 139 single-family homes in the northeast corner of El Cajon called Main Ranch just went on the market, starting in the $400,000s. Smaller planned communities are also popping up, like Lincoln Place (15 homes) and Bostonia Residential (11). The city is getting a new hotel complex in 2020, the Hampton Inn by Hilton, and the first phase of the project has food and retail vendors opening this summer, including a new In-N-Out Burger.
Mission Valley
Survey Says
69% of San Diegans ages 24–55 rent rather than own.
What's Here
Although it's where all the big-box retailers and always-crowded Fashion Valley mall are, the neighborhood is suburban light—you can live in a manicured planned community and still be in a central location minutes from downtown. And as San Diego traffic worsens over time, investing in housing near the trolley isn't a bad idea.
Why Now
Prices for townhouses and condos dipped slightly from 2018 to 2019, to a median sale price of $357,500. Plus, there's a lot of new home construction happening, like the 230-acre master-planned community Civita.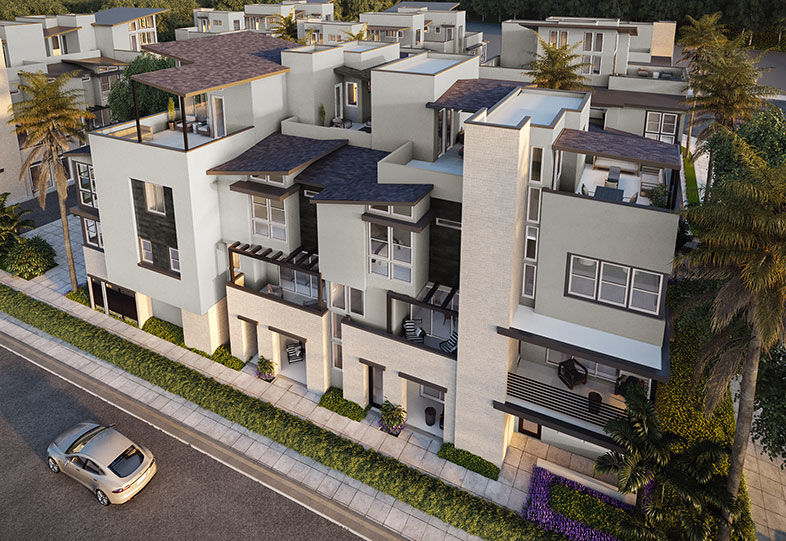 Avella townhomes
What You Can Get
In Civita, brand-new homes are for sale in three subcommunities, with three-bedrooms ranging from $700,000 to $900,000. There's a wide range of existing condos in Mission Valley, and they can cost anywhere from the low-$300,000s to high-$500,000s.
On the Horizon
You can see the construction at the Town and Country from the 8 freeway. It's part of a $70 million plan to renovate the resort, which will have a 12-acre river park and 840 new residences when complete. Civita will have about 5,000 new houses, a retail center, and an office complex when it's fully built out.
The Long View
A lot more development could be on the way for Mission Valley. There's still a plan to develop the Riverwalk Golf Club into a residential and commercial area. In the long-term, Mission Valley will also be home to San Diego State University's West campus, with a stadium, river park, and student housing.
Adams North
What's Here
This residential spot north of Adams Avenue, wedged between the 805 and 15 freeways, is the quieter part of Normal Heights. Many of the typical two-bed, one-bath bungalows were built in the '20s and '30s. Pedestrian-friendly Adams Avenue has grown into a hub for good restaurants and nightlife, and its annual street festivals in the spring and fall are huge cultural events that define this part of town.
Why Now
Median home sale prices in Normal Heights have remained pretty steady at $699,500, even though it's a desirable place to live because of its location and walkability. For comparison, houses in neighboring Kensington are averaging $942,500.
What You Can Get
Homes here sell in a wide range in price—consider a 60-year-old renovated two-bedroom bungalow priced at $675,000 alongside a sprawling house with six bedrooms for $1.37 million.
On the Horizon
A mixed-use building on Bancroft Street with 11 apartments and Ska Bar and Restaurant—a two-story Asian restaurant with a rooftop garden—is set to open soon.
Escondido
Survey Says
61% of San Diegans said prices have been the biggest challenge to owning a home here.
What's Here
It's the perfect blend of low-key suburban serenity and a little bit of downtown action. The historic district is a charmer, with vintage buildings, eclectic shops, galleries, and multicultural and family-owned eateries. Lakes, golf courses, wineries, breweries (hello, Stone!), and the California Center for the Arts, Escondido mean plenty of culture and outdoor adventure.
Why Now
You get more for your money, whether you're a new homeowner or want to upgrade your lifestyle. But beware: Demand is increasing; prices have risen as high as 17 percent in the past year.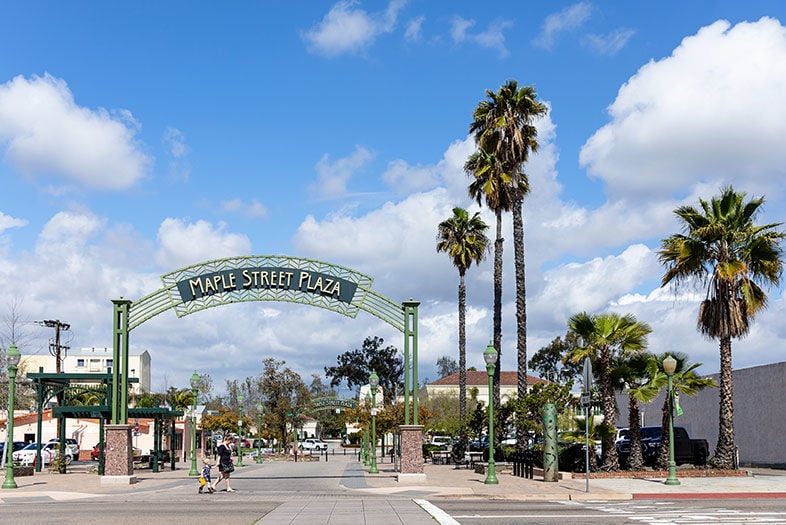 Maple Street Plaza in central Escondido
What You Can Get
Young families and millennials can find condos as low as $215,000 and townhomes in the mid-$300,000s. Single-family homes range from $400,000 to $3.4 million, depending if you want an entry-level home or a sprawling 10,000-square-foot estate. Midcentury modern bungalows, Craftsmans, and charming Victorians dot the old Escondido Historic District, ranging from $545,000 to $3.3 million.
On the Horizon
The former site of downtown's Palomar Hospital is being rezoned for high-density apartments and for-sale condos, and two other modern apartment projects are in the pipeline, all just steps from the main drag that is Grand Avenue. The master-planned community of Harmony Grove continues to build out, offering families a rural feel close to the action downtown. Safari Highlands Ranch—Escondido's largest development in decades, with 550 estate homes!—will be a sustainable, garden-to-table agri-neighborhood just northwest of San Diego Zoo Safari Park.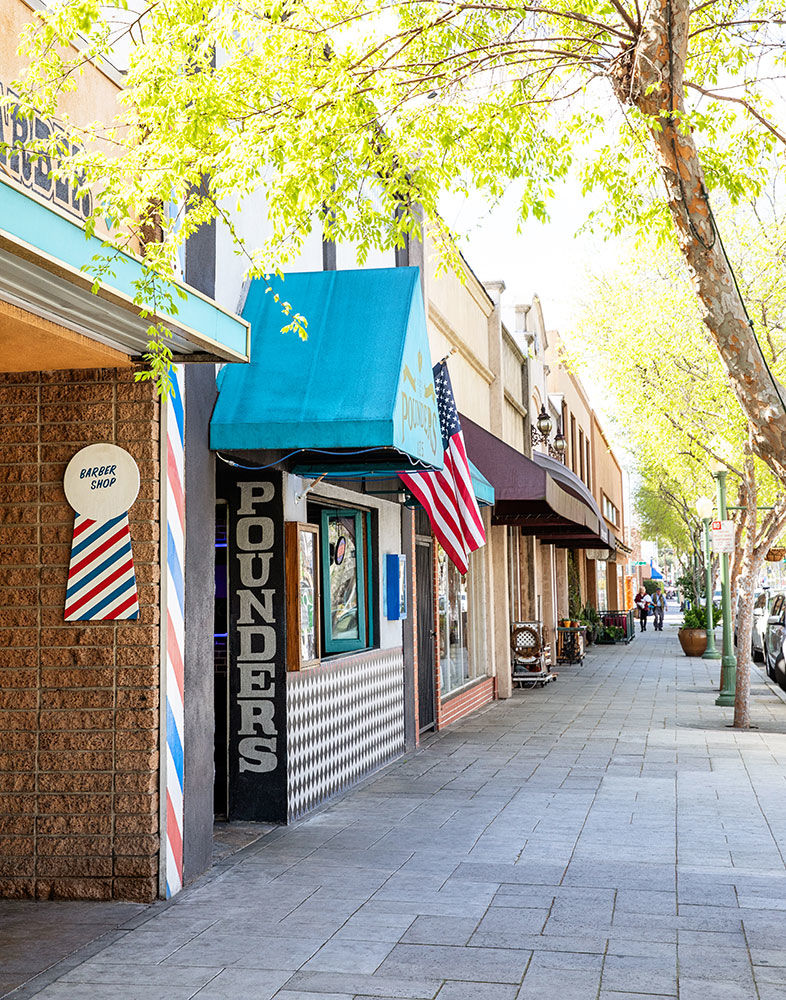 Escondido's historic Grand Avenue downtown
Oceanside
What's Here
Oceanside is getting a new reputation for creativity—and cool places to show for it, like Dija Mara, Sea Hive Marketplace, and Oceanside Museum of Art. O'side is a diverse community, anchored by multigenerational residents, plus a wave of young entrepreneurs are setting up businesses and settling down to start families.
Why Now
A recent culinary renaissance has created "flip-flop fine dining"—a local term for high-caliber cuisine enjoyed with casual attitude and style. A significant price drop (almost 10 percent for single-family homes) in the central Oceanside area, from 2018 to 2019, makes the city even more appealing for buyers.
What You Can Get
There's everything from funky mobile homes around $100,000 or $220,000 to opulent oceanfront digs at $4.7 million. You can still find one-story ramblers and fixer-uppers, along with single-family modernized homes from about $600,000 to $1 million.
On the Horizon
Oceanside's coastal highway corridor is seeing the largest beachfront development in the county in more than 20 years. Two boutique Hyatt hotel brands have broken ground and the iconic "Top Gun house" is being turned into a food vendor. For walkable downtown living, there's Salt or the stunning 314 Beach Lofts, both on Cleveland Street. For a beachfront address, check out Pierside Apartments.
---
Neighborhood pricing and sales data are from the Greater San Diego Association of Realtors' Local Market Updates, February 2019. Sources: Mission Federal Credit Union January 2019 survey, percentages approximate.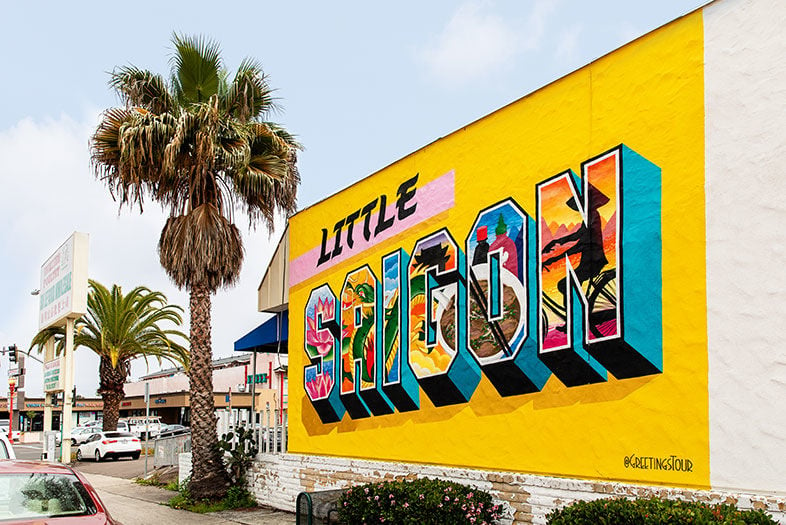 The Little Saigon mural on Menlo Avenue next to Wing Lee Farms