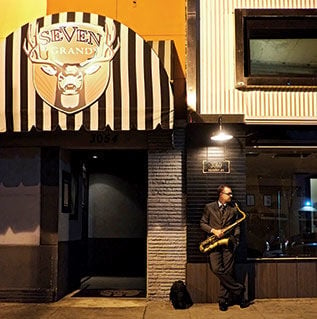 Robert Dove fell in love… with Seven Grand and the San Diego jazz scene
The way he tells it, Robert Dove only came out here from Ohio to visit a girlfriend. But one night, she took him to Seven Grand, a small whisky bar in North Park, and what he heard there became a major tipping point in his life. Dove, 24, went back home and put in for a job transfer. He packed up his horns and his bicycles, and headed out West for good. Romance may have brought him to San Diego, but it was jazz that made him stay.
"I feel like I've landed at the front end of the new San Diego jazz scene," Dove says. A graduate of the prestigious Miles Davis Jazz Studies program at the University of North Carolina at Greensboro, the tenor saxist is one of several young jazz musicians of merit who have settled here in recent months. "I was one of the first," he says. "Then Grammy winner Curtis Taylor came out here for a gig, and he stayed. Bassist Dean Hulett moved here from Ohio, and pianist Kiefer Shackelford moved back here from Los Angeles." Add to the list trombonist Matt Hall, drummers Matt Smith and Kevin Higuchi, and alto sax player Charlie Arbelaez. "These guys," Dove says, "are all great players."
Jazz is alive and well in San Diego. And the action is drawing new fans to venues that range from back-room speakeasies to poolside hotel patios in the heart of downtown. Along with the steady backbeat of hometown jazz greats like Mike Wofford, Charles McPherson, DownBeat Magazine's Rising Star Holly Hofmann, and a horn player who you might have heard of named Gilbert Castellanos, the renaissance of West Coast Jazz is happening right here and now.
"A younger generation," says Jim Rock, husband of restaurateur Ingrid Croce, "is bringing something truly fresh."
Outside at a corner deli during the dregs of a hot summer afternoon, Dove finishes a pre-show Italian sub and chases it with an Orange Crush. In a few minutes, he will perform at a free jam session with an incendiary lineup that includes piano star Joshua White, Castellanos, Haiduci, and bassist/composer Rob Thorsen. Dressed in a suit and tie, Dove explains why he chose San Diego over a more traditional jazz launch pad like the Big Apple. He says that nothing he ever experienced in New York even came close to the fire coming off the bandstand on that fateful night in North Park.
And no, he says, the girlfriend didn't work out.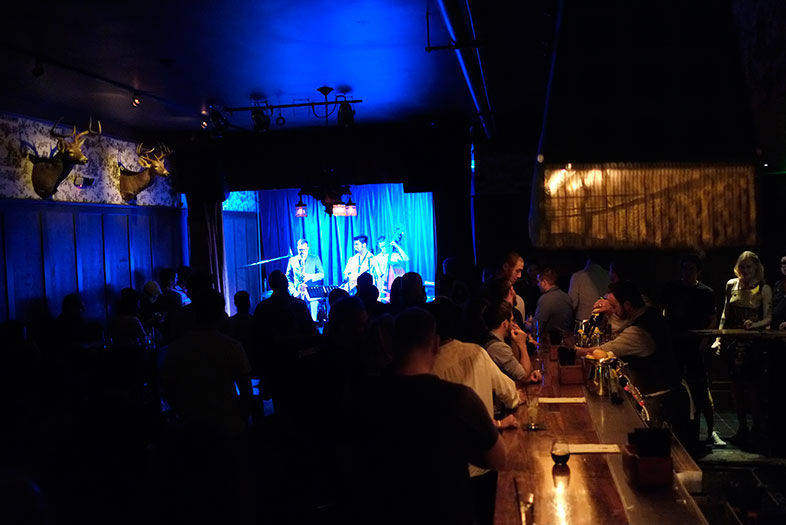 In the back room at Seven Grand: tiny stage, big sound
In the back room at Seven Grand: tiny stage, big sound
Three Things to Know About Jazz
1. West Coast Jazz is a distinct sound that was developed in Los Angeles and San Francisco and dates back to the 1940s.
2. Most jazz musicians wear suits. "When you play jazz," says Gilbert Castellanos, "you dress like you're going to church, because when you get up on stage, you ARE in church. It's respect."
3. It's easy to find any jazz show in San Diego. Start with the Jazz 88.3 website, that lists virtually every jazz event happening in the city.
Part of the allure of present-day jazz, according to Mark DeBoskey, is that it is being updated. DeBoskey's been the general manager of KSDS Jazz 88.3 FM for 14 years now, and he's seen a lot of changes. "Tastes have gone from the traditional jazz that the 50-to-60-year-old crowd gets their collective heads around to a younger sound. The new Great American Standards," he says, "are jazz covers of the Beatles and Fleetwood Mac."
Daniel Atkinson has likewise gauged the temperature of the hometown music climate for years. He's the jazz program coordinator at the Athenaeum Arts Library in La Jolla. Atkinson describes an upturn in attendance by an age group that hasn't been seen in local jazz venues for sometime. "There is a core of younger fans in their 20s and 30s coming out to clubs who have been turned on to jazz," he says. "That bodes well for the future of the music."
But until recent times, hometown jazz has been in a state of torpor, especially when compared to the rich local scene that packed venues during the late '70s and '80s. Places like The Crossroads at Fourth and Market, the Pacific Beach and Del Mar cafés, Le Chalet in Ocean Beach, the Bahia, the Safety Club, the Black Frog, the Blue Parrot, Chuck's Steak House, Elario's, the Triton, and Tom Ham's Lighthouse, according to  jazz trumpet player Bruce Cameron. "Kirk Bates ruled Mission Valley," he says. "And even on Tuesday nights, there would be a line out the door to see CC Jones at the Catamaran."
Cameron, now semi-retired, has been performing around San Diego for decades. "When the late Hollis Gentry and I started the Humphreys concert series in '81 or '82, there were only a few picnic tables there. A local barbecue place provided food. People laid out on blankets and relaxed. Later, we got Art Good involved." Good was the voice of the popular "Lites Out San Diego" smooth jazz radio series.
Cameron says local jazz fortunes tanked sometime after the mid- to late-1980s. He thinks that nightclub attendance took a hit after DUI laws changed and later, after the popular radio station KIFM dumped its contemporary jazz programming.
But over the past few years, the scene has come full circle, to the point that right now is the best time there has ever been to enjoy jazz here. "Absolutely," agrees Joshua White, whom the legendary Herbie Hancock described as a cutting-edge innovator after the El Cajon-based artist placed second in the ultra-prestigious Thelonious Monk International Piano Competition. "You can find great jazz here almost every night of the week."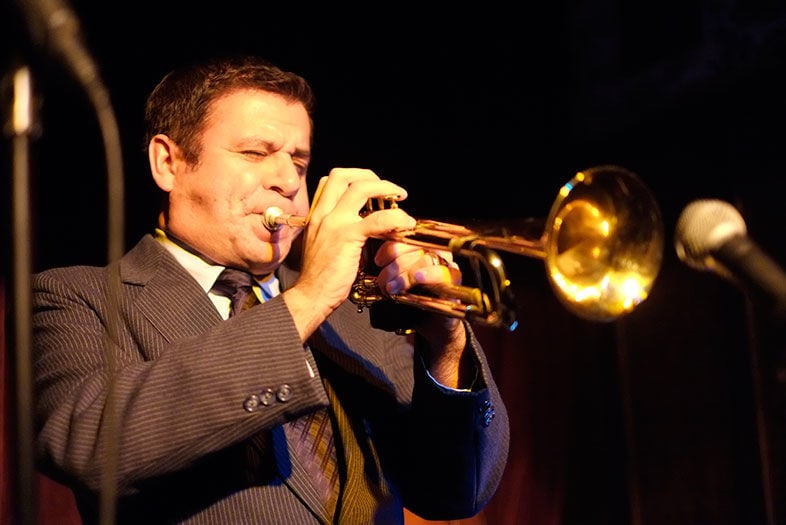 Gilbert Castellanos plays a show in North Park
Gilbert Castellanos plays a show in North Park
On a Wednesday around dinnertime, Gilbert Castellanos arrives in a courtroom-gray pinstripe suit, blue button-down, and maroon tie. He carries a valise that looks as if it were filled with legal briefs. It is not. It contains his trumpet and a flugelhorn. From the stage in the new music room at Croce's in Bankers Hill, backed by an acoustic jazz combo, a woman's voice far more seasoned and mature than the singer's actual years wraps itself around an old jazz standard. When finished, she turns, blushing, and shoots a nervous grin in her parents' direction. They are seated nearby in the almost-capacity dining lounge.
"She just won a huge jazz contest," Castellanos whispers. "They're going to fly her to Tokyo for the finals."
Tonight is billed as Gilbert Castellanos' Young Lions series. It puts jazz musicians as young as high school age on a professional stage in front of an audience, in a rite of passage that is as old as jazz itself. "This kind of experience makes the music," says Jazz 88.3 program director Claudia Russell. "This is how all the greats got great."
Castellanos thinks jazz attendance in San Diego has been on a slow upswing for as much as a decade, but credits the Internet with the increase at the younger end of the jazz fan scale. "Ten years ago," he says, "neither YouTube nor Facebook existed." He has his hand in a number of successful jazz ventures around the city, including a weekly jam session at Seven Grand and his poolside jazz series at the Westgate Hotel downtown. "We draw upwards of 100 people there."
Castellanos says he's bringing a jazz night to Ortega's, an upscale Mexican restaurant in Hillcrest, next. "Come on, when's the last time you heard jazz in Hillcrest?" he asks. At the Mandolin Wind, to be exact, and that place shuttered sometime during the '80s.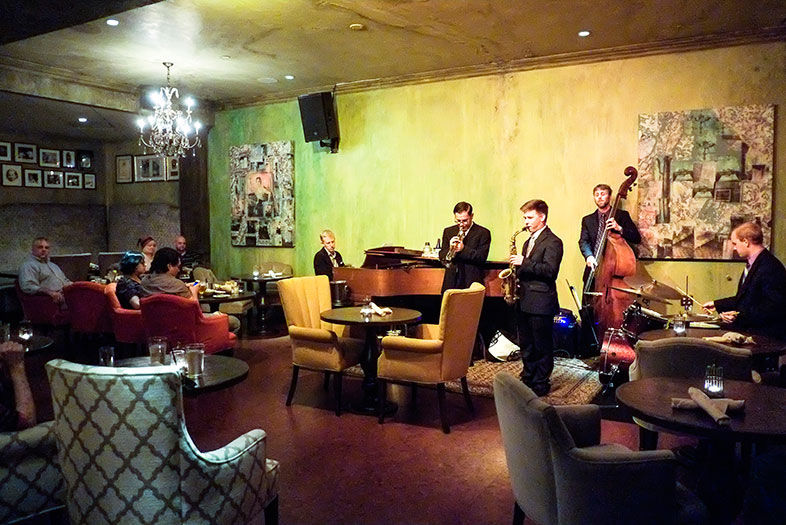 Gilbert Castellanos performing with Young Lion Kyle Myers (on sax) at the new Croce's Park West. Castellanos now handles all of the jazz bookings for Croce's, including the Young Lions series that features young, up-and-coming musicians on stage every Wednesday for a reduced $5 cover.
Gilbert Castellanos performing with Young Lion Kyle Myers (on sax) at the new Croce's Park West. Castellanos now handles all of the jazz bookings for Croce's, including the Young Lions series that features young, up-and-coming musicians on stage every Wednesday for a reduced $5 cover.
"When other jazz musicians come here and see the type of audience that supports us, they stay," Castellanos says. "San Diego, by comparison to Los Angeles, has a real family feel, a community feel among the musicians and fans. It's almost a small-town mentality." A lot of the shows in town are free or for a minimal cover, he adds, and they are packed.
In true jazz-mentor style, Castellanos shouts out his encouragement to a 17-year-old saxophone prodigy on stage while the boy winds into a solo that is rich and complex and that makes studied reference to the jazz masters of old. Later, when the student is finished and packing his horn, Castellanos can be overheard describing the kid's work in a glowing review. "This," says Castellanos, nodding in the direction of rest of the Young Lions on stage tonight, "this is why I'll never leave San Diego."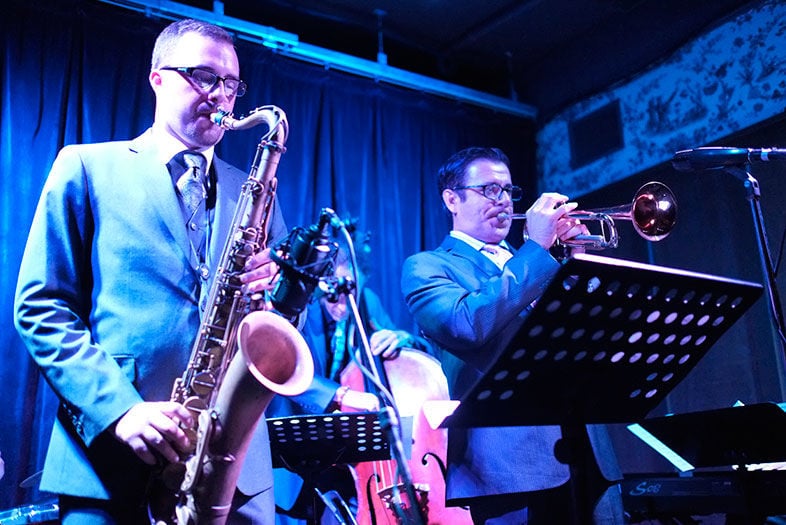 Robert Dove and Gilbert Castellanos onstage at Seven Grand