The sun is just starting to set, and it seems like every table is popping bottles at Bluewater Grill in downtown Temecula. The sustainable seafood restaurant lets diners bring two bottles of local wine with no corkage fee, making it a favorite among winemakers and visitors alike.
With 17 Temecula wines available by the glass or as part of a flight, this is also a great place to begin a visit to Temecula Valley and get a taste for which wineries you prefer. Raul Ramirez's tempranillo pairs remarkably well with chipotle blackened swordfish, while Carter Estate's Blanc de Blanc cuts through the rich beurre blanc sauce dousing the restaurant's sautéed sand dabs.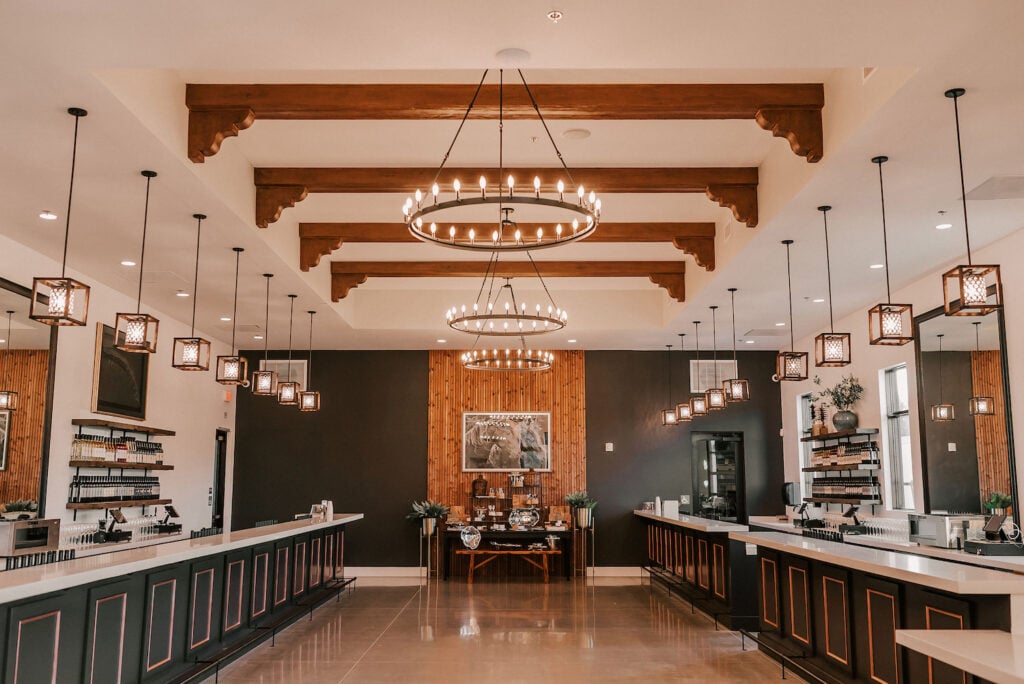 Within a two-hour drive from 21 million people in surrounding cities (including San Diego, Los Angeles, and Palm Springs), Temecula has become an unlikely wine destination in Southern California. In recent years, Temecula wines have achieved impressive scores from national critics, with Wine Enthusiast naming Temecula one of the top wine travel destinations in the world in 2019.
John Kelliher, founder of Grapeline Wine Tours, has seen the region explode since he began operations in 2002.
"When we started, there were between 14 and 17 wineries that you could go to in Temecula for a wine tasting," he recalls. "Now, there are more than 50 wineries."
The vast majority (more than 90 percent) of Temecula wines are sold direct-to-consumer, making it rare to find bottles on store shelves or restaurant wine lists. If you haven't visited, you probably haven't tasted them before. Some people may have the misconception that it's too hot here to grow great grapes, but the large diurnal swing and mountain gaps allow cool air to funnel through the decidedly Mediterranean climate.
"Twenty years ago, it was pretty easy to find a bad wine and it was pretty hard to find a good one in Temecula," Kelliher says. "Nowadays, the level of winemaking has really gone up, and I think that all of the new competition coming in just keeps raising the bar."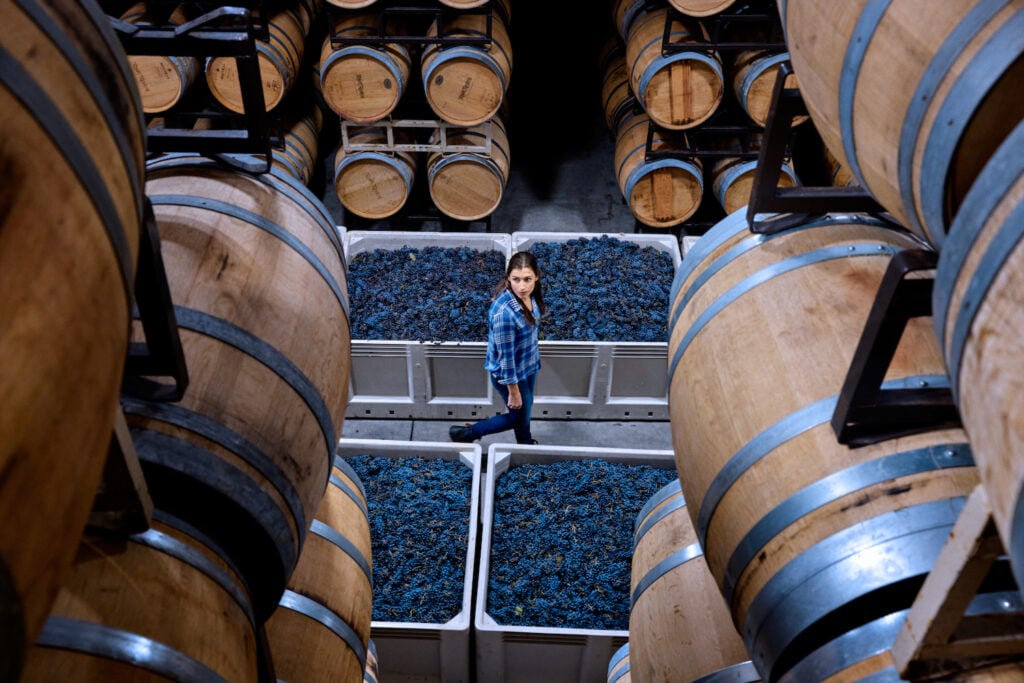 Italian and Spanish Varietals Thrive
For a tiny wine region with just 1,300 acres planted to vine, Temecula is impressively diverse, growing more than 30 different grape varietals. Many of the most successful wineries embrace the Spanish and Italian grapes that thrive here rather than sticking to the same Bordeaux blends that are common throughout California.
Olivia Bue, winemaker at Robert Renzoni Vineyards, recently ripped out 28-year-old estate cabernet sauvignon vines and planted Montepulciano, a medium-bodied red wine grape cultivated widely in central Italy. Bue is also growing sangiovese and barbera. All three of Renzoni's wines made with these Italian varietals have achieved scores of 92 points or higher from Wine Enthusiast.
"Barbera thrives in Temecula Valley," Bue says. "The vines love heat and produce high-yielding clusters, and the roots integrate deep into our soil, producing complex, layered flavor profiles year after year no matter what climate challenges come our way." The ruby-red wine is naturally acidic, but low in tannins, making it easy to pair with food.
Similarly, Nick Palumbo, owner and winemaker at Palumbo Family Vineyards, replaced his original merlot vines with sangiovese. One of Temecula's newest wineries, Altísima Winery shines with garnacha and Super Tuscan Italian red blends, paired with Spanish charcuterie and grilled octopus.
"Temecula is similar to the warmer regions where vitis vinifera [or grape vines] originally evolved," says Greg Pennyroyal, vineyard manager at Wilson Creek Winery and professor of viticulture at Mount San Jacinto College. "We can produce rich expressions of wines that are considered less noteworthy table wines in their traditional regions."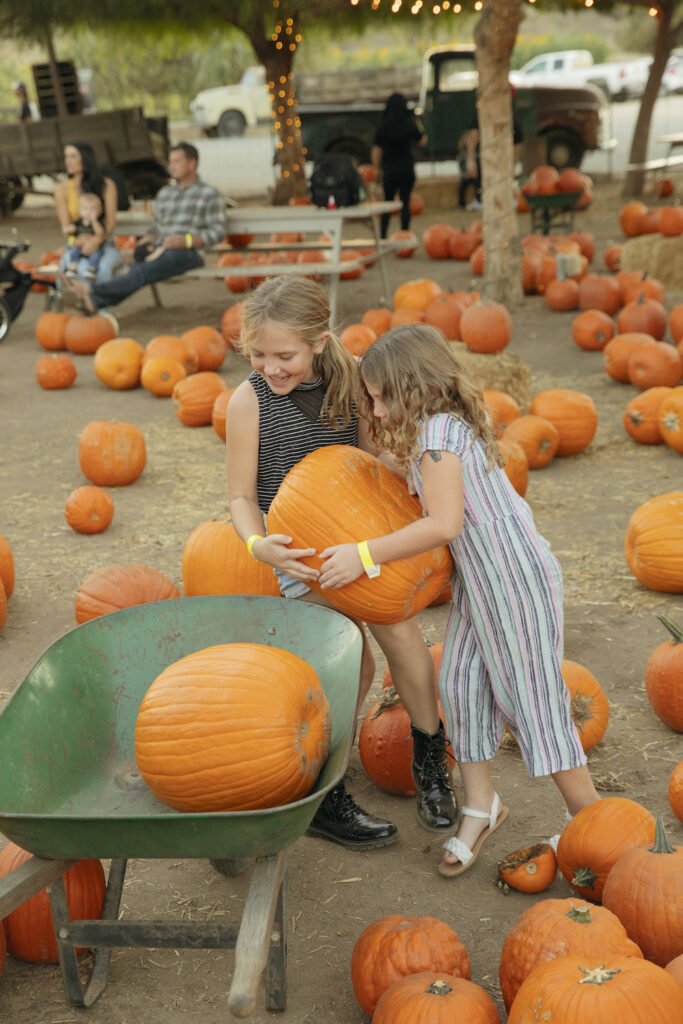 Fun, Casual, and Immersive
Compared to some of California's more established wine regions, the Temecula Valley Wine Country Community Plan is a lot more permissive, with land-use ordinances allowing wineries to operate restaurants, events, and lodging. For example, Europa Village offers multiple wineries, hotel rooms, restaurants, and event spaces (plus a wine cave where guests can book a private sound-bath meditation) under one roof. South Coast Winery Resort has a full-service spa and heated, outdoor saltwater pool.
You can blend your own bottle of wine at Bottaia Winery, experimenting with estate-grown Italian varietals like aglianico, sangiovese, sagrantino, and barbera in a wine lab complete with beakers. There's no right or wrong answer here—just whatever suits your personal taste.
When it comes to dining, Leoness Cellars and Avensole Winery have some of the best bites and views in the region, and Peltzer Winery features food trucks and live music. The fifth-generation family farm hosts an annual autumn pumpkin farm and petting zoo and builds an 8,400-square-foot ice-skating rink each winter. At times, it might feel a little like the Disney World of wine—but you're allowed to have fun when your wines are this damn good.
And, after all, fun is what keeps people coming back. "We have a lot of loyal customers that we call 'repeat offenders,'" Kelliher says. "Temecula becomes their regular getaway and mini vacation. They like that we're not pretentious like some other wine regions."
Temecula Wines to Try
Start your Temecula wine-tasting journey with one of these 10 winners.
An ideal bottle on hot summer days, flavors of pineapple and pink grapefruit in this crisp white wine whisk you away to a tropical paradise. Pair it with mild cheeses or oysters.
It's rare to find a traditional Champagne-method wine in Temecula, but this racy sparkling wine with notes of apple, lemon zest, and toasted brioche is an improbable Champs dupe.
Easy to drink on its own, and a nice complement to charcuterie or spicy Chinese stir-fry, this is a fun, crushable zinfandel rosé reminiscent of strawberry and orange Starbursts.
Winemaker Olivia Bue's favorite, this high-acid, low-tannin barbera is rich with ripe strawberry and pomegranate flavor. Sip the lighter-bodied red with red-sauce pasta, pizza, and grilled vegetables.
Syrah is one of Temecula's signature grapes, and this vibrant rosé is a delicate expression of syrah's intense flavor, displaying the subtle sweetness of plump red cherries and aromatic rose petals.
This velvety Super Tuscan is predominantly sangiovese, rounded out with touches of merlot, cabernet, and syrah. Drink it now with grilled meat, but it's sure to age gracefully, too.
Rhône grape varietals do well in Temecula, and this powerful syrah is a prime example
by winemaker Justin Knight. Bold black cherry on the palate leads to a savory, peppery finish.
This plummy, Bordeaux-style field blend is the first wine that Marcelo Doffo made in his garage two decades ago. It received a gold medal at the San Francisco Chronicle Wine Competition.
An elegant blend of sangiovese, syrah, malbec, mourvedre, petite sirah, and merlot, this red wine displays a soft, well- rounded complexity punctuated by a bright, elderberry finish.
Named for the ancient Greek goddess of justice, this grenache, syrah, and mourvedre blend has been aged for 30 months in Hungarian oak, creating a creamy palate and hints of smoked raspberry.