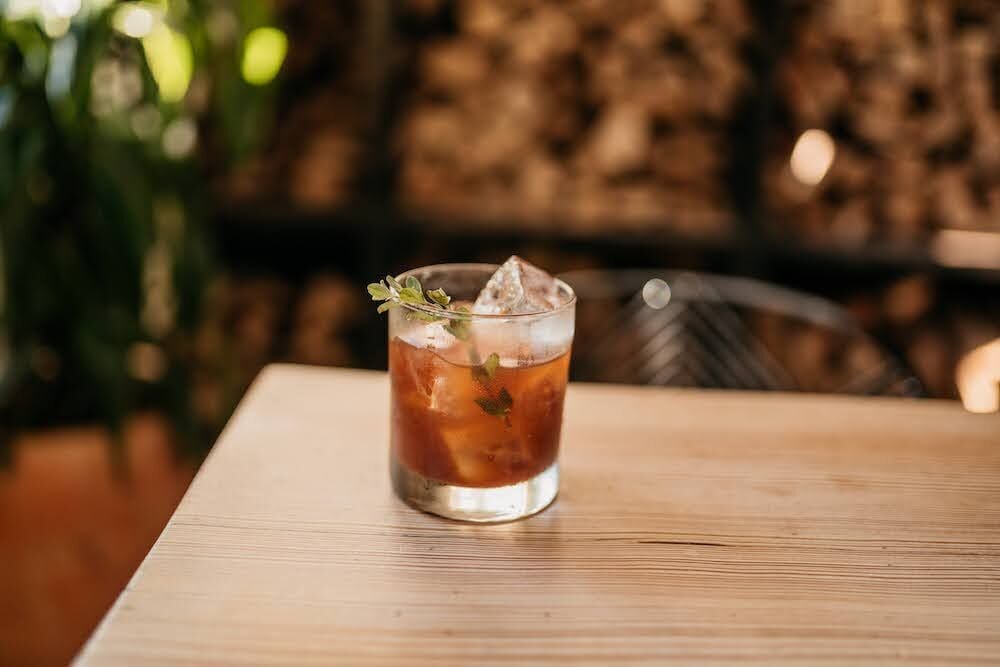 Devin Castaneda
Country Roads at Campfire
Rye whiskey, Averna, and apple brandy make up the base for this herbaceous cocktail—but the spiced apple cider bitters and roasted chestnut syrup (made in house by roasting over the woodfire grill, then sous-vide into a syrup) ties it all together. It's one of a few holiday cocktails you can find at Campfire, created by beverage director Jeremy Simpson.
2725 State Street, Carlsbad
Ginger Pear Cocktail at Communal
Need a break from caffeine? Opt for one of Communal's refreshing seasonal cocktails instead. Their Ginger Pear cocktail uses housemade pear syrup and sherry, topped with Champagne for some festive bubbly. Those who don't drink can still get a taste by ordering the mocktail version, which swaps out the Champagne and sherry for ginger beer.
2335 University Avenue, North Park; 602 South Tremont Street, Oceanside; 2221 Fern Street, South Park
Craft & Commerce went all out this month with Nightmare Before Christmas–themed holiday decor and a menu to match. Try their boozy nog, made with rum, sherry, cocoa, and all the essentials of the holiday classic. Other options include an elevated mulled wine recipe and spiked hot chocolate.
675 West Beech Street, Little Italy 
Put a twist on your classic holiday drink at Cutwater this season. The Noggy or Nice is made with Cutwater's signature dark rum and horchata vodka, eggnog, and Donn's Spices, then blended and served as a slushie. Cutwater also has six other festive drinks on their menu to check out, including a white Russian–inspired slushie.
9750 Distribution Avenue, Miramar
On top of their Sippin' Santa holiday pop-up menu, you can try Lover's Roulette from bar manager Tony Coxum. The cocktail is inspired by a traditional holiday pork roast: It's got housemade pork-fat-infused whiskey, amaro, sweet vermouth, and angostura bitters, and is garnished with an orange peel and Luxardo cherries.
910 Grand Avenue, Pacific Beach
Estancia La Jolla has decked out the heated patio of their Greenfinch Restaurant & Bar with festive decor and a menu of merry cocktails to enjoy this month. The Santa Smokes Cigars blends Malahat rum, amaro nonino Benedictine, spiced cranberry, and mole bitters. Or, satisfy your sweet tooth with the Ho Ho Ho-t Chocolate, made with cacao-infused mezcal.
9700 North Torrey Pines Road, La Jolla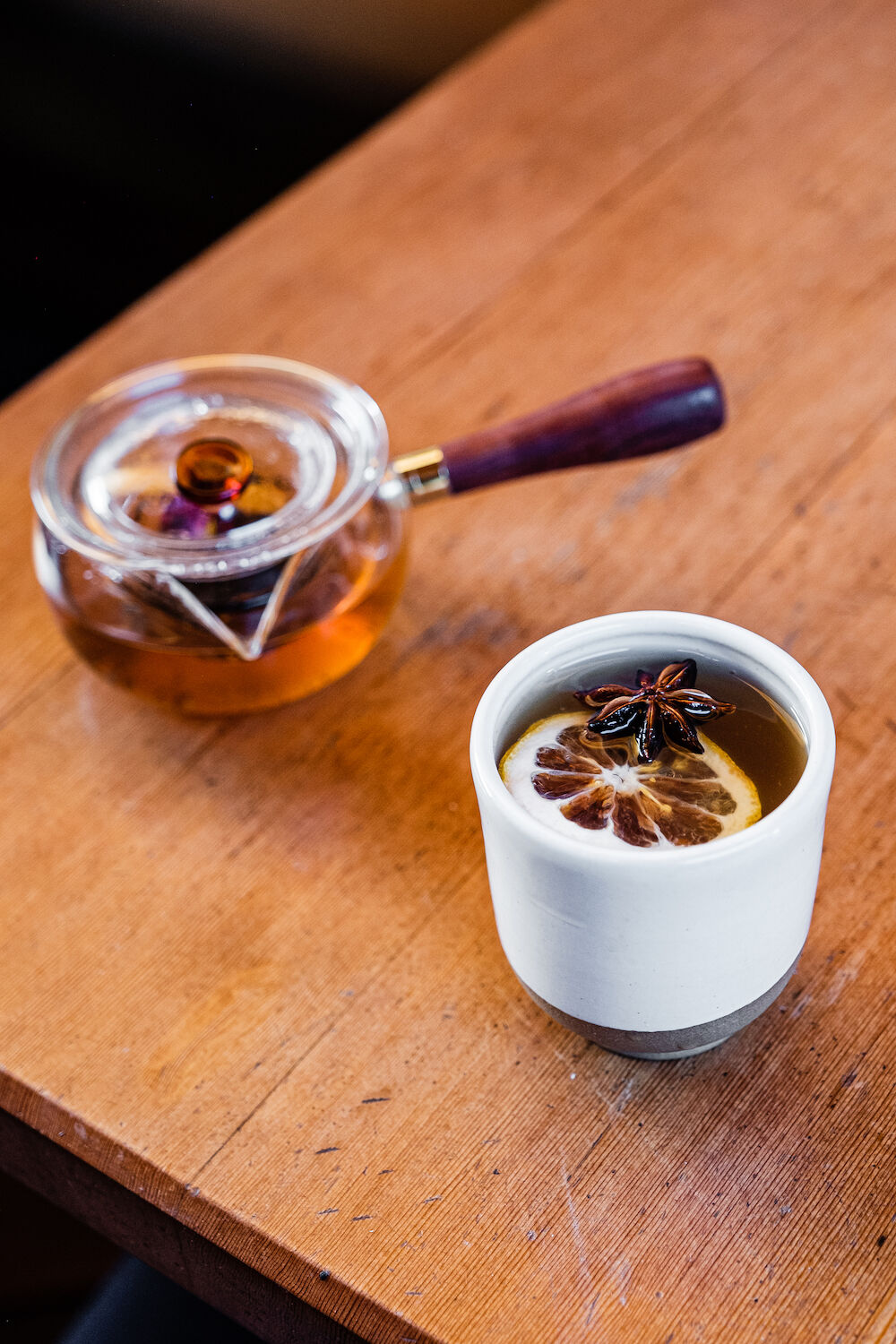 Haley Hill
Paru Tea Bar Hot Toddy at Madison
In collaboration with Paru Tea Bar (Point Loma, La Jolla), Madison is offering this cozy hot toddy cocktail made with Paru's Okinawa sugar tea, Japanese whiskey, honey, lemon, and star anise. Served in a Japanese glass teapot, get this one on our next rainy day!
4622 Park Boulevard, University Heights
Miracle on 30th has returned to Polite Provisions with a menu of favorites and newbies to try this month. The Christmapolitan elevates the classic cosmo with spiced cranberry sauce, rosemary, and an absinthe mist.
4696 30th Street, Normal Heights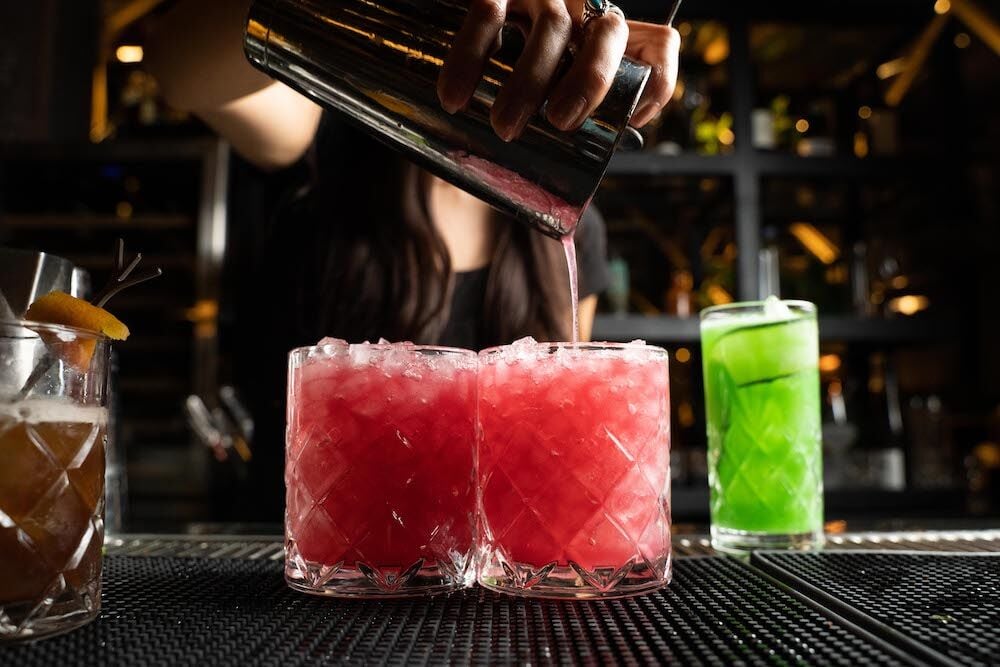 The Pompadour Cotinga at Understory
Say cheers to the season beneath the trees at Skydeck's main bar, Understory. They're celebrating the holidays with their seasonal cocktail made with Tito's, Cointreau, lemon, cinnamon, and seasonal berries.
12841 El Camino Real, Carmel Valley
Peppermint Port Spritz at Vistal
This oceanfront restaurant and bar at the InterContinental San Diego is serving up a couple of holiday cocktails to check out during their Holiday Happy Hour (now through December 28). Every day from 4 to 9 p.m., their seasonal cocktails will be $9. Try the Peppermint Port Spritz, made with Argonaut brandy, tawny port, peppermint, and brut, topped with a cranberry garnish.
901 Bayfront Court, Embarcadero
This cocktail at Waverly is inspired by your very own Christmas tree; it has housemade pine tree gin, cranberry liqueur, allspice, lemon, honey, and a kinome leaf garnish. Smells like your wreath, tastes like Christmas.
2005 San Elijo Avenue, Cardiff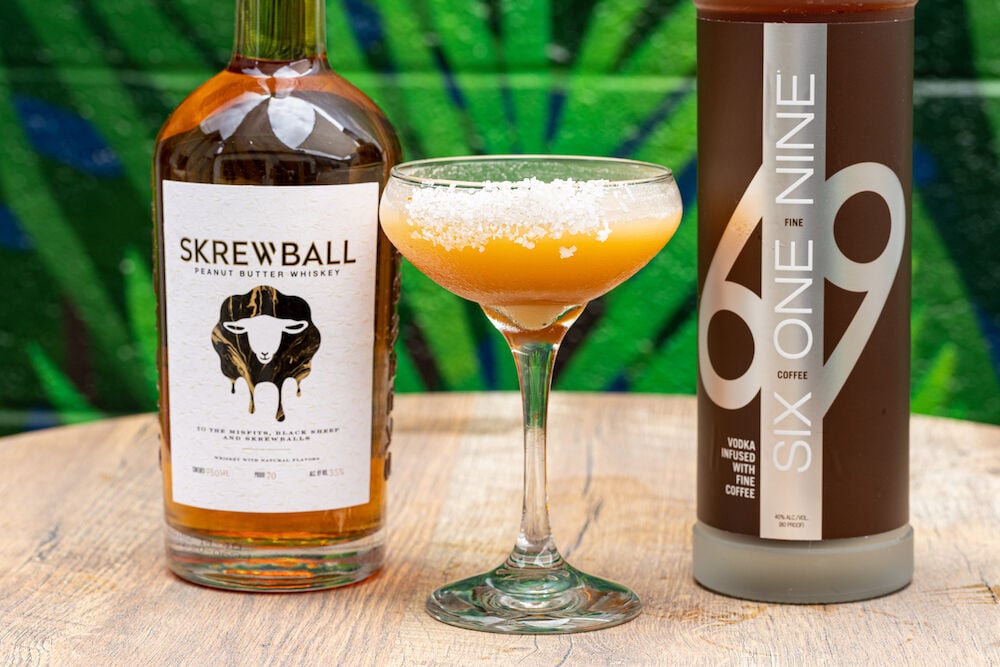 Espresso martini lovers should flock to 619 Spirits this holiday season to try their Screw Up Cocktail. The distillery's own coffee vodka is mixed together with Screwball whiskey, coconut cream, and hazelnut, poured into a martini glass, and finished with a salt rim. Peanut butter, coffee, hazelnut—all flavors accounted for!
3015 Lincoln Avenue, North Park