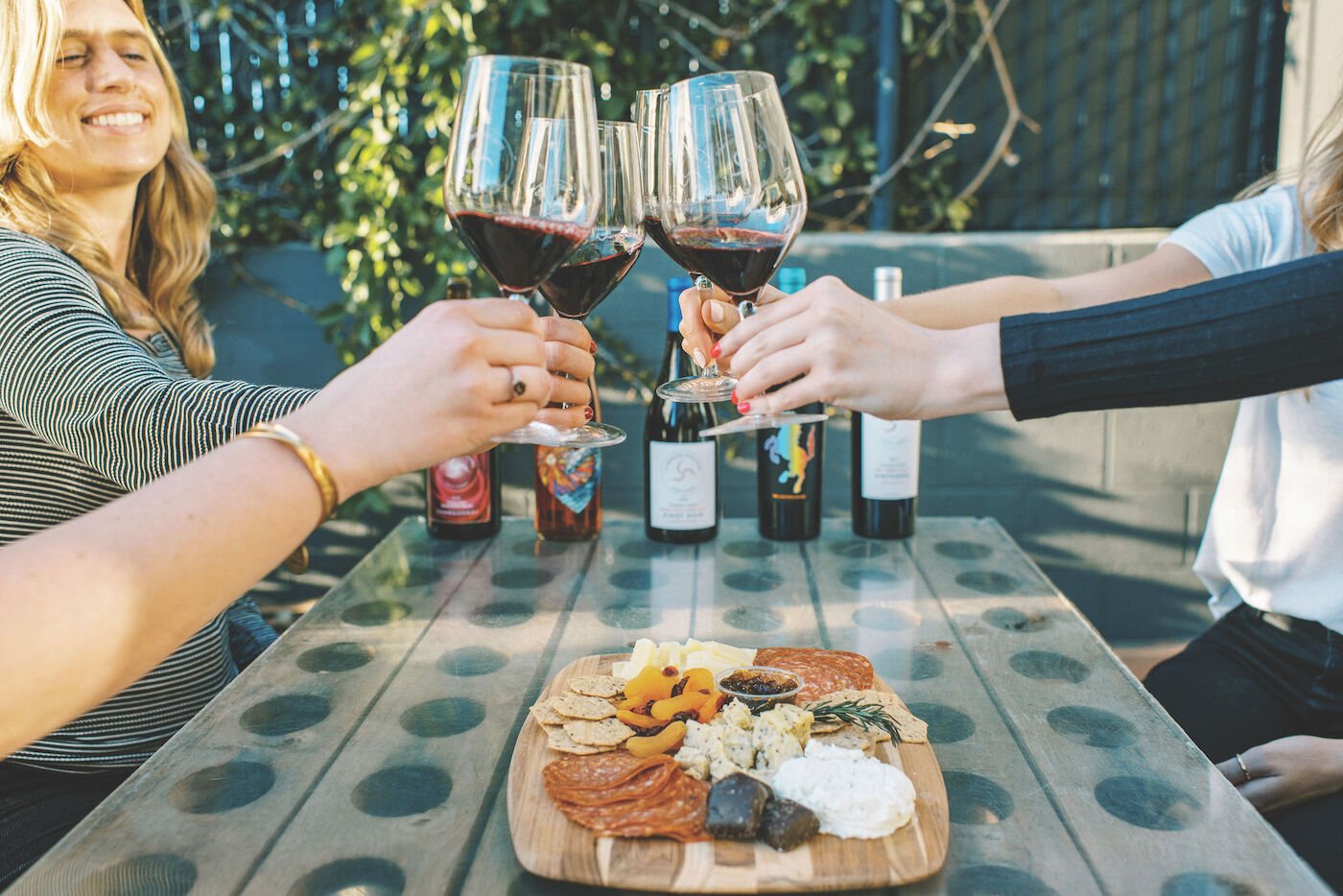 When we think of wine country we think of the rolling hills of Napa, the wine castellos of Italy, and the iconic vineyards of France, but we don't have to dream of those faraway places—we have incredible wine made right here in our own backyard. These San Diego wineries are producing fantastic, award- winning wines all the way from albariño to zinfandel that are absolutely worth a try, so treat yourself to a wine staycation.
Carruth Cellars is an urban winery with fantastic wines and fun vibes, and it's an absolute must for all San Diego wine aficionados. They have three tasting rooms around the county, and each one offers something a little different.
In Solana Beach, you can stop in for a private tasting with wine flights and a beautiful cheese board to snack on while you learn all about the wines, the history of the winery, and the winemaking process.
Their Little Italy wine garden is the perfect stop for a glass and a cheese board appetizer—or, make it a whole evening event with one of their delicious wood-fired oven pizzas (gluten-free folks: they have some of the best cauliflower crust options in town).
If you want to go big, Carruth now offers a private wine tasting tour. You can hop on a private bus in Carlsbad and ride down the coast, stopping at all three of the tasting rooms along the way. I never met a wine from Carruth that I didn't love, but their must-drinks are the rosé of pinot noir, Paso Robles grenache (it's served chilled to perfection in the summer months), and the Unicorn Blend.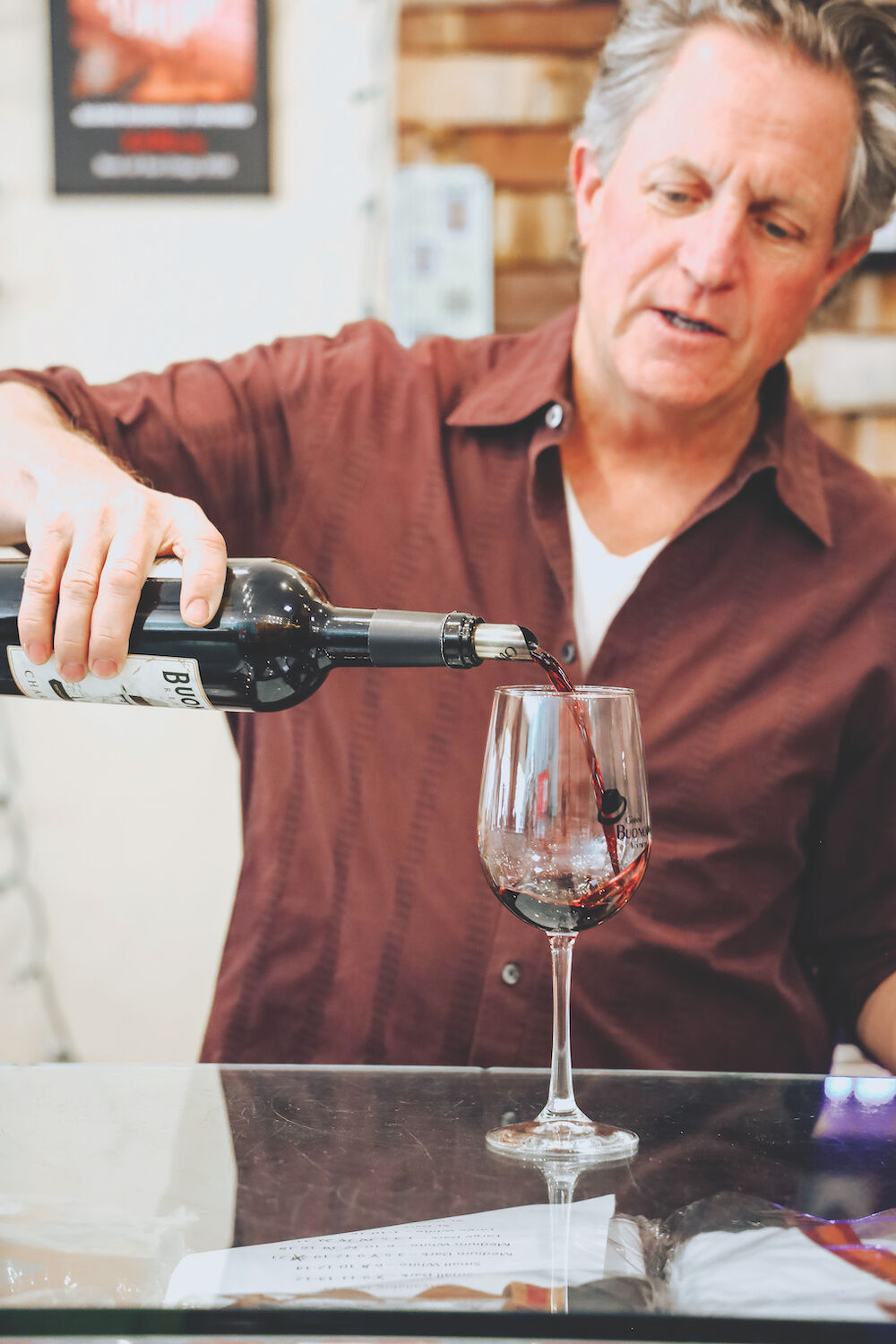 Don't miss a stop at the best post-surf urban winery, Gianni Buonomo, in the heart of Ocean Beach. They produce wines in famous styles from around the world, from grapes grown primarily in Washington state and vinified in San Diego. Winemaker Keith Rolle seeks to bring unique, lesser-known wines to San Diego, like Blaufränkisch, nebbiolo, and dolcetto.
Gianni Buonomo has an impressive list of award-winning wines, but their sangiovese, barbera, and charbono are truly showstoppers. You can sample them by the flight while touring the tasting room or just hang out for a glass or bottle with friends. Gianni Buonomo encourages guests to bring snacks into the tasting room to enjoy with their wines, so get your picnic baskets ready, or order your favorite OB eats and bring them in.
Pali Wine Co. has taken over the California coast, with tasting rooms from Santa Barbara down to Los Angeles, Anaheim, and our Little Italy. The company was inspired by Burgundy-style wines, and their grapes come from Santa Barbara and Sonoma counties, where the climate is picture perfect for chardonnay and pinot noir production. They focus on quality and sustainability—all of their wines are produced using environmentally friendly practices and noninvasive winemaking techniques.
I recommend getting a flight so you can taste as many of the wines as possible, but if you opt for a glass, get the Charm Acres Chardonnay from the Sonoma coast or the Bien Nacido Vineyard Pinot Noir from the Sta. Rita Hills.
San Diego's wine scene is always expanding and continues to impress, so head on out and start exploring.
---
Nia Ruth is a psychologist by day, and spends her free time writing about wine—but most often just sipping it. Her blog is niaruth.com.