Dining alfresco is easy in San Diego, even when you're skipping the restaurant. Whether you're grabbing takeout or crafting a master charcuterie board, you can take your pick from our best beaches, parks, and outlooks for the most enjoyable outdoor picnic. But don't do all the work yourself—look to these four San Diego luxury picnic pros to take your weekend picnic to the next level.
Founder Miriam Morales is passionate about creating memories. After planning and photographing engagements for nine years, one proposal stood out to her—a picnic setup with an incredible view. It got her wheels turning. "I started thinking about how I could elaborate on this," she says. "Many friends were canceling trips, date nights, anniversaries, and I wanted to help make the occasion a special and unique experience, and of course a safe environment." But no pressure to propose. San Diego Picnics offers picnic packages for all kinds of outings, from as simple as a cozy setup on the sand to a luxury boho tent. Whichever you choose, San Diego Picnics will do the setup and takedown so all you have to do is arrive and relax.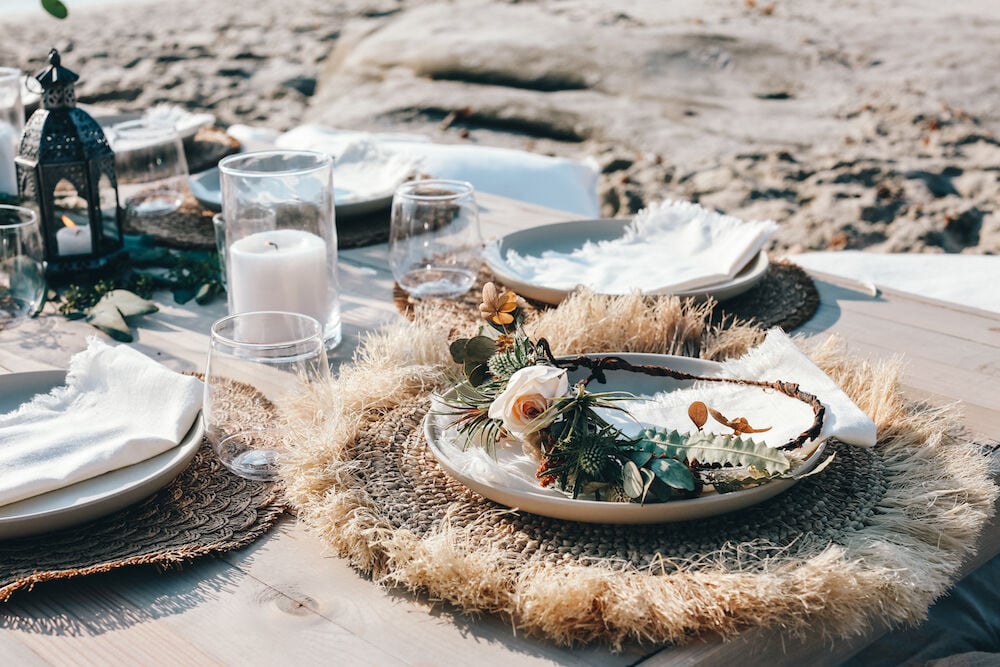 courtesy of Al Fresko
Al Fresko sees charcuterie as a work of art. In 2016, founder Jennifer Niezgoda ditched her day job to start making farm-to-table grazing boards for all types of special events. After the trying times of last spring, she turned lemons into lemonade by offering clients a wide range of unique outdoor experiences. Choose from setups like a traditional picnic, a beachside bonfire, a cabana, or even a date night inside a vintage Volkswagen. Niezgoda puts all the photo-worthy finishing touches in place for a truly luxurious picnic. Building on the success of these picnic packages, Niezgoda plans to launch a café and retail shop where you can pick up all the necessities for an impromptu picnic. "Our shop will include textiles from my travels around the world that complement the Southern California outdoor lifestyle," Niezgoda says. "From handwoven Mexican beach blankets to local jams and handcrafted baskets, you will be able to pick up everything you need."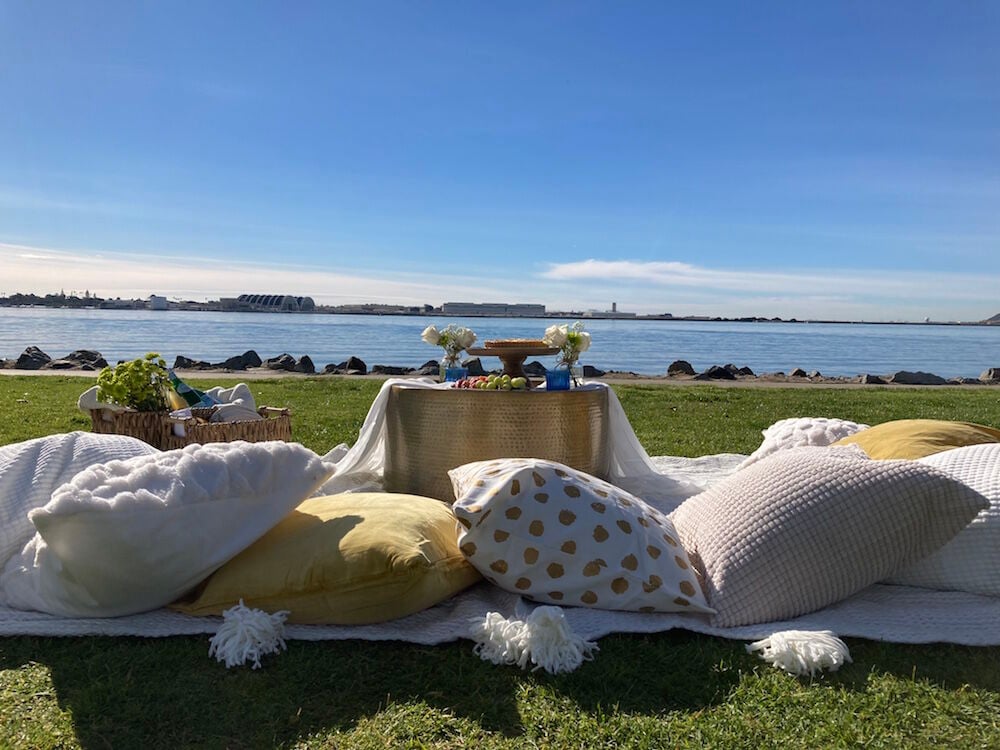 courtesy of Omi Picnics
Omi Picnics founder India Pierce says you don't need a special occasion to celebrate quality time with a loved one. In college, Pierce found her calling in setting up picnics for friends to connect and unwind. Since then, her expertise has blossomed into an event company that's dedicated to creating these memories for all. "Our mission is to provide people with a no-stress elevated picnic experience to celebrate life's special moments," Pierce says. "Our team takes care of all of the details, so all our clients have to do is show up." Omi offers flexibility and personalization with their private-chef food options, live musicians, and cozy tent setups to make sure no client settles for less. The formula produces a dreamy, perfect picnic where dancing is highly encouraged.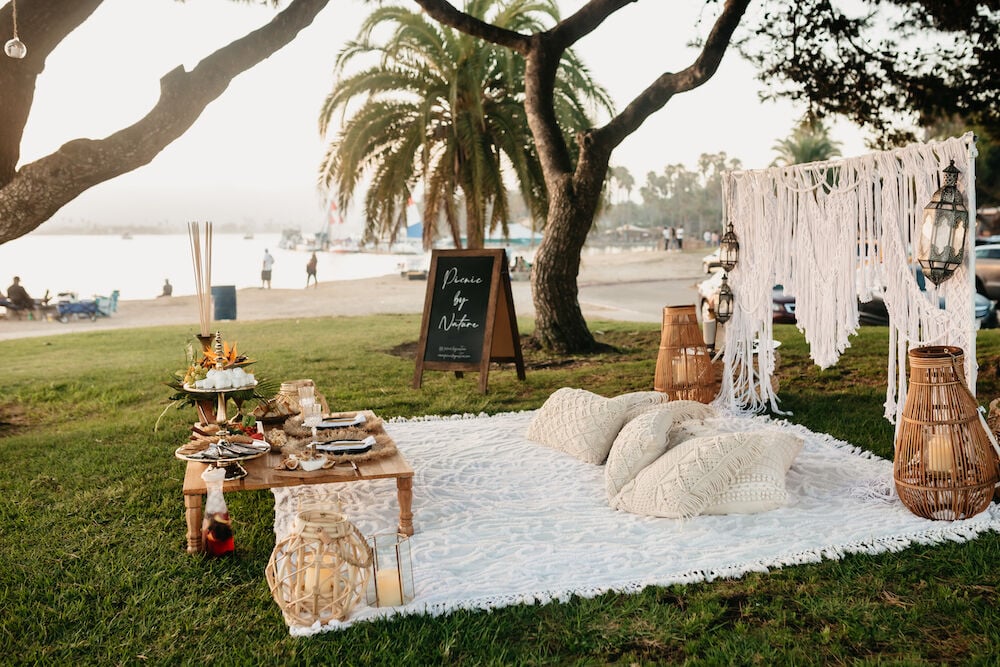 courtesy of Picnic by Nature
Picnic by Nature was made for the free spirited. Sarah Mondet started this luxury picnic business after finding inspiration in her travels. Here, ambience and delicious food are the top priorities. The beachy outings are designed with chic macramé decor, neutral linens, and candles for extra coziness. Choose a picnic for two or for a small group of friends. "We want our customers to be able to slow down, unwind, and be present with one another," Mondet says. "Our authentic design pieces are collected from all over the world to create a unique scenery for our clients." You can also choose from a variety of add-ons, like a s'mores bonfire or personal yoga class. Looking for an extra-romantic touch? Picnic at night! Plenty of lanterns and candles will be ready for you to gaze at the stars and toast to your special someone.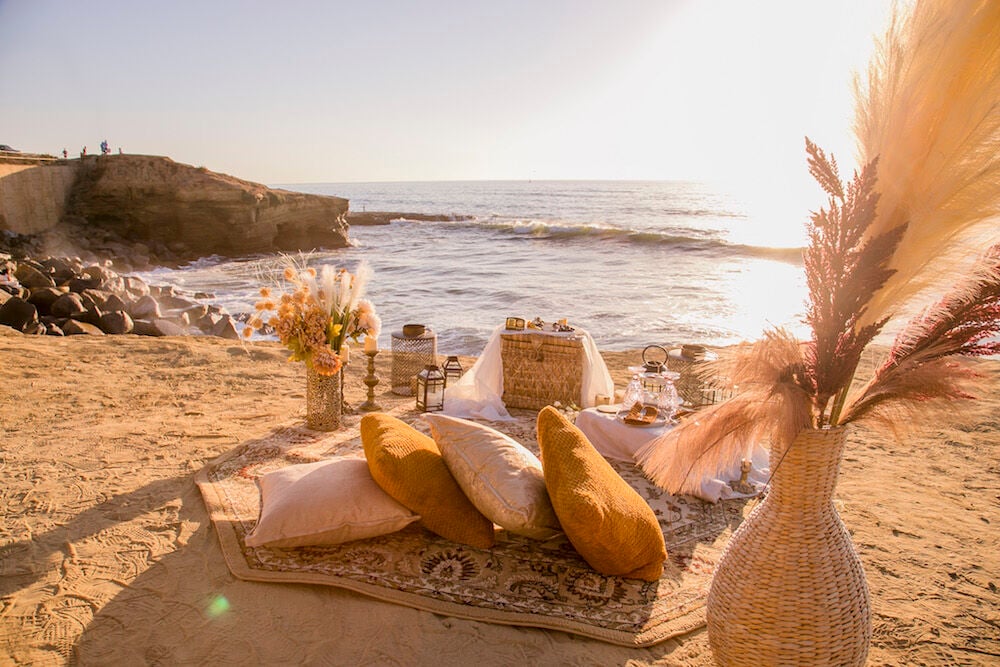 courtesy of San Diego Picnics