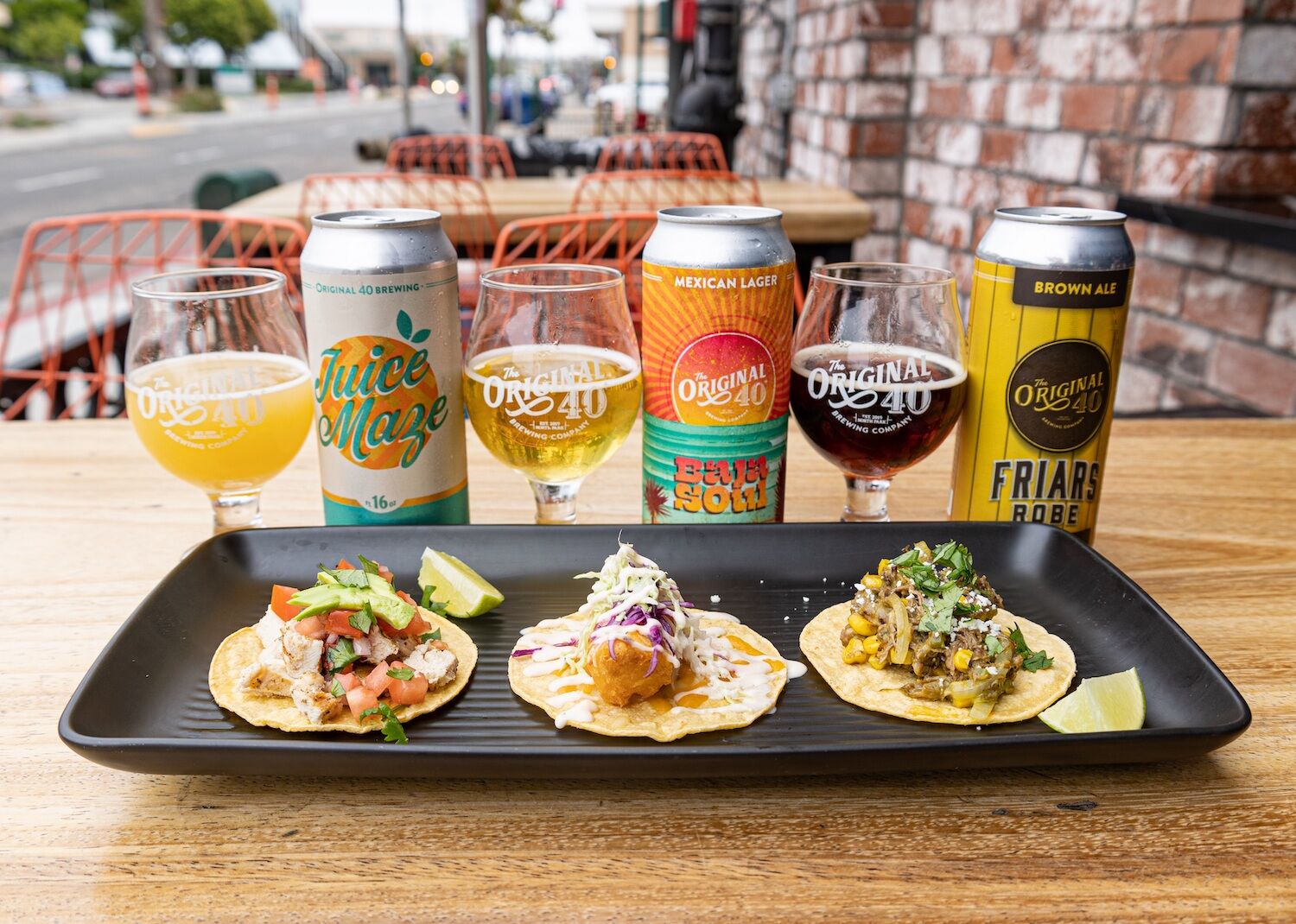 Courtesy of The Original 40 Brewery
The 14th annual San Diego Beer Week kicks off November 4, 2022, bringing brewery bacchanalia across the county for 10 beer-soaked days. The festivities begin with a virtual kick-off toast at 7 p.m. on Friday, November 4—a tradition that originated in 2018 and came in especially handy during Covid-19.
Personally, I suggest toasting with this year's Capital of Craft collaboration, a 6.8 percent ABV brew made by eight breweries using El Dorado, Sitiva, Mourtere, and Nectaron hops for a hoppy ale-lager hybrid (but of course, any locally brewed craft beer will do). Once the toast is complete, there's still a bevy of events to choose from. Here are a few standouts.
Beer Week With Pure Project
November 4-13
From a shirt release during the virtual toast to a multi-day Collect (and Keep) the Glass event, Pure Project alone could fill a drinker's calendar for all 10 days. For the scholarly, check out their Hop Education class in Vista and Miramar on Saturday, November 12. Trivia geeks can head to North Park for beer trivia on Wednesday, November 9. Want even more? Click here for a full list of Pure SDBW events. | All Pure Project taprooms
Guild Fest
November 5
Always a Beer Week favorite, this year's Guild Fest returns with a new venue in Del Mar. Regular attendees can still expect the same huge array of breweries (numbering over 60 this year), early admission and designated driver options, the public's first taste of San Diego's only Estate Beer, and plenty of food, live music, and more. Tickets start at $55 and are available here. | Surf Sports Park, Del Mar, 12 p.m. – 4 p.m.
Street Tacos + Beer Pairing
November 8
"What says San Diego more than beer and tacos?" wonders Original 40 founder Steve Billings. Taco and beer fans can head to the North Park brewery for a non-ticketed $19 flight of paired dishes and brews, including a Mexican lager with a fish taco, brown ale with a short rib taco, and hazy IPA with a grilled chicken taco. Come hungry (and thirsty, obviously). | The Original 40 Brewing Company, North Park, 12 p.m. – 8 p.m.
Eppig + Harland Present: Hot Ones
November 8, 9, 11
Inspired by (but not affiliated with) the YouTube series Hot Ones, this spicy trio of events will have brewers from both breweries in the hot seat, answering absurdly personal questions while also chowing down on some of the hottest sauces in the world. It's a great chance to meet the brewers and watch them burn! Spectators can also take spicy food challenges to share the pain (no tickets required). Tuesday's event takes place at OB Noodle House, Wednesday at Grand Ole BBQ Y Asado, and Friday will be at Crack Shack Encinitas. | Various locations, 6 p.m. – 9 p.m.
Russian River CelebraTION Takeover
November 11-13
This legendary annual event usually takes place every January, but this year Covid ruined the party. Not to worry: O'Brien's annual TION tap takeover is back for the end of Beer Week, which means 20+ Russian River beers on tap (including some vintage kegs), special bottles, magnum pours, and a raffle for a 3-liter of O'Vation (O'Brien's 25th Anniversary collaboration), all with a three-course pairing menu. I strongly recommend showing up early. | O'Brien's Pub, starting at 11 a.m.
Burgeon Beer Dinner
November 13
Drink your fill of Burgeon beers thoughtfully paired with dishes from La Mesa pub West Coast Smoke & Tap House. The six-course meal comes with at least one beer per dish, and co-owner Kristina Blake promises a few extra surprises. Call to reserve a space for $80. | West Coast Smoke & Tap House, starts at 6 p.m.
The Beer Garden Closing Event
November 13
By uniting the best San Diego breweries with the best San Diego chefs, this finale to Beer Week is one of the most anticipated events all year. At just three hours, it's relatively short, but after 10 straight days of partying, I'm betting most people will be ready for this low-key and very upscale closer. Purchase tickets here. | Arroyo Terrace of The Lodge at Torrey Pines, 12 p.m. – 3 p.m.
Check sdbeer.com for more Beer Week 2022 events and share your San Diego Beer Week photos on social media using the hashtags #SDBEER, #SDBEERWEEK and #SDBW.