3986 30th Street, North Park
BEST DISHES
Tuna poke
Bistek Tagalog
Ube panna cotta
It's easier to drive on a road that's paved. Unpaved roads tend to spill drinks and kill cars. In San Diego, craft beer has built a near-perfect road to success for craft beverages—starting in 1989 with the opening of Karl Strauss, the city's first brewery since Aztec Brewing closed 36 years prior. Strauss and those who followed had to build it from scratch, selling customers and retailers on the merit of "craft" beverages, setting up alternative distribution channels, finagling taps and shelf space away from industry giants. They filled in the potholes, poured the asphalt, put up the warning signs—made the good road. Now San Diego County is arguably the largest craft beer market in America, generating an estimated economic impact of $870,000,000 in 2016.
The biblical flood of IPA through this city over the last 20 years has accomplished two things that drastically help Bivouac Ciderworks, the first production hard cidery in Southern California. First, it made the pursuit of craft drinks a countywide ritual. Craft culture got all over the place—in our bars, restaurants, grocery stores, behind the couch. Craft beer is our shared municipal hero, our NFL franchise. Second, craft beer's colonization set up a highly efficient infrastructure for producing, brewing, distributing, and marketing new alcoholic beverages. For instance, the nation's top purveyor of high-quality yeast (crucial in brewing anything) is White Labs in Miramar.
Cider has been begging for a makeover. Most commercial ciders taste like melted, carbonated Otter Pops. Even as Americans have eased off sugary drinks (soda consumption fell to a 31-year low in 2016), mass market ciders still set their glycemic index to "imminent diabetes." Bivouac should send them thank-you cards. They primed the market for Bivouac's ciders, which are extremely dry, more adult, less hangover-y. It's like comparing sauvignon blanc to Boone's Farm.
Craft cider's time has come also because the market seems to be showing a little craft beer fatigue. Nationwide, the first half of 2018 recorded the slowest growth for craft beer in 14 years, while wine sales are way up. Seems there's a demand for alternatives.
Bivouac's signature is the English-style Transom, made with bitter apples known as "spitters." It's sharp, crisp, barely sweet at all. A shock for anyone used to the usual dessert ciders. For the rest of us, it's a revelation and a relief. They currently have eight varieties, which guests can order in samplers on an elegant wooden board, including the Sidra, a feral, funky, yeasty Spanish-style cider for fans of the farmhouse ales; a black currant cider that's epically tart; and even a nonalcoholic cider that tastes like what kids are allowed to toast with on New Year's Eve while their folks hoard the ABV.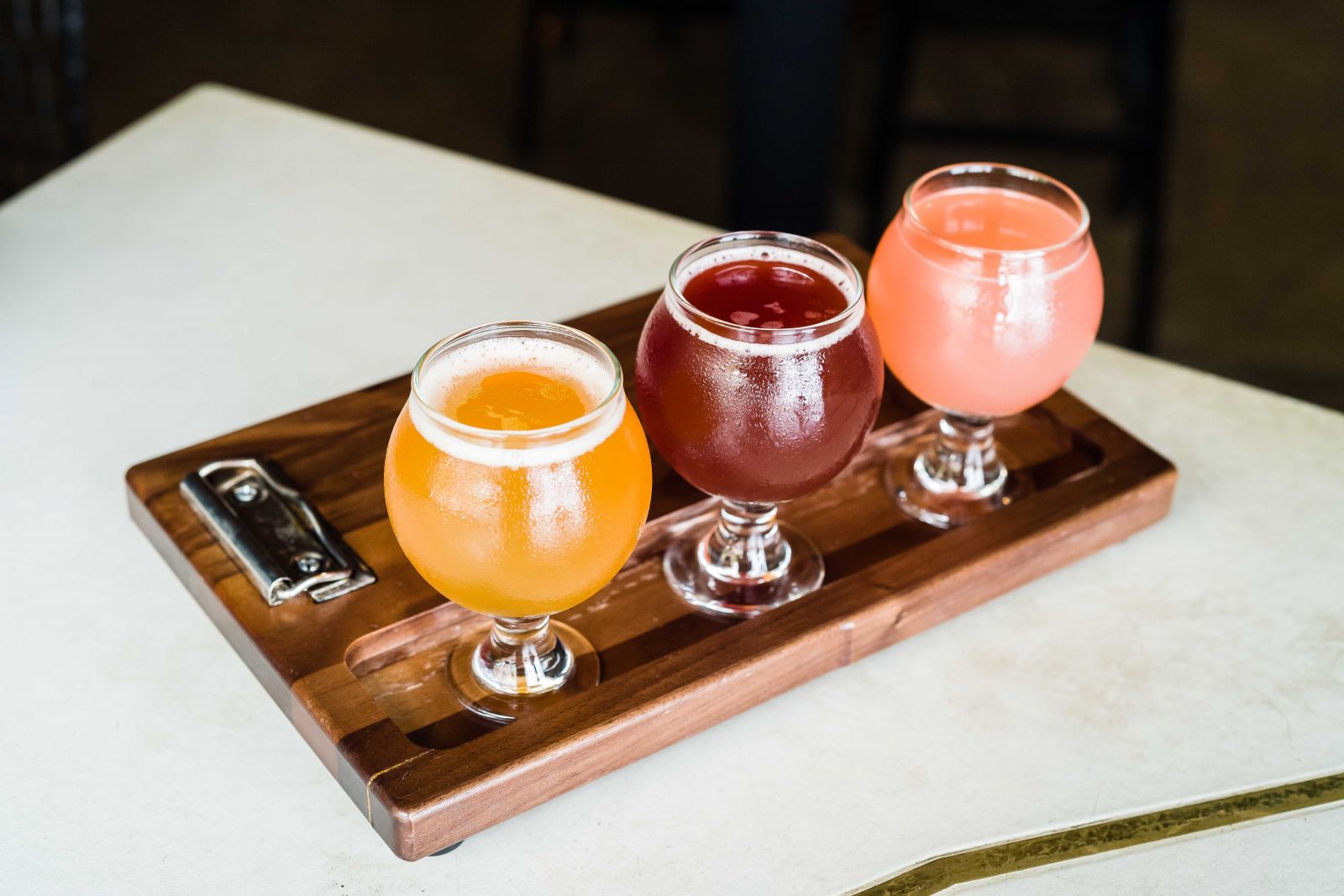 Cider flight at Bivouac
Bivouac also serves other indie ciders from across the world, plus craft beer and wine. The idea was to not force people into this new cider thing. Give them security blankets. Though co-owner Lara Worm tells me that almost every customer goes directly for the ciders.
Bivouac's juice ferments in large stainless-steel tanks across from the kitchen in the back of the small brewery-turned-restaurant. Their initial idea was a production facility, not a restaurant. But it's tough to break in a new product without elegant packaging. Products are tougher to sell than experiences. So Worm and her business partner, Matthew Austin (the brewer), hired promising design firm Tecture (The Patio on Goldfinch, Kettner Exchange) to create a full restaurant.
Designed as an ode to the great outdoors, Bivouac's fold-down front windows reveal a white-stained concrete bar run through with brass rivulets like a topographic map. The V shapes of the back bar are meant to evoke a campfire, as are the dining-chair legs. One entire wall is a series of climbing ropes, each with a distinctive knot (knot nerds have taken it as sport to identify them all). The lighting above the bar doubles as a planter, dripping with greens. The wall sconces, made of glass tubes from old popcorn machines, resemble old-timey camping lanterns. The black wall hiding the kitchen is perforated for the effect of starlight.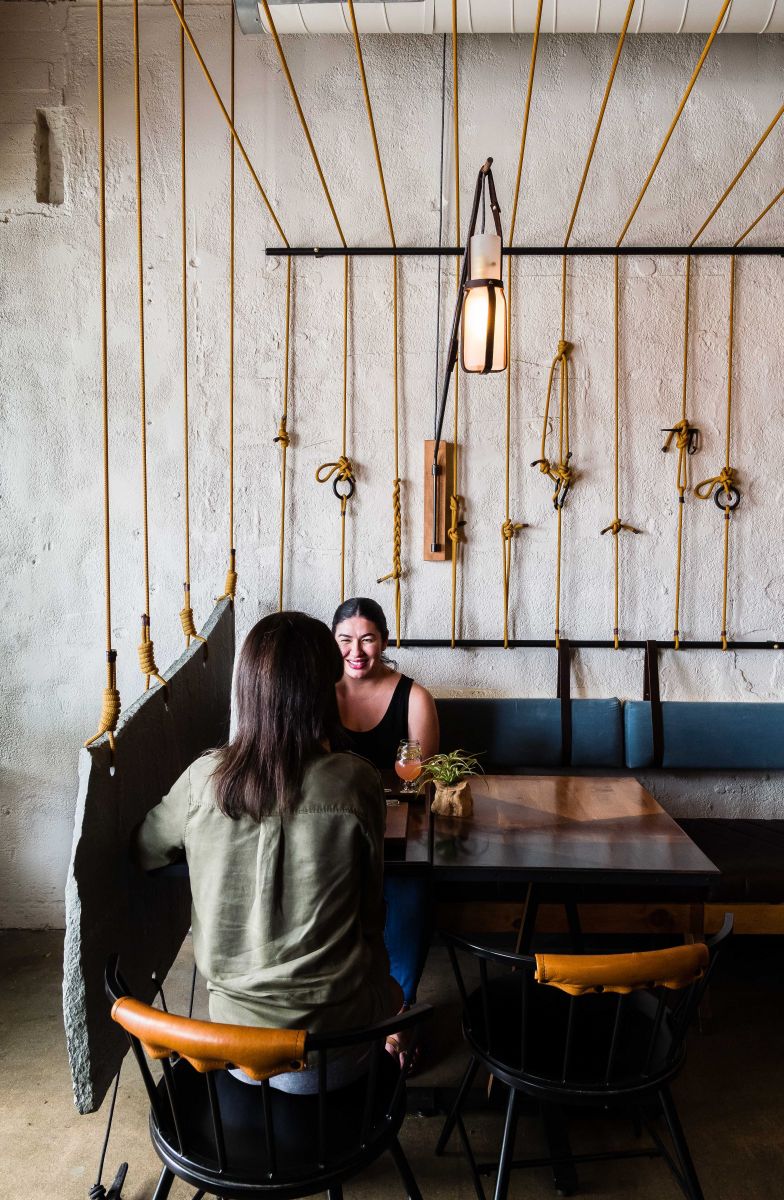 Bivouac glows amber along 30th Street, like a campsite plopped into the urban melee. I can't shake the irony of an indoor space built of dead trees serving as a monument to outdoor spaces and live trees. But it's lovely.
For their position as cider evangelists, Bivouac sure didn't ignore the kitchen. They hired talented local chef Danilo Tangalin Jr., who put in his time interning at a slew of world-class restaurants—Brian Voltaggio's Volt, Eric Ripert's 10 Arts Bistro, Andrew Carmellini's Locanda Verde, Daniel Patterson's Coi, and even the classic Le Bernardin—before helming Tidal and Jrdn locally.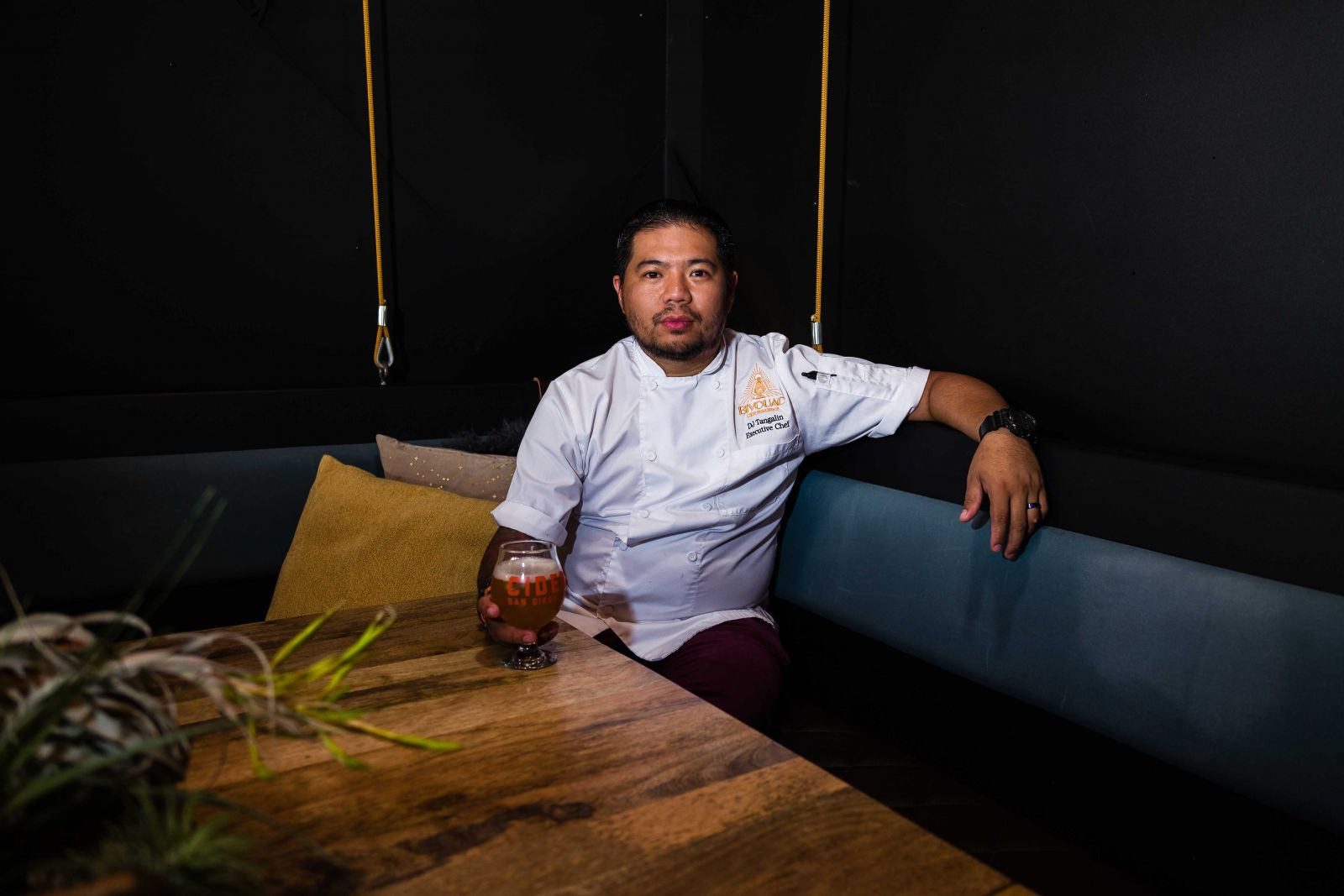 Chef Danilo Tangalin Jr.
The partners have let Tangalin play to his strengths—namely, his Filipino heritage. It shows up in the bistek Tagalog, a classic Filipino steak dish, marinated in soy and lemon juice and served in a gluten-free jus. The sweet-and-sour jus is drinkable, and the steak cooked pink as palms. Those onions are the real currency on the plate, browned in the juices from the meat until their sharp notes melt into a sweet, beefy, garlicky ballad. You'll chase them with your fork.
The Philippines' national dish is adobo, which is basically chicken marinated in soy and garlic. Most cooks develop it into a sort of stew, but Tangalin reduces the adobo into a glaze for his gluten-free fried chicken thighs with mango-papaya chutney and a bibingka rice cake (a sweet treat, like Hawaiian bread). It's got that trademark adobo tartness, though the glaze eliminates all crispiness, which is what makes fried chicken such a textural joy.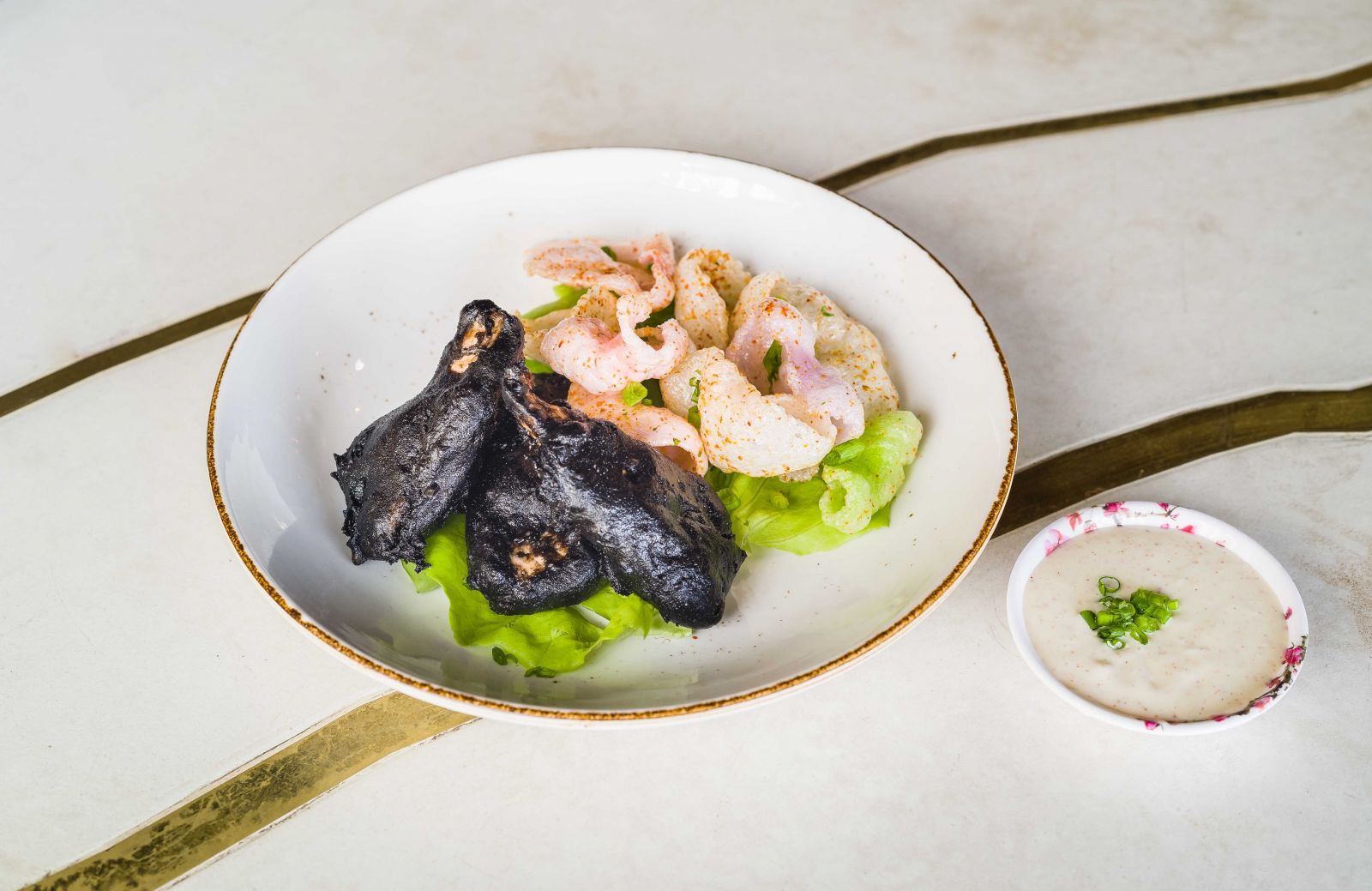 Fish and chips in a squid ink cider batter with togarashi prawn crackers
The Philippines have their own version of chorizo, called longanisa, and Tangalin tucks it into a pork trio sandwich with pulled pork, grilled pork belly, braised kale, provolone cheese, and mustard aioli. It's a ton of sandwich, the longanisa's sweetness playing off the nice char on the belly. It could use a bolt of lightning to cut through the fat—maybe a side of quick pickles or even Filipino achara (green papaya relish). The island's Barney-purple sweet potato—ube—makes an appearance twice, in an ube colada, a disco-looking riff on the boat drink with brandy, pineapple, lime, and coconut. But the show stealer is the ube panna cotta, with roasted pineapple and toasted coconut over arroz con leche.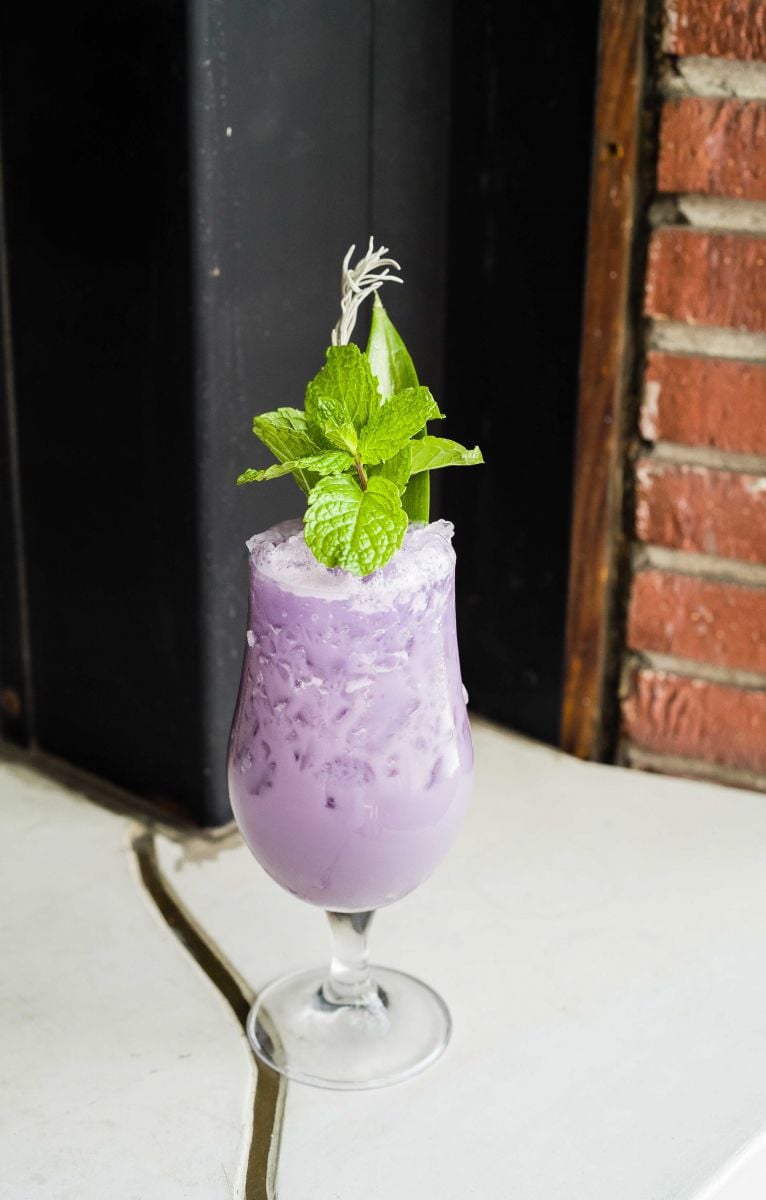 Pikes Peak Colada with pineapple-infused cognac and ube
​One of the best dishes is the fish and chips, which is a concept from Worm (her family's been in the local restaurant industry for decades). Instead of golden brown, it's jet black. Fish and chips gone goth, the result of squid ink and cider in the batter. They also switch out the usual cod for salmon, and serve it with a lime-gin pink peppercorn aioli. Staying aquatic, don't miss Tangalin's poke. It's a mosh pit of flavors and textures: chunks of fresh tuna with fried garlic, sea grapes (aka green caviar, a grape-looking form of seaweed), smoked macadamia, Vidalia onion (the sweetest onion, due to its low sulfur content), toasted sesame, tamari (gluten-free soy), ginger oil, chili oil, scallions, and coconut rice. His chicken wings arrive looking barren and hotel-banquet-ish, but that apple glaze and spice-infused blue cheese dressing put wings-only joints to shame.
Did I mention the fish and chips are gluten free? And the fried chicken? And the delicious mountain of cider-braised bison short ribs with a dried fruit glaze, served over risotto with roasted carrots and a heavy snowfall of pecorino?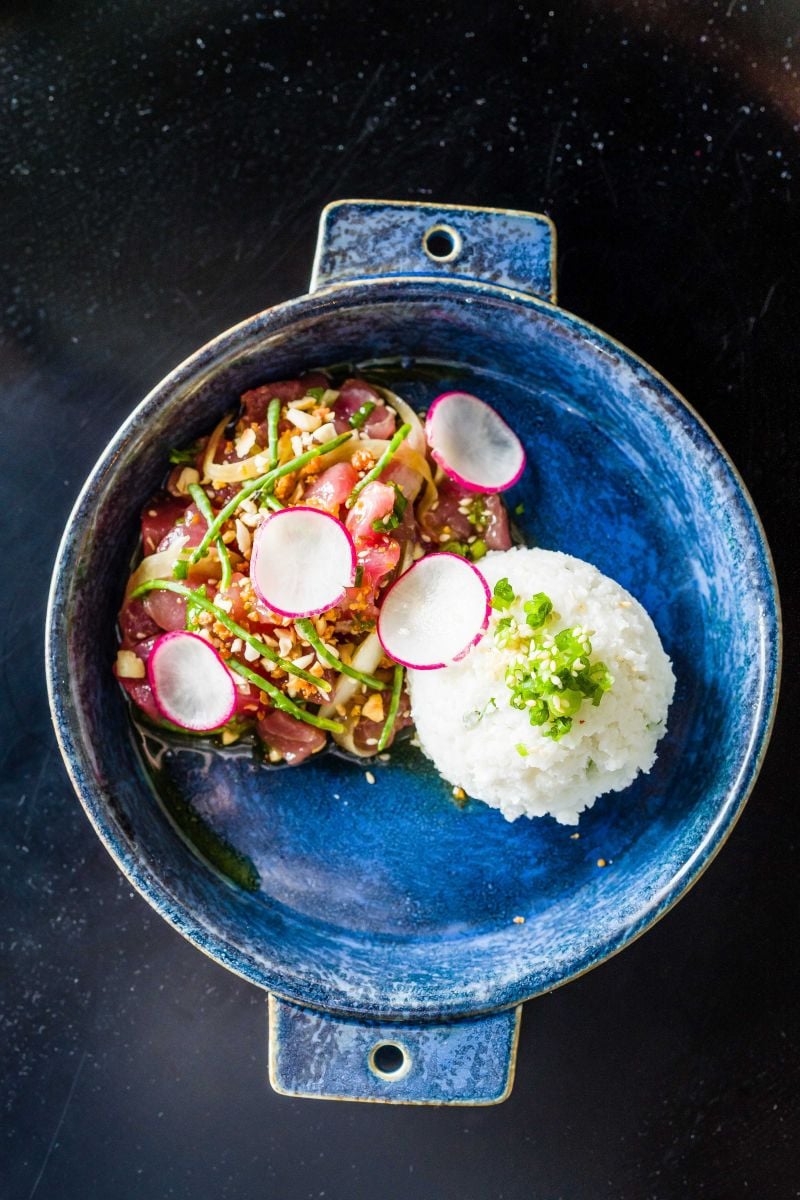 Tuna poke with sea grapes, fried garlic, and smoked macadamia
Almost all of Bivouac's menu has been unglutened, which confers near-sanctuary status for celiac patients or those who've decided gluten is the reason they struggle and feel weird and heavy. It's an astute move, since a big part of cider's appeal is its lack of gluten. Worm tells me that one of her customers nearly cried when he realized the fried chicken was gluten-free, since celiac had sunk his love for the picnic staple.
Despite the herd of animals being served, Bivouac also caters to the vegetarian and vegan set with their entire "Understory" (appetizer) menu: green goddess hummus, jackfruit sliders, sweet potato risotto, grilled asparagus in hazelnut-balsamic dressing, and a couple salads. The star is the roasted cauliflower with shaved Brussels, almonds, pickled sultanas (yellow raisins) and apple-curry sauce. The sharply sweet sultanas are magic in every bite.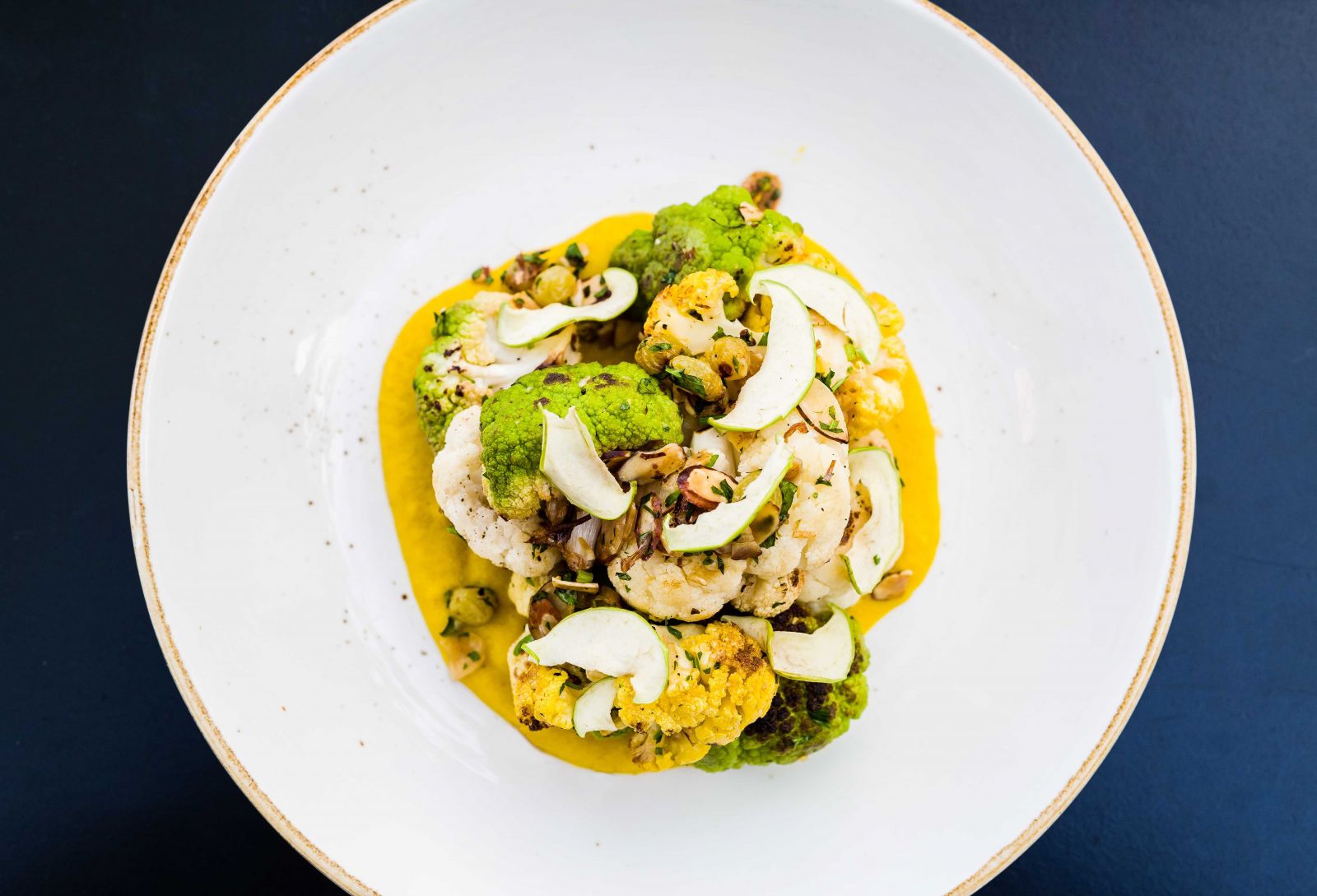 Roasted cauliflower with pickled raisins and shaved Brussels sprouts in an apple-curry sauce
In fact, the only dish I struggle with is the smoked clam chowder. It's highly creative (most of Tangalin's dishes are), and the flavor's spot on, reeking of leeks and celery root and green onions. A nostalgic campfire smokiness wafts through the dish. The source of the smoke, though, is jarring. Whereas some chowder recipes call for salt pork, Tangalin subs out cubes of smoked tuna. Problem is, the tuna is extremely dry on the bite, even with the chowder.
Note how much of this food is marinated or braised with cider. In cooking, alcohol is largely swappable. Its primary function is to give cooked food a backbone of acid, and chefs can tweak the flavor by using wine or beer or an English-style pub cider. Much like craft beer restaurants feature their stouts and IPAs in dishes, Bivouac puts cider gospel in everything. In that way, and in lots of ways, Bivouac is exceptionally well thought out.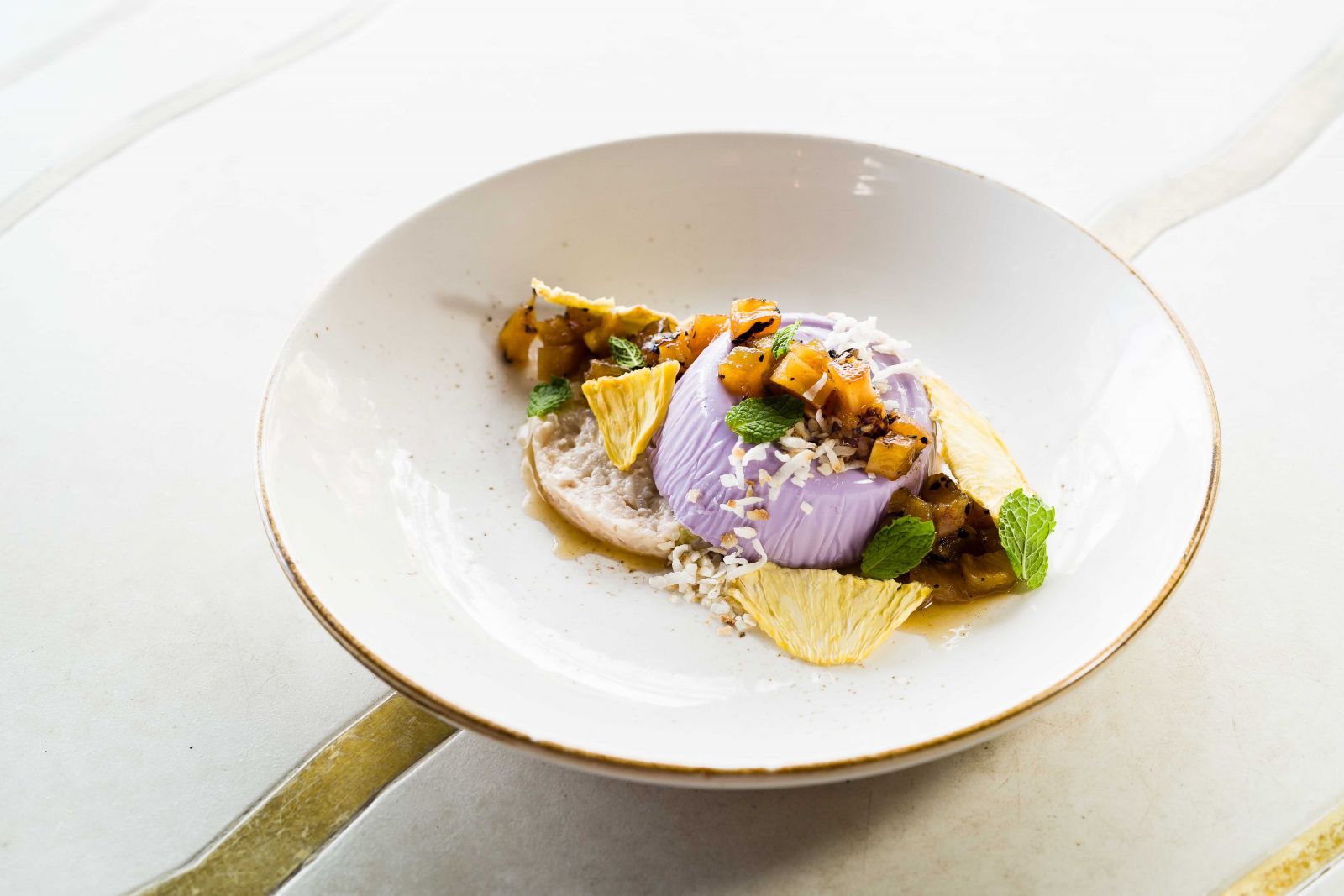 Ube panna cotta with roasted pineapple and toasted coconut flakes
The service seems a tad distracted both nights I'm there. And Tangalin is not the prettiest plater in town—mostly building mountains of food and gussying them up with edible flowers. But overall, it's an impressive little temple dedicated to craft cider's emergence. Especially because San Diego's large Filipino community (the second largest in the country) finally has a good chef doing the island cuisine justice.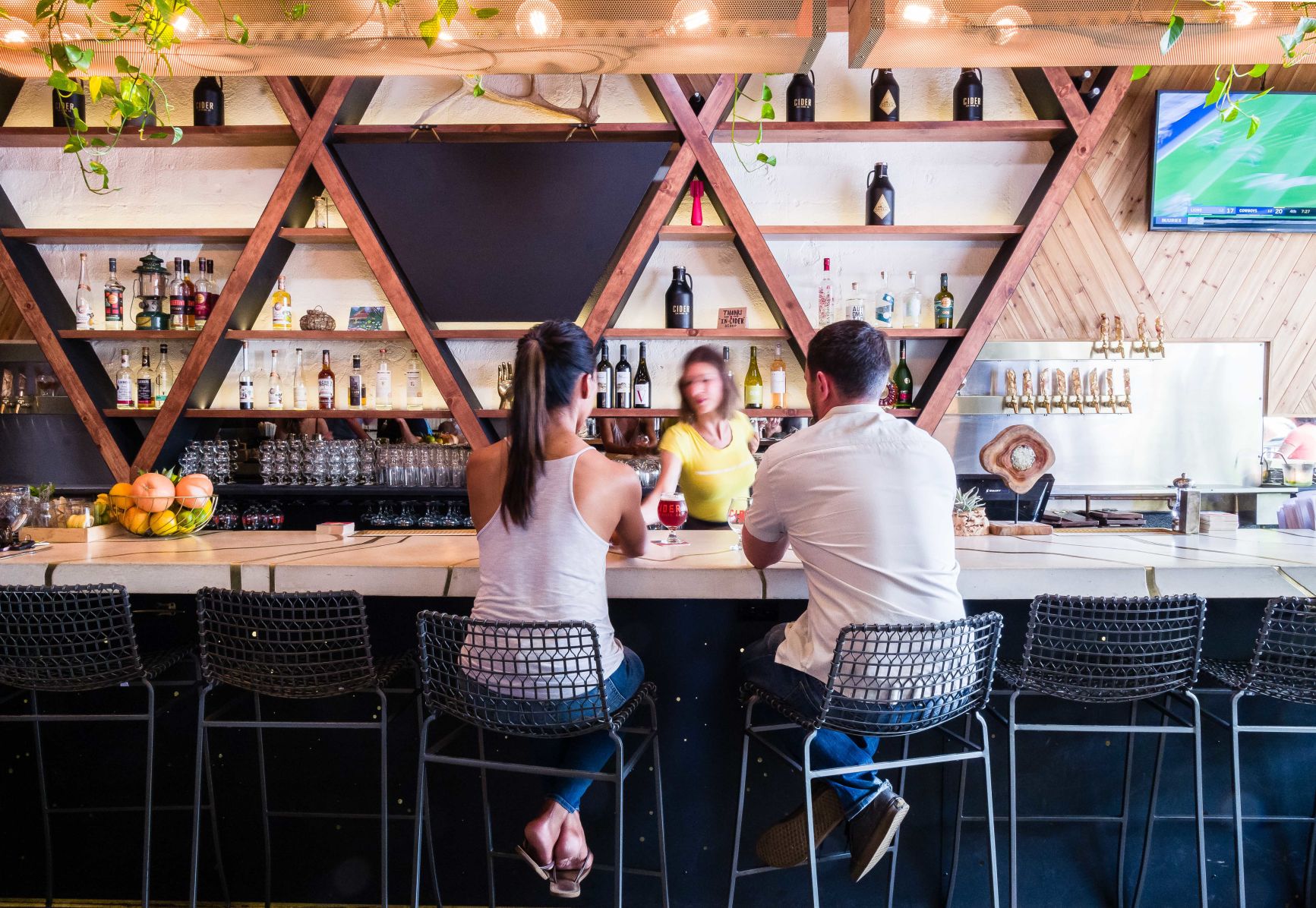 The bar at Bivouac Ciderworks