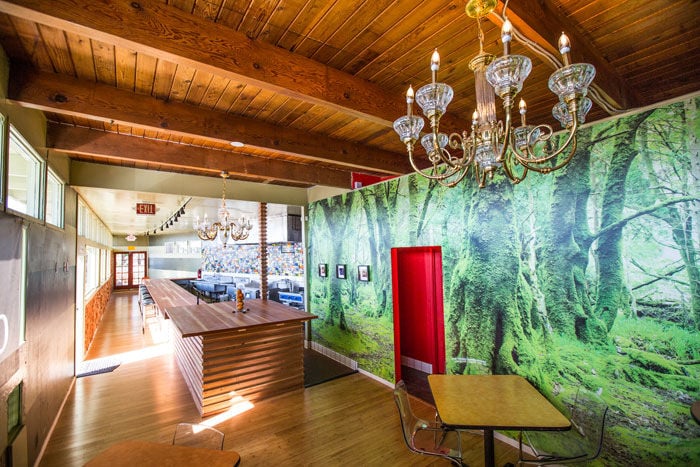 Bull Taco is back. San Diego's surf-punk taco shop—where culinary school-style tacos meet paper plates and zero pretension—is ready to unveil their newest location on 101 N. Coast Hwy in Leucadia (the former Jamroc 101 spot, next to Encinitas Surfboards). We've got the first photos below.
And, breaking news: Yesterday, they signed a deal to move into the unit above Prepkitchen in Del Mar.
Bull Taco's a bit of a local icon, so why are they "back"? Because, noticed or not, they haven't been doing hyper-creative tacos for quite some time. In 2009, Greg Lukasiewicz and his brother started Bull in the tiny snack bar at the San Elijo Campgrounds. With some plastic chairs on a patio overlooking the surf, they cranked out foie gras tacos, lobster tacos, uni and curry tacos. They tinkered with ghost pepper, then the hottest chili pepper in the world. Before they knew it, the line for their tiny taco stand was 20-deep. To meet the demand, they had to cut back on the creativity.
"When we got into the volume game, it got too hard to control," says Lukasiewicz. "Now we're definitely going back to the exotic stuff. Now the locations can handle it."
Exotic and experimental is Lukasiewicz' game. He opened his first restaurant—the French bistro Devon, in Monrovia—in 1996 (he's owned 11 altogether). His approach was to hire top sous chefs, including one from Thomas Keller, and get creative. They tinkered with molecular gastronomy and foraged for their own produce long before it was a thing. After 17 years, Lukasiewicz plans to turn Devon into a Bull Taco later this year.
Sounds like Bull is set for rapid expansion. For each new location, Lucasiewicz wil partner with a top surfer or skater (surfers Jay Adams and Nathan Fletcher are partners at the Oceanside and San Clemente locations, respectively). At Encinitas, it's pro skater Bucky Lasek. There'll be tiles made from recycled skateboards, a wall of self-serve craft beer, ostrich tacos, and top-notch sashimi similar to their popular Oceanside joint, Wrench & Rodent.
"Like Wrench & Rodent, but on a much smaller scale," he says. "On that long counter, there'll be a person doing ceviche. Maybe throwing a French or Italian accent—ahi with truffle vinaigrette. A buerre blanc. White wine reductions. One grilled lambchop on a plate. I don't want to say tapas, but we'll have steamed mussels and clams, maybe just a single bite of grilled lobster."
Diners will even be encouraged to cook at the restaurant, a sort of coup de Bull. The group also now has their own farm in Bonsall where they're growing the Trinidad Scorpion—the hottest chili pepper in the world. At their Oceanside location, they've built a garden in the back (one of the few food gardens in San Diego with a skate ramp in it) with some of the hottest, rarest chile peppers in the world.
So, yeah, Bull Taco is back.
"I was going to call the Leucadia location Bull Tacobertos," jokes Lukasiewicz. "I like change. I like experimentation. Maybe we'll do a super high-end menu one day or just invite high-end chefs to take over our kitchen for specials once a week."
Without further ado, the FIRST LOOK at Bull Taco Encinitas. Opens hopefully in the next week (permits permitting):