8131 Broadway, Lemon Grove
BEST DISHES
Arancini
The Queen Pizza
Sausage Panini
There's that giant lemon. Must be 20 feet long, 10 feet high. Wish my navigation system said, "Turn left at the giant lemon." But she's sticking to street names—most of which, admittedly, I'm not familiar with. Even as a San Diego native, I haven't spent much time in Lemon Grove. I ask around. Seems I'm not alone.
When I have come here over the years, I've gone directly to Coop's, a standout barbecue joint, and then driven the 10 miles back to downtown San Diego. It got its name in 1892 because its ripe climate—"the best climate in the world," as the city bills it—was uniquely suitable for growing subtropical fruit trees. Farmers from all over streamed here to grow lemons and other citrus. At one point, the Union-Tribune described it as a "sea of lemon trees." The city's newsletter is called the Zest.
After World War II, most of those trees became firewood for the suburban homes that replaced them. The population of about 26,000 is pretty diverse, with one of the larger black communities in San Diego County (13 percent). Dennis Hopper lived here, and was named "Most Likely to Succeed" when he graduated from Helix High. The next year, he'd make his big-screen debut as a goon in Rebel Without A Cause (James Dean was a friend of his). Rob Crow of cult San Diego band Pinback also grew up here. And there's a giant lemon.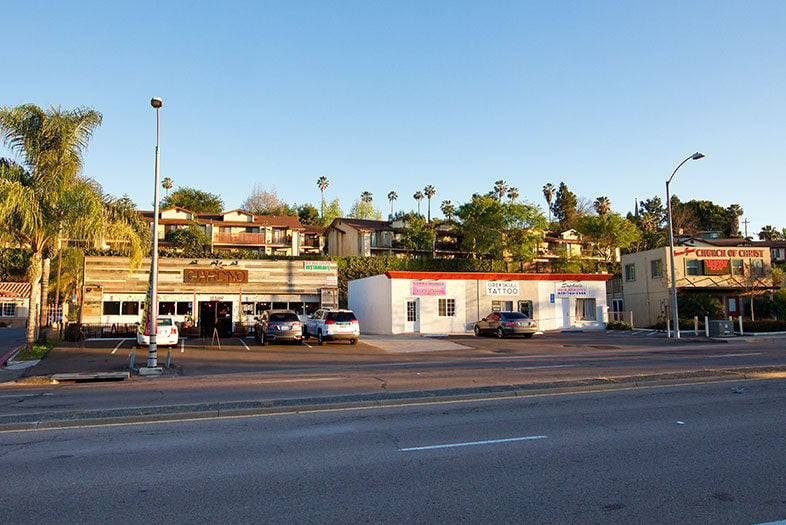 Giardino's Lemon Grove location, next to a salon, tattoo parlor, and church
Unfortunately, for a long time many of the city's restaurants were also lemons. Just basic fare, whose menus and food were best described as shrugs. If Little Italy is San Diego's culinary hot spot, Lemon Grove is its dead zone.
That's why Giardino Neighborhood Cucina is such a revelation. A little wildflower of a restaurant sprouted next to a salon and a tattoo parlor. If you overeat their fantastic Sicilian-style pizza and need some gluttony absolution, the Lemon Grove Church of Christ is a couple feet thataway.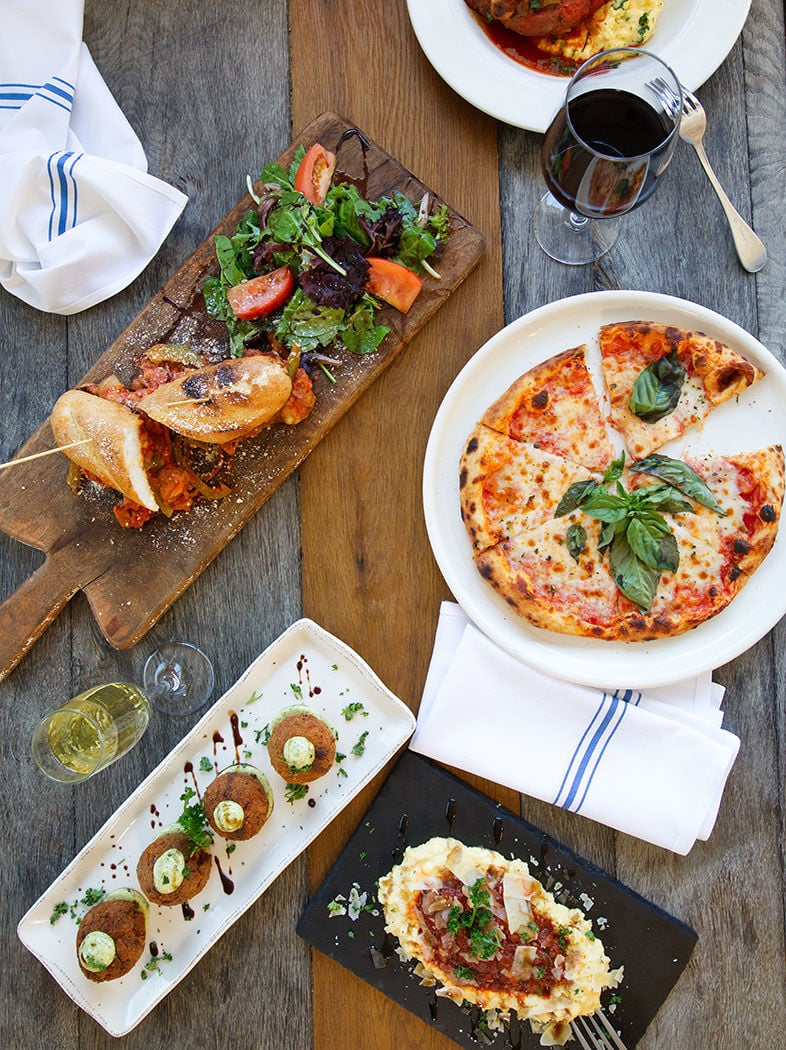 Giardino is the lovechild of its owners, chef Marco Provino and his wife/GM/server/do-it-aller, Karina Kravalis. It stands out. The design is modern and sleek, with concrete floors, exposed beams, giant floral wallpaper, a private dining table behind glass, and a fake plant wall with a neon sign reading "Wine Is Love." There's an orange moped, and patio seating so you can gaze out at the unattractive street and gas station across the way. It's charming as hell. One entire wall is done in chalkboard wallpaper, upon which various Italianisms are written. Like "Life is short. Eat dessert first." And "You can't buy happiness, but you can buy pizza, and that's kind of the same thing."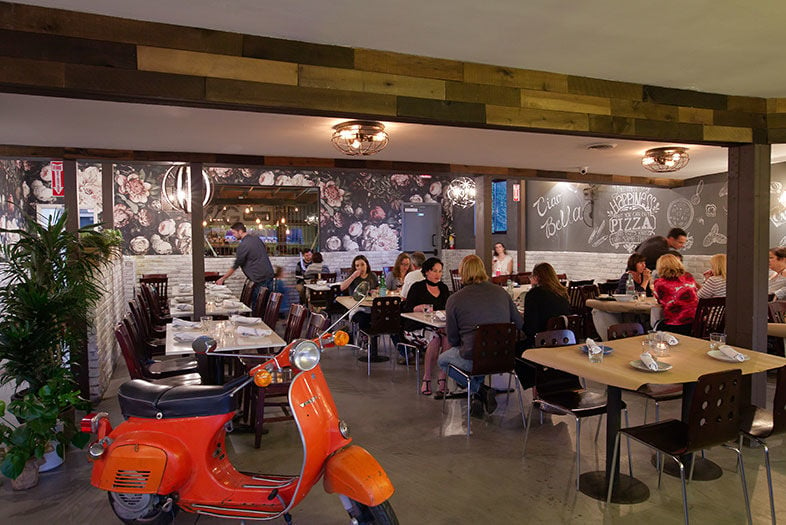 Do as they say. Buy the pizza. It is happiness. I try The Queen—your basic margherita pizza, the true test of any pizza enterprise. The crust is semi-thin, somewhere between a New Haven–style and Neapolitan. Chef Provino is from Sicily (he moved here five years ago, and didn't speak a lick of English), which is known for thick crust. "But in the streets, you'll find this thinner pizza," he says. I don't question him, with an accent that thick. The Queen is moderately dressed with marinara sauce and splotched with both melted fresh mozzarella and burrata, then topped with a chiffonade of fresh basil. It's beyond excellent.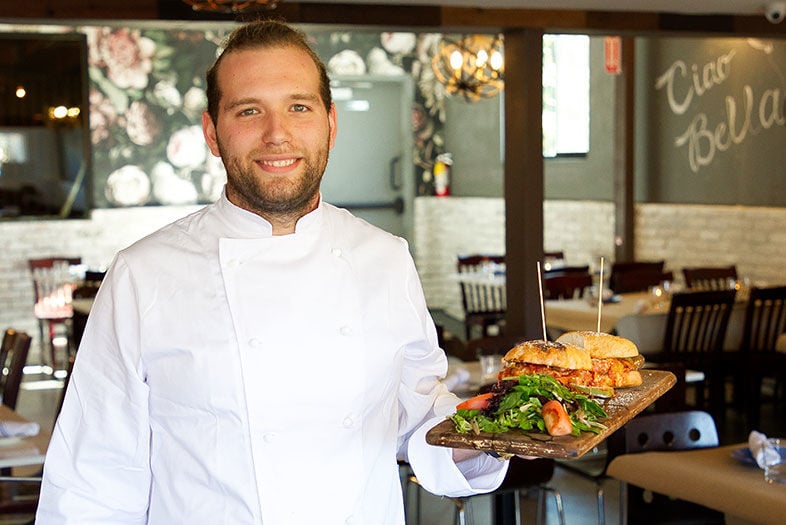 Chef-owner Marco Provino with an Italian sausage fennel panino
Not everything works as well as this. There are hits, there are misses. For hits, try the arancini—deep-fried balls of risotto. Arancini are a classic Italian street food, and "fried risotto" sounds hard to mess up. But I've been hard-pressed to find truly inspiring arancini in San Diego, and this may be the best I've had. Provino tosses his risotto in their Bolognese sauce before frying and then finishing in the grill, then tops it with marinara, basil, and a side drizzle of reduced balsamic vinaigrette for an acidic punch it needs.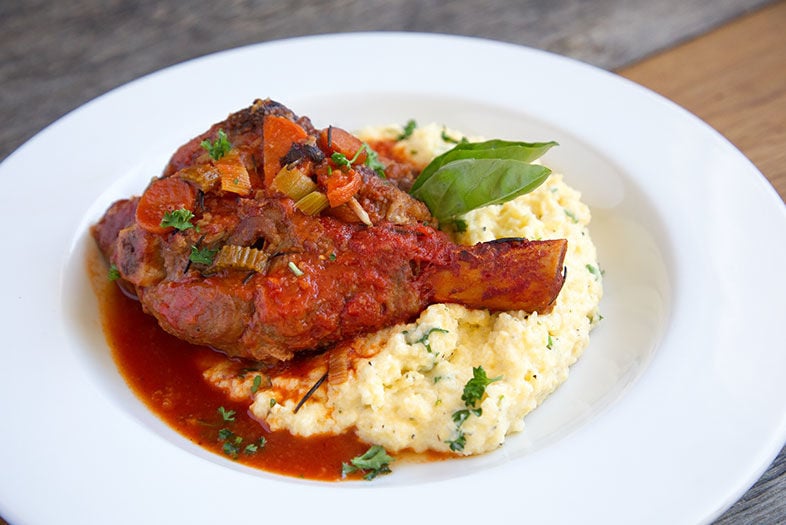 Bone-in braised lamb shank osso buco over soft polenta
Also, those meatballs. They come served on skewers. Cute. The combination of beef, pork, and veal—cut rustically, with chunks of delicious meat—are topped with tomato sauce. The polenta ragu is a gigantic, two-tone flotilla of food served on a flat slate. The bed of creamy, buttery, chunky polenta cradles the meaty ragu in the middle. From the pasta, try the truffle risotto. It's got cream, which may psychically injure Italian purists, but the truffle-cream sauce with mascarpone and wild mushrooms tastes like maybe purity is overrated. From the entrées, that Steak Siciliano—a boneless ribeye that's bread-crusted and then finished with herbs and butter—will help you put off that lingering urge to go vegan for a little while longer.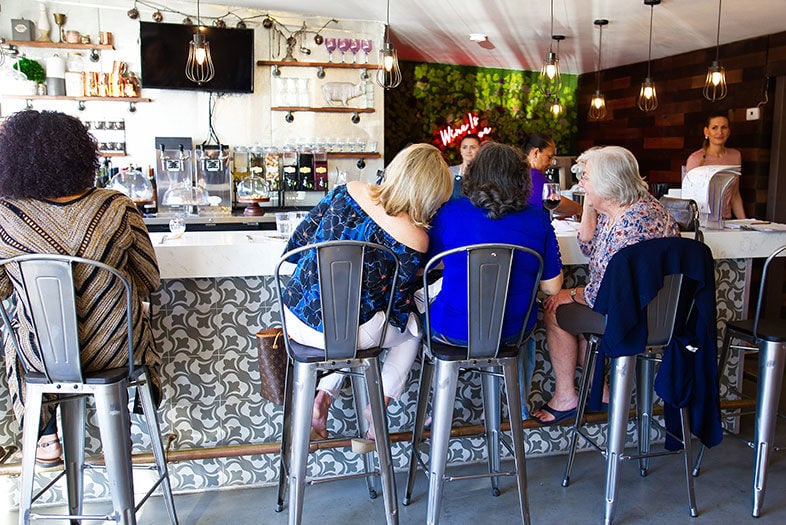 Diners at the bar
For lunch, they offer a host of panini. I try one, and I try the right one. A hot Italian fennel-sausage number with marinara sauce and a kick of spice, served on toasted baguette with a side house salad that was grown by a farmer down the road. It's so good it ruins my attempt to stick to my "two-bite rule," a career self-preservation tactic I'm pretty militant about keeping.
As for the misses, there are a few. I order the vegetarian eggplant rolls, with wide ribbons of eggplant roasted and topped with ricotta, Parmesan, mozzarella, and marinara. "There's a side of balsamic reduction," Kravalis tells me. I taste it. It's chocolate sauce. She's mortified, and quickly takes it back to replace it. Things like that are going to happen when you're running a new, busy restaurant with your husband.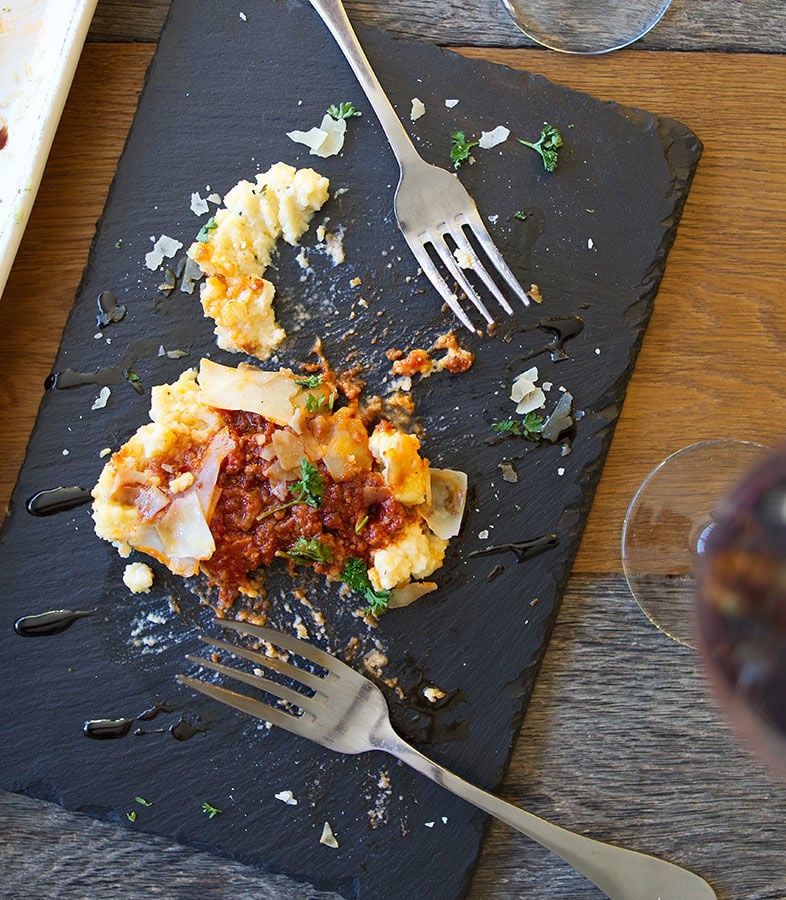 Polenta ragu with beef, veal, pork, and Parmesan
In their fettuccine carbonara, they use bacon instead of the traditional guanciale (cured pork cheek). That's fine, but the bacon fat isn't fully rendered, making for an oily, chewy bite instead of the melt-in-your-mouth umami it should be. Their osso bucco is one tender, slow-braised lamb, for sure, but the sauce lacks an acidity that you need with such a rich dish (especially since it's served with polenta). I take the leftovers home, add wine, and it's beautiful. In their Spaghetti di Mare is a gigantic feast that includes nearly all of Jacques Cousteau's social circle (lobster, clams, mussels, baby shrimp, calamari), but the clams haven't been properly purged, and more than one has a chunk of sandy grit on the bite.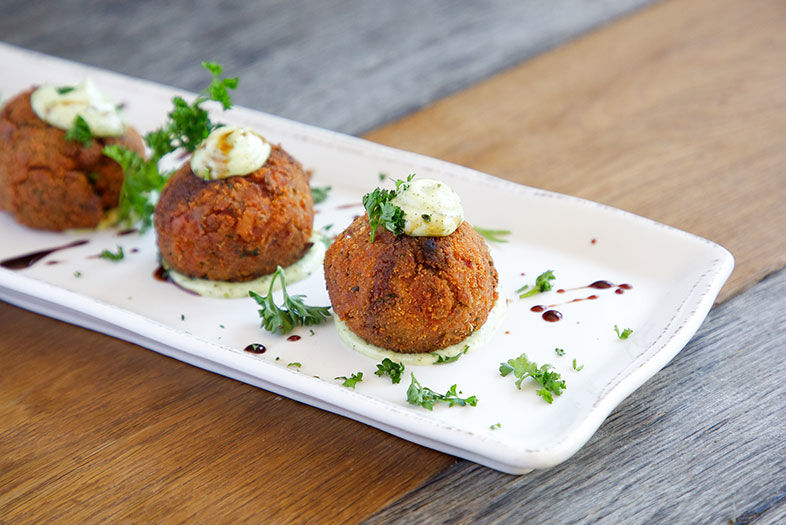 Arancini with bolognese sauce, peas, mozzarella, and pesto aioli
A lot of this, admittedly, is overcome by the sheer charm and familial ambience of Giardino. The husband is in the kitchen cooking and every so often comes out to check on guests' happiness. The wife roams the room doing everything, playing the role of gracious host. The mayor reportedly eats here. If I were mayor of Lemon Grove, I would, too. It's a wildflower—growing brightly among the cracks, beautiful and imperfect and imminently lovable.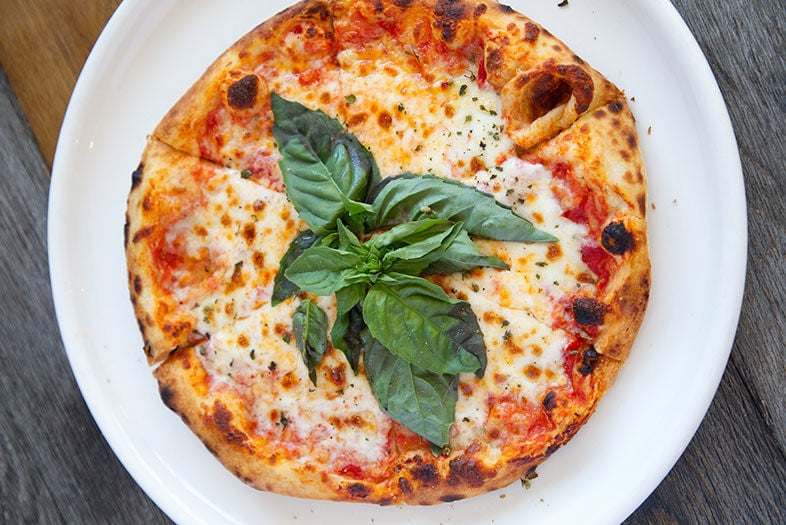 The Queen margherita pizza