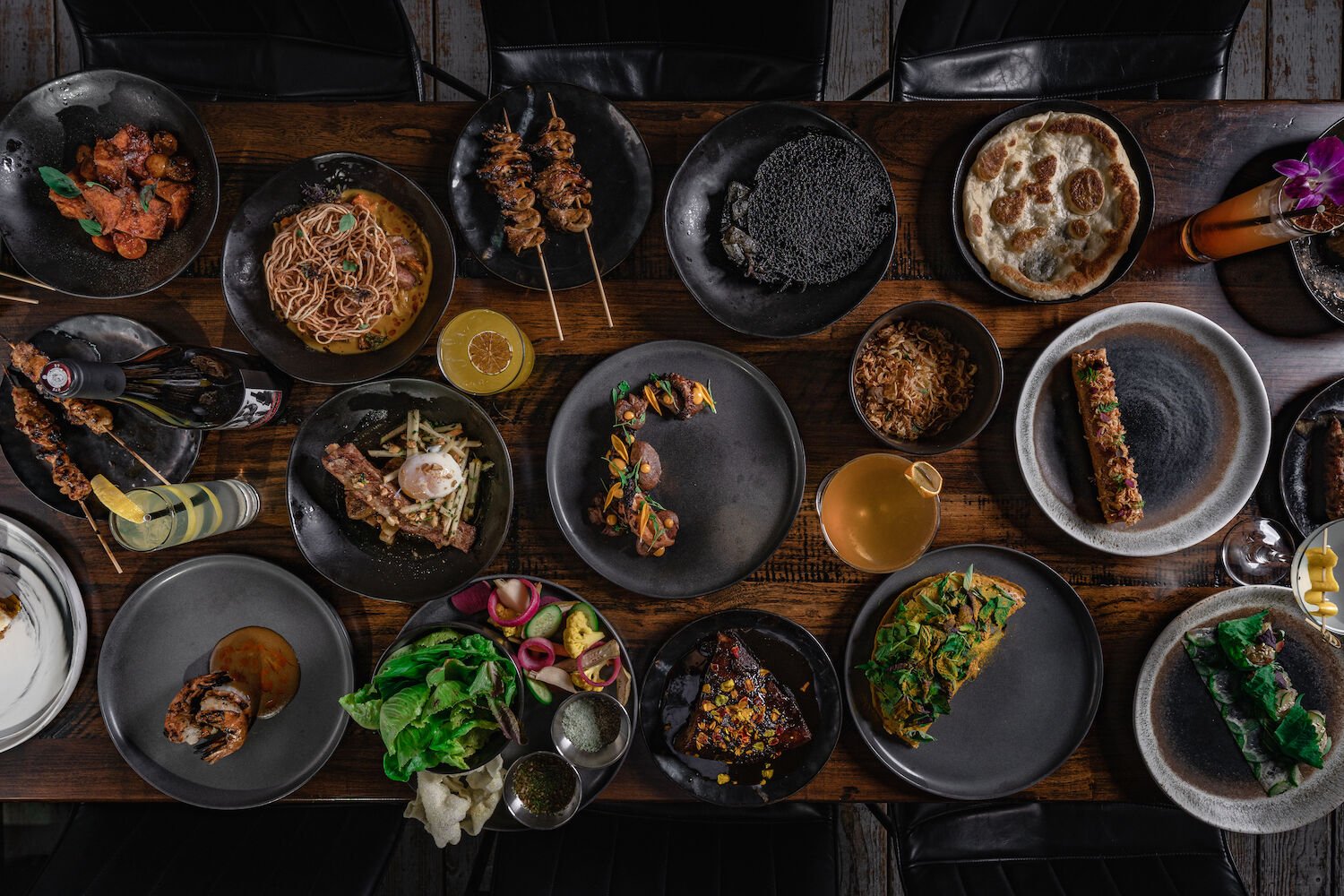 James Tran
Two weeks ago, Claire and I saw a couple of young goths sitting on the stairs near our place in OB. I grew up in the '80s when goths were first launched, and these goths were much sweeter than the ones I remembered. I felt a little vertigo when they cheerily cooed at our infant son and said he was cute.
"Goths these days," I demanded of Claire. They're supposed to intimidate people with their glum disinterest in social norms, and here these two were being emotionally  supportive of babies (to be fair to the goths, baby-having is less and less normal these days). Pretty disappointing.
In the middle of their off-brand geniality, one of them closed her eyes to reject the sun (or bask in it, I don't even know anymore). That's when I realized why goths have historically used black eye shadow. Because even when her eyes were shut, the black paint made it look like she still had two giant shark eyes staring at us. So the goth gets to explore their interior world in public and give off the impression that they've still got their eye on you.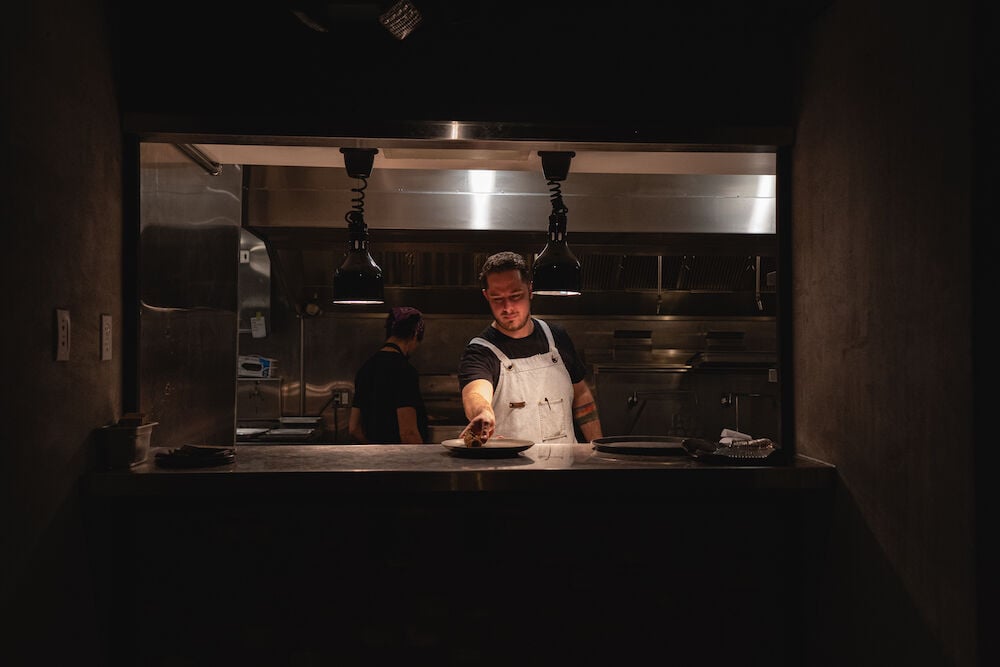 James Tran
Point is, a meal at Hoxton Manor is like eating in the New York or London studio of a goth who's done well for themselves and loves fish sauce. It's just so wholly black in here, and the food is pretty inspired. Walls are dark gray. Plates are spider black. The food is largely dark (or is it just dark in here?). The main dining room is a thin alley of nonlight with some pop art and a peekaboo look into the kitchen. None of this is a bad thing. In a city so excessively sunshiney and riddled with aquas and sand tones, eating inside the barrel of a gun feels like a vacation.
The North Park restaurant made its debut nearly a year ago. This was fairly big news because it was launched by owner Rob Jones and chef Ryan Costanza, two-thirds of the team behind Dija Mara in Oceanside. Dija Mara has been a star of Southeast Asian food in San Diego ever since it opened in 2017. Costanza helped design the Hoxton Manor concept and menu, then departed (the talented chef seems to have found his niche as a conceptualist and "opener" these days). His right-hand chef, Corey Muirhead, took the reins, having trained under William Eick (Matsu).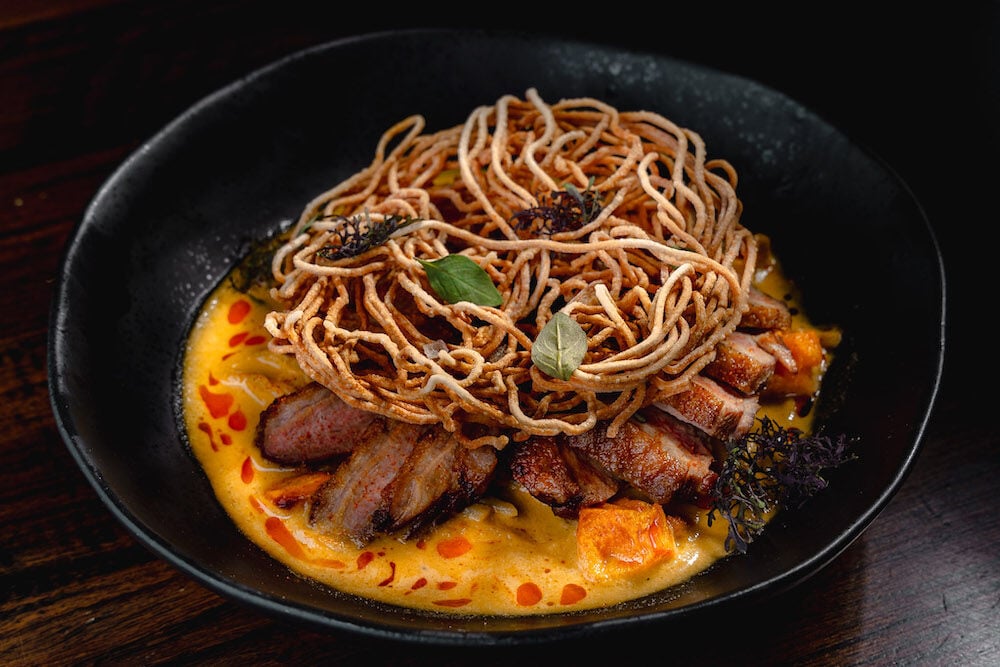 James Tran
Like Dija Mara, Hoxton highlights some intense specialties of an Asian cuisine you don't see much of in San Diego, or the US for that matter—Laotian (as well as Thai and Vietnamese and other Southeastern Asian dishes). As much as I love the food from China, Thailand, and Japan, there are other countries in Asia. It's quite large, actually. And if I can't travel to all of them, I'd love to at least taste what they're cooking. At Mara they give us a glimpse into Indonesia, and at Hoxton it's Laos. Only the Mekong River separates Laos and the Issan region of Thailand, so their foods are cousins if not siblings.
The streets of Laos are filled with food smoke—marinated and grilled edibles of all sorts. So it makes sense that Hoxton has an entire skewer menu. In the kitchen you can see cooks smoking various things over their custom-made wildwood grill. The hot coals are binchōtan, the famously pure-burning fossils made of petrified Japanese oak. And the star of that grill is the oyster mushrooms, which are rotated over the heat and brushed with duck fat tare, tasting like a more self-actualized teriyaki (sweet dark sugars and vinegar). It's finished with a drizzle of jaew—a Thai sauce that's smoky, sweet, spicy, and sour. Eat them like chips. Order them for the table next to you and wink knowingly. The lamb shoulder skewer is also good, but the yogurt sauce with curry leaves, Thai chiles, and mustard seed is bitter, suggesting someone got excited with the leaves. (To be fair, Laotian cooking is often described by outsiders as salty and bitter).
Subtlety is not a pursuit at Hoxton. A top San Diego chef texted me when it first opened to report it was "intense, but really good." There's a running-naked-into-the-fire boldness to everything you'll eat here—smoky, creamy, salty, rich, unshy. When dishes hit, and they mostly do, it's a thrill. When they miss, it'll jerk your head. My kind of fun.
At the full bar, the cocktails are infused with all kinds of flavors popular in Asian culture—teas, lime leaf, lemongrass, etc. The knockout is the Seventy-Seven—a vodka infused with cardamom and Thai basil, mixed with lemon, lychee, and black walnut bitters.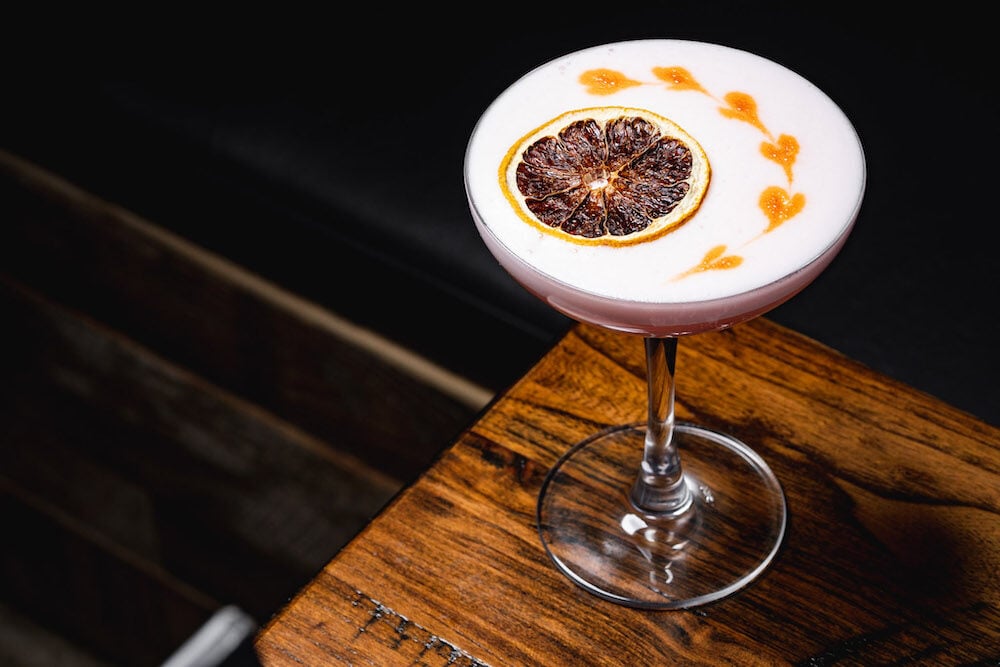 James Tran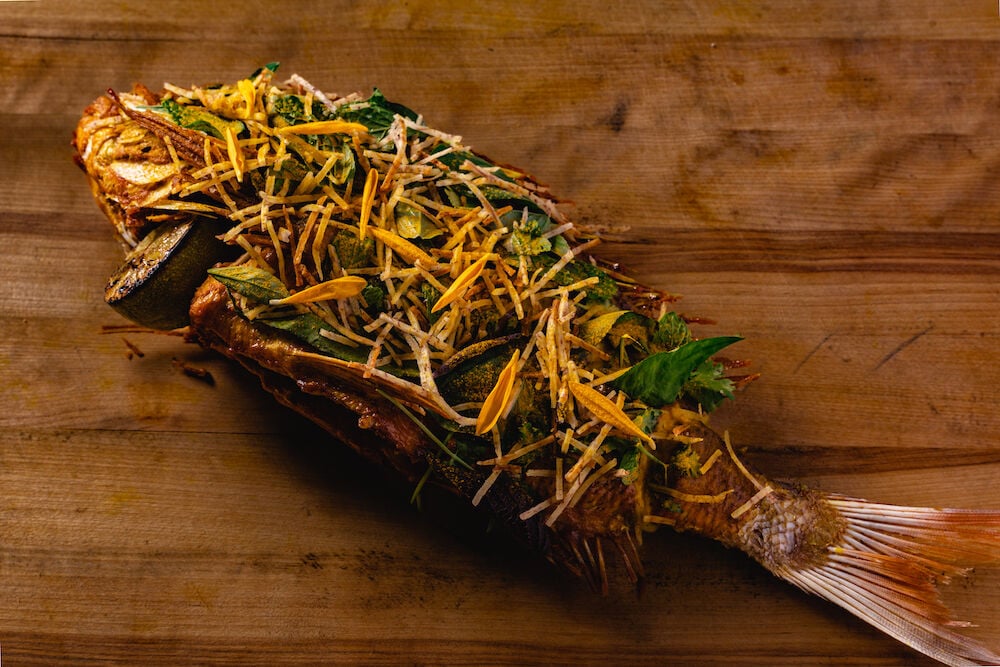 James Tran
Every meal here starts right if you order the coconut roti (unleavened flatbread, the kind of food that singlehandedly justifies the endeavors of humans as a species) and that eggplant dip. The eggplant is charred, peeled, then mixed with a spicy tomato sambal and topped with whipped coconut crème fraîche, Thai basil, and fried shallots. The real, fresh smokiness (as opposed to liquid smoke) is phenomenal, and perfectly kept in check by the crème. Fancy fried onions are the texture, the benevolent shrapnel. There's a lot of unhappiness in the world, and  this dip is doing its part to chip away at the problem.
The duck confit and oyster mushroom imperial roll is a head-jerker. Duck is cured overnight, confit for 24 hours, then wok-fried mushrooms stuffed into what is ostensibly a giant egg roll. Giant egg roll sounds like a delicious idea, and a solid band name. But the bite is so salty and fish-saucy that I later ask the chef if he's using padeak—a notoriously intense Laotian fish sauce. He says, no, just regular fish sauce. Some people will absolutely love this. For those unaccustomed, it's just a tad face-punchy.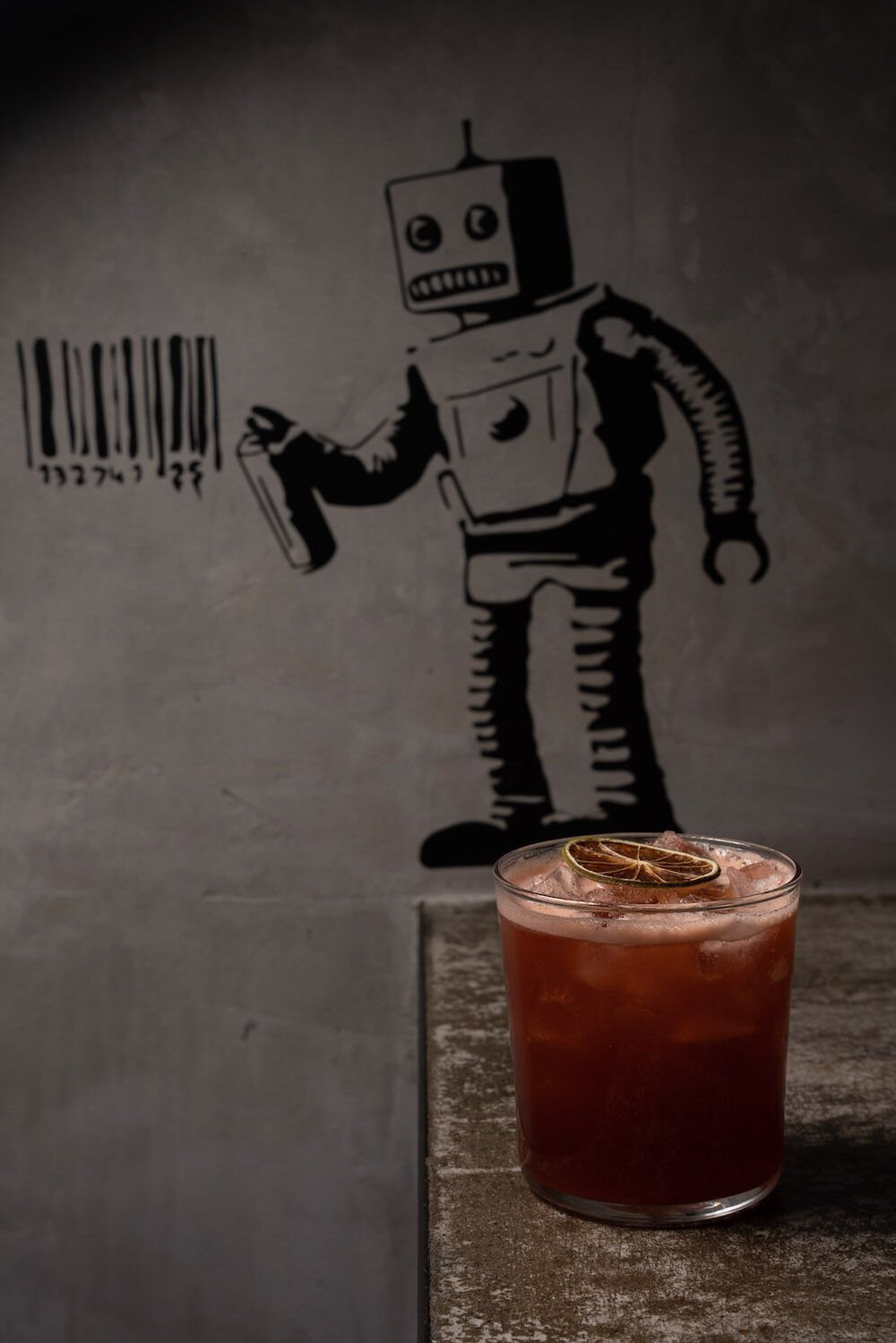 James Tran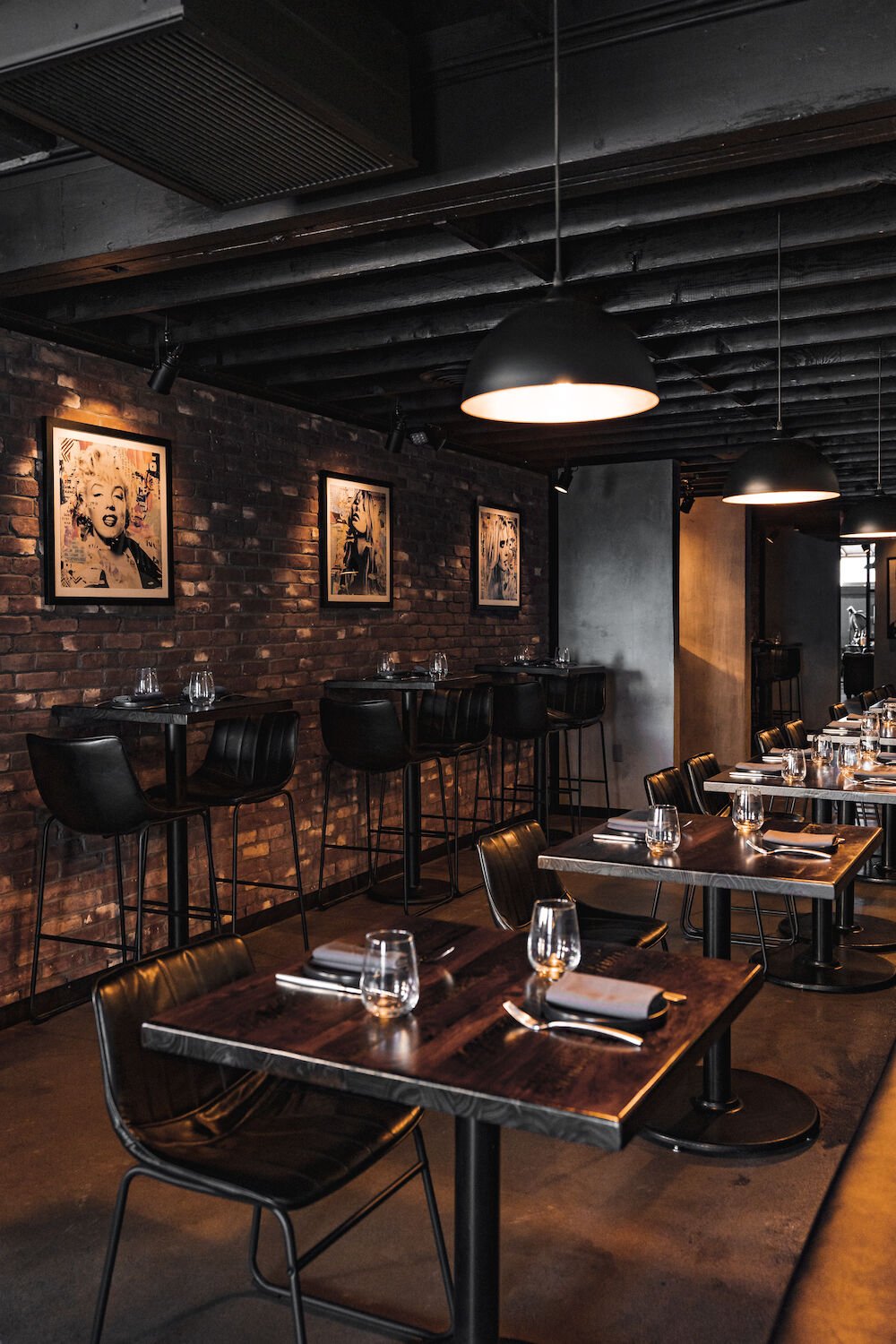 James Tran
Order the ribs. The US is justifiably proud of its barbecue, but to risk patriotic expulsion: Asian barbecue stole my mouth years ago. The pork spare ribs are braised for four hours, wok-fried to order so the outside crisps up without drying the meat. The braising liquid is used to make a fish-sauce hollandaise. The sauce is good, but the ribs don't want or need any help. For Thai noodle lovers there's the duck breast curry—the meat is wok-fried to medium rare, served over egg noodles with a sauce that's based on the flavors of khao soi, a traditional spicy coconut curry soup. It's topped with a bird's nest of fried noodles, which remind me of the glorious can of the things my mom would generously pile on every casserole she ever made in the 80s (note: Hoxton's are not canned).
If you're into grand statements and pleasure, the Hanoi fried snapper should help you land that client or save that marriage or cure whatever subtext accompanies your dining experience. A whole fish is coated in turmeric-tempura batter, lightly fried, topped with nuoc cham (a cornerstone of Vietnamese cooking, a mixture of water, sugar, lime juice, and fish sauce), then drizzled with turmeric-and-dill ranch dressing. Fried food and ranch dressing puts you at Super Bowl party, the nuoc cham puts that party at a chef's house in Vietnam.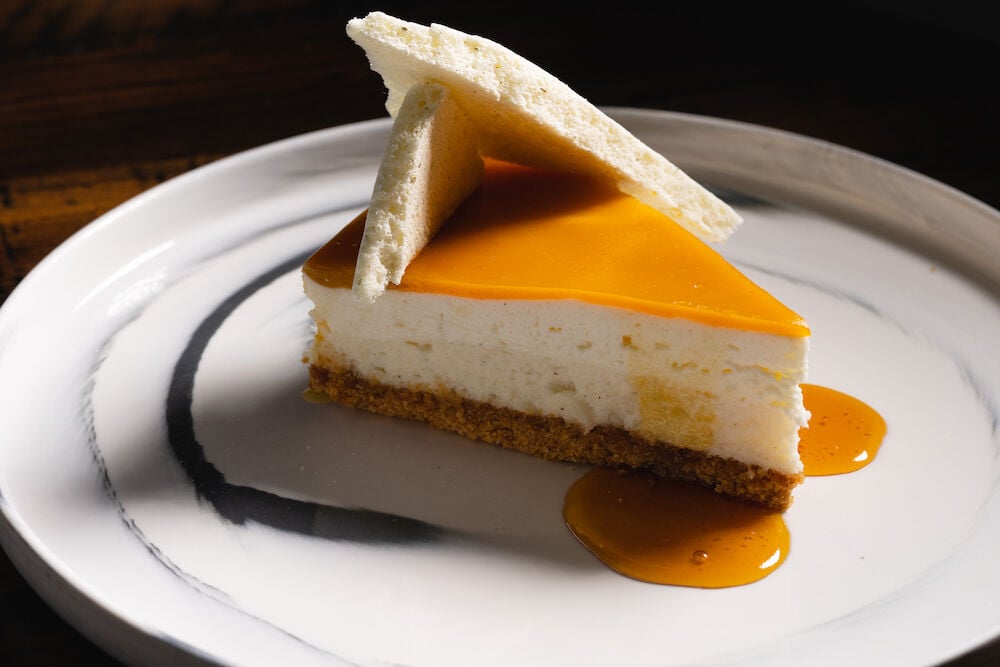 James Tran
Desserts are often the oh-and for any small restaurant (pastry chefs are the ultimate luxury), and cheesecake is a kind of safety net for savory chefs. Hoxton's is very good—a multilayered, Japanese-style cake that's lighter, topped with a mango gel, a makrut lime-leaf caramel, and crunchy-airy Italian lime meringue pieces for contrast. Caramel laced with makrut—one of the greatest flavors nature ever produced, the star of panang curry, which tastes not even vaguely but exactly like Fruity Pebbles—should be bottled and distributed freely by every government that loves its people.
Bottom line at Hoxton Manor is: if you love fish sauce and that goth life, welcome to your new home.