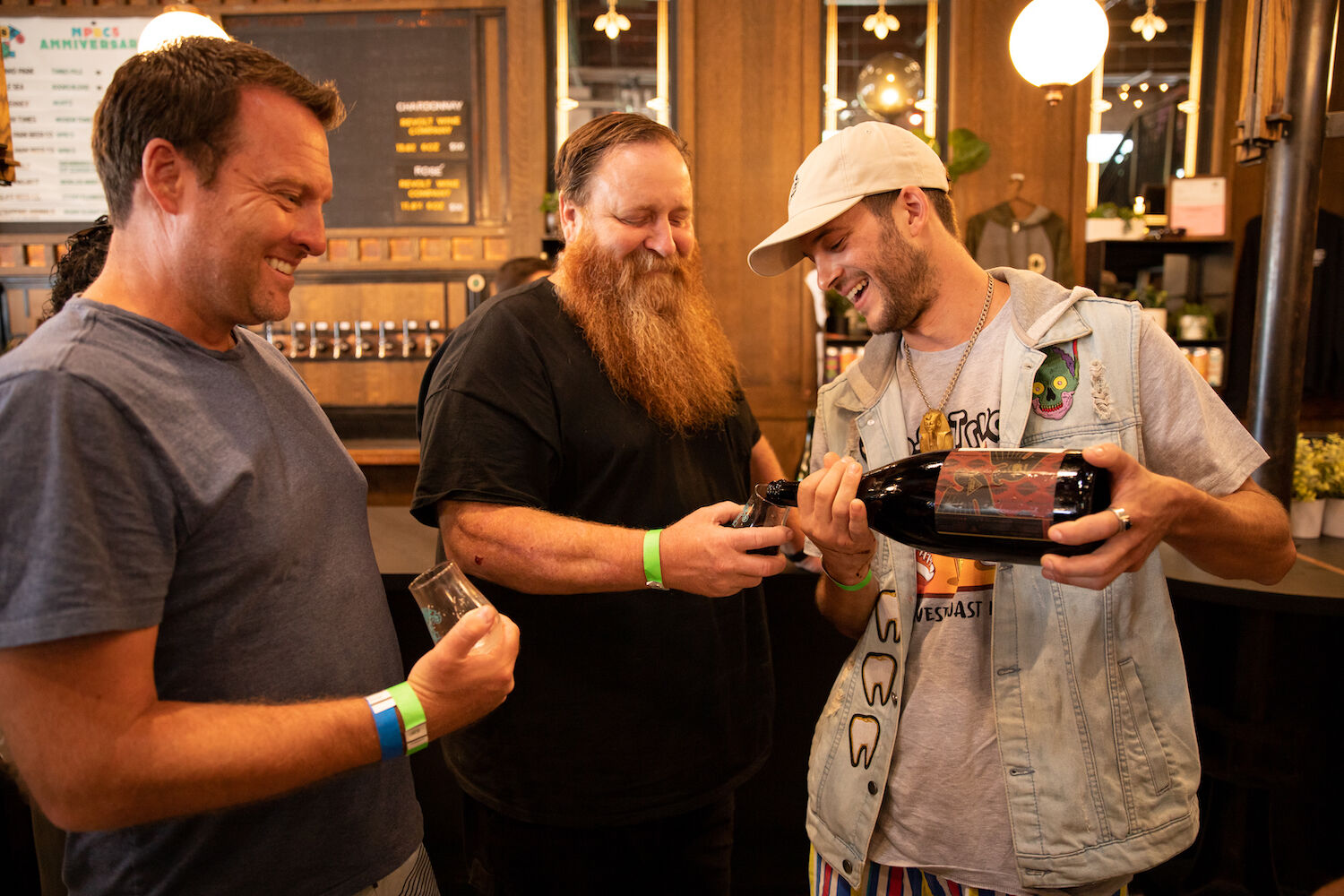 When a brewery operates a few steps away from the best beer intersection on the best beer street in the best beer neighborhood in the best beer city in the country, it better be brewing fire. Luckily, North Park Beer Company does, and has been bringing their A-game since opening its Craftsman-style doors six years ago.
Owner Kelsey McNair explains that while the past two years shifted his focus from an on-site, hospitality-focused neighborhood spot to expanding into cans and a wider distribution net, not all of the forced adjustments brought on by the pandemic have been a burden. "Collaboration is a bigger piece of what we do now," he says.
To McNair, collaboration isn't just a batch brewed with another brewery. It's also strategically bringing on guest taps to purposefully fill in gaps in his own portfolio less out of necessity than desire. "In the pandemic, there was a moment of quiet," he says, allowing him the space to reconsider his personal ambitions for brewing and desire to dial in what he's best known for. "We used to dabble in all kinds of stuff and make all kinds of styles, and there were styles I didn't think we excelled at… I came to the realization that I'm going to go back to making the styles of beer that I absolutely love."
Those styles are usually IPAs—notably, the award-winning West Coast IPA Hop-Fu!—as well as lagers and big, bold stouts, which leaves plenty of range for rotating guest beers to satiate a variety of palates. McNair promises that the same variety and commitment to high quality will be on full display during their sixth anniversary party on Saturday, September 3rd.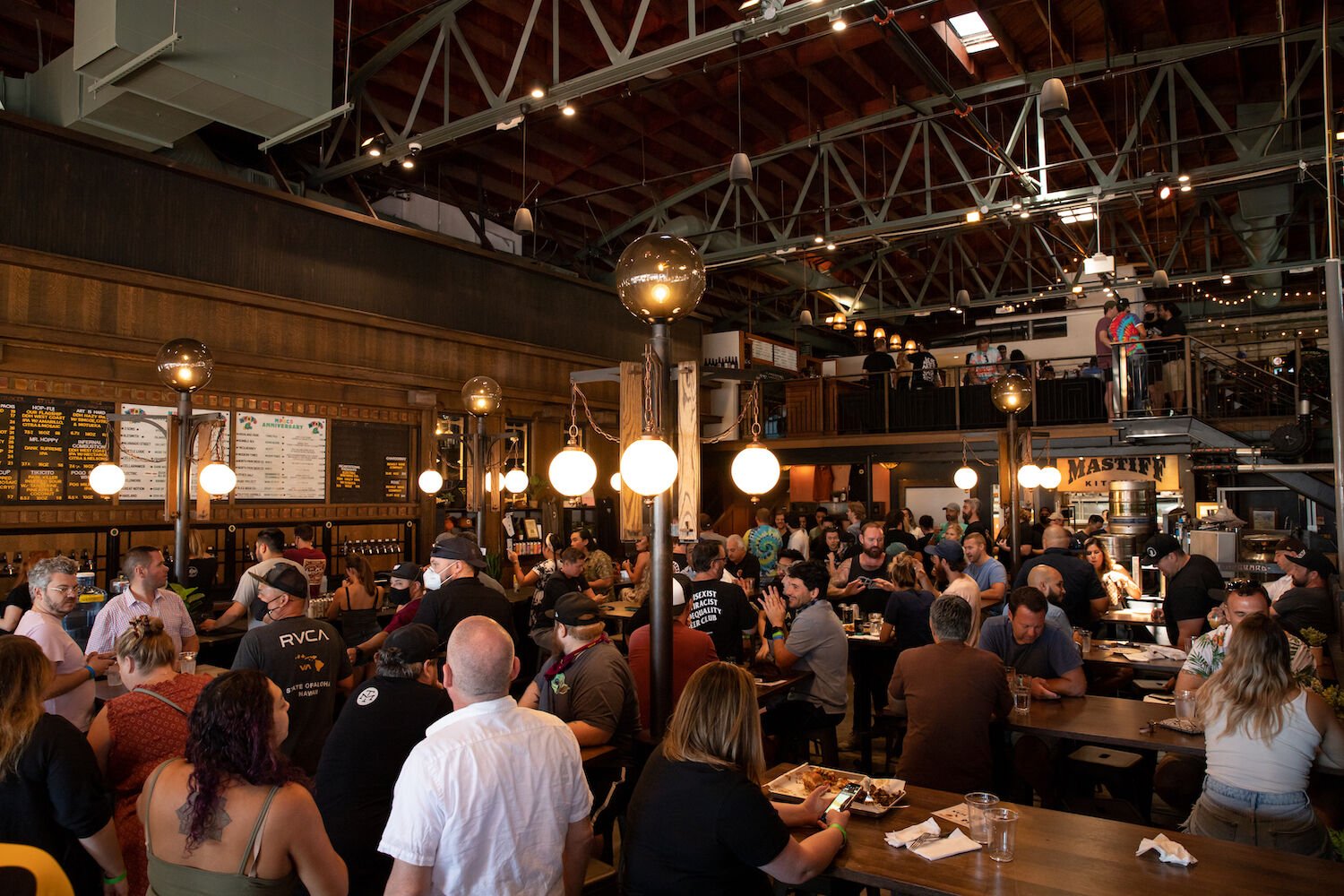 "We've really gone to great lengths to get some cool stuff on tap," he says, which will include unlimited (within responsible limits) pours from breweries like Cellarmaker, Green Cheek, Horus Aged Ales, Other Half, Xul, and many more. Attendees can expect plenty of surprise pours that will be exclusively available for this event, plus some treats from the NPBC cellar and three different anniversary beers, including a triple West Coast IPA, a quadruple Hazy IPA, and a macaroon-inspired barrel-aged stout.
Tickets are available for both VIP and General Admission (both 21+), but it's not the only thing McNair is looking forward to in 2022. Later this year, NPBC will open its second location in nearby Banker's Hill, a neighborhood he says is still thirsty for new food and drink concepts. It won't replicate the Craftsman aesthetic the North Park location is known for though. Instead, he describes an "elevated" Art Deco motif with callbacks to the brand that are just different enough to still mesh with the brand-new mixed-use building.
Another new element will be the food component, which for the first time will be handled by the brewery rather than partnering with an outside business. McNair says after seeing how the Mastiff team has succeeded alongside NPBC to accomplish a holistic food and drink partnership in North Park, he was ready to tackle it himself. But, he promises, "it has to stand up to the liquid. The food needs to be shoulder-to-shoulder." Considering the near-obsessive attention he's known for with his brews, it's probably safe to expect the same from the culinary program.
North Park Beer Company — Banker's Hills is tentatively slated to open in late October/early November 2022.