Addison and chef William Bradley are bringing the flavors of San Diego's only Michelin-starred restaurant into the comfort of your own home. Available for pickup Thursday through Sunday, the four-course menu features seasonal local ingredients. The package is available for $89 per person, with the option to include wine selected by Addison's wine director, Victoria O'Bryan. Schedule your pickup time through Resy.
5200 Grand Del Mar Way, Del Mar | 858-314-1900
Bring the classic flavors of France into your home this holiday season with Bleu Bohème. The complete menu will be available to order, including their signature mussels and the rest of their expansive menu of classic French cuisine made with fresh Southern Californian ingredients. Bleu Bohème also offers a list of wines and signature cocktails to go. Curbside pickup and free delivery within two miles of the restaurant will be available on their website from 5 to 8 p.m. Wednesday through Sunday.
4090 Adams Avenue, Normal Heights | 619-255-4167
Barbusa, Nonna, and Zucchero have teamed up to offer a to-go menu that highlights favorites from each restaurant. The menu includes three courses for $20, with the Busalacchis' famous garlic bread serving as a starter, then your choice of two salads, five pastas, and the option to add extra sides, mains, desserts, and wine. Each meal is designed to feed one person, and the minimum order is two meals. Takeout orders can be placed daily from 4 to 8 p.m. All orders will be available for pickup from Barbusa; you can also get delivery through DoorDash.
1917 India Street, Little Italy | 619-238-1917
For those who want to trade in the holiday ham for something plant based, Café Gratitude San Diego has flavorful pies and sides for preorder. They're offering seasonal, family-style specials like cranberry-roasted butternut squash and garnet yams. For the ones who like sweet treats, try the gluten-free maple pecan spice cake or mocha cheesecake. Order your choice of holiday pies and sides online or in-store by December 20 and plan to pick up on December 23 by 9 p.m.
1980 Kettner Boulevard, Little Italy | 619-736-5077
You can still enjoy a prime rib dinner this holiday without even changing out of your pajamas. Cardellino's holiday takeout meal includes a 12-ounce slice of prime rib, mixed greens salad, truffled mashed potatoes, green beans almondine, horseradish cream, and jus. Dinner is $45 per person, but you can add on something sweet and something to sip on for an additional cost. Place your order by December 21 and pick up on December 24 from 3 p.m. to 6 p.m. at Cardellino. Preorders can be placed online.
4033 Goldfinch Street, Mission Hills | 619-600-5311
This Chula Vista eatery will offer a series of to-go packages to pair with their to-go beer crowlers and bottles of wine from Baja. Order the Birria Tacos Family Pack, which includes 10 hand-pressed tortillas, birria, black beans, and all the fixings for $30. Or choose the Three for $40 special, which includes your choice of three signature dishes. El Cruce will be open on Christmas Eve, and orders can be placed in person and online.
241 Third Avenue, Chula Vista | 619-474-2244
If you're looking for a family-size meal with all of the fixings, then give DZ Akin's a call to place your order. They're offering either a ham or turkey feast complete with sides, rolls, and dessert. The turkey feast starts at $199, the ham feast at $225, with each meal serving 10 to 12 people. Order at least 24 hours in advance to secure your holiday dinner and pick up on Christmas Eve before 3 p.m. and New Year's Eve/Day before 8 p.m.
6930 Alvarado Road, La Mesa | 619-265-0218
Feel like Santa Claus when you walk through the door with this special holiday package filled with delicious to-go items from Greenfinch at Estancia La Jolla Hotel & Spa. The restaurant is offering a special 11-course dinner on Christmas Day that serves four to six people. The dinner comes with appetizers, entrées, sides, and something sweet to end the night. The meal is $350, and you can pick up your package between 12 and 5 p.m. on December 25. Call the restaurant to place your order.
9700 North Torrey Pines Road, La Jolla | 858-550-1000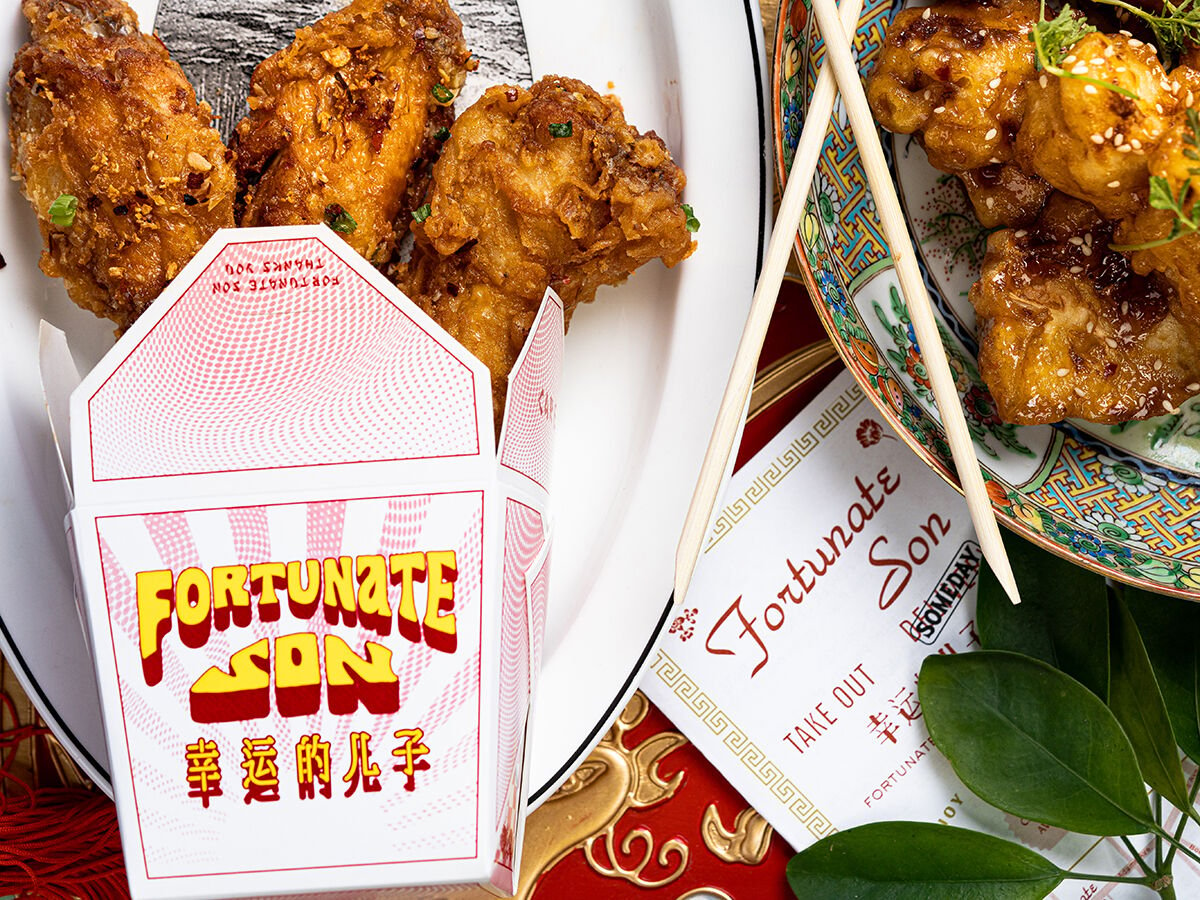 James Tran and Olivia Beall
Fortunate Son, CH Projects' newest venue, is honoring the takeout tradition of ordering Chinese on the holidays by offering their full menu to go. The restaurant will be open from 4 to 10 p.m. on Christmas, New Year's Eve, and New Year's Day; orders can be placed by calling the restaurant or via their online order form.
2943 Adams Avenue, University Heights | 619-391-3766
Though the holidays look different this year, especially at the Hotel del Coronado, you can still enjoy a Christmas dinner to eat at home. Parking is validated, so plan a few extra minutes to stop in and take a look at The Del's lovely interior before you pick up your holiday feast. The menu for four people includes lovely entrée options, decadent sides, and a yummy dessert to finish off the night. Order online by 3 p.m. on December 18 for pickup on December 23, from 11 a.m. to 5 p.m.
1500 Orange Avenue, Coronado | 619-435-6611
Craving some French classics to enjoy in the comfort of your home? Try Mille Fleurs' new three-course takeout meals. The menu changes weekly and is offered Wednesday–Sunday, 4–8 p.m. The restaurant has also moved their wine cellar online, so you can order a bottle to toast alongside your meal. Cheers!
6009 Paseo Delicias, Rancho Santa Fe | 858-756-3085
Enjoy an at-home celebration with Moniker Cocktail Co.'s boozy bundles. The baskets change every week, so keep an eye out for your favorites or try something new. If you want to upgrade your kits, you can order additional wine varieties, too. Orders must be submitted each week by Wednesday at 4 p.m. for free Friday delivery throughout Point Loma and Ocean Beach or for pickup at Moniker General.
2860 Sims Road, Liberty Station | 619-255-8772
Mongolian Hot Pot is bringing their classic hot pot experience to your home with their takeout kits. Each kit includes different meat options, sauce, veggies, homemade noodles, and their house soup base. Families can also purchase a stove-and-pot set with their food, and the kits can feed anywhere from two to six people. Prices range from $45 to $120, with the option for more add-ons.
4718 Clairemont Mesa Boulevard, Clairemont | 858-274-2040
Put a French twist on your occasion and call Parc Bistro to place your order for the holidays. Each package serves two people with a menu of coq au vin, baked salmon, or filet mignon in addition to appetizers, sides and, of course, dessert. The packages range from $100 to $150 and are available for preorder now over the phone. Pickup times are December 24, 25, or 31 from 11 a.m. to 2 p.m.
2760 Fifth Avenue, Bankers Hill | 619-795-1501
Provisional Kitchen at the Pendry San Diego is offering their Pancakes and Pajamas holiday brunch event to go on December 19. This brunch takeout kit will include cooked pancakes, colorful toppings, and a pair of complimentary children's holiday pajamas from P.J. Salvage for all hotel guests.
550 J Street, Gaslamp Quarter | 619-738-7000
Enjoy a family meal from Pho Ca Dao this holiday season. Offered for groups of two or four, the meals are packed with their most popular items—including pho, appetizers, and rice dishes—for a delicious, no-brainer dinner. The meals range from $25 to $65. Orders can be placed in person or over the phone daily from 11 a.m. to 10 p.m.
2647 Fenton Parkway, Suite D104, Mission Valley | 619-684-5129
Puffer Malarkey Collective
Enjoy an herbaceous, locally sourced, family-style Christmas Eve feast with chef Brian Malarkey's Herb at Home. For Christmas Eve, menu items include American wagyu sirloin, braised local pork belly, pesto white beans, and dessert. The New Year's Eve spread includes white truffle mashed potatoes, pink peppercorn-crusted filet mignon, and dessert. Guests can preorder their dinner on OpenTable. Pickup will take place at both restaurants the afternoon of each holiday.
2210 Kettner Boulevard, Little Italy | 610-955-8495
131 D Street, Encinitas | 760-704-8300
Ranch 45's à la carte pickup menu allows you to fully customize your holiday feast. With choices like herb-crusted prime rib, smoked turkey leg, smoked Cornish game hens, roasted broccoli with Parmesan and garlic, and olive oil smashed potatoes, it's hard to say no. Dessert will also be available to purchase. The Solana Beach butcher shop and eatery will be accepting orders up to 48 hours in advance. Place your order online or over the phone.
512 Via de la Valle, Solana Beach | 858-461-0092
Rancho Bernardo Inn has put together some seasonal dishes for takeout so you can still celebrate the season even at home. The menu includes lobster bisque, watercress and grilled endive salad, a 10-ounce grilled prime ribeye, and dark chocolate mousse. Preorder by December 22 at 12 p.m.
17550 Bernardo Oaks Drive, Rancho Bernardo | 888-976-4417
Take the hassle out of the holidays and order the Holidays to Go feast from Rancho Valencia Resort & Spa. Order before 5 p.m. on Friday, December 18 and pick up your meal on Christmas Eve between 9 a.m. and 3 p.m. Choose from menu items like prime beef tenderloin, lobster bisque, and truffle mac and cheese, along with a selection of wine pairings.
5921 Valencia Circle, Rancho Santa Fe | 858-756-1123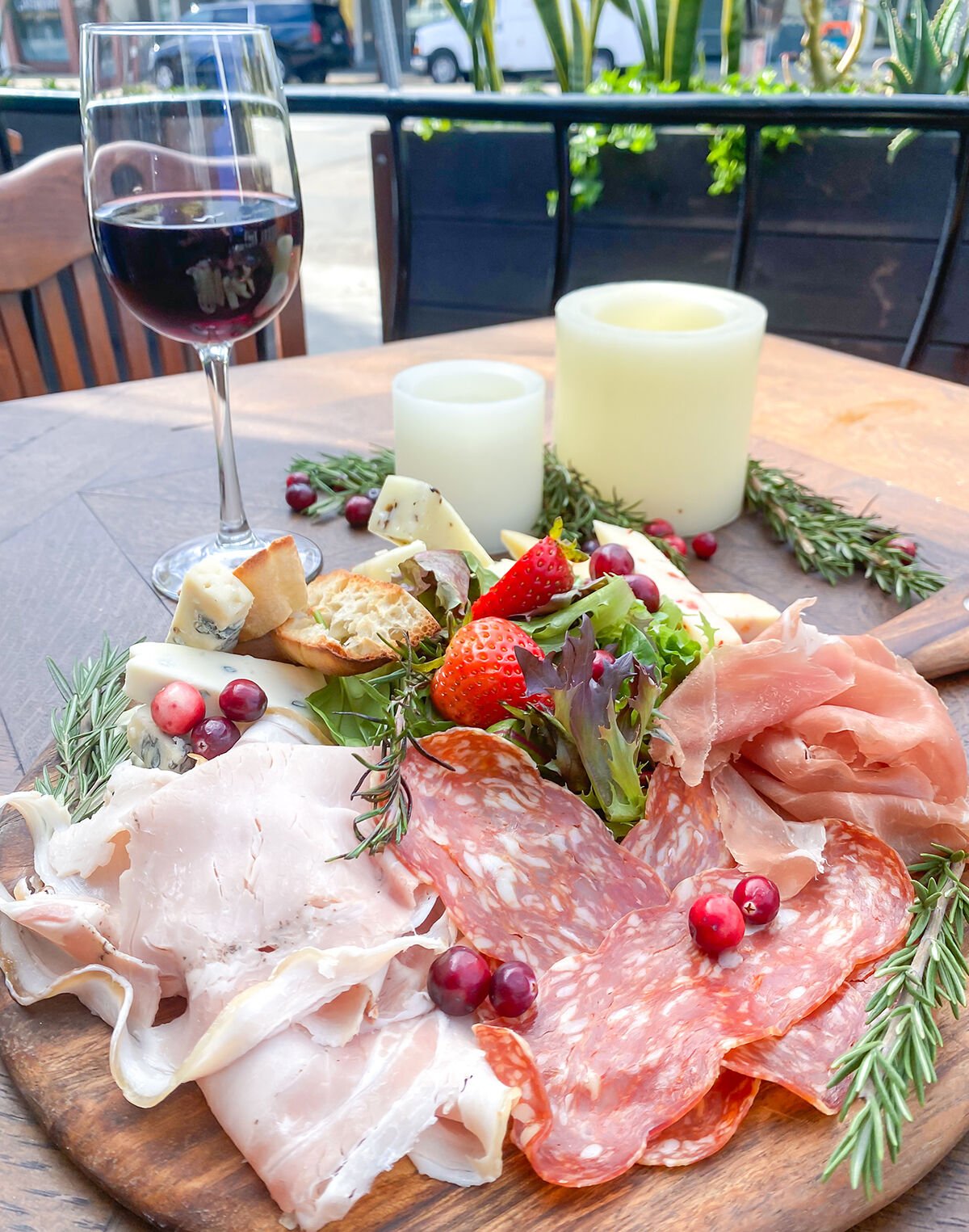 Eckis Marketing
Give your home Christmas meal a Sicilian twist with Rusticucina's holiday menu, which includes short ribs, cannelloni pasta with roasted chicken, and dessert. Each order comes with a full panettone! Preorders can be made by phone or through the website and are accepted until December 24. The restaurant is also offering gift baskets with savory treats to send to your loved ones.
3797 Park Boulevard, Hillcrest | 619-684-5129
Indulge in a holiday tradition with some tamales from Tamales Ancira. You can order a dozen for $25 or order the party pack of 50 tamales to freeze for later. Call in your orders over the phone and check in on their social media for special offers and deals throughout the holiday season.
2260 Main Street. Suite 17, Chula Vista | 619-424-3416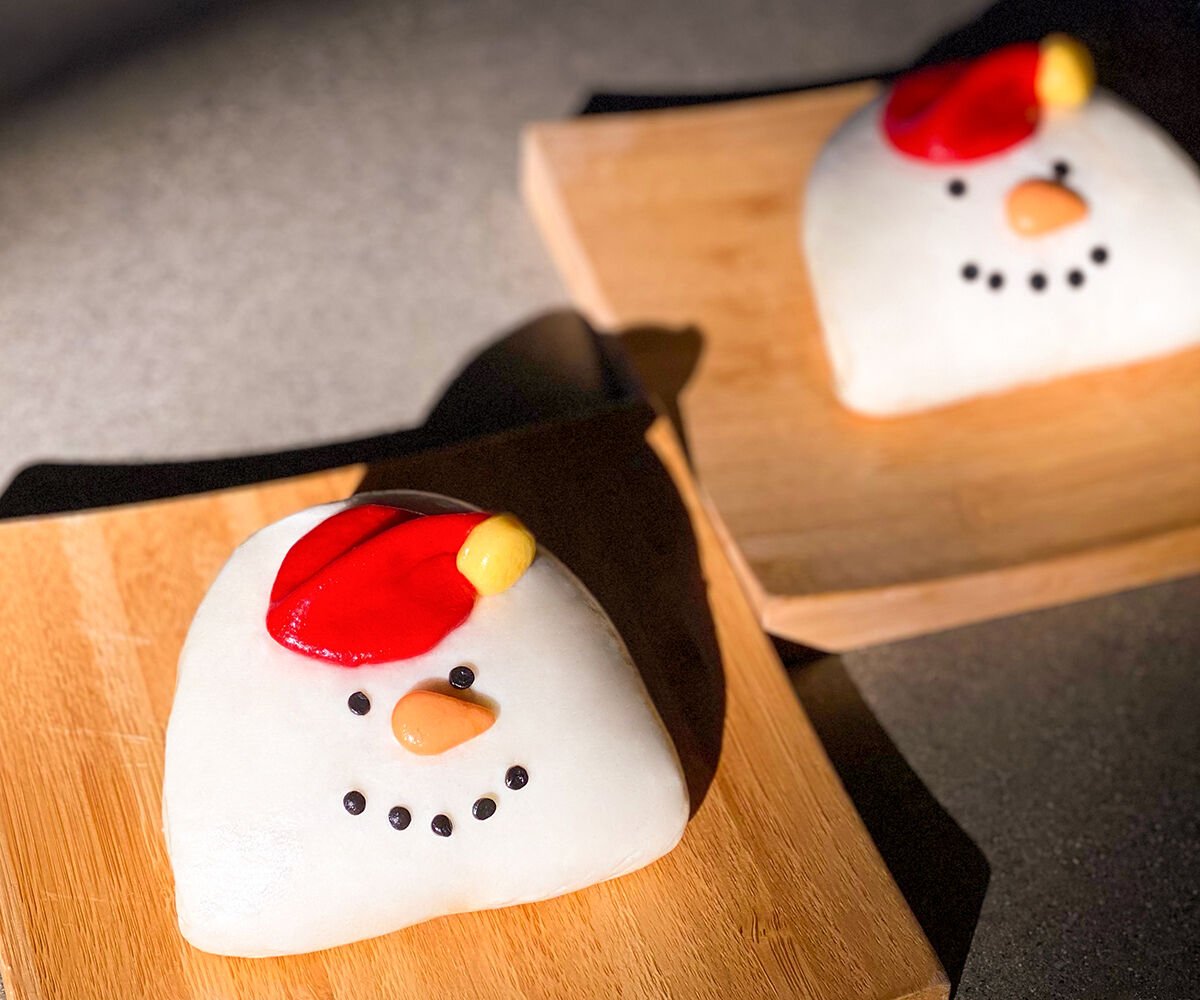 Hiba Khalid
Teriyaki & Bao brings some holiday cheer this year with their holiday bao bun special. December 21–January 4, order their snowman bao buns filled with fresh sliced bananas and nutella. The restaurant is open regular hours even during the holidays, and is currently offering takeout and delivery through their website and third-party apps.
711 Grand Avenue, Carlsbad | 760-637-5737
North Park's Tribute Pizza is continuing their curbside pickup this holiday season with meal specials for the family. Feast on wood-fired porchetta or a vegetarian lasagna with add-ons like Brussels sprouts, potatoes au gratin, and spiked eggnog. Place an order online for pickup on December 23 or 24.
3077 North Park Way, North Park | 760-637-5737
The Filipino holiday meal to go from Villa Manila in National City comes with à la carte items like bibingka, halaya, and buko pandan salad. Orders can be made online or over the phone and must be placed at least three days in advance. Pick up anytime between 11 a.m. and 5 p.m. on Christmas Eve and New Year's Eve.
500 East Eighth Street, National City | 619-477-8512
The waterfront InterContinental San Diego will be offering a Christmas Eve and Christmas Day takeout dinner from their signature restaurant, Vistal. The meal includes an entrée, sides, and gravy for $32 per person. Guests also have the option of adding on a soup or crème fraiche option for $9 per person. Orders, which will be available for pickup from 12 p.m. to 8 p.m. on Christmas Eve and Christmas, can be placed by calling the restaurant or by emailing [email protected].
901 Bayfront Court, Embarcadero | 619-535-0485
For those who don't want to cook during the holidays, but still want to bring a little fanfare to the dinner table, The Westgate Hotel is offering a four-course dinner for two. The meal includes a porcini mushroom and chestnut soup, salad, 16-ounce Angus beef tenderloin, and dessert. The price for this upscale dinner at home is $138. Call the hotel or order through this online link before December 22. Pickup is December 24 or December 25 from 10 a.m. to 2 p.m.
1055 Second Avenue, Downtown | 619-238-1818
---
Jenna Miller is a freelance writer. Her website is jennaruthmiller.com.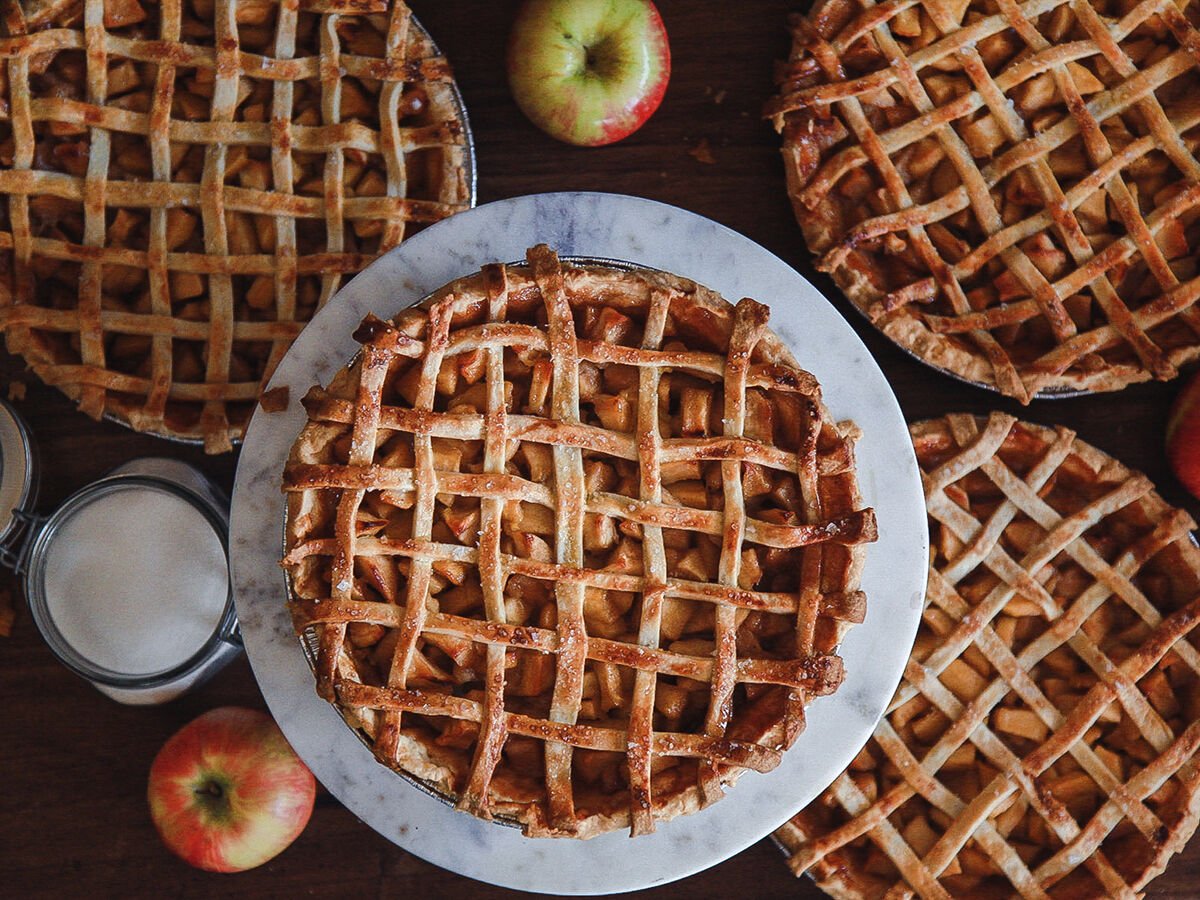 Maraelia Romaine