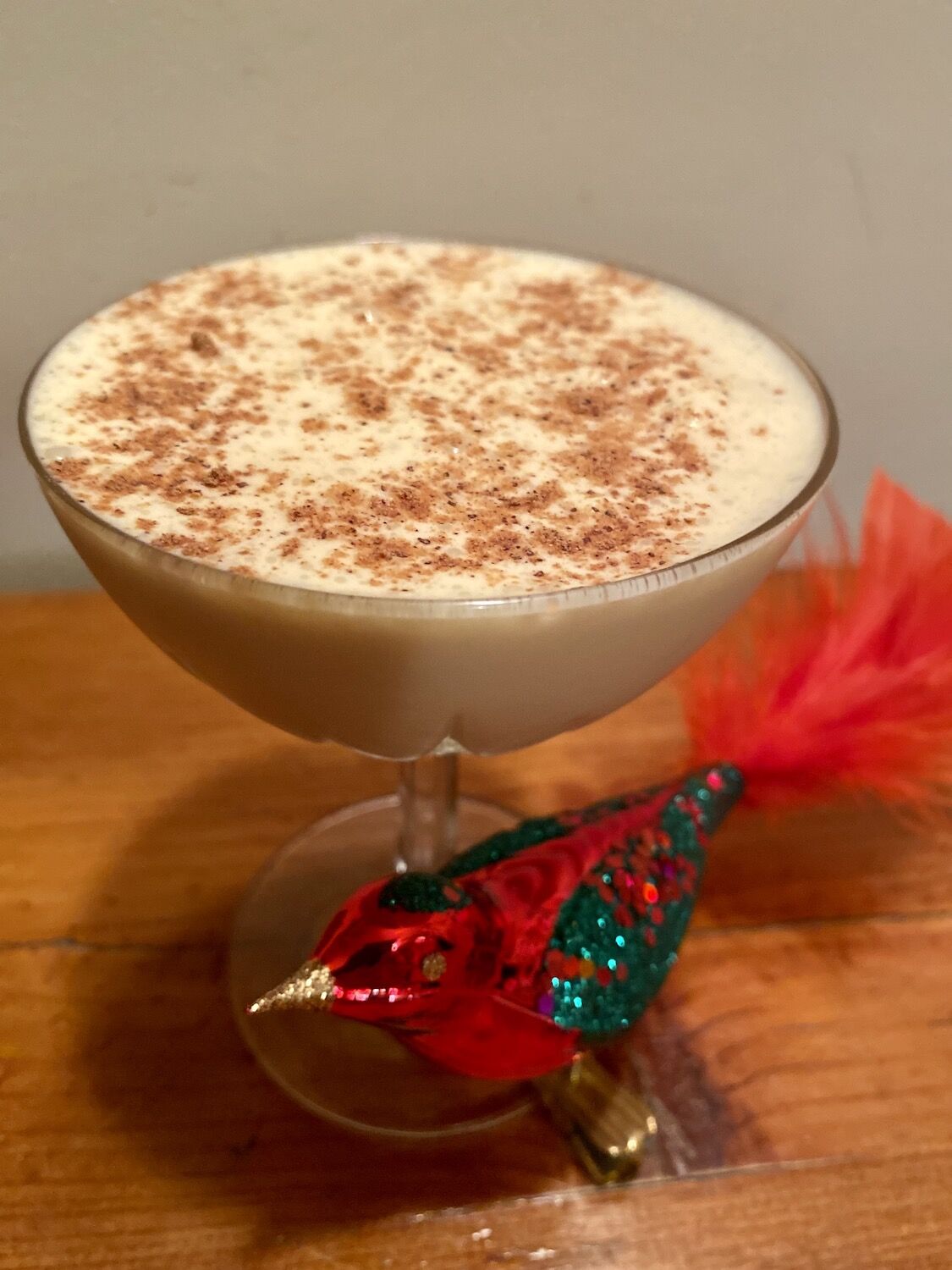 Eggnog. The forbidden milkshake. Breast milk for adults. The boozy smoothie that tastes like mistletoe mischief, and gives the feeling of lounging naked on a lambs wool rug in front of a crackling fireplace in a snowed-in cabin. Nog is sexy. Nog is life.
Nog makes winter better.
Humans have been celebrating winter since we learned to read the stars, and especially once we understood winter solstice, marking the end of darker days. Neolithic humans are thought to have observed the solstice as early as the Stone Age, around 10,200 BC. Meaning today's winter holiday parties nod to very old traditions. Making a party batch of nog continues these snow celebrations dating back as far as our oldest, freezing-coldest ancestors.
Making nog makes us human.
Regardless of your winter traditions, for best nog results, you'll want to start a few days early. If you want to serve your nog on December 24th, for example, start on the winter solstice—December 21st.
If you want nog on December 25th, honestly it's still best to make it on the 21st, if you can. More time equals mellower nog.
Now, let's nog.
Party Batch Eggnog Recipe
Ingredients
18 large eggs, separated
2 ¼ cups sugar
6 cups heavy cream
Bottle of bourbon (750ml or more)
Bottle of rum (750ml or more)
Freshly grated nutmeg, for sprinkling
Elvis Christmas record, or your preferred equivalent
Yields: 1 gallon of eggnog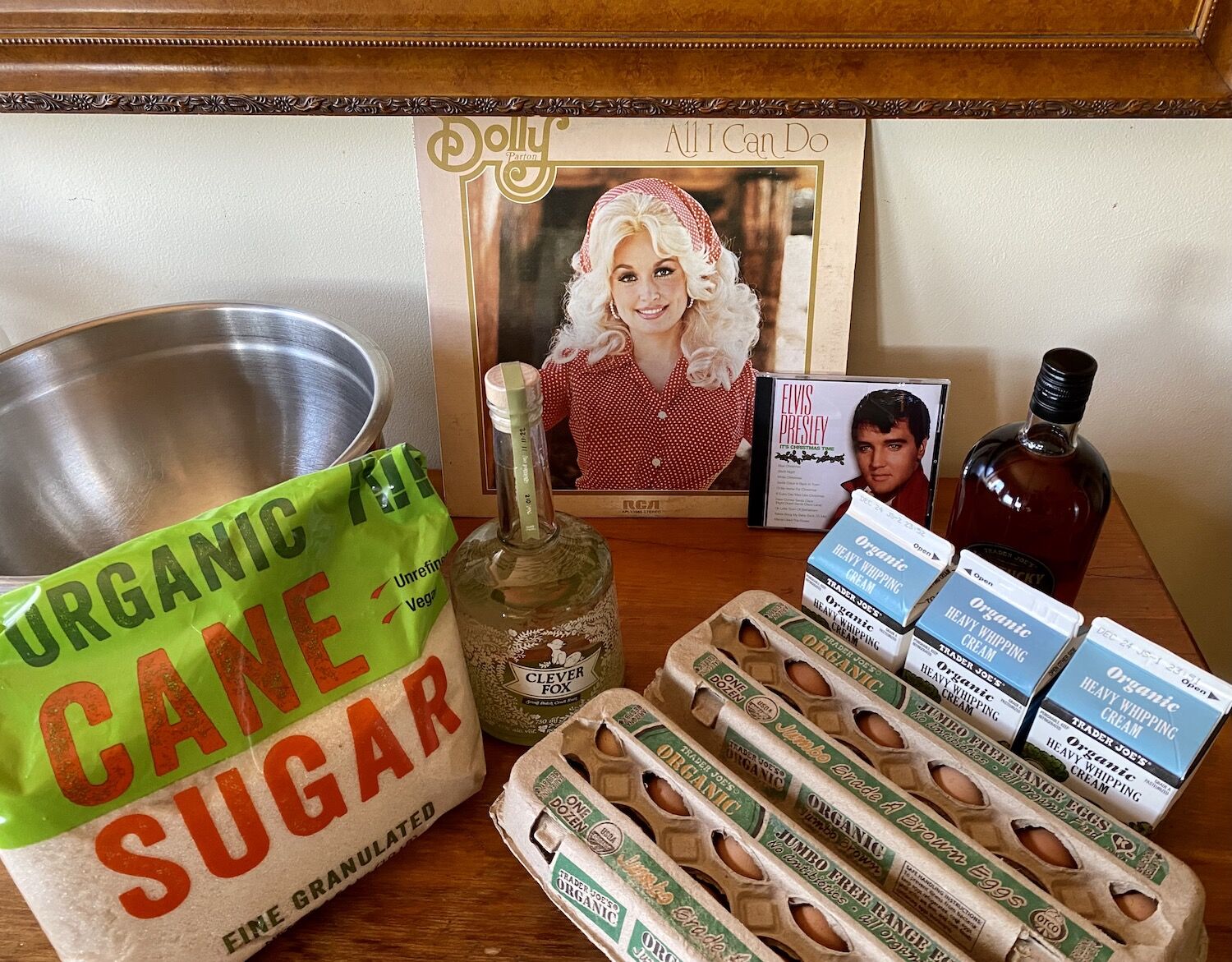 Instructions 
Step 1: Put on that Elvis Christmas record and turn up the volume
First things first, this is no-stress nog. My Elvis Christmas record is in storage, so I'm making do with this CD version I found in a free library, and this Dolly Parton record. No stress. Also, don't overthink it. Spotify. Just have some music going. This is party nog after all.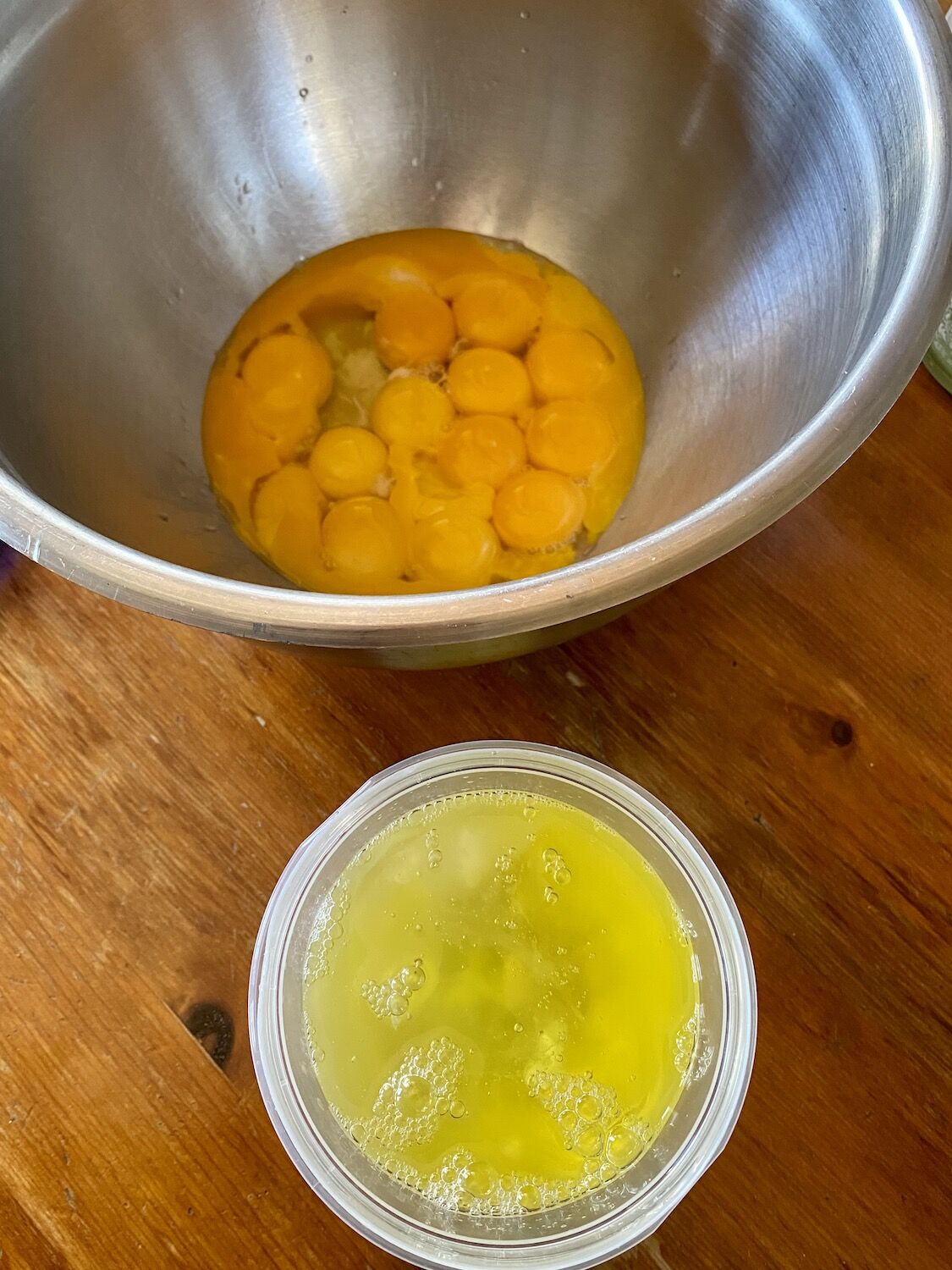 Step 2: Separate eggs and freeze the whites
While Blue Christmas plays…
Separate 18 large eggs.
Yolks go in a very large bowl, whites in a freezer-compatible storage container.
Whites go in the freezer for later.
I like to separate in a third bowl just in case I mess one up, which I always do. It's fine. If a yolk breaks and becomes impossible to separate, just throw it all in the yolk bowl. One, or even a few, egg whites in there won't hurt.
I find that 18 egg whites fit nicely in a plastic quart container, while still leaving room for expansion.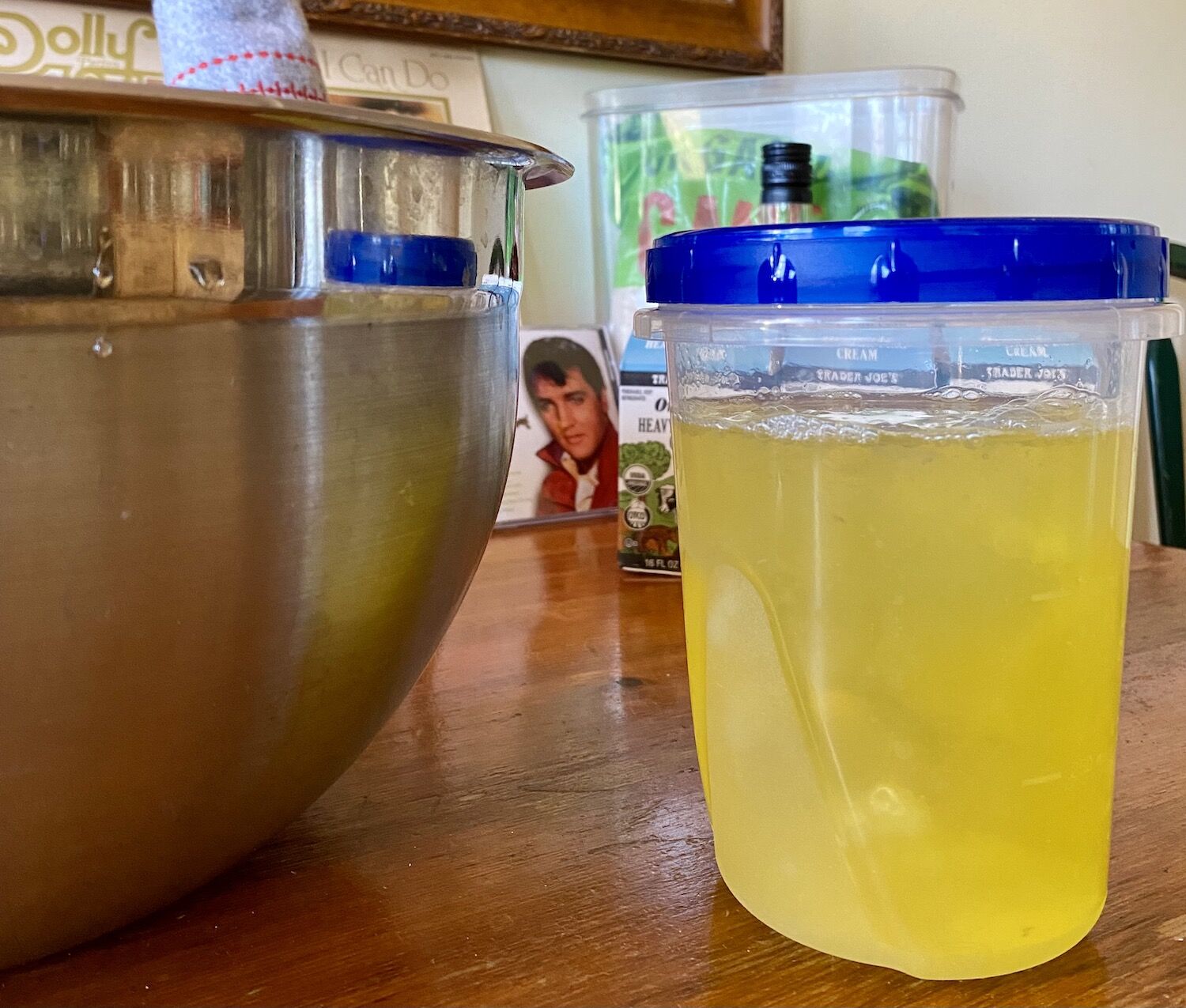 Step 3: Beat the yolks on high until thick and pale
With an electric mixer, beat egg yolks well. You want your them looking like Mrs. Claus: thick and pale.
Step 4: Add the sugar
With the mixer still on high, slowly add the sugar, about 1/2 cup at a time.
Take your time. Like all good things in life, good nog requires patience.
Step 5: Add the cream
Once the sugar is good and mixed, lower the speed on the mixer to medium and slowly add the heavy cream.
Keep the mixer speed plenty slow.
We're not making whipped cream, we're making nog. It's more of a stir.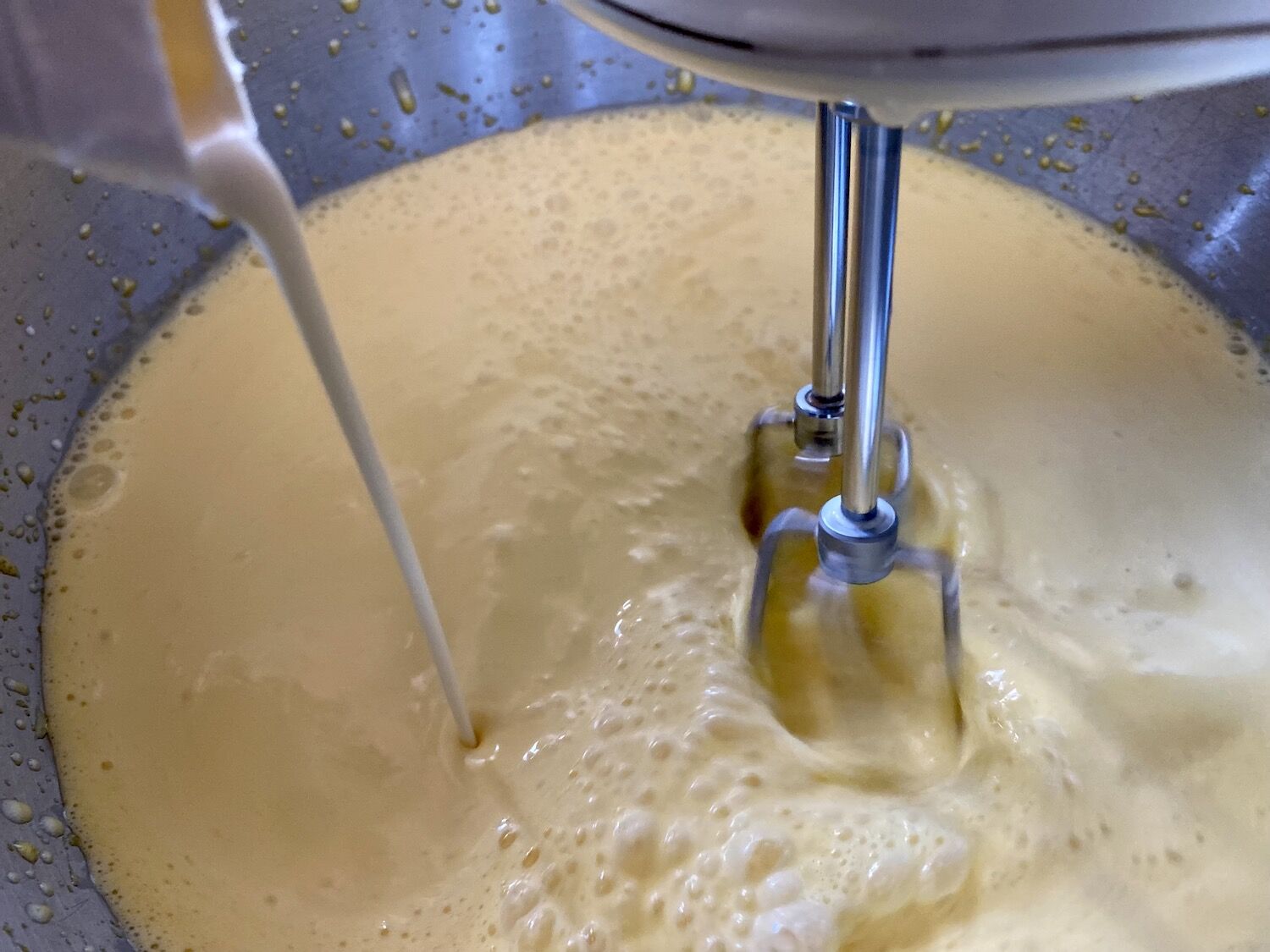 Step 6: Add the liquor
Now we're talking.
Dump that rum and whiskey in there and keep stirring until everything is well-blended together.
Feel free to also add a splash of brandy here.
And by splash I mean about a half a bottle. This is when things get good. You may think, wait, that's too much alcohol for a batch of nog. But that's just a subconscious survival instinct. Ignore it.
Note: For this batch we're using San Diego-local Clever Fox rum and some grocery store whiskey. We're using Clever Fox because a couple bottles showed up at the office one day. This is why if you're a liquor company you should send free samples to media outlets. It might get used in a viral nog recipe. Or it might just make an editor happy. Thanks, Clever Fox, the only craft distillers in California that focus exclusively on rum. Their bottles are also made from 100 percent recycled glass. The rum is great in nog.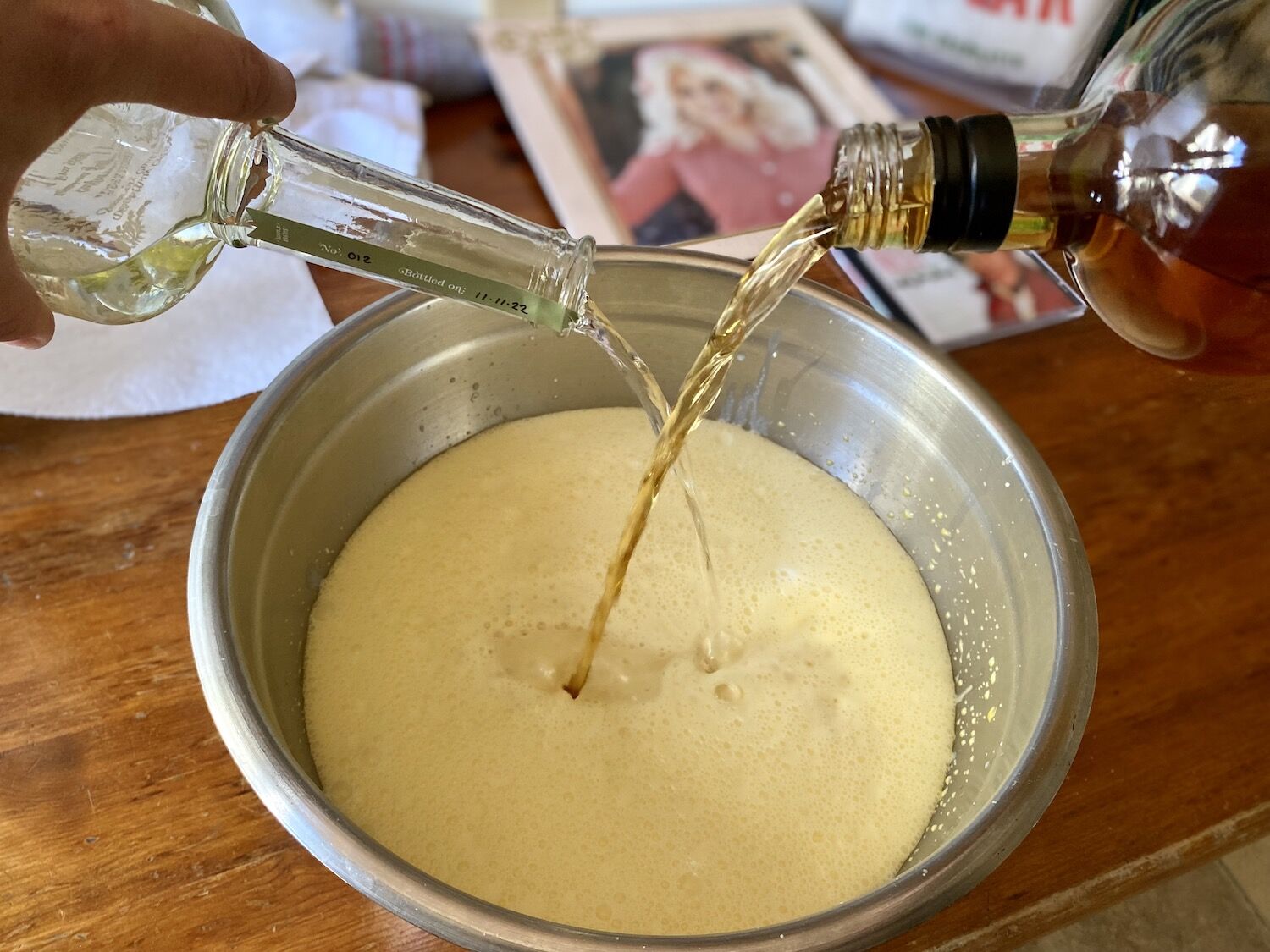 Step 7: Cover and store in the refrigerator for at least 3 days to mellow the booze
This recipe makes almost exactly one gallon, so an empty gallon water bottle works great for storing your nog.
But don't just dump your nog: scrape. You want to be sure to get any residual sugar from the bowl into your container.
Seal and refrigerate.
Once per day, shake the nog.
This last step helps the sugars mix and the liquor mellow out. Make sure to taste periodically too. Just for fun.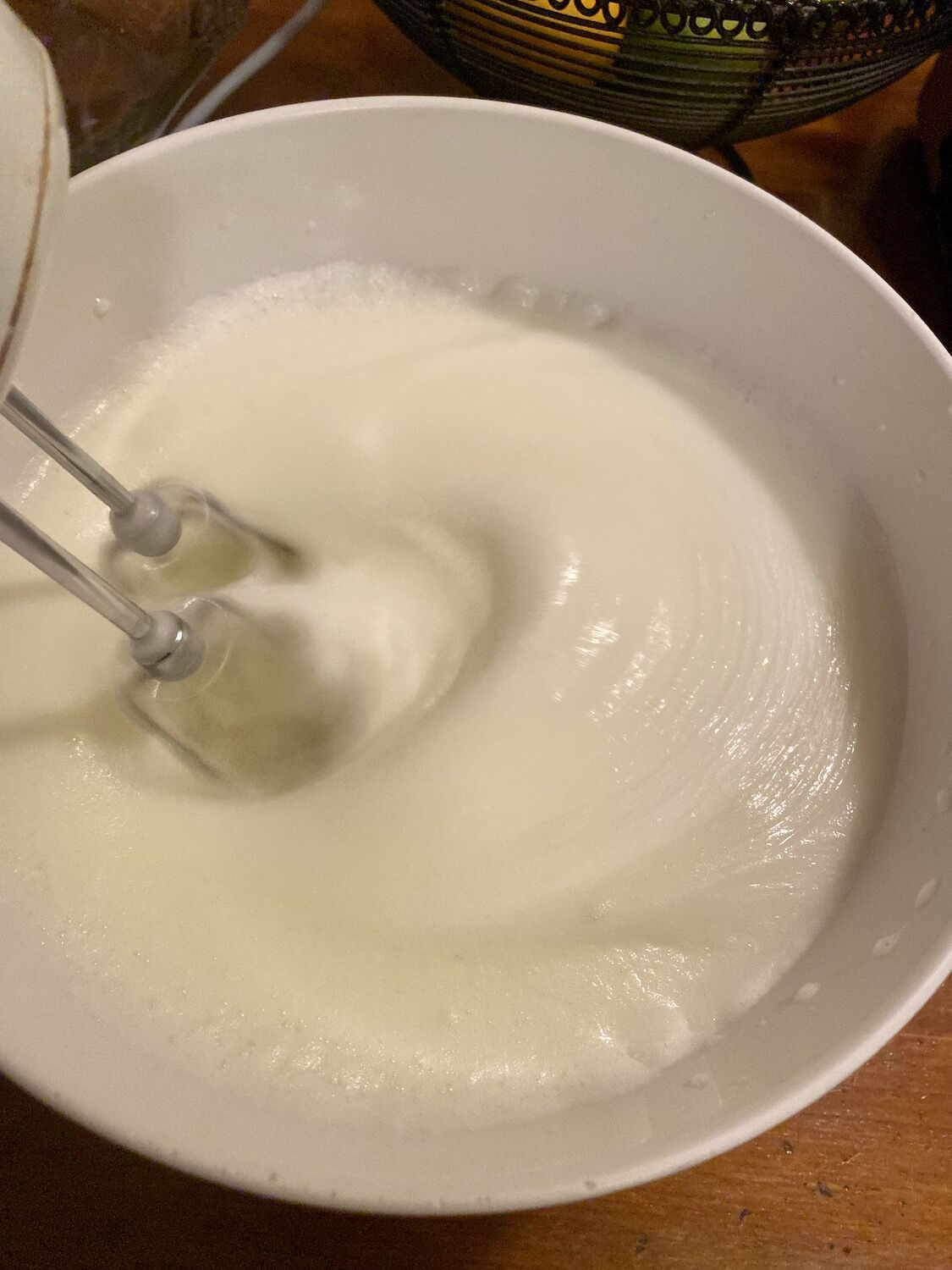 Step 8: Thaw the egg whites
After 24 hours in the freezer, place egg whites in the refrigerator to thaw.
Step 9: Time for nog
After at least a few days in the refrigerator (again, more time to mellow = smoother nog), it's time for your NOG PARTY.
Place thawed egg whites in a very large bowl and beat on high until soft peaks form, not too stiff.
Then fold. This is the secret to truly great nog: egg white foam gently folded into your nog.
In a large punchbowl, mix together your nog and your foam.
Stir gently until nicely mixed. YOUR NOG IS NOW DONE.
PARTY TIME.
Step 10: Serve with a nutmeg sprinkle
Enjoy responsibly while listening to weird holiday records. Sexy.