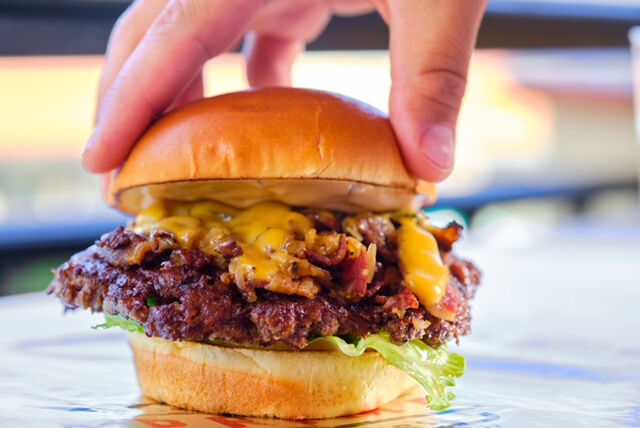 Courtesy of Tanner's Prime Burgers
The Mains
Fine-Dining Chef Opens Prime-Grade Burger Pop-Up at the Del Mar Racetrack
Brandon Rodgers' resume reads like a beginner chef's vision board. He worked at Thomas Keller's three-Michelin-starred restaurant The French Laundry, then opened Benu alongside Corey Lee in San Francisco—and nabbed three Michelin stars himself. He was nominated twice for a James Beard Best Chef of California Award for his work at In Situ. Now, he's putting his fine-dining days aside and taking a stab at burgers. Of course, a chef like Rodgers is going to bring at least a little refinement to the American classic. His burgers are made with 100 percent USDA prime-grade beef—a distinction assigned to less than 2 percent of the beef produced in the US.Rodgers opened up Tanner's Prime Burgers as a pop-up at the Del Mar Thoroughbred Club's third floor clubhouse this year, serving up his star dish with beef-tallow fries and a beef-tallow ice-cream sandwich that adapts his wife's chocolate-chip cookie recipe. His burger calls for a third-pound of prime-grade meat from Brandt Beef, a housemade hot sauce, lettuce, onion, tomato, Eric Greenspan's New School American cheese (a cheese that comes from cheddar but melts more like American), diced beef bacon, and caramelized onions on a brioche bun. Once the racing season wraps up, he's got his eye on opening a brick-and-mortar space in San Diego. Tanner's and New School American will demo burgers and cheese at the Del Mar Wine + Food Festival on Sept. 9.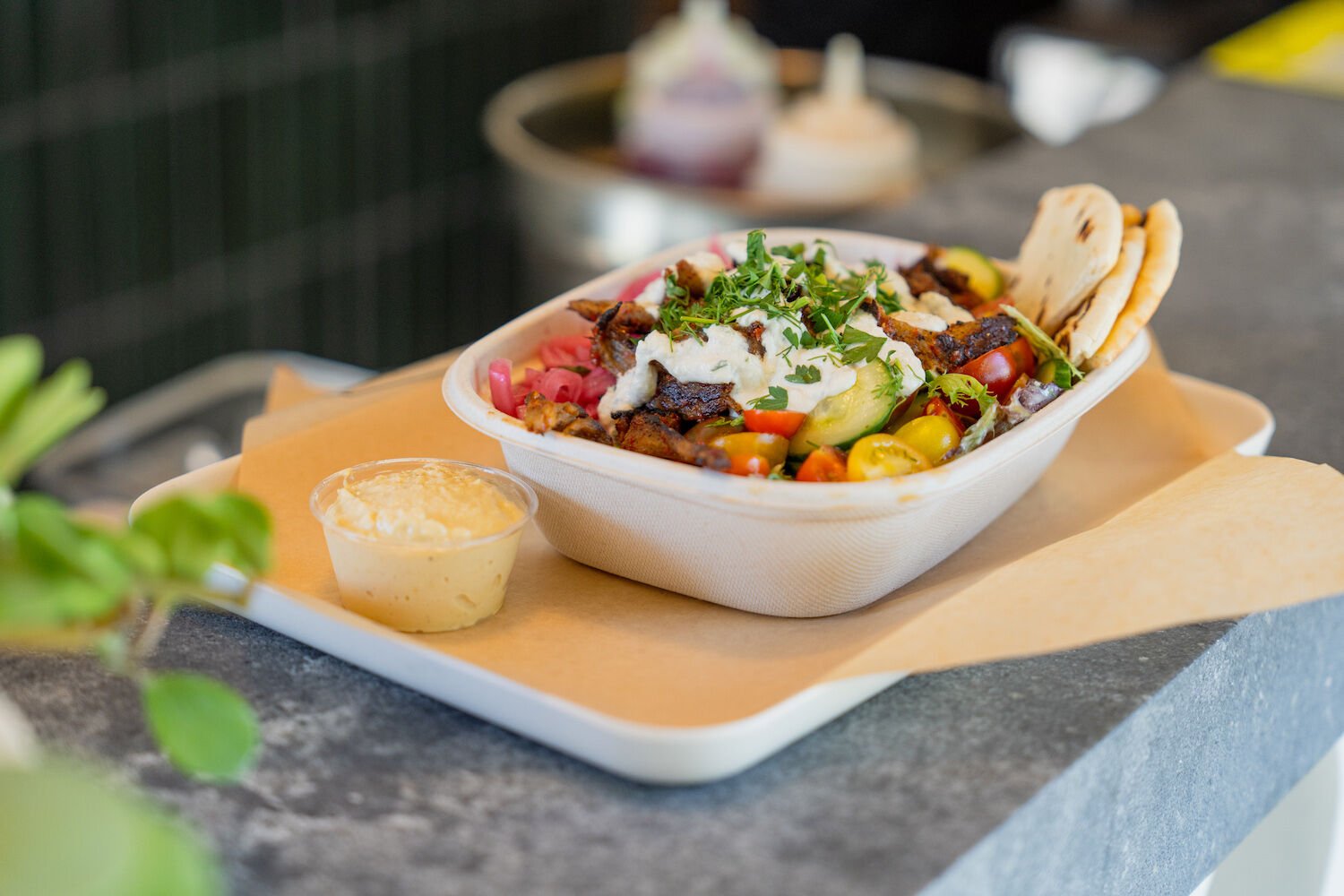 Photo Credit: Kimberly Motos
Plant-Based Restaurant The Plot Launches "Express" Location in Carlsbad Village
The Plot, the zero-waste and plant-based restaurant owned by husband-and-wife duo Davin and Jessica Waite, is growing. The couple is opening The Plot Express, a new counter-serve location in Carlsbad Village at the newly developed The Cottages (which will also be home to Revolution Roasters, Stella Jean's Ice Cream, and Shootz Fish & Beer).The Waites designed an entirely new menu for their Carlsbad spot (with one notable exception—the beloved Caesar salad remains). Try the gyro wrap, sliced lentil gyro swaddled in pita with greens, quinoa tabbouleh salad, and tzatziki. The taco salad bowl comes with mixed greens, roasted corn, pico de gallo, red beans, "quefaux" cheese, pickled onions, chipotle crema, and tortilla strips.
Quick Bites
To raise money for families affected by the Lahaina wildfires, Little Italy's Cloak & Petal is hosting an all-you-can-eat buffet fundraiser on Sunday, September 3, from 2 to 5 p.m. $50 gets you a full spread with dishes like chicken yakitori, fried rice, spam masubi, chicken katsu with curry, and Hawaiian mac salad.Alejandra's Fine Mexican Food and Cantina in Carlsbad offers a five-course tequila-pairing dinner on Thursday, September 14. Sip Código 1530 tequila while enjoying a seafood dinner with dishes like green shrimp aguachile tostaditas and halibut à la Veracruz.The Hilton San Diego Bayfront recently welcomed chef Douglas Dalisa as their new executive chef. Dalisa comes to the hotel after leading culinary operations for local resorts like Paradise Point Resort & Spa and the Sheraton San Diego Hotel and Marina.​​Have breaking news, exciting scoops, or great stories about San Diego's food scene? Send your pitches to [email protected].