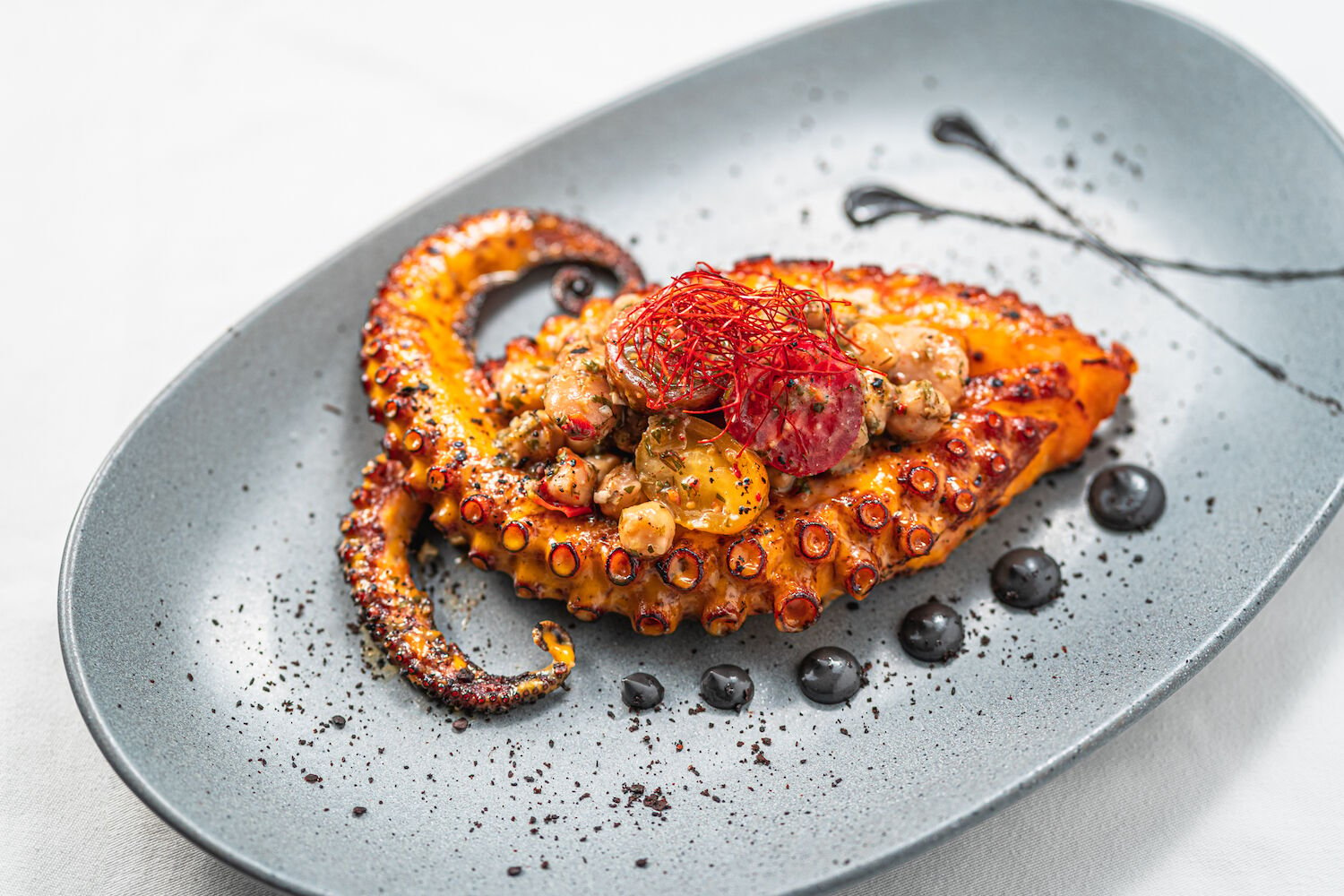 Photo Credit: Marley Kepano
Octopus can be daunting. Unlike the chicken or beef you probably have hanging out in your freezer at any given moment, it's a rare ingredient on most American's grocery lists. (Also, chickens don't have tentacles.) Prepared skillfully, octopus is buttery, tender, even lightly sweet. Cook it wrong, and you've got rubber with suckers—which is why we usually leave it to the professionals to get it right.
But if you've got guts and a recipe (like the one you're about to read), then you're capable of transforming the aquatic critter into your most impressive dinner party entree ever. This octopus shawarma serves as a delicacy at the California coastal restaurant Mediterranean Room, located inside of the La Valencia Hotel in La Jolla.
Courtesy of executive chef Fabian Aceves, the recipe pays homage to the restaurant's waterfront location by bringing together elements of both land and sea. "Octopus is nostalgic for me because it has a connection to memorable days I've spent cooking, eating, and learning delicious new versions of it over the years," Aceves says.
To make chef Aceves' octopus shawarma, follow the recipe below:
Octopus Shawarma
Octopus
Ingredients
1 whole 3–5 lb octopus (Spanish preferred)
4 gallons water
1 oz whole black peppercorns
1 oz fennel seed
1 oz bay leaves
1 cup red wine vinegar
½ cup sea salt
1 tsp chili flakes
Shawarma Marinade
Ingredients
2 cloves garlic, finely chopped
Zest of 2 lemons
7 oz lemon juice
7 oz white vinegar
7 oz orange juice
¼ cup tomato paste
2 lb yogurt
1 tbsp onion powder
2 tbsp sumac
1 tbsp coriander
1½ tbsp cumin
3 tbsp ground turmeric
1 tbsp dried oregano
Salt to taste
Mediterranean Bean Mix
Ingredients
1 qt cooked chickpeas
1 qt cooked gigante white beans
2 roasted red bell peppers, diced
2 cloves garlic, crushed
½ cup olive oil
¼ cup fresh dill, finely chopped
1 oz lemon juice
1 tbsp cumin
1 tsp black pepper
1 tsp sea salt
Garnish
Ingredients
1 cup mayo
2 tbsp squid ink*
Chili thread to taste
Instructions
Poach the whole octopus in water with peppercorns, fennel seed, bay leaves, red wine vinegar, sea salt, and chili flakes for 1 hour and 15 minutes.
While the octopus is poaching, marinate chickpeas and gigante white beans in garlic, olive oil, dill, lemon juice, cumin, black pepper, and sea salt for 30 minutes. Mix together shawarma marinade ingredients. Make squid ink aioli by stirring together mayo and squid ink*.
Strain the octopus and portion out whole tentacles. Discard the octopus head. Once tentacles are cooled, sear on a flat top grill or large skillet until crispy on both sides (about 2 minutes on each side).
Toss the tentacles in the shawarma marinade and bake in a salamander oven or broiler until crispy again (about 4 minutes).
Create the Mediterranean bean mix by tossing the marinated garbanzo beans and gigante white beans with the roasted peppers together in a bowl.
To serve, arrange the octopus shawarma around the bean mix. Dot squid ink* aioli around the plate and garnish with chili thread.
*If squid ink is not available, substitute lemon juice to make a lemon aioli.