BARREL-AGED BOURBON TASTING
WHERE: Marina Kitchen, 333 W. Harbor Dr., Downtown, 619.699.8222
WHEN: April 11, 5PM
COST: Depends on how much you drink, pal.
MORE INFO: www.facebook.com/marinakitchenSD
House-aging bourbon cocktails is a trend we can get behind. Marina Kitchen will release two browns—Bulleit rye whiskey and Bulleit Bourbon—that have been barrel-aging on property for the last three months. Tasters go for $4, Manhattans and Old Fashioneds are $13. Mention Marina Kitchen in your social mediasphere and get some free candy-laquered bacon. You, too, can live out your dream of being the human spaghetti western.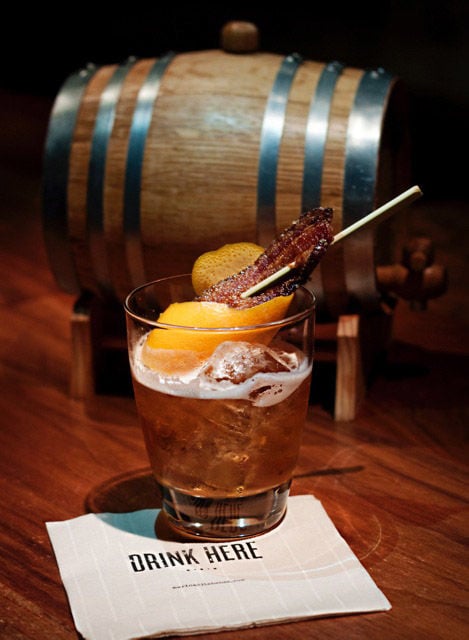 BLOOM BASH
WHERE: San Diego Museum of Art, 1450 El Prado, Balboa Park, 619.232.7931.
WHEN: April 11, 7PM-Midnight
COST: $200-$250
MORE INFO: www.sdmart.org
I love art. I like flowers insomuch as they help me apologize. But I have to admit "Art Alive"—in which the SD Museum of Art invites floral designers to turn iconic works by Diego Rivera, Salvador Dali, O'Keefe, etc. into flower arrangements—is pretty mind-blowing. Their kickoff bash will include about 30 top SD restaurants (including Café Chloe, Mistral, Mille Fleurs, Waters Fine Foods, The Pearl Hotel, etc.), plus Lost Abbey beers and floral tequila cocktails from Patron. Enjoy some Claritin and go.
NORTHEATS
WHERE: Hilton Oceanfront Carlsbad Resort, 1 Ponto Rd., Carlsbad, 760.602.0800.
WHEN: April 13, 4-7PM
COST: $50
MORE INFO: www.bakerandolive.com
Sometimes a proven track record is enough. Nino Camillo's "I Love Poke Festival" is one of the smoothest, feel-good culinary/music/culture events in the city. Now he's partnered with Baker & Olive to focus on the always-underappreciated North County food scene. NorthEats is a festival, with 20-plus NoCo restaurants (Wrench & Rodent, Bistro West, Blue Ribbon Pizzeria, Cucina Enoteca, El Callejon, Privateer Coal Fired Pizza, Sadie Rose, etc.) and music from Ray Barbee. The "main event" will be pro surfers Taylor Knox and Benji Weatherly cooking off against one another. It's surf-culture food fun.
SUPPER CLUB
WHERE: Green Flash Brewery, 6550 Mira Mesa Blvd., Mira Mesa, 858.622.0085
WHEN: April 21, 7PM
COST: $60 ($80 if taking the ride from Hamilton's)
MORE INFO: greenflashsupperclub.eventbrite.com
Green Flash has built a brewery-city, a mirror-laden beer Oz. If you haven't seen it, channel your inner Dorothy and do so for this event. As part of their monthly supper club, they're importing one of Tijuana's best up-and-coming chefs—Martin Varga of Verde y Crema—for a five-course beer-pairing dinner.  They're partnering with Let's Go Clandestino!, a local tour company who specializes in taking San Diegans to great craft beer and food in TJ and Baja. That means?  Center city people looking to attend the dinner can get a ride from Hamilton's Tavern, and will be safely returned to the same spot.
BOMBAY BAZAAR
WHERE: SILO in Makers Quarter, 753 15th St., East Village, 619.702.5655.
WHEN: April 27, 5-9PM
COST: $75-$100
MORE INFO: www.brownpapertickets.com
Just Call Us Volunteers does good work. They not only make sure San Diego's hungry (homeless, vets, parents and kids living in poverty) get fed, but they make sure it's a healthy meal. That matters. Because empty calories just do a body mediocre. "Bombay Bazaar" is their fundraiser to get equipment, tableware and supplies to do that good work. It's a Bollywood dance party with curries, tandooris, vindaloo, henna tats, etc. Some of the city's top chefs will be on hand will cook, including Amy DiBiase (Tidal), Isabel Cruz (Barrio Star/Coffee Cup), John Medall (The Patio) and Hanis Cavin (Carnitas Snack Shack).
STRAWBERRY JAM
WHERE: Suzie's Farm, 2570 Sunset Ave., 619.662.1780
WHEN: April 26, 10AM-4PM
COST: Free
MORE INFO: suziesfarm.com
Suzie's Farm makes great food. But where they really stand out from San Diego's constellation of small farms is in getting the community to give a damn/interact with the food-growing phenomenon. "Strawberry Jam" is one of their events that accomplishes this. Just a bunch of sun-hatted berry snipers like yourself picking your own juicy bits. There will be food trucks, cooking demos, farm tours and live bands (Plow, The Big Decision), and a jam session where any boho with or without musical ability is invited to join in. Go pickin.
EAT. DRINK. READ.
WHERE: McMillan Event Center (at Liberty Station), 2875 Dewey Rd., Point Loma
WHEN: May 14, 5:30PM to 8PM
COST: $60
MORE INFO: eatdrinkread.com
Reading is a good thing. Imagine not being able to look at these characters and understand there's a great event to promote literacy happening this month.  Now imagine not being able to read a note from your child's teacher. Heartbreaking. And so, good people and good chefs donate their time to try and gather as many of you as humanly possible to eat, drink and be merry. Your funds will help humans learn to read. Each bite of food at the event will be inspired by the favorite books of chefs from Marine Room, Urban Solace, Underbelly, URBN, Cusp, Amaya, Casa Guadalajara, Leroy's, Red Door, Mistral, Sycuan, Waypoint Public, Eclipse Chocolate and Dessert First. Local microbrews, too (Stone, Green Flash, Pizza Port, etc.)  Specifically, the money will go to San Diego Council on Literacy's 26 literacy programs that reach over 17,000 men, women and kids. Go, have fun, read.