If there's one thing I know without any shred of doubt, it's this: the best things in life are stuffed between two slices of bread.
Sure, you could grab a hefty Italian or a classic club with all the fixings from a sub shop or deli (of which San Diego has plenty). But I've found that the most mouth-watering morsels come not from the usual suspects but rather from my local liquor store.
It may be a weird OB thing (as many OB things are), but the deli counters tucked away between shelves of spirits are on another level. Decent prices, high-quality meat, and the quintessential quirky sandwich names make them a staple in every neighborhood. Without them, society as we know it would collapse.
Like all San Diegians, I'm very partial to the shops that are within walking distance of my house. But I recently decided to venture out of my neighborhood and see what other delicious sandwiches the local liquor store scene has to offer.
Here are the 12 best liquor store sandwiches in San Diego, based solely on what my own personal taste buds decide for me: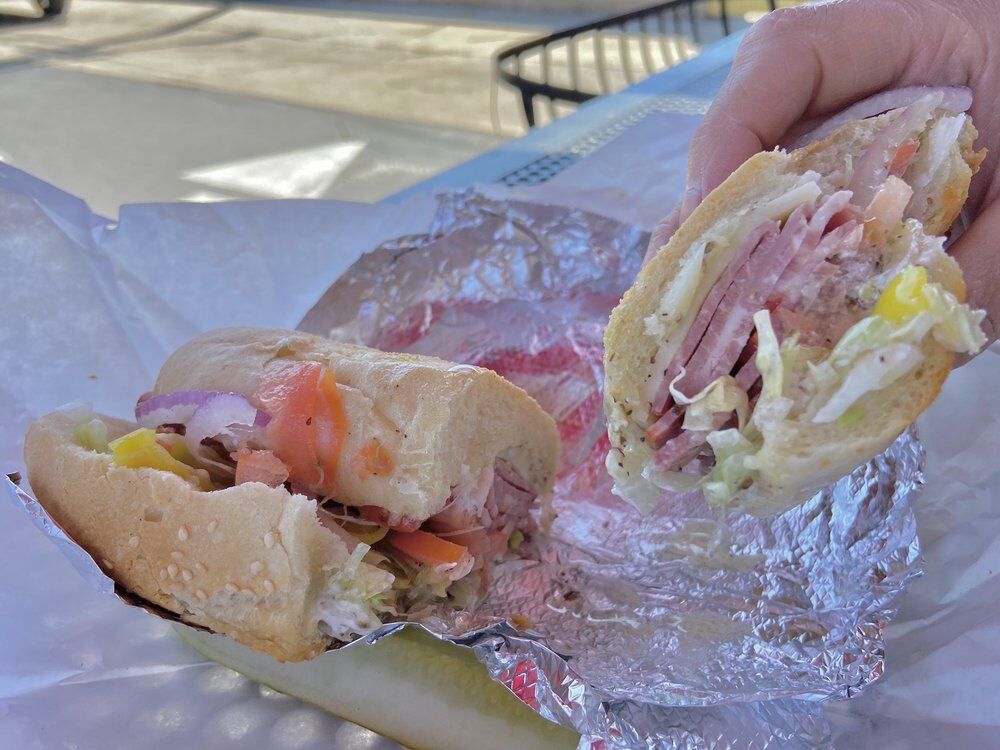 Courtesy of Yelp
Chris' Liquor & Deli
The Godfather
Okay, you caught me. I didn't venture far at first. But I'd be remiss if I didn't shout out Chris' Liquor in Ocean Beach. You can't go wrong with any of their sandwiches—including their morning menu (legend has it that even New Yorkers approve of this place). Grabbing my favorite combo of dry salami, capicola, provolone cheese, diced pepperoncini, oil, and vinegar on an Italian roll is an integral part of my weekend routine.
2275 Sunset Cliffs Boulevard, Ocean Beach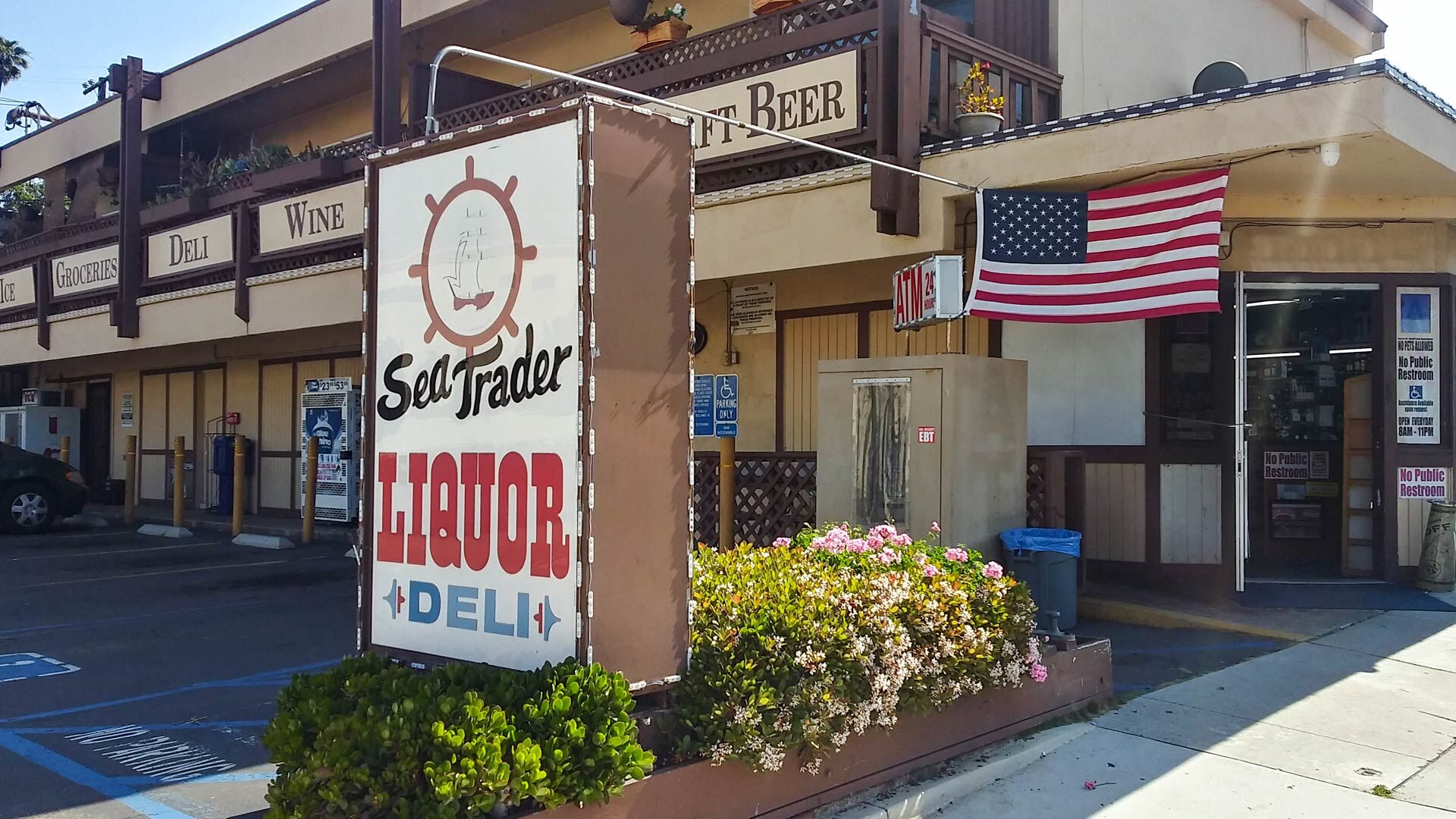 Courtesy of Sea Trader Liquor & Deli
Sea Trader Liquor & Deli
The Nuclear
I promise this is the last OB joint I'll mention. Sea Trader Liquor & Deli is a great pit stop on your way to Sunset Cliffs, and you'll find some unique creations like the Bum Steer and the Nuclear. Go with the latter if you love warm, cheesy goodness like melted pepper jack cheese mixed with coleslaw, sliced turkey breast, tangy BBQ pork and hot sauce.
1403 Ebers Street, Ocean Beach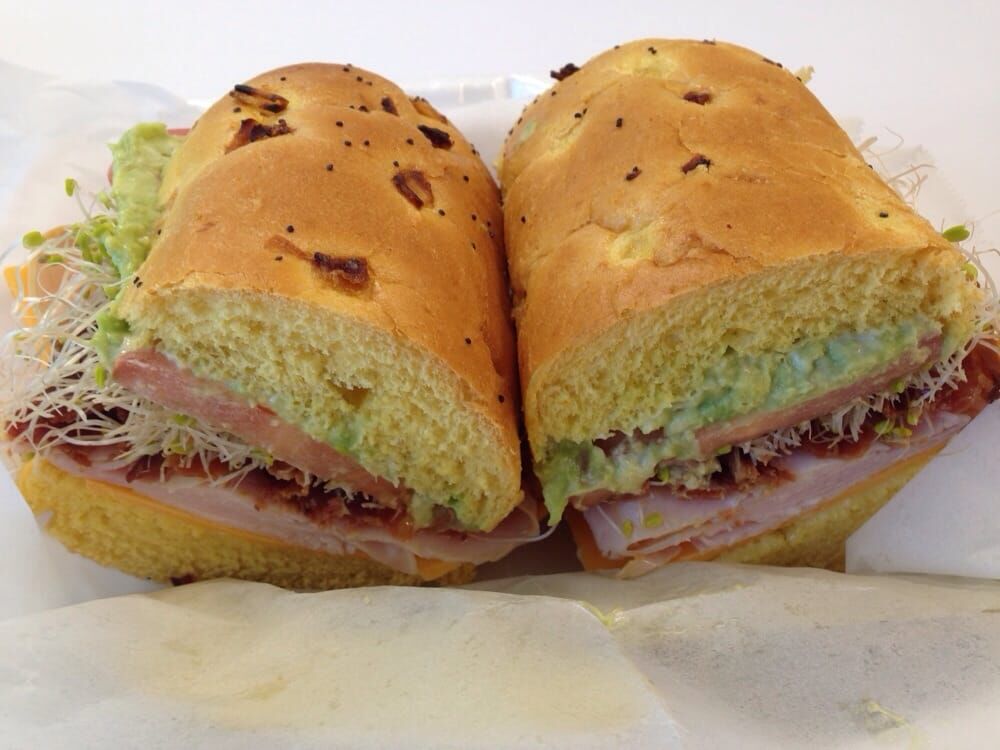 Courtesy of Yelp
Mixon Liquor & Deli
The Construction
Since 1933, this downtown establishment has been serving up ample and flavorful sandwiches like the High-Rise and the Construction. According to Mixon Liquor & Deli's general manager Thomas Gilmore, the combination of turkey, cheddar, avocado, bacon, sprouts, tomato and mayonnaise is fittingly a big hit amongst the construction worker crowd that makes up a large part of their clientele.
1427 First Avenue, Downtown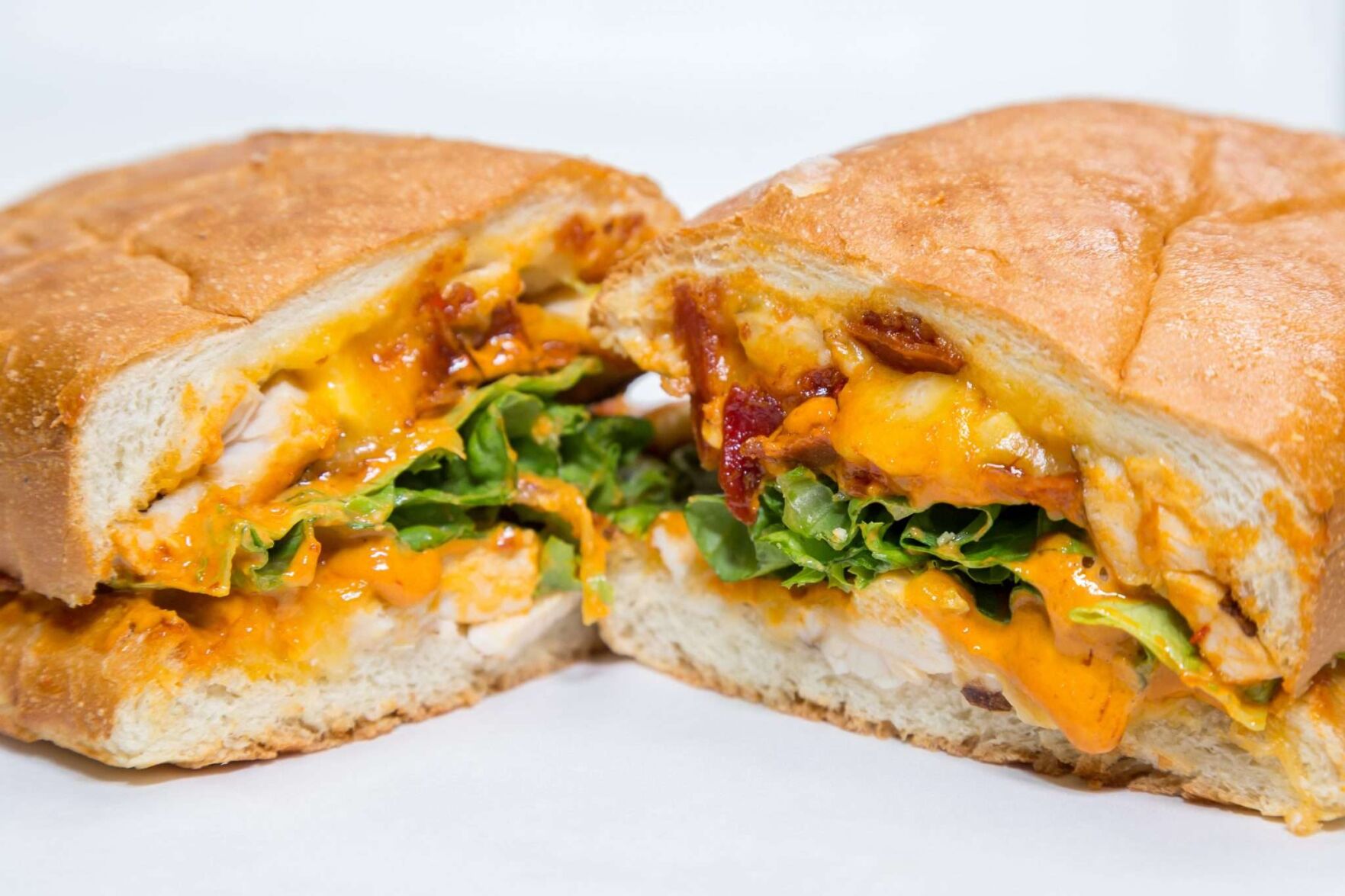 Courtesy of Park Place Liquor & Deli
Park Place Liquor & Deli
The Diablo
Nestled in the heart of Coronado's main drag sits a very unassuming and very delicious little deli. Those with a taste for spicy foods should order the Diablo—a juicy chicken filet layered with melted jack and cheddar cheeses, crispy bacon, lettuce and homemade spicy chipotle sauce on a torta—which the staff at Park Place Liquor & Deli said was easily their most popular choice. I'm a baby, so I went with the Park Chicken Ciabatta. But let me tell you, it was a decision I did not regret.
1000 Park Place, Coronado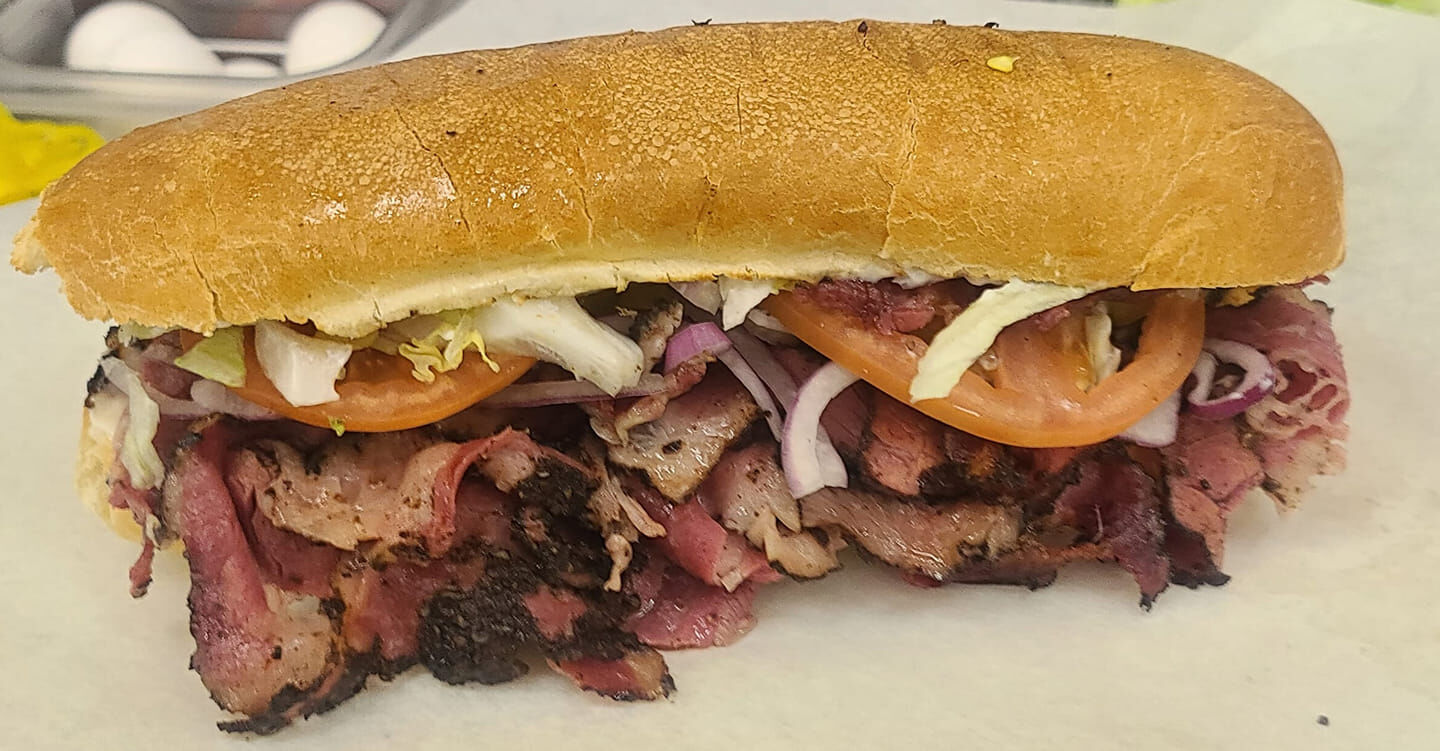 Courtesy of Central Liquor & Deli
Central Liquor & Deli
Giant Hot Pastrami
On the other side of the island, closer to where the Coronado Ferry docks, you'll find Central Liquor. A favorite amongst locals and out-of-towners alike, this place is somehow always packed. Be prepared to wait, but their generous portions of pastrami, corn beef and melted swiss snuggled up in a toasted bun are worth it. There's a reason why words like "giant" and "jumbo" are all over their menu.
178 Orange Avenue, Coronado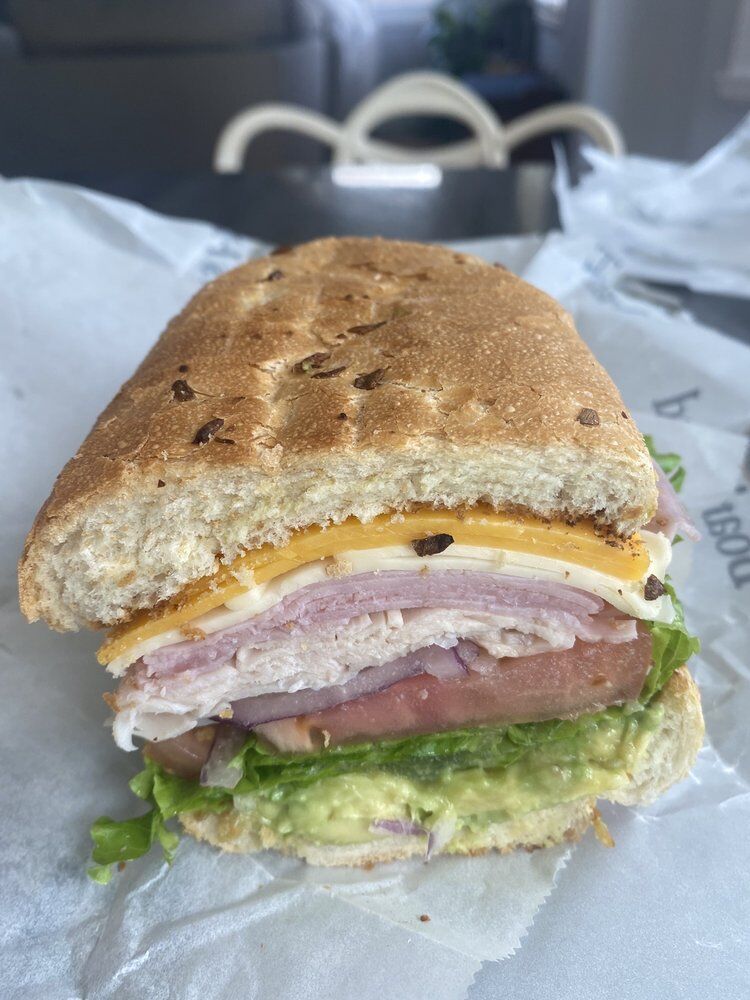 Courtesy of Clem's Bottle House
Clem's Bottle House
The San Diegan
With sidewalk seating, friendly staff, and a bottle opener situated conveniently next to the door, Clem's Bottle House has all the makings of a classic liquor store deli, only cooler. It is in Kensington, after all. While their menu is a little lighter than most, locally-named sandwiches like the Padre and the Charger make up for it (and the free pickle doesn't hurt). Come for the vibes, but stay for the scrumptious mess of their best seller: ham, turkey breast, and avocado topped with jack and cheddar cheeses.
4100 Adams Avenue, North Park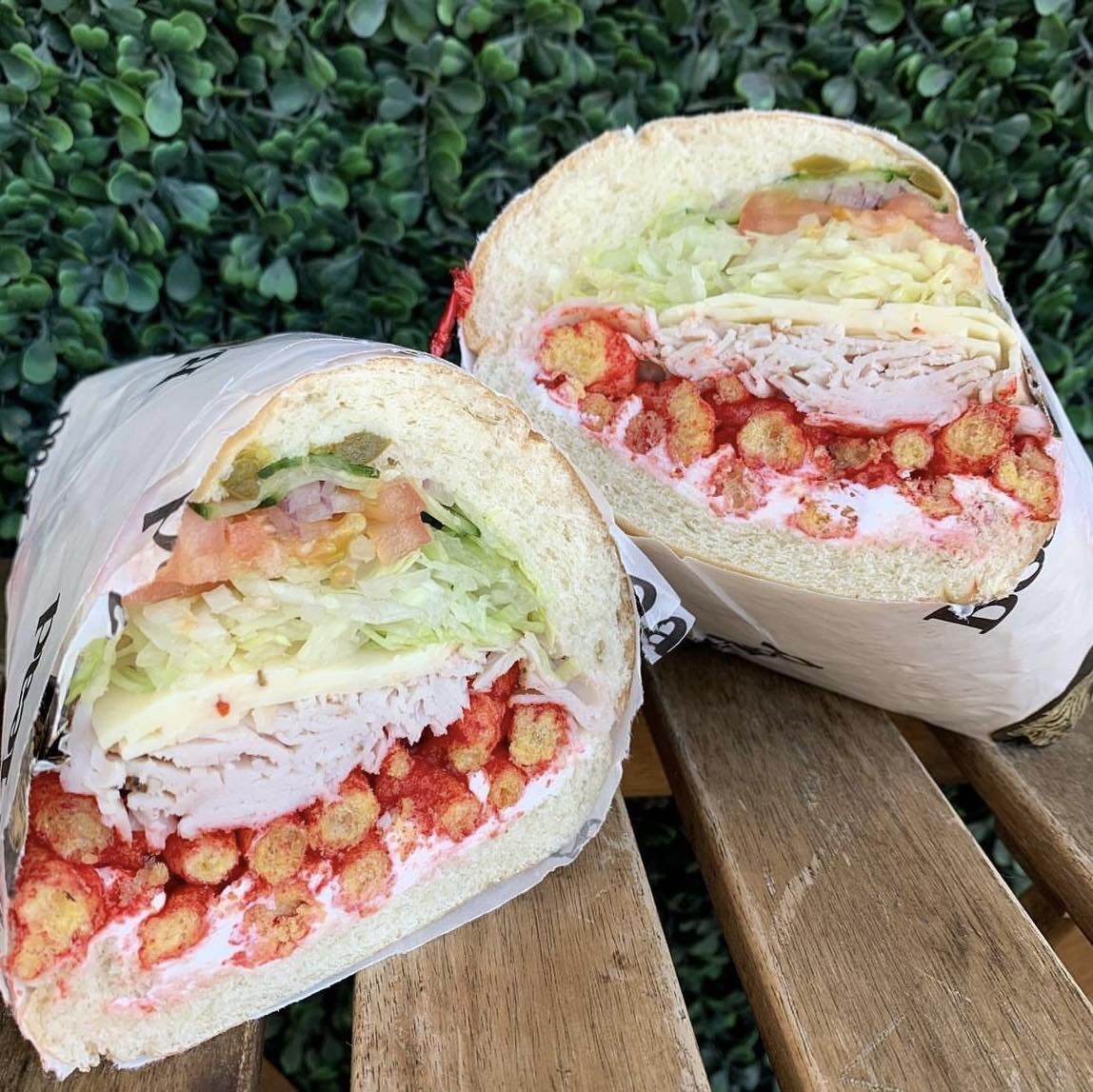 Courtesy of Fat Boy's Deli
Fat Boy's Deli & Spirits
The Hot Papa
Another hot spot, this family owned-staple has been serving up sandwich goodness for 10 years. Brigitte Brikho-Alfares, who co-owns Fat Boy's Deli & Spirits' El Cajon location with her brother, says going into the sandwich biz was in their blood. Their parents owned Big E Wine & Liquor in La Mesa when they were kids. According to Brikho-Alfares, adding the deli seemed like a natural fit: "Our motto is 'if you wouldn't eat it, then you wouldn't sell it.'" And who wouldn't want to eat their popular combo of turkey breast, pepper jack, cream cheese, jalapeños and Flaming Hot Cheetos?
3050 University Avenue, North Park | 13305 Hwy 8 Business, El Cajon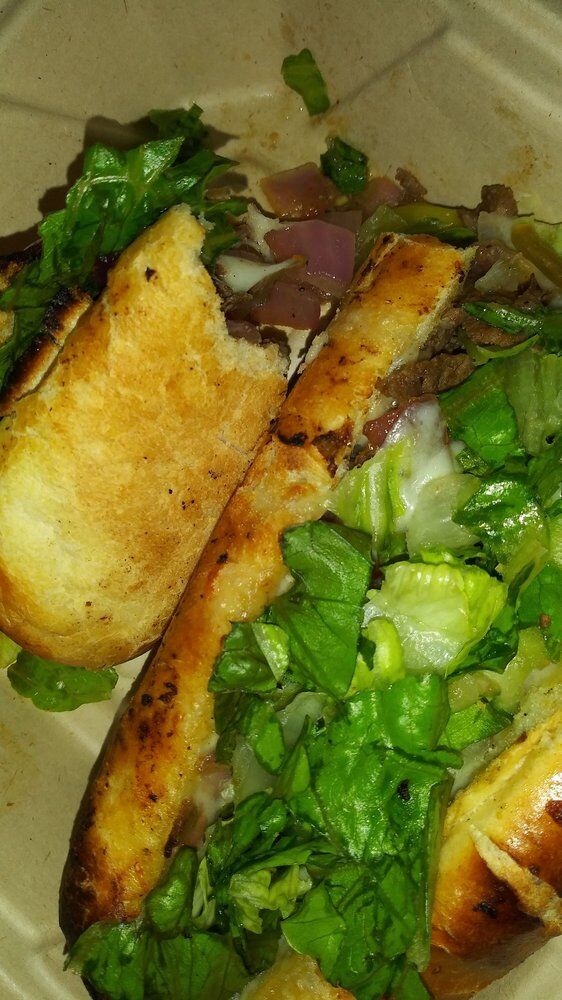 Courtesy of Yelp
Whispering Trees Market Liquor & Deli
The Philly Cheesesteak
Head south, and you'll stumble upon a little gem known for massive portions. Whispering Trees is a frequent lunch spot for many due to not only their ultra-large sandwiches but also their ultra-large pizza slices. With more variety on their menu than your standard liquor store deli, there's likely something for everyone—especially their Philly cheesesteak with a classic blend of thinly sliced ribeye steak, caramelized onion, and provolone cheese.
88 Bonita Road, Bonita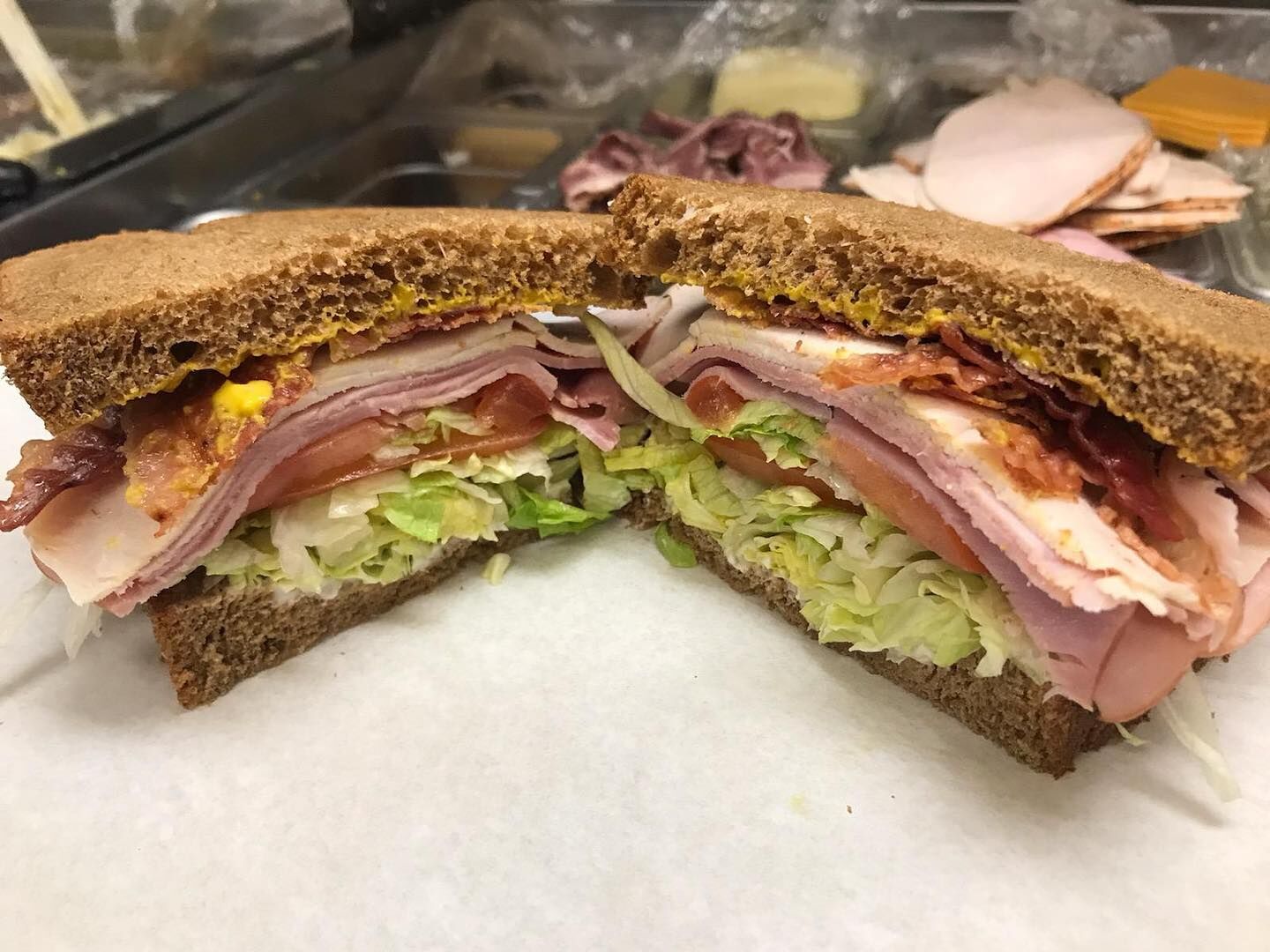 Courtesy of Cozines Liquor & Deli
Cozines Liquor and Deli
Jack's Club
Cozines is less of a liquor store and more of a National City institution. Partly because it's been around for nearly a century and partly because of the hospitality of its current owner, Jack Bazzi. When asked how the shop has managed to survive all these years, he said it takes three things: resiliency, putting customers first, and "being the nicest guy God ever made." Folks may come for the sandwiches, but it's Bazzi's charm (and his namesake sandwich made of turkey, black forest ham, and four slices of smoked bacon) that keeps them coming back.
402 Civic Center Drive, National City
Courtesy of The Local Bottle Shop
The Local Bottle Shop & The Local Bite
The Poway Portobello
Since grab-and-go tends to be the move at these establishments, most don't offer seating beyond a few patio tables—except for this Poway spot. Off to the side, you'll find a small, dedicated patio complete with umbrellas and string lights. The perfect ambiance to enjoy one of their creative sandwiches like the Turkey & Brie or the Pizza Bite. Even carnivores will love The Local Bottle Shop's Poway Portobello, a veggie-forward recipe of balsamic-glazed grilled portobello, roasted garlic and herbed goat cheese, sun-dried tomato aioli, baby spinach and tomato.
13530 Pomerado Road, Poway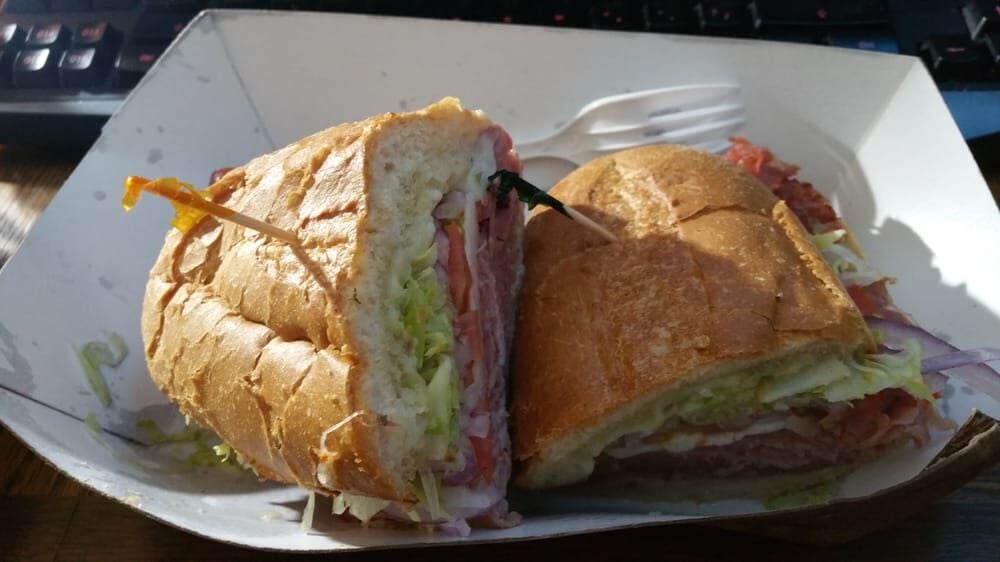 Courtesy of Cheers Delicatessen
Cheers Delicatessen & Liquor
The New Orleans Muffuletta (or whatever the daily special is)
While we may not be on a first-name basis yet, I definitely got the vibe from the staff at Cheers that we could get there. Owner Manny Keriakos of Cheers Deli & Liquor has run this delicatessen for 34 years, and after just one bite of the Italian salami, cotto salami, capocollo, pepperoni, provolone cheese, olive tapenade and tomato served on their herb-y focaccia bread, it's easy to see why (though you may need to special request this one). There's also a decent amount of seating in this San Carlos spot, and Keriakos says he hopes to open a larger patio sometime in the near future.
6983 Navajo Road, San Carlos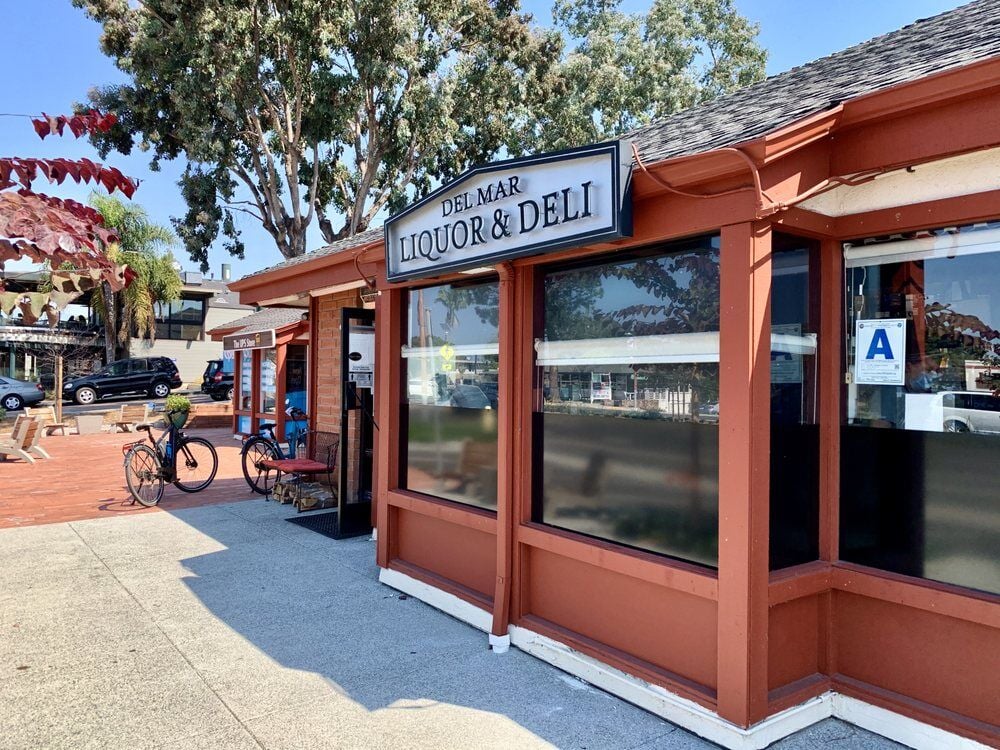 Courtesy of Del Mar Liquor & Deli
Del Mar Liquor And Deli
Classic BLT
Most of the eateries in Del Mar are of the high-end variety. But nestled between the bistros and cafes that dot Camino Del Mar, you'll find a friendly deli that fills the gap between grab-and-go and gourmet. While Del Mar Liquor & Deli is revered for their breakfast burritos, their refusal to skimp on prime ingredients like bacon, lettuce, and tomatoes makes their BLT just as crave-worthy.
1149 Camino Del Mar, Del Mar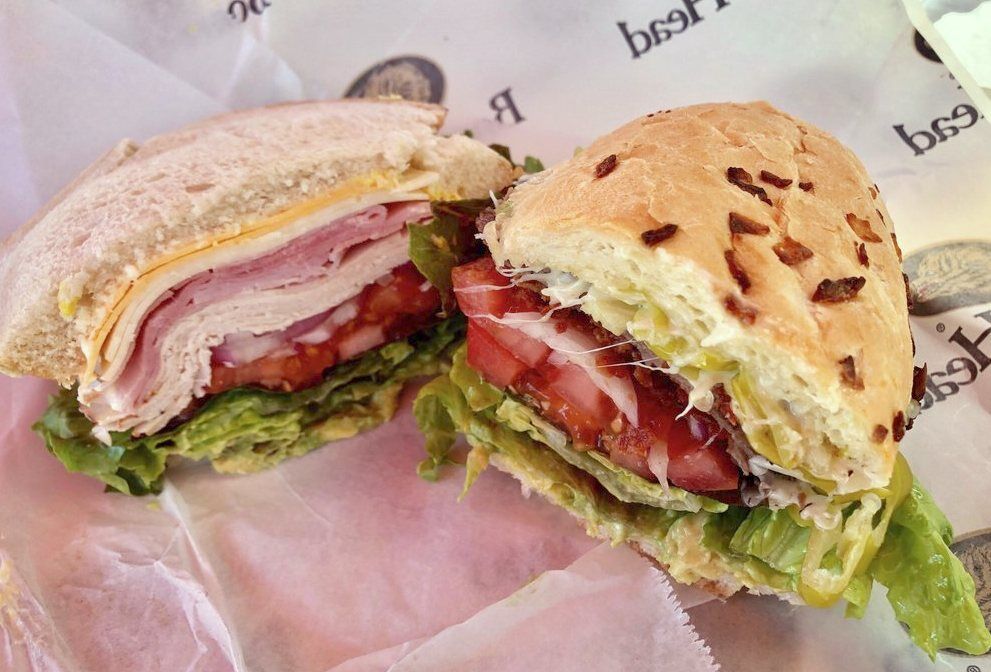 Courtesy of Yelp