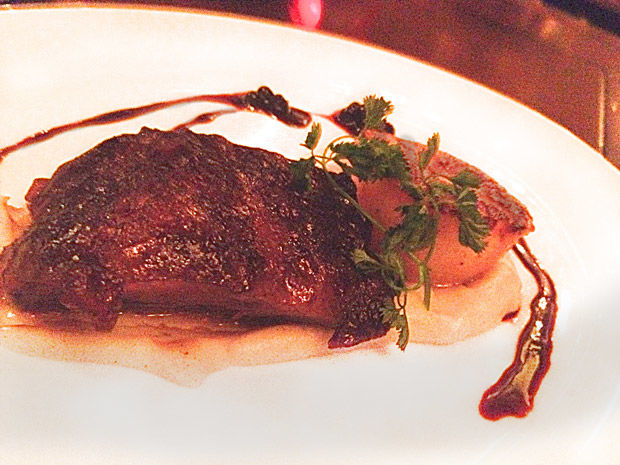 Short Ribs & Scallop @ Amaya
Amaya's Camron Woods is cooking well at the new La Jolla outpost. But it's his short ribs with scallop that's the true walk-off winner of his current menu. On the scallop, he uses the traditional vanilla as flavor foil, but doesn't make the mistake of over-sweetening. With a cauliflower puree and a huckleberry sauce, next to those incredibly tender short ribs, it's one of the best surf and turfs in town. 1205 Prospect St., La Jolla, 858.750.3695, www.amayalajolla.com.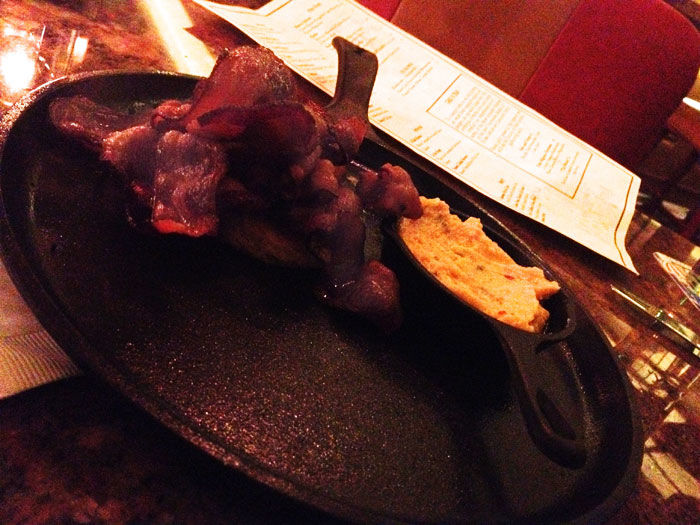 Bacon & Butter @ Café La Rue
It's just a pile of housemade bacon. It doesn't even really fit the cast-iron skillet right. But the pork pile is smoked with perfect restraint and—oh dang—what is that buttery-looking dip on the side? That's gold. A religious awakening of sorts. It's an emulsion of butter and maple syrup, with chiles and sage. Dip the bacon in that and—well, you've got dietary suicide, and one of the best bites you'll have all year. Shush now and eat. 1132 Prospect St., La Jolla, 858.454.0771, www.cafelaruelav.com.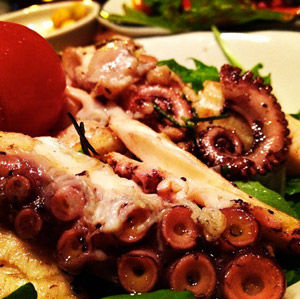 Octopus @ Monello
I've been working on a "think piece" on octopus, and how it's really having a day on American menus. So I went back to one of the best tentacles I've eaten in the city—the polipo alla griglia at Monello. Chef Fabrizio Cavallini marinates the tricky protein in olive oil before grilling it. The oil gives it such a succulent tenderness and the grill just adds yet another texture. Paired with fennel and peppery arugula, it's just about perfect. 750 W. Fir St., Little Italy, 619.501.0300, www.lovemonello.com.