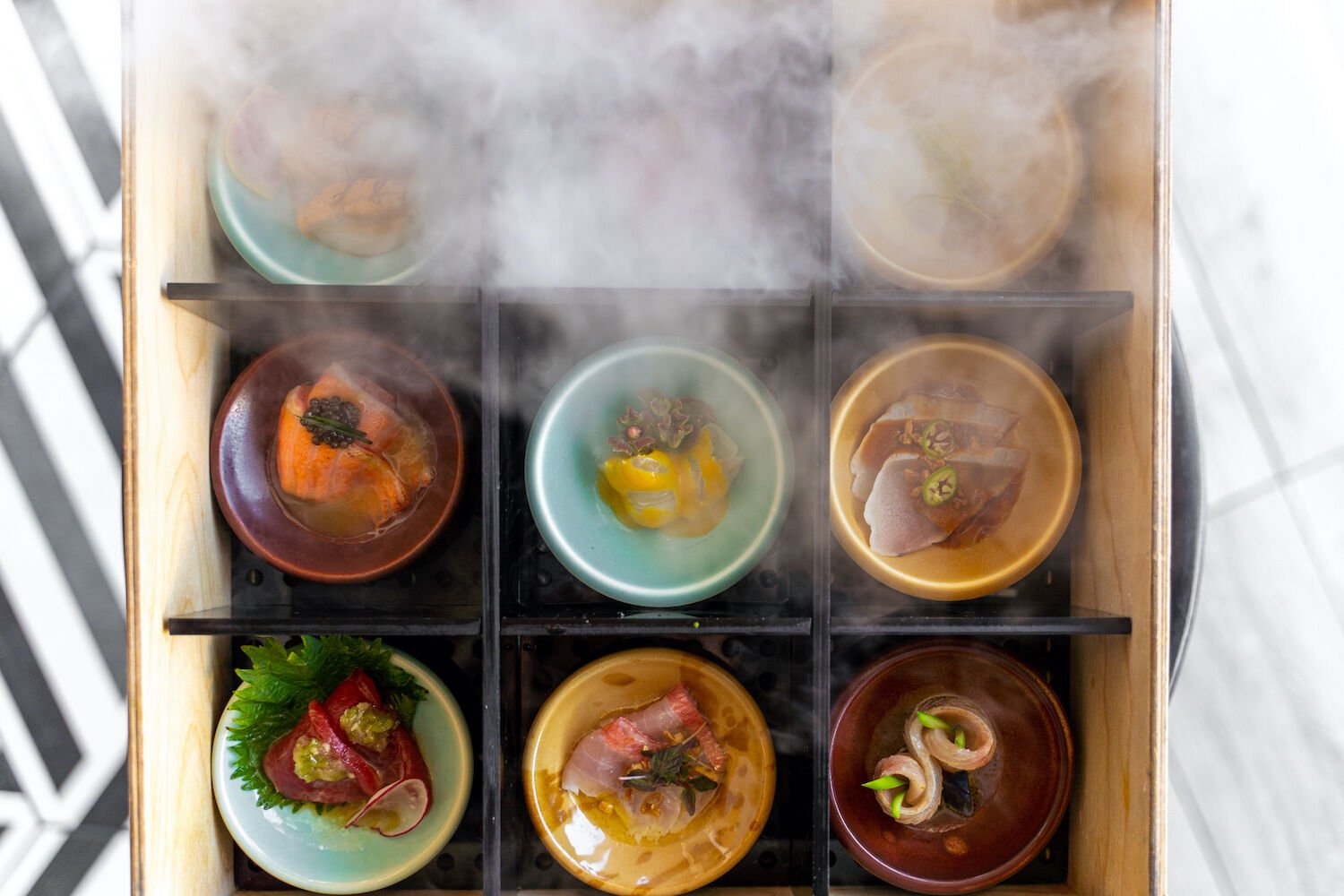 Kimberly Motos
Smoke is billowing from Akira Back's mouth and eyes, as if he's demonically possessed in a cool way, or learning how to smoke a blunt and somehow got his eyes involved. It's not his real face, of course, but a caricature etched into a large, black, wooden box that's been set in the middle of our table. A server pauses to make sure our phones are ready, then ceremoniously lifts the lid. The clouds stuck inside spill out onto the table.Slowly but surely the fog dissipates, revealing nine compartments, each filled with ornate pieces of silken sushi in various sauces and roe and microgreens. This is the Nazo Box, the David Blaine-y way omakase is served at Lumi, the sushi-and-things rooftop restaurant created by Michelin-star chef Back and RMD Group (Side Bar, Float, Rustic Root), helmed by executive chef James Jung (Nobu Malibu). Sure, it's over-the-top and theatrical. But, please, give me Broadway. Juggle some Brussels sprouts while I wildly applaud. Set my table on fire. After this grim epoch of microdosing fear and macrodosing Netflix, of actively avoiding the very thing that makes us human (other humans), after 15 months of canceled dinners and no-shows—this misty, magic box of fancy fish, unveiled by a hand that's not my own, feels hopeful and humbling.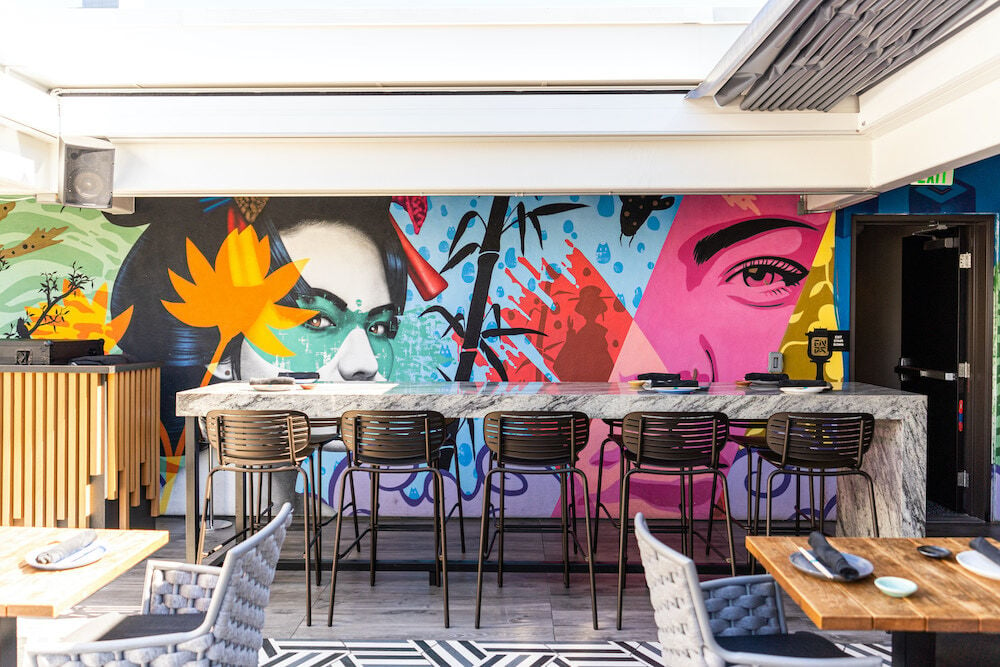 Kimberly Motos
It's a show. The theater of restaurants is back. For now, it's different—a more reverent bonhomie, a tad subdued—but their business of joy conjuring has resumed.I'm writing this the week California fully reopened. My wife and I went to a Padres game. It was sold out. Forty thousand fans did the wave. It's hokey, and amazing. I didn't expect to get choked up. My wife did me one better and shed a tear. "The unity," she laugh-cried. The Lumi rooftop is also sold out (it's all rooftop, 5,000 square feet of it, at the former Grand Pacific Hotel). Neither of us  cry. I had to wait 10 days for a grandparental 5:15 p.m. reservation. Point is, there's a primal, insatiable demand to be around humans in public. To sit face to face, eat, drink, resolder old connections. This is what restaurants do. They're not utilitarian feed troughs; they're the (hopefully artful) facilitators of shared experience.And Lumi is more artful than most. It would probably be sold out even if the pandemic never happened. Akira Back is both a talent and a bankable name, with his Michelin-starred restaurant in Seoul (Dosa), plus Yellowtail in Vegas and other restaurants popping up around the world soon, and appearances on Food Network (including Iron Chef). I get the sense he  hasn't been at Lumi much since it opened in June 2020, but Jung is a benevolent force of his own.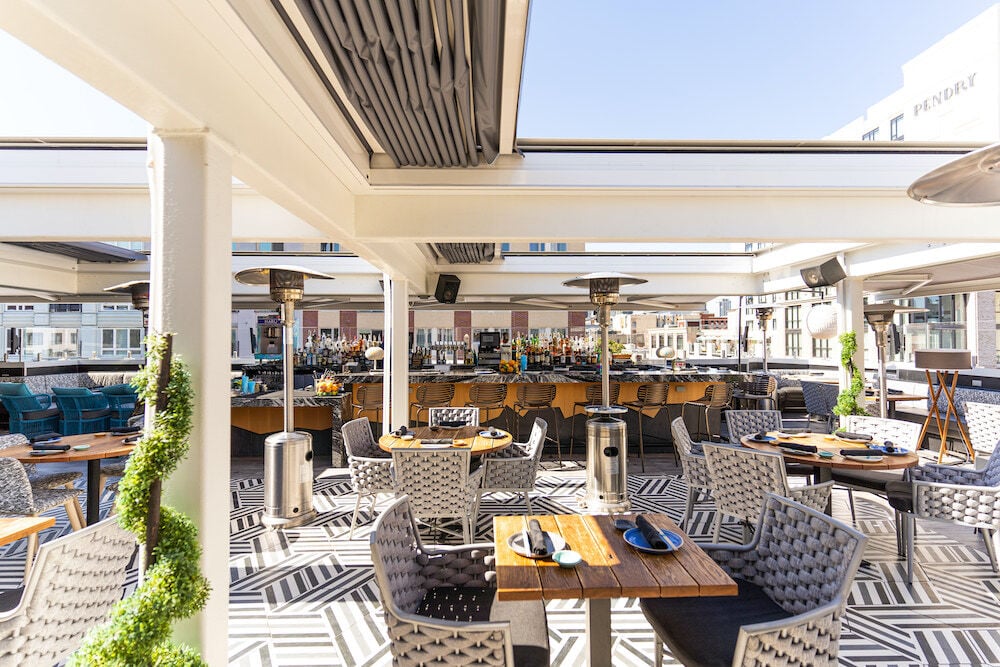 Kimberly Motos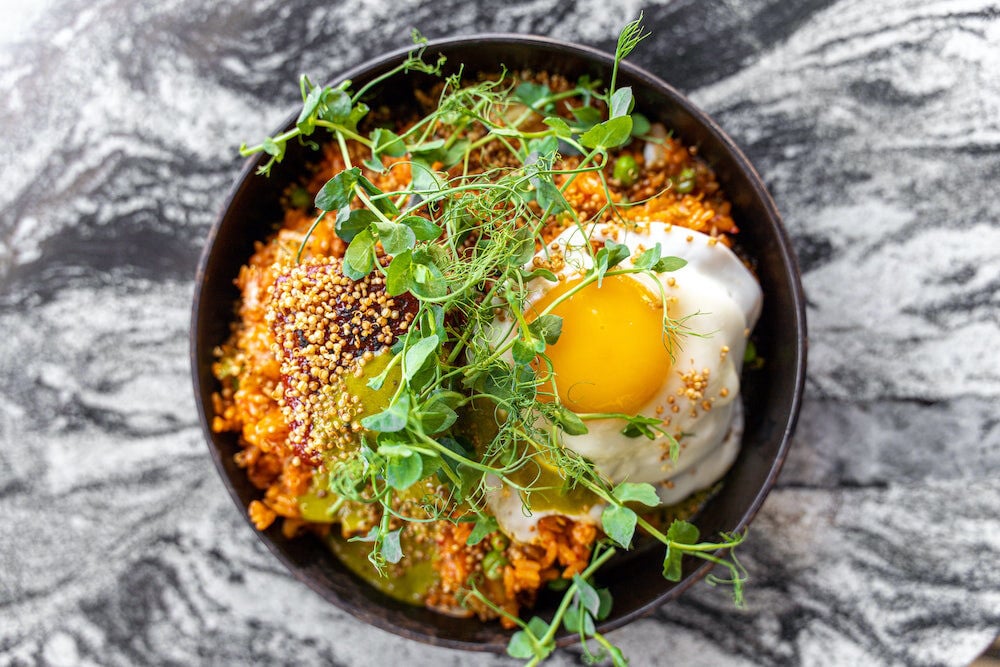 Kimberly Motos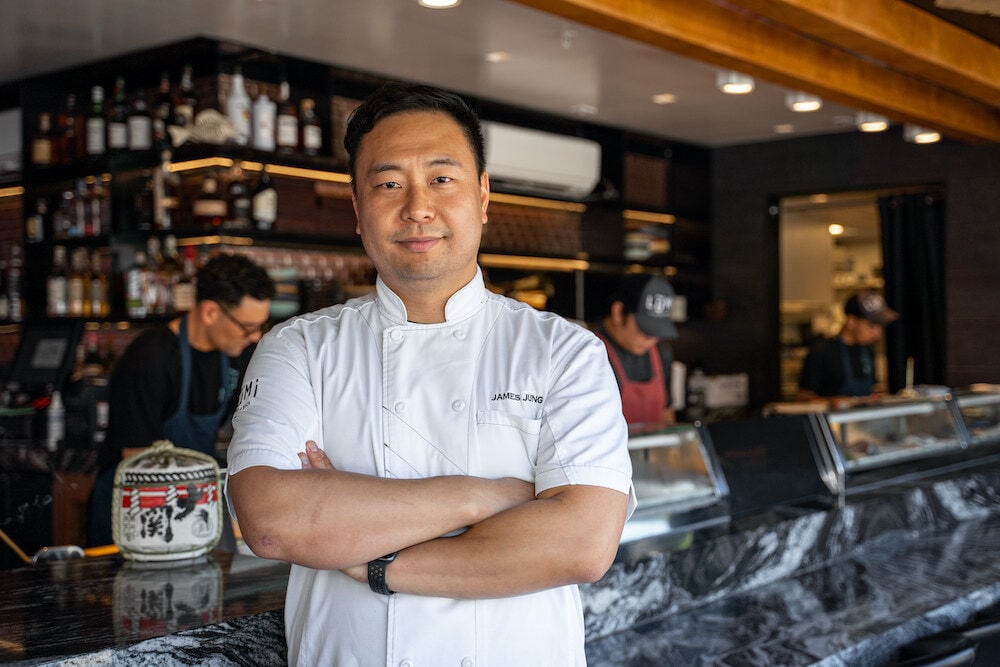 Kimberly Motos
Lumi is first and foremost a sushi restaurant, and the sushi is excellent. It says something when a nine-course omakase (the practice of letting the itamae, or sushi chef, send you their best stuff) doesn't have a single flop. There's albacore in an intensely thick, almost- caramelized tosazu (a vinegar-based sauce with katsuobushi, dried tuna flakes), red snapper in a tiny pool of yuzu truffle, Baja bluefin toro (belly, whose high fat content ratchets up the flavor) in real wasabi relish (not dyed horseradish, though they have this as well with some dishes), Baja kanpachi (yellowtail) with ají amarillo lime sauce.Ají is the national pepper of Peru, and South American influences are all over Lumi's menu. Eating hearts on a stick may sound like something best left to serial killers and Joe Rogan, but if you can get over it, don't miss the corazón skewers—grilled beef heart with an anticucho sauce (chiles, garlic, etc.), a zesty yuzu aioli, peewee potatoes roasted so simply they have no right to be as good as they are, and giant Peruvian corn (choclo) over a corn puree. Then there's Akira Back Pizza, a delicately fried tortilla topped with a thin layer of raw tuna (so it looks like the tomato sauce on a pie), thinly sliced serrano peppers, red onion, beets, micro shiso, ponzu mayo, and truffle oil. It's basically a sushi tostada and a form of happiness.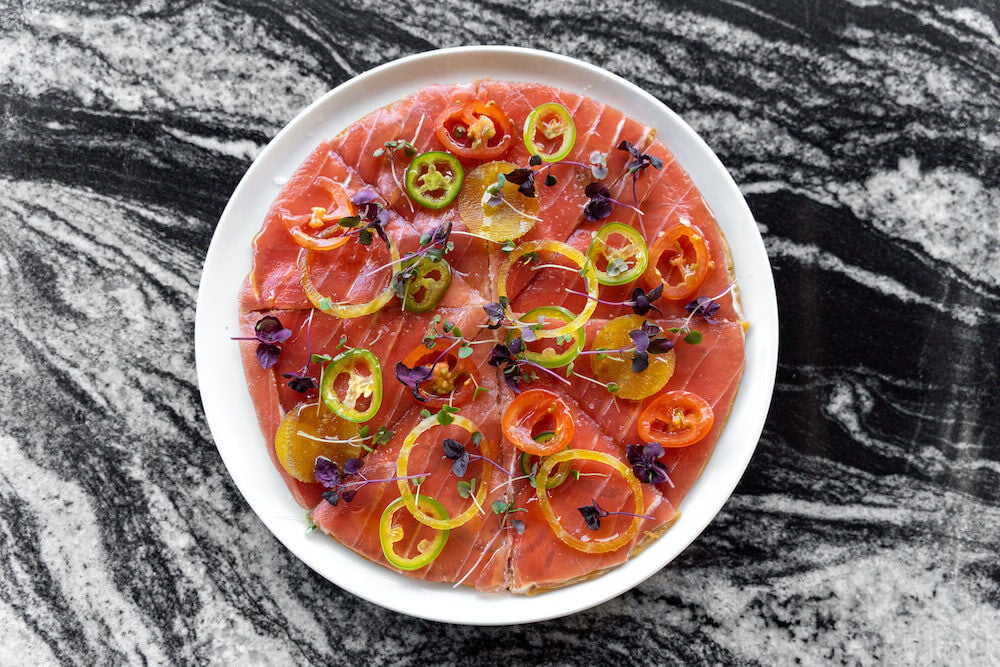 Kimberly Motos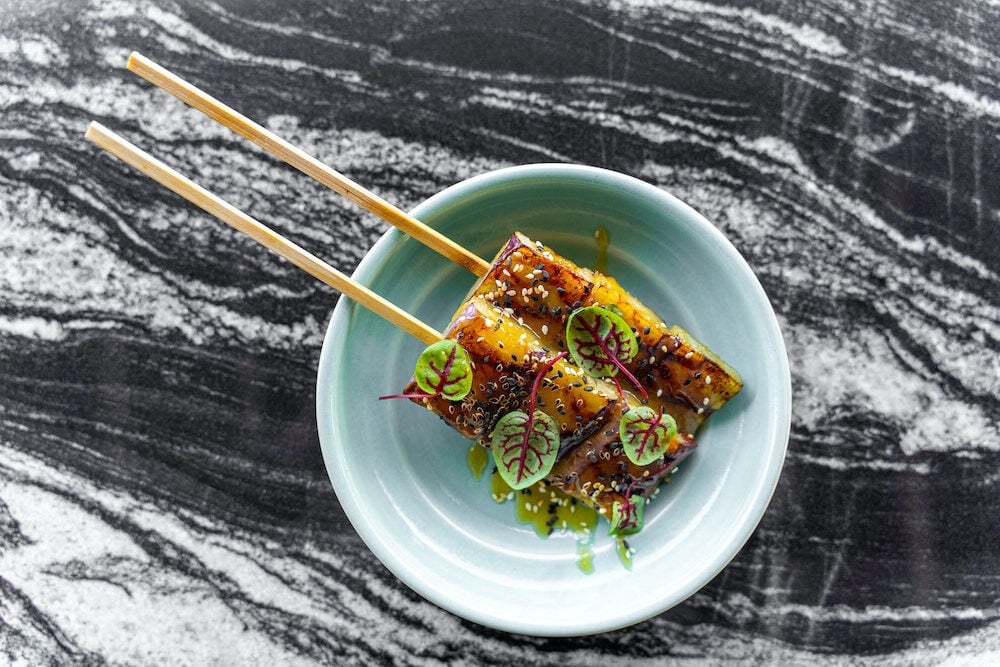 Kimberly Motos
The south-of-the-border dish that wowed us twice is the yellowtail serrano—slices of the whitefish in garlic yuzu soy, pickled Fresno chile, serrano onion tomato salsa, and slices of serrano. The best analogy to describe that yellowtail is a "tight" band, where every musician plays just loud enough and long enough, sacrificing their egos for the good of the whole. The kanpachi ceviche, in comparison, is that band whose drummer thinks he's Neil Peart. A rocoto (spicy red pepper sauce) leche de tigre is so acidic it might be conducting electricity, and a thick sweet potato puree acts like quicksand, swallowing the star of the show (the kanpachi).I've always said that vegetarians are doing missionary work for all of us because, even as a dirty evil meat eater, I've noticed restaurants no longer cook plants like they actively hate them—as evidenced at Lumi by those eggplant skewers. Fair warning, you're gonna wonder if they messed up and brought you a dessert, some kind of wondrous eggplant cake. It's that sticky-sweet, caramelized miso glaze. Bottle it, baptize me in it. I have a friend who hates seafood. She's obviously broken in many ways, but she'd do well at Lumi. She could order the rack of baby back ribs with a sesame jalapeño sauce and rocoto aioli over a cabbage-apple slaw. Cooked sous vide, the meat is so tender that teeth are optional. Or she could get the miso pork belly kimchi chaufa—pork roasted the way ramen joints do it, with English peas and puffed quinoa for texture and jalapeño huacatay sauce (a Peruvian salsa).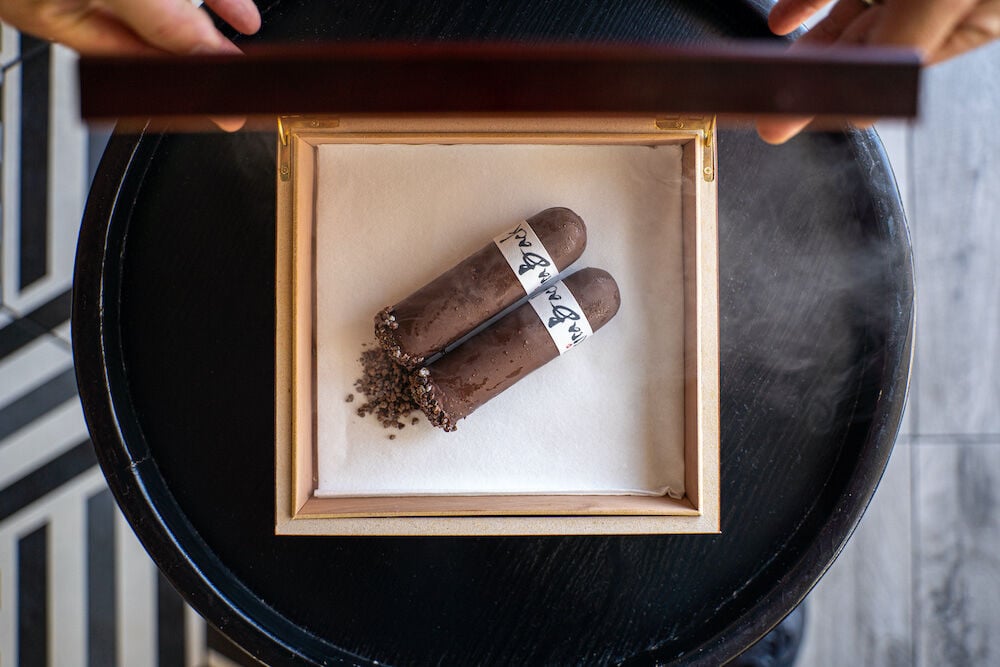 Kimberly Motos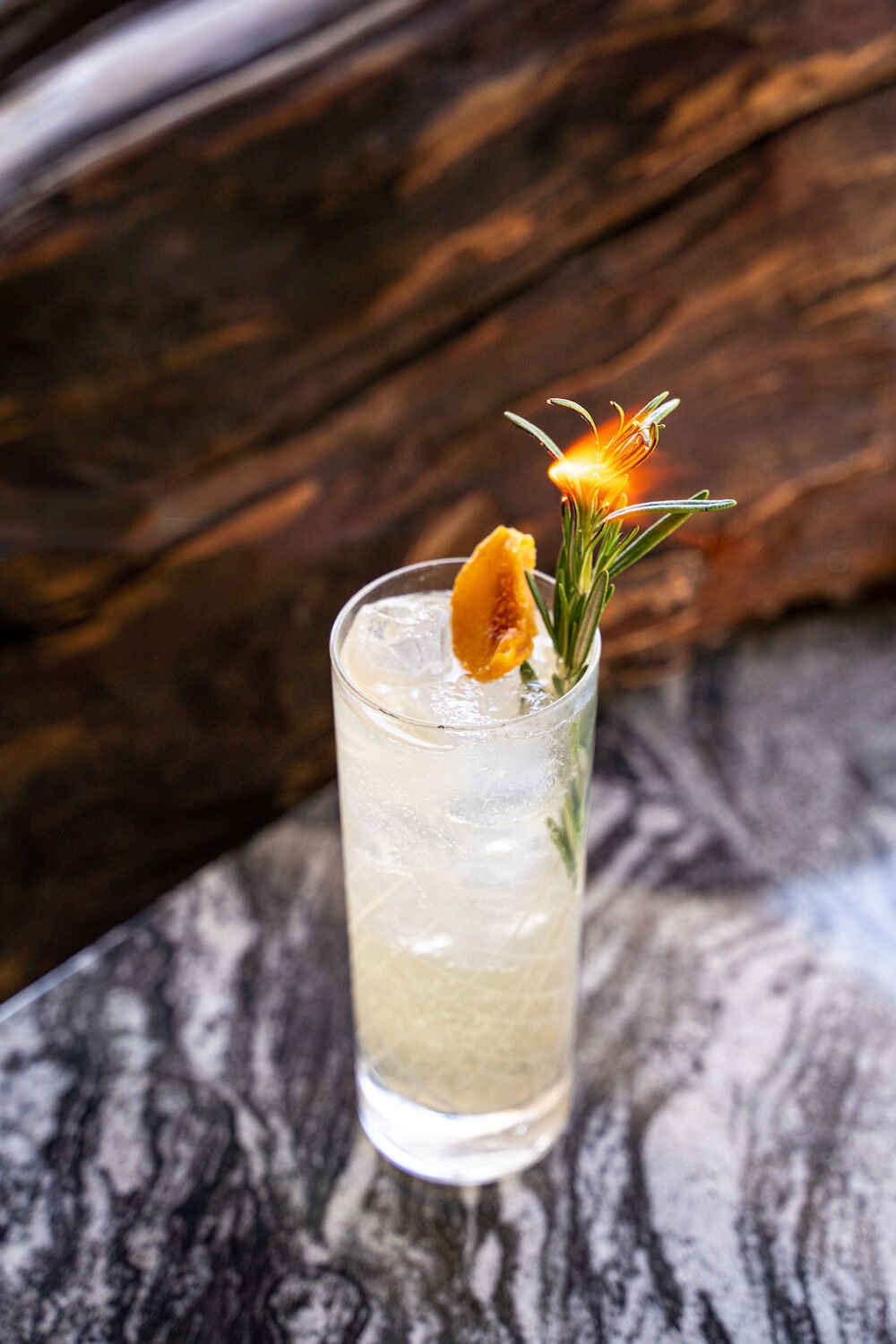 Kimberly Motos
I sip one of the better cocktails I've had in a while—the Yasai, with Los Vecinos mezcal, nixta licor de elote (sweet corn liqueur), carrot, honey, ginger, and fresh lemon. I look around at the alfresco gathering of people who seem to be enjoying themselves in slow motion and in hushed tones. I wonder how long it'll be before the acidic dew of guilt burns off. How long will there be that low murmur, that vague tug? How long will it feel a bit unfair that I'm sitting here with my wife and daughter experiencing this great thing? Maybe years, maybe eons. The year left a mark. Burned a gratitude into us. Burned a gratuitousness out of us. Maybe that's why the DJ booth perched in front of the wall mural is dormant both times we're here.Resuming life in the wake of loss requires a slow step.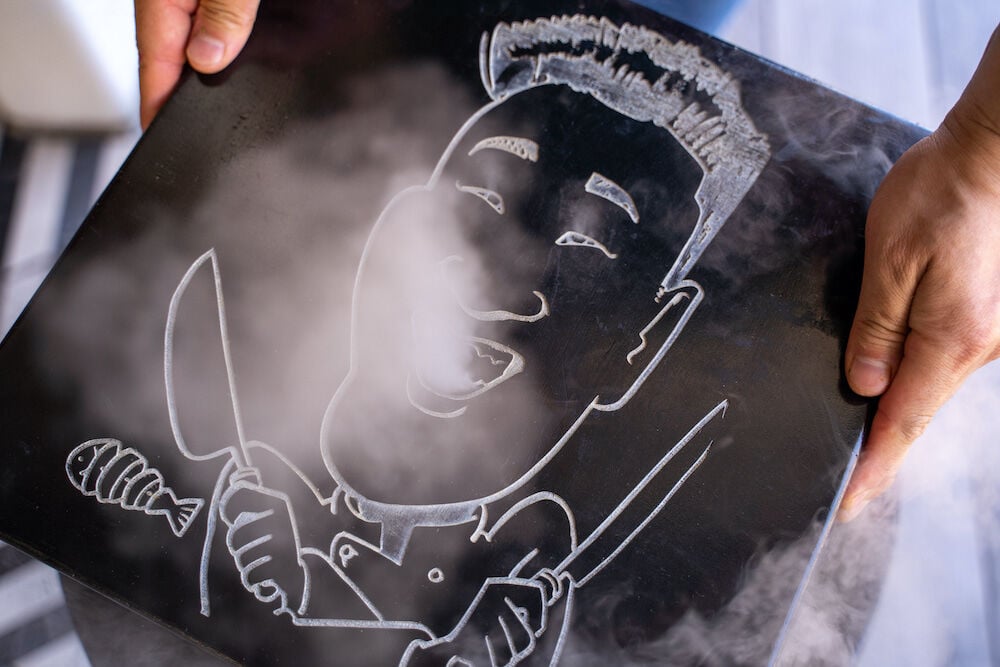 Kimberly Motos