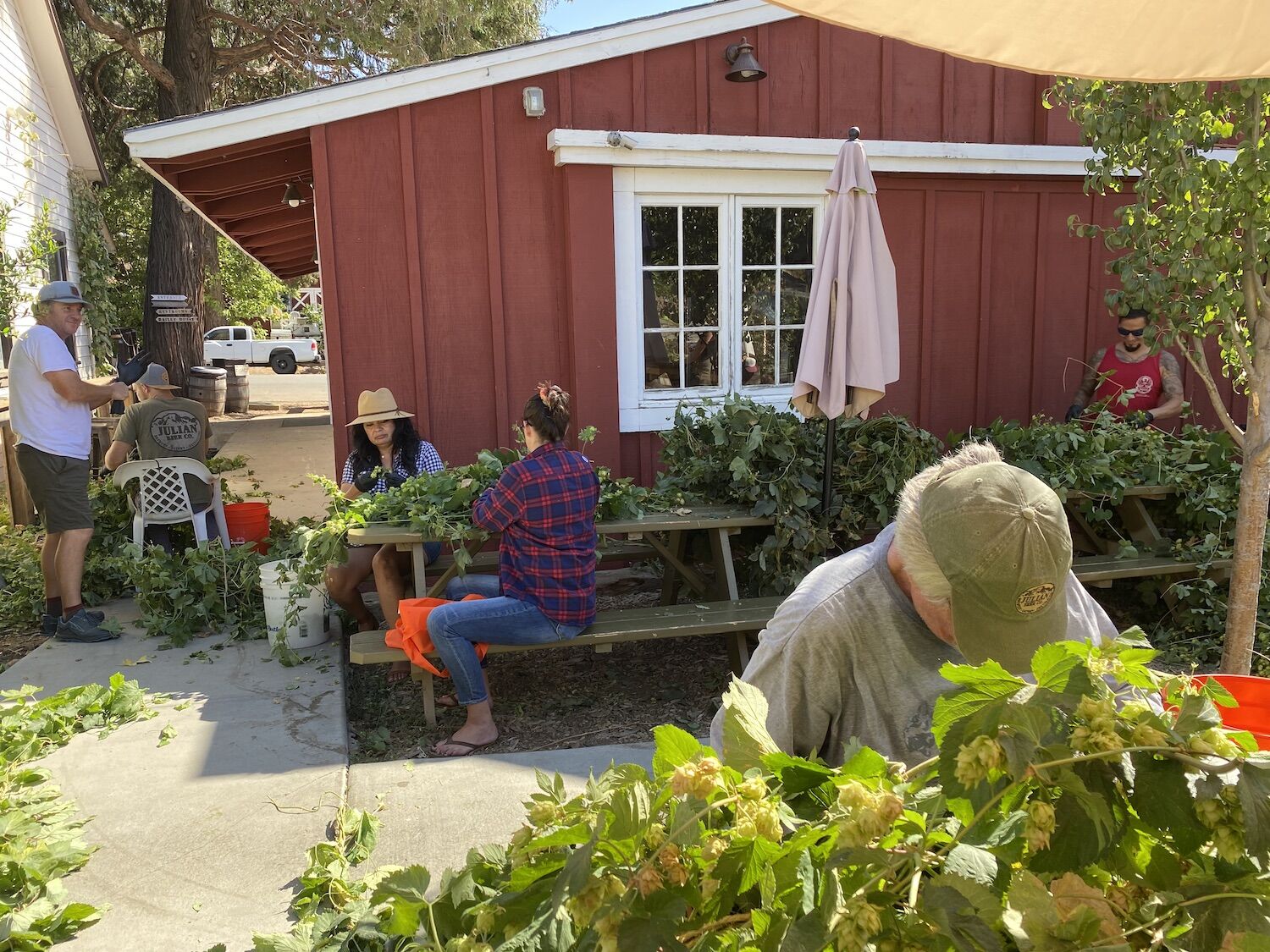 Courtesy of Julian Beer Company
Wet hop beers, like IPAs and other hoppy beer styles, embrace hop flavor and balanced bitterness as desirable elements in smell and taste. But, unlike other hop-forward beers that are brewed year-round, wet hop beers tend to only appear around the beginning of September and only stick around for a month or two.
The comparatively short shelf life is thanks to the brewing process. Wet hop beers use whole hops picked fresh off the bine—hops are grown on bines, not vines—rather than dried or pelletized hops, which tend to be the standard for commercial brewers for consistency, predictability, and availability. The Brewers Association guidelines for Fresh Hop Beer specifies the freshly harvested hops should be picked "no more than 72 hours prior to being added" to the brew and recommends drinking them right away in order to "maximize the bright fresh hops attributes."
Adding hops immediately after harvest imparts a uniquely "green" flavor that's less bitter, but tastes "fresher" than a typical IPA. San Diegans can already find some fresh hop favorites in breweries across the county, but get them while the getting's good—they don't tend to last for long.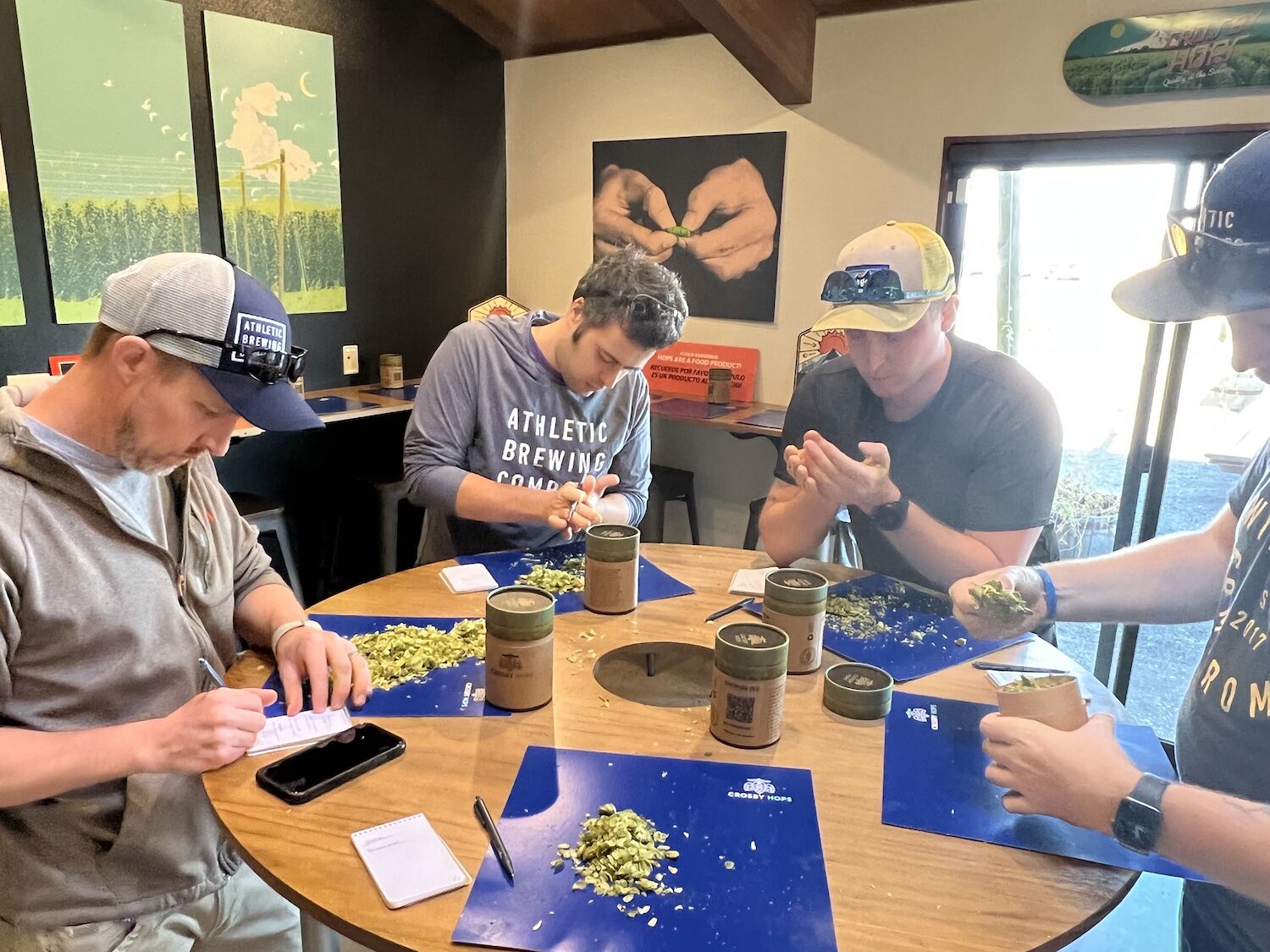 Athletic Brewing Company
Nickel Beer Company
Overnight to Julian (6.5% ABV) features the spicy, earthy, fruity goodness of Chico-grown Cascade and Chinook hops, while My Way (6.5% ABV) is chock-full of tropical notes, thanks to Oregon-grown Strata hops. These wet hop IPAs are just the start of Nickel's wet hop beer bonanza: the Julian-based brewery is known for typically having the biggest selection of wet hopped beers in town, and even throws an annual Wet Hop Festival at their sister tavern O'Brien's Pub to celebrate the season. This year, the 20th Wet Hop Fest runs from October 14 to October 16, so keep an eye out for details.
Burgeon Beer Company
Burgeon released a trio of wet hop beers this year: Sticky Fingers (an 8.2% ABV West Coast double IPA), Single Source (a 6.5% ABV West Coast IPA), and Experimental Fresh Hop Pale: YQH-1320 (a 5.6% ABV double-dry hopped West Coast Pale Ale). A recurring crowd favorite, Burgeon calls Sticky Fingers "lupulin-loaded" with Mosaic hops that's triple dry-hopped for a "bliss-inducing" brew. Single Source boasts Strata hops harvested, flown, and brewed within 12 hours for an explosive taste of the Pacific Northwest, and their Experimental Fresh Hop Pale, well, sounds pretty wacky. Give it a try, and watch for a fourth release in late October to wrap up the season.
Julian Beer Company
Using hops grown on the property, Julian Beer Company's Wildflowers is a 7.1% ABV wet hop IPA made with 40 pounds of Cascade, Chinook, Centennial and Julian Gold hop varieties. Picking the hops has become a yearly local tradition, says co-owner and brewer Matt Pitman. "We had 15 or 20 people show up for hop picking," he says. "All hops were dumped into the mash tun for a 30-minute hop back before transferring to the fermenter." Don't leave without pairing a pint with some pizza: their Grand Daddy Pep is a personal favorite.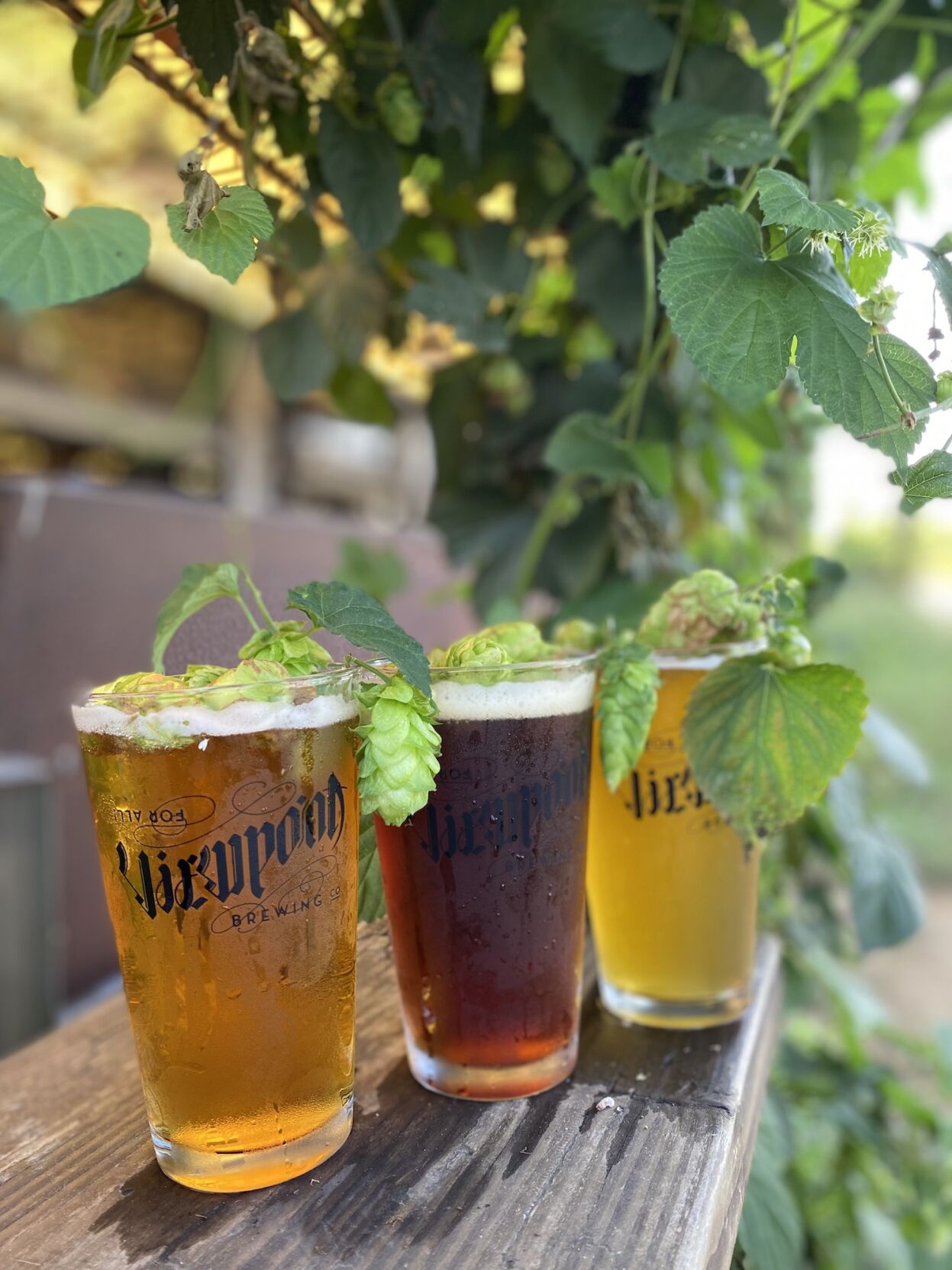 Courtesy of Viewpoint Brewing Company
Viewpoint Brewing Company
Viewpoint has the unique distinction for brewing the only non-IPA or Pale Ale wet hop beer I could find across San Diego. (If there's another one out there, please alert me immediately so I can try it ASAP.) Their Dankmartian amber ale is a fresh (hop) take on their Del Martian amber ale—a 5.1% ABV balanced brew made with Viewpoint-grown Cascade hops with "strong notes of melon and citrus," according to head brewer Moe Katomski. Hop City (6.7% ABV with 100% Amarillo hops) and What's Hoppenin' (6.6% ABV with 100% Centennial hops) both utilize Oregon-grown hops from Crosby Hop Farm and tilt more towards dank, piney, earthly, and herbaceous sensations.
Athletic Brewing Company
For Athletic Brewing Company's batch of non-alcoholic Oregon Strata wet hop IPA, Athletic's brewing team used 600 pounds of Strata hops picked at Crosby Hop Farm within hours of harvest. Grassy notes mesh together with berry and melon for a balanced (read: not too bitter) finish that balances the malt profile with the star of the show: fresh hops. This very limited NA brew is only available for purchase on Athletic's website while supplies last.
Northern Pine Brewing
Oceanside's Northern Pine poured 70 pounds of Strata hops into brew to make a 5.9% ABV wet hop Northwest Pale Ale called Fresh to Death, and that's before dry-hopping the whole thing with more Strata and some Centennial hops to take it to the next level. This release has only been out since mid-September, and probably won't last very much longer.
Find more wet hop options at establishments like Blind Lady Ale House, various Pizza Port locations, or ask at your local taproom.