Mountain Views
1. Big Sur
Big Sur is an almost otherworldly beautiful nature wonderland. Tucked within a forest of Redwoods, Glen Oaks Big Sur is like a summer camp for adults. The eco-chic cabins feature in-room fireplaces, heated bathroom floors, and sustainably sourced décor.
Distance: 7.5 hours by car, or 1.5 hours by plane + 45 minutes by car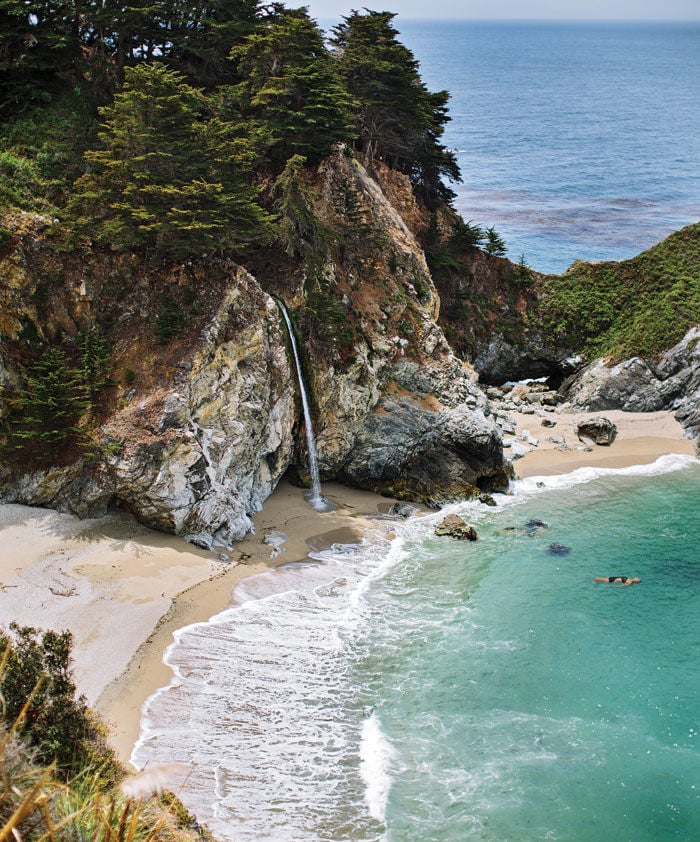 Big Sur
2. Mount Shasta
If you have extra time, Mount Shasta is well worth the distance. Located this side of the California-Oregon border, the dormant volcano peaks at more than 14,000 feet. There's also mountain biking and rock climbing at Bunny Flat. New Age folks believe the volcano has cosmic powers, so expect yoga, meditation, and other metaphysical pursuits, too.
Distance: 3.5 hours by plane to Redding + 1 hour by car
3. Salt Lake City
SLC is home to a burgeoning foodie community and 150 miles of bike lanes and trails. Check out popular farm-to-table eatery Avenues Proper and imbibe at Bar-X, a New York-style lounge with a long list of Prohibition-era cocktails. If you're missing beer, try Squatters, a Utah microbrew. Bonus: It's a quick 35-minute drive up the hill to Park City.
Distance: 2 hours by plane
4. Joshua Tree
No matter the trail, you're guaranteed an astonishing view, but we're partial to the rigorous Ryan Mountain summit hike and iconic (but more relaxing) Hidden Valley route, both of which lead to epic panoramic views. And don't forget your ropes for rock climbing. Beginners can start at Joshua Tree Rock Climbing School.
Distance: 2.5 hours by car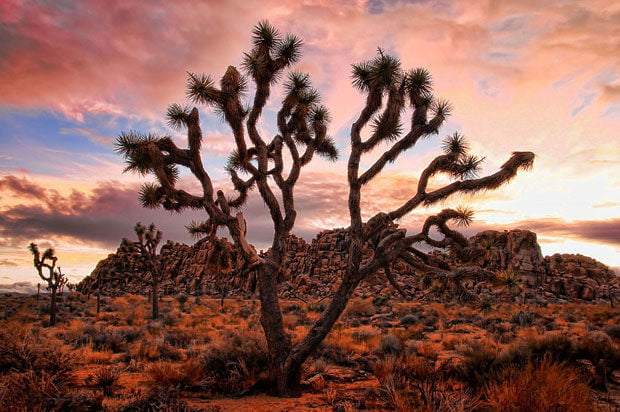 Joshua Tree
5. Mount Hood
This 11,425-foot-high dormant volcano boasts the only year-round skiing in the Lower 48. An ideal basecamp, Timberline Lodge has fireplaces, fine craftsmanship, and a prime location halfway up Mt. Hood. For non-ski bunnies, there's hiking, climbing, and remnants of the Oregon Trail.
Distance: 2.5 hours by plane to Portland + 2 hours by car
6. Haleakala National Park
No need for an Instagram filter; the sunrise at this Maui park is a dazzling display of fiery reds, blues, purples, and oranges like you've never seen before. Tour groups like Mountain Riders whisk you away in the wee morning hours and drive you up dark mountain roads to the 10,000-foot summit for the money shot. Once you've soaked up the kaleidoscope of hues, hop on the tour-provided bikes for a 26-mile ride back down the mountain. Beer and spirits lovers can hit up the Maui Craft Session at Sheraton Maui July 12.
Distance: 5.5 hours by plane to Maui + 1 hour by car
7. Idyllwild
Far, FAR removed from the SoCal glitz, this small town in the San Jacinto Mountains makes unplugging easy. Hikers can choose from more than 50 trails—like the popular Devil's Slide—in San Jacinto National Park.
Distance: 2 hours by car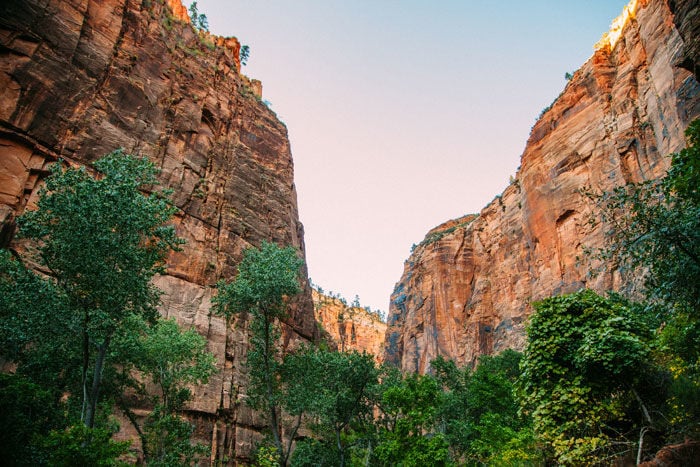 Zion National Park
8. Zion National Park
The trails at this Utah stunner range from the easier Emerald Pools Trail, dotted with waterfalls and richly colored green pools, to the 1,000-foot-deep canyon known as the Narrows for the more experienced hiker. Here, you'll walk along the riverbed and wade through the occasional chest-deep natural pool.
Distance: 7.5 hours by car or 3.5 hours by plane + 1 hour by car
9. Jackson Hole
In the winter, Jackson is a downhill skier's paradise, with notoriously steep runs and deep powder. In the summer, the area is great for all things outdoor, with access to some of the country's best mountain bike parks and hiking trails in Grand Teton National Park and Yellowstone National Park. Whatever the season, end your day at the Million Dollar Cowboy Bar and learn why the town is known as "the Last of the Old West."
Distance: 3.5 hours by plane
10. Ojai
Between the Spanish Revival architecture and fruit groves, Ojai is about as iconic Southern Californian as you can get. A stay at the incomparable Ojai Valley Inn & Spa is a must, but don't forget to visit the famous outdoor bookstore, Bart's Books, and new retro Americana boutique, Summer Camp, stocked with Pendleton flannel and vintage skis.
Distance: 3.5 hours by car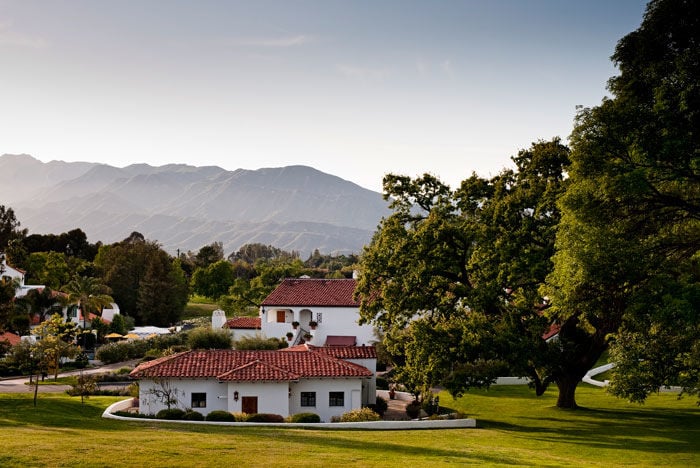 Ojai Valley Inn & Spa
11. Grand Canyon
You don't have to fight the crowds at this outdoor hot spot. Try the North Rim region, which sees 4 million fewer visitors every year (open May through October).
Distance: 8 hours by car
12. Yosemite National Park
There's nothing like the view of Half-Dome as you emerge from the tunnel on route 41. Take in the massive waterfalls, granite mountains, and supersized Sequoias as you hike, drive, or shuttle bus through the park. In Yosemite Valley, accommodations run the gamut from camping to the $459-per-night Ahwahnee Hotel. A compromise: Go for lunch and try the Ahwahnee Amber Ale, then stay at the more moderately priced Tenaya Lodge on the southern border of the park.
Distance: 7.5 hours by car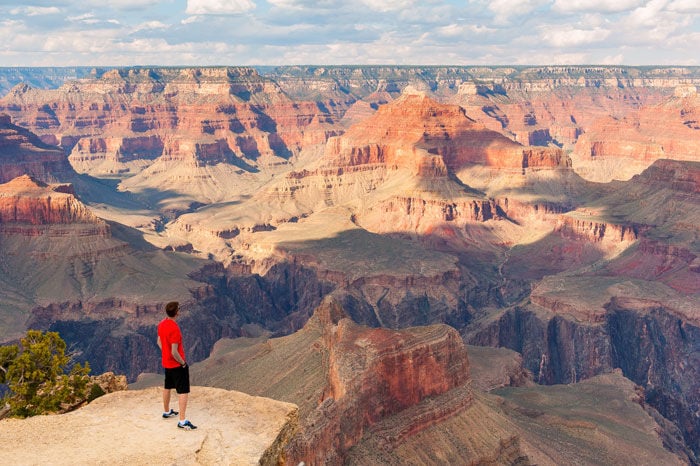 Grand Canyon
Cultural tours
13. Downtown Los Angeles
Forget Silver Lake and Venice; the buzzy Arts District is where the best stuff is happening. Grab your cuppa at Handsome Roasters before exercising that credit card at quirky gift shop Poketo. And to work off the Italian meal at Bestia? Archway Studio/Theater offers a Sunday morning yoga workshop—and stages theatrical shows at night. It's no wonder Ace Hotel recently opened an outpost here.
Distance: 2 hours by car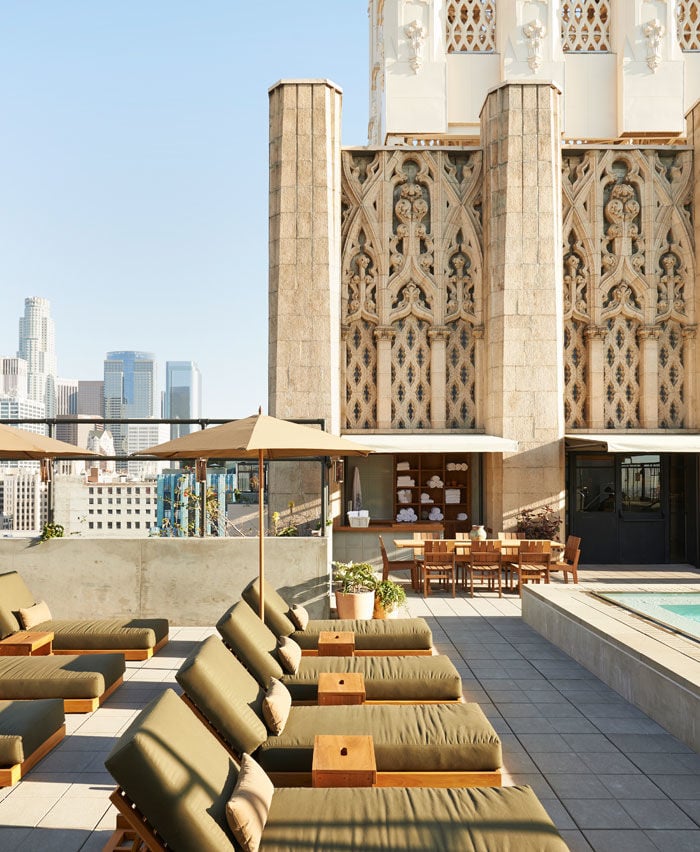 Ace Hotel
14. Mexico City
Mexico's capital is a hub for art, culture, and eclectic neighborhoods. Visit the enormous flea market Mercado de la Lagunilla Comestibles, a Greenwich Village-like area known as Condesa, and Museo Frida Kahlo, which was once the artist's own studio and living space.
Distance: 3.5 hours by plane
15. Pasadena
This city is more than the Rose Bowl flea market. It's also home to antiques in Old Pasadena, the Pacific Asia Museum, the only organization in SoCal dedicated to Asian art, and the Huntington Library, Art Collections & Botanical Gardens, a sprawling showcase with an original Canterbury Tales manuscript and four art galleries.
Distance: 2 hours by car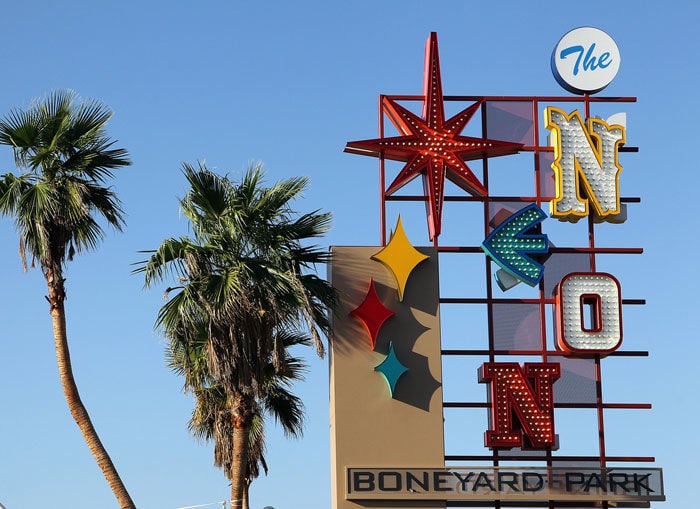 Neon Museum
16. Las Vegas
For art of a different variety, check out the Neon Museum, which displays vintage Vegas signs, and the Mob Museum, created by the same team behind D.C.'s International Spy Museum. At the Mirage, take a yoga class among dolphins in Siegfried & Roy's Secret Garden and Dolphin Habitat.
Distance: 5 hours by car or 1 hour by plane
17. Portland
The trendy West End neighborhood is a perennial favorite thanks to food carts along 10th Avenue, Powell's flagship bookstore, and the Multnomah Whiskey Library.
Distance: 2.5 hours by plane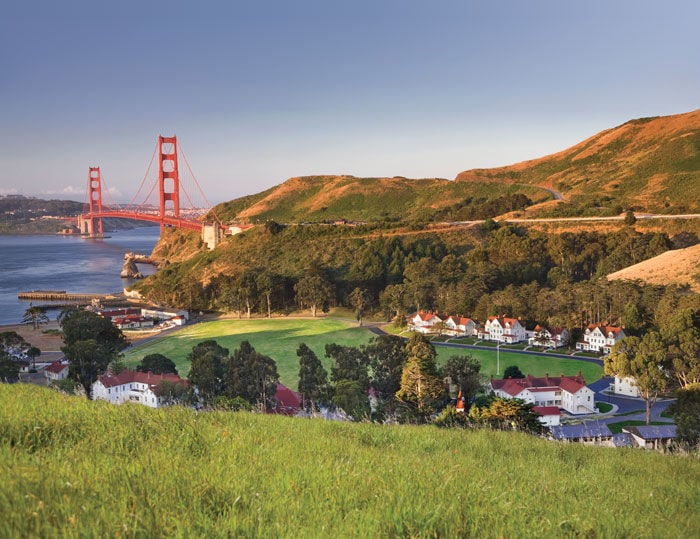 Cavallo Point
18: Sausalito
Italian Riviera or Bay Area harbor? It can be hard to tell in this bougainvillea-draped hillside town, just a 30-minute ferry ride from San Francisco. If the views aren't therapeutic enough, a stay at the Cavallo Point is sure to soothe. Set at the foot of the Golden Gate Bridge, the property offers an organic tea bar, cooking school, yoga classes, and healing treatments like acupuncture and hypnotherapy.
Distance: 1.5 hours by plane + 20 minutes by car
19. New Orleans
Beginning this month, you can skip the time-consuming layovers and fly direct to the Big Easy via Southwest Airlines. Spend those precious hours on a tour of the city's literary history, which includes greats like Tennessee Williams and Truman Capote; taking in some authentic jazz at the Frenchmen Street Corridor; or throwing back a few stiff Sazeracs. Party too hard? A cup of Café du Monde's strong chicory coffee and plate of its classic beignets should do the trick.
Distance: 3.5 hours by plane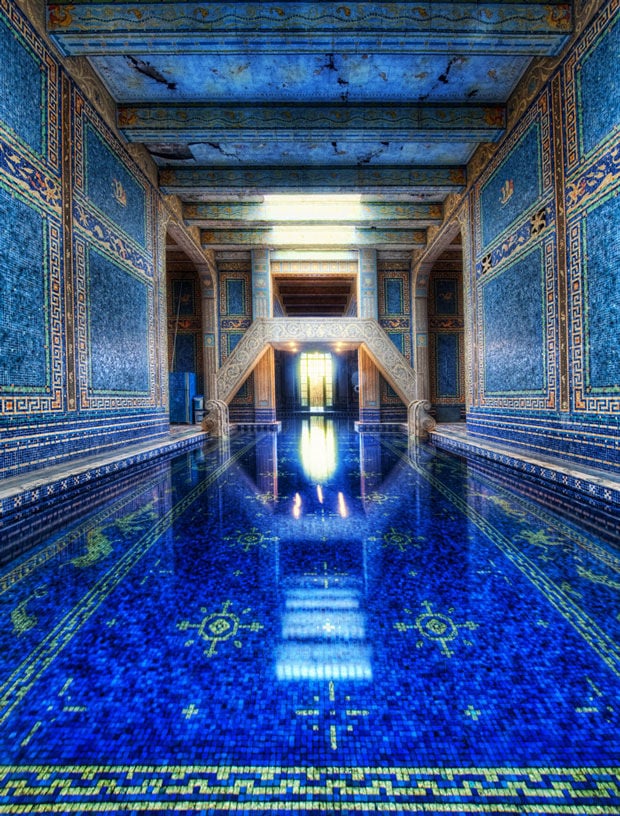 Hearst Castle
20. Hearst Castle
What was once newspaper impresario William Randolph Hearst's 250,000-acre playground—er, home—in San Simeon is now a design spectacle for tourists. Architecture aficionados will notice the Italian, Spanish, and Moorish styles, not to mention the property's many gardens, pools, libraries, and bathrooms. Guided tours only.
Distance: 6 hours by car
21. Santa Fe
After you've gallery-hopped, turquoise-shopped, and Hatch chile-dined, kick back at the Inn and Spa at Loretto, New Mexico, a beautiful property bathed in terracotta hues and historical Native American décor.
Distance: 3.5 hours by plane
Family-Friendly
22. The Arizona Grand
Wave pool, water slides, lazy rivers—the kids won't want to go anywhere besides the Oasis Water Park at this Phoenix resort. For big kids, there's a spa, golf course, tennis courts, horseback riding, and mountain biking.
Distance: 5 hours by car or 1 hour by plane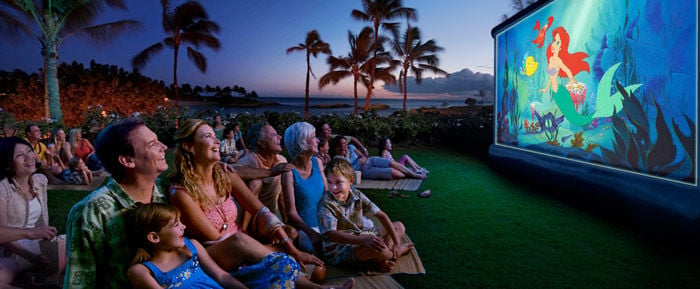 Aulani Resort
23. Aulani Resort
It's a long flight to Hawaii, but the kids are less likely to whine if they're headed to Aulani, a Disney resort just 30 minutes from Honolulu. Amenities and activities are plentiful and organized by age. Adults can do yoga on the beach, teens can indulge at the teen spa, and everyone can appreciate watching new and classic Disney flicks outside under the stars.
Distance: 6 hours by plane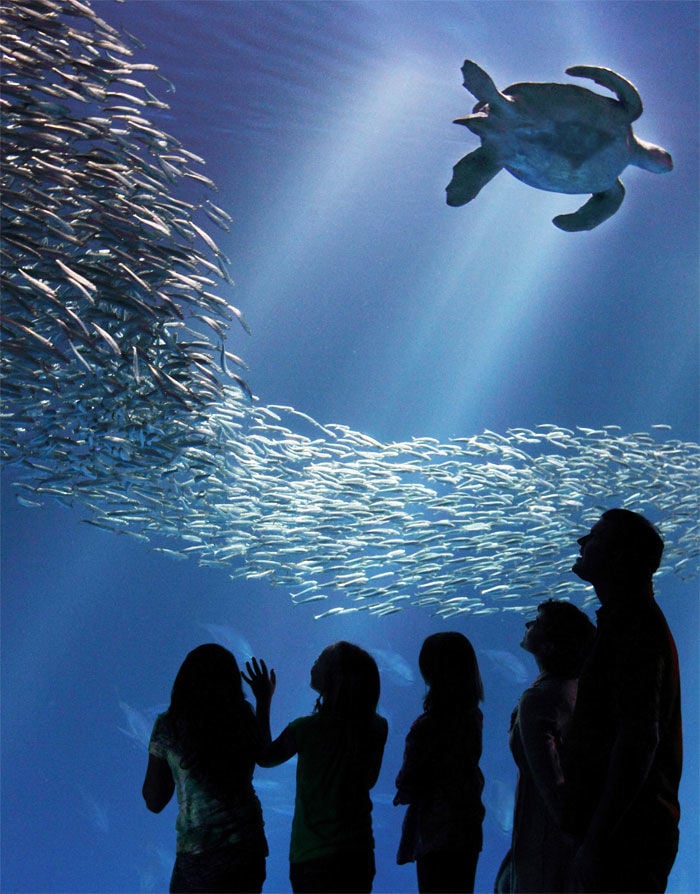 Monterey Bay Aquarium
24. Monterey Bay
The famous Monterey Bay Aquarium continues to dazzle youngsters with its floor-to-ceiling marine habitat displays, and beginning April 12, there will be a new tentacle-themed exhibit featuring squid, cuttlefish, and the world's largest octopus. Visit the shops on Steinbeck's muse, Cannery Row, and cruise along the scenic 17-Mile Drive, where you'll spot sea lions, multimillion-dollar mansions, and the famed Pebble Beach golf course. And when the kids are spent, check into Monterey Bay Lodge, located steps from the beach.
Distance: 1.5 hours by plane or 7 hours by car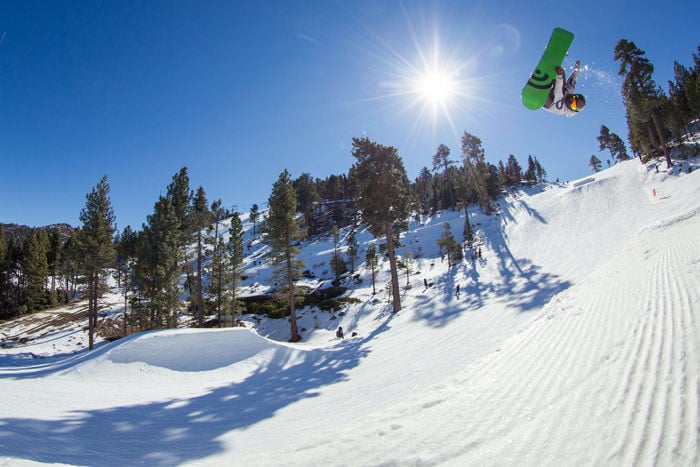 Big Bear
25. Big Bear
In the winter months, Big Bear Mountain Resorts is a popular choice for the little ones who want to try skiing and snowboarding. Come summer, they'll want to hit up the lake, where stand up paddleboarding and jet boat tours are all the rage. For fun of the less hair-raising variety, Big Bear Alpine Zoo, a rescue facility that rehabilitates species like bobcats and bald eagles native to the nearby mountains, serves up education, while a stroll through quaint Pine Knot Village offers a vacation staple: ice cream!
Distance: 3 hours by car
26-30: Food Stops & Festivals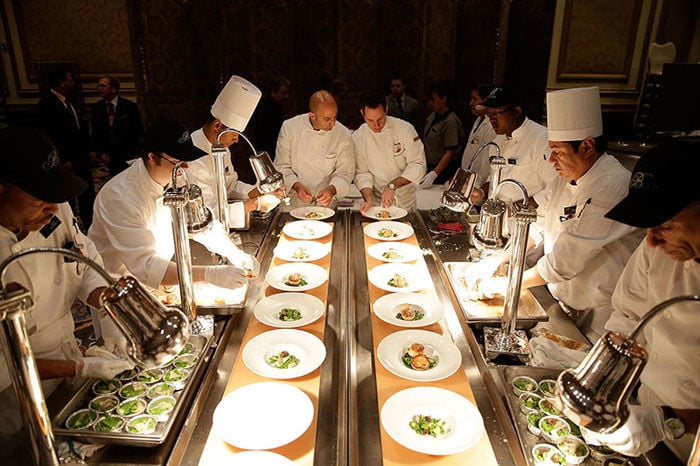 Isaac Brekken
MAY 8-11: Vegas Uncork'd
This Bon Appetit food festival comes with a strong pedigree that features the culinary stylings of Mario Batali, Daniel Boulud, and Thomas Keller, among others.
Serious fromage enthusiasts can taste artisan cheeses from 29 NorCal creameries.
Good Land Organics Coffee Farm
July is the best time to visit California's first coffee farm, located 10 miles north of Santa Barbara. Tours are held once a month and include tastings along with a hike through the orchards.
JULY 11-20: Napa Valley Festival del Sole
The 10-day fête celebrates wine with a side of music, ballet, and even yoga.
JULY 26-27: Oxnard Salsa Festival
This annual fest celebrates "salsa" in the fullest sense, including food, music, and dance. There will also be cultural crafts, home décor, and more, from 75-plus vendors.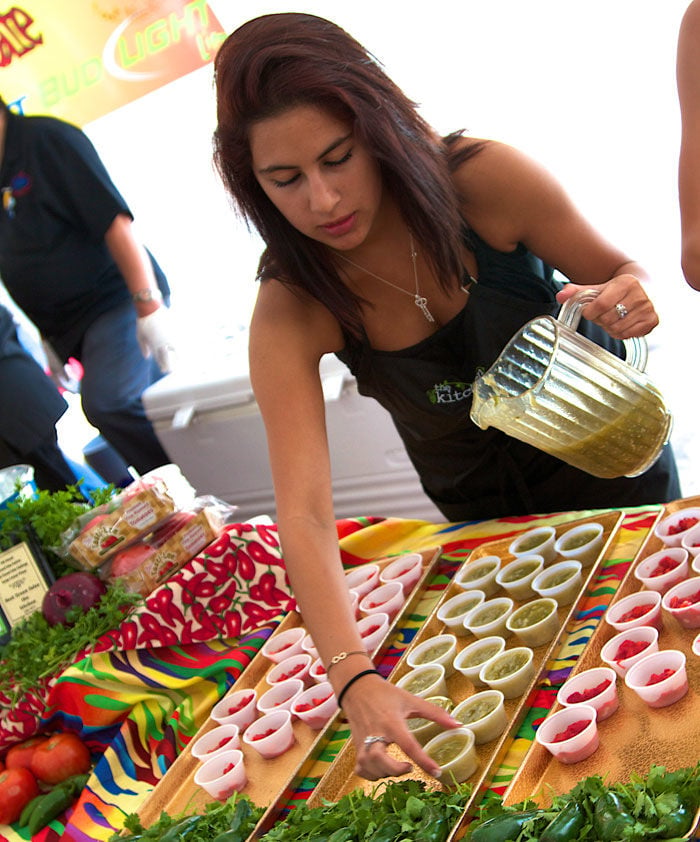 Oxnard Salsa Festival
AQUATIC ADVENTURES
31. Sayulita
Despite a recent uptick in tourism, the beach town near Puerto Vallarta has maintained its signature laid-back vibe. Mexican street eats are delightful, but the real draws are the watersports. Novices will appreciate the beach's beginner-friendly surf break. When you're done, kick back at the nicely priced Technicolor-splashed Petit Hotel Hafa.
Distance: 3 hours by plane + 45 minutes by car
32. Tahoe
In the summer months, Tahoe turns into America's most beautiful natural water park. Whitewater-rafting, kayaking, boating, sunbathing—they're all impeccable choices here. And a trip to picturesque Emerald Bay on the South Shore is mandatory.
Distance: 9 hours by car or 1.5 hours by plane + 45 minutes by car
33. Channel Islands
This underrated (and criminally under-visited) gem, just an hour's boat ride from Ventura, includes five nationally protected ecological islands that combine piercing blue water with 145 native species and miles of trails. Whale-watching tours are popular December through March.
Distance: 3 hours by car + 1 hour on the ferry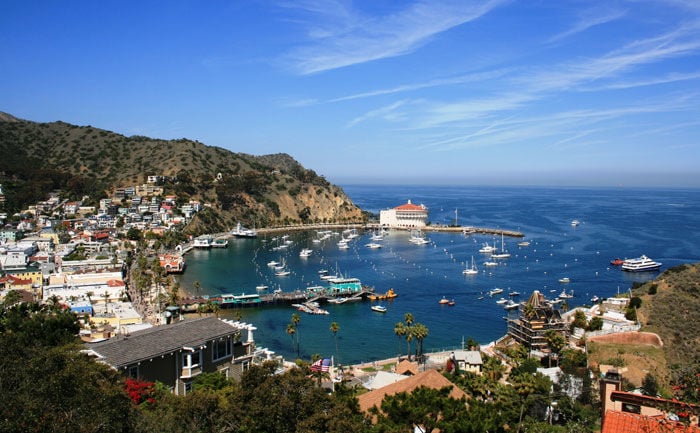 Catalina Island
34. Catalina Island
It's perhaps the only place in Los Angeles County that has crystal-clear water and no traffic lights. At this idyllic island just 22 miles from the City of Angels, divers, snorkelers, and fishing enthusiasts will delight in the watersport opportunities. The island's first resort spa, Island Spa Catalina, opens in June.
Distance: 1 hour by car + 1.5 hours by ferry
35. Laguna Beach
Not all water adventures have to be heart-pounding. In Laguna Beach, you can try laughter yoga on the beach, sneak away to the secluded cove at Victoria Beach, and check out the tide pools at Treasure Island. And a spa treatment at the grandiose Montage is never a bad idea.
Distance: 1.25 hours by car
Montage Laguna Beach
36. Pacific Grove
The rocky coastline of this town near Monterey is ideal for kayaking, surfing, and tide pool-hopping. Victorian-themed B&Bs are aplenty, ranging from the affordable Pacific Grove Inn to the luxurious Seven Gables Inn.
Distance: 1.5 hours by plane or 7 hours by car
37. Lake Havasu
More than just a spring breaker's houseboat haven, Havasu is home to the original London Bridge (and nursery rhyme namesake). With summer temperatures that average over 100 degrees, the hot-dry climate is ideal for boating and watersports. Head to the part of the lake that joins the Colorado River—the water is cooler there, but the desert rock formations in Devil's Elbow are stunning.
Distance: 5 hours by car
38. Cabo San Lucas
The Mexican hotspot is popular with spring breakers, but a little R&R is still possible. Hacienda Beach Club is located on the only swimmable beach in Cabo. The 22-acre private beach club offers homestyle accommodations with outdoor living areas, private pools, and full kitchens that beg for margarita mixing.
Distance: 2 hours by plane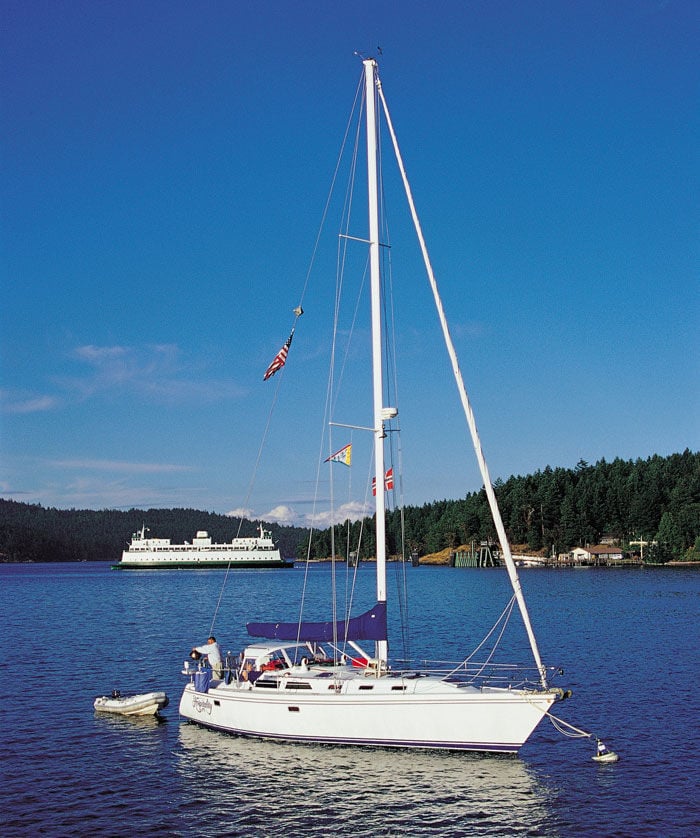 San Juan Islands
39. San Juan Islands
This chain off the Seattle coast contains hundreds of islands that can be explored by powerboats, sailboats, and kayaks. Summer months at San Juan can be crowded—park on the mainland and enter via bike or foot—but spring is an ideal time to visit, especially to see the blooming wild roses.
Distance: 3 hours by plane + 30 minutes by seaplane
40. Oahu
It's hard to go wrong with any beach on Oahu, but if you want to do it right, rent a car to check out the variety. Kailua and Lanikai on the North Shore are loved for their clear waters and powder-soft sand, while Waimanalo promises excellent bodysurfing. For diving, snorkeling, and dolphin-spotting, make a trip to Electric Beach on the west coast. In Waikiki, the Moana Surfrider received a $20 million renovation last December and the Royal Hawaiian recently underwent a $70 million facelift.
Distance: 6 hours by plane
Grape Escapes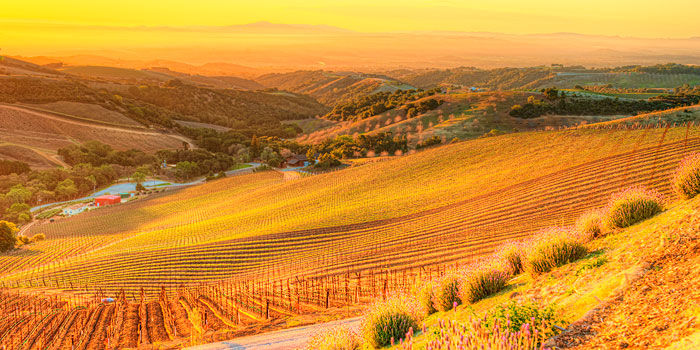 Paso Robles
41. Paso Robles
This vineyard town proves that you don't have to go far to enjoy good vino. The hilltop-perched Daou Vineyards is otherworldly, with pristine grounds, olive groves for miles, and panoramic views of the Paso Robles mountains.
Distance: 5 hours by car
42. Healdsburg
A more small-business approach to NorCal's wine country, amiable Healdsburg makes a great base town to explore. For a cool, laid-back vino experience, try Banshee Winery, which specializes in Pinot Noirs. And there's no shortage of gourmet eateries in Healdsburg, including Charlie Palmer's Dry Creek Kitchen. If you can swing it, a few nights at the opulent Honor Mansion is the ultimate getaway.
Distance: 8.5 hours by car or 1.5 hours by plane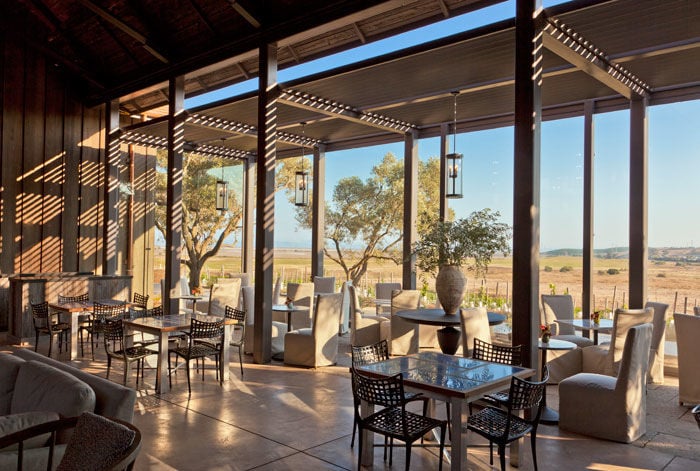 Rams Gate Winery
43. Santa Barbara
The aptly named "American Riviera" boasts more than 80 wineries within 30 miles stretching into the Santa Ynez Valley. If you want a more compact itinerary, try the Urban Wine Trail, a self-guided tour on foot (or by bike, for the brave) that covers nearly 20 downtown wineries and tasting rooms.
Distance: 3.5 hours by car
44. Sonoma
With more than 400 vineyards to choose from, a little guidance might help. Scribe Winery's appointment-only system guarantees a more intimate experience with its excellent menu, which includes Pinots, Chardonnays, and snacks. You can also buy a bottle, grab a blanket, and imbibe on their grassy lawns. Closer to San Francisco, the high-end Rams Gate Winery is housed in a stunning, Restoration Hardware-like building with wine flights, food pairings, and picnics.
Distance: 1.5 hours by plane + 1 hour by car
Desert Landscapes
45. Sedona
Part natural wonderland, part New Age mecca, part artist enclave, Sedona has something for everyone. The hikes at Cathedral Rock and Devil's Bridge are particularly awe-inspiring, while those inclined to more leisurely pursuits will appreciate the plentiful spa treatments (try the Spa at L'Auberge de Sedona). For a more DIY approach to rejuvenation, take a dip at the Grasshopper Point swimming hole in stunning Oak Creek Canyon.
Distance: 7 hours by car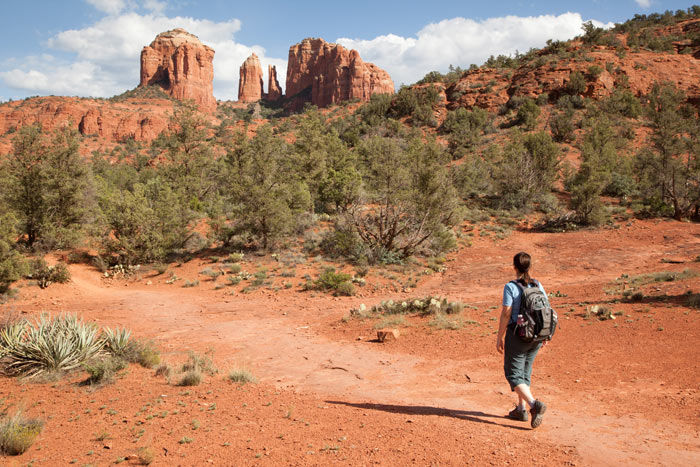 Cathedral Rock
46. Death Valley National Park
Ominous name aside, this geological beaut offers hiking, climbing, and, if you're lucky, fantastic wildflower-spotting. Stop by Artist's Palette, a colorful rock formation that resembles its namesake, and drive along Badwater Road for the best views. Camping is always an option, but just outside the desert is Furnace Creek Resort, where you can soothe those tired muscles in the pool. Best time to go: winter or spring, when temperatures stay below 100.
Distance: 5.5 hours by car
47. Palm Springs
Palm Springs is a hot choice for many reasons, but it's the glamorous pool scenes that keep visitors coming back. At the 1950s motor lodge-turned-rustic-chic Sparrows, dip your toes in the warm saltwater pool without worrying about a rowdy game of Marco Polo. No kids allowed. For a luxury stay, the Ritz-Carlton Rancho Mirage opens May 15.
Distance: 2 hours by car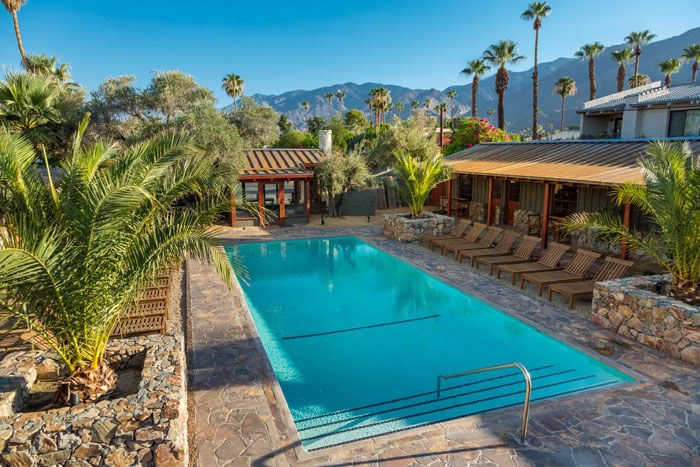 Sparrows Palm Springs
48. Anza- Borrego
Within just two hours, transport yourself to Borrego Springs, where psychedelic sunsets rule and outdoor activities run the gamut. Borrego, a designated International Dark Sky Community, also has some of the best stargazing. Psst: We love the recently refreshed La Casa del Zorro.
Distance: 1.5 hours by car
49-52: unique ACCOMMODATIONS
Airstream Trailer
A combination of "glamping" and the retro road trip, the sleek trailers from Airstream 2 Go are outfitted with flat-screen TVs, Egyptian cotton sheets, iPads, and more. Drive up the California coast from L.A., cruise through the Southwest, or create a DIY adventure.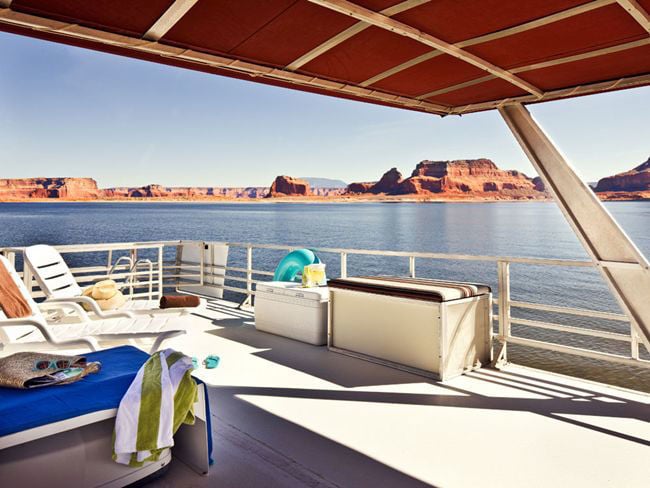 Lake Powell Houseboat
Houseboat
Lake Powell Resorts and Marinas offers an Intro to Houseboating weekend class, where you'll learn basics like piloting, anchoring, and towing on the blue-green waters of the Colorado River.
Lighthouse
Want seclusion? Spend a few nights cozied up in historic Point Arena Lighthouse off the Mendocino coast, with views of the Pacific, a wood-burning stove, and Tempur-Pedic mattresses.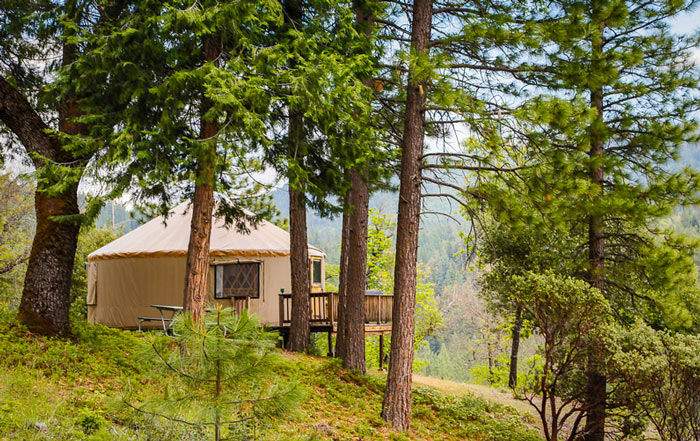 Yurt
Inside Yosemite Lakes RV Resort lies a secluded cul-de-sac neighborhood of generously spaced yurts. Each round-shaped tent-cabin has a bathroom, kitchen, satellite TV, and porch with a barbecue. A large skylight tops the cone-shaped ceiling, allowing a view of the full moon from your pillow. thousandtrails.com
BONUS!
53. Earthship
Go really off the grid at this Taos, New Mexico, eco-accommodation where you can kick back in private pods made from recycled and sustainable materials. The units recycle water, grow food—and come with Wi-Fi and Netflix.