On September 26, San Diego Magazine will honor local women who have made an impact on their communities during the annual Celebrating Women party at the Westgate Hotel. Several awards will be handed out to local ladies who make a difference, including Industry Leader, Nonprofit Visionary, Rising Star, Military Service, and Woman of the Year.
In the spirit of empowerment and entrepreneurship, we asked a few previous Celebrating Women winners and nominees what their number one advice is to young women who want to be successful and make a difference. This is what they had to say…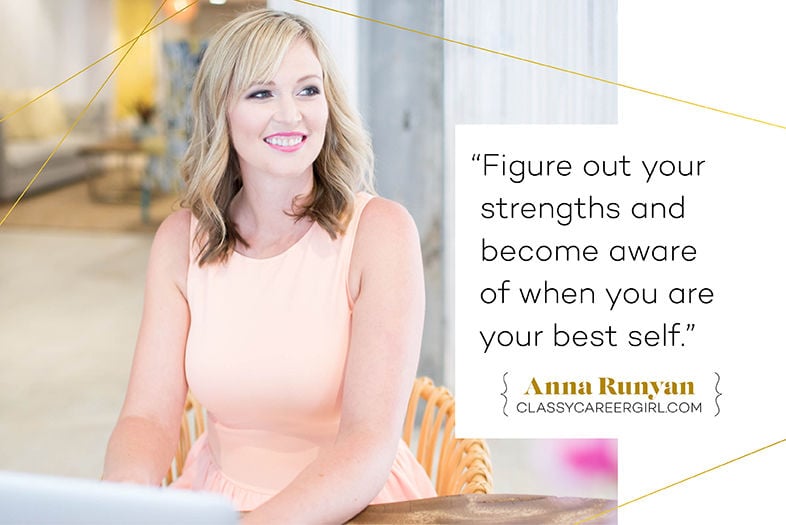 Anna Runyan
Founder and CEO, Classy Career Girl
You'll be the most successful and make the most difference in the world when you are fulfilled in your career. Figure out your strengths and become aware of when you are your best self. Then, fill your time serving others and providing value working in your strengths and using your talents as much as possible. Don't take jobs for the money. Take new roles to learn as much as you can and always be a little uncomfortable doing crazy things. Some people might think you are crazy and that's ok!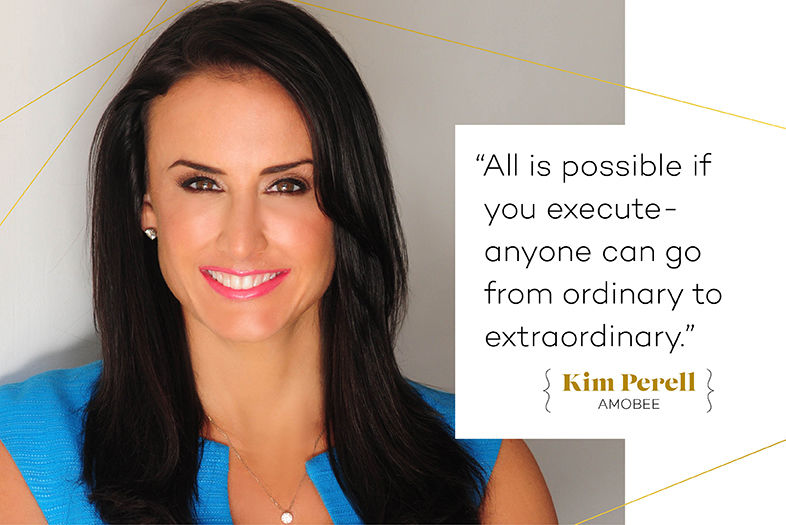 Kim Perell
CEO, Amobee
Focus relentlessly on execution and delivering results.  Let your outcomes and work speak for you and your capabilities, not your gender.  I was 23 when I started my own company from my kitchen table. The worst of times became the best of times, and that company grew to over 100 million in annual revenue.
Several acquisitions later, I am now honored to be CEO of Amobee, a leading global digital marketing company owned by Singtel, a 50 billion dollar publicly traded mobile carrier with 640 million subscribers.
All is possible if you execute — anyone can go from ordinary to extraordinary. Leverage the strength of those around you, write down your goals, show grit, and take action on your ideas and never lose sight of your vision and what drives you to it — your passion — and use it to drive outcomes.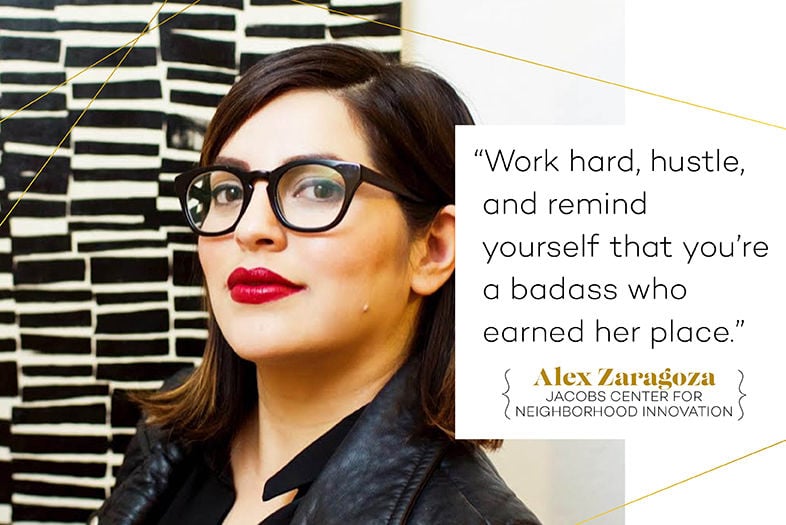 Alex Zaragoza
Digital Engagement Specialist, Jacobs Center for Neighborhood Innovation
No matter where you are, which position you're in — or which position you want to be in — remember that you've worked hard, are good at what you do, and deserve to be there. Women especially need to work to combat imposter syndrome — that feeling that we're frauds, that someone will realize we're not actually qualified for the position we're in or the promotion we know we deserve. We are conditioned to believe our hard work isn't enough, even when we know we kill it. Imposter syndrome does not serve you, especially if you're in a male-dominated field, and even more so if you're a woman of color. You know who doesn't worry about being a fraud or terrible at their job? The mediocre guy who barely phones it in and yet makes more money than you, who crushes it on the daily. Work hard, hustle, and remind yourself that you're a badass who earned her place. And when you're in that higher position, shut down any basic dude who questions why you're there.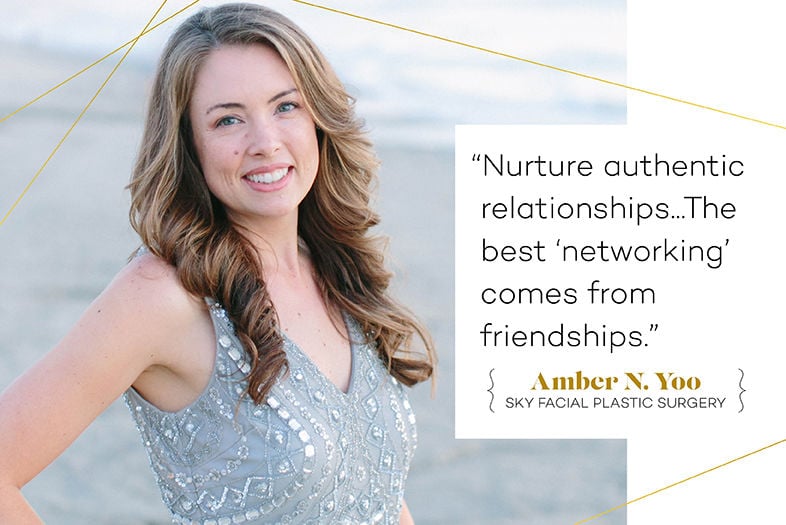 Amber N. Yoo, M.B.A.
Vice President, SKY Facial Plastic Surgery
Build a vision. Just like companies need clear vision and mission statements to be successful, so do we as individuals. Take the time to sit down with a pen and paper. Journal the type of person you want to be and what makes you happy in life. Then, nurture those qualities and pursue those activities with single-minded focus, saying no to opportunities that are not in your plan. Revisit your journal entry several times a year to anchor yourself and celebrate your progress.
Craft a compelling resume. Once you have a vision in place, choose your professional stepping stones wisely. Your resume is your most powerful marketing tool. Hiring managers want to see at a glance commitment and a clear connection between your past jobs and the open position. Think about how each role you accept will fit together on your resume to demonstrate either an industry or departmental focus. Commit to staying at each company for at least a year. Keep an active file of kudos and accomplishments that you can easily reference the next time you update your resume.
Nurture authentic relationships. Focus less on the quantity of business cards you distribute and more on the quality of business cards you collect. When you meet someone you respect and admire, dive deeper than the standard networking chit chat by asking friend-level questions about their story and life. Suggest a coffee or lunch date and develop a genuine relationship over time. The best "networking" comes from friendships.
Get involved. San Diego is home to more than 10,000 nonprofits. Decide on your causes, and then attend different fundraising events to see which charity organizations may be a good fit for you. Join a committee. Seek out and ask for leadership positions; don't wait for them to come to you.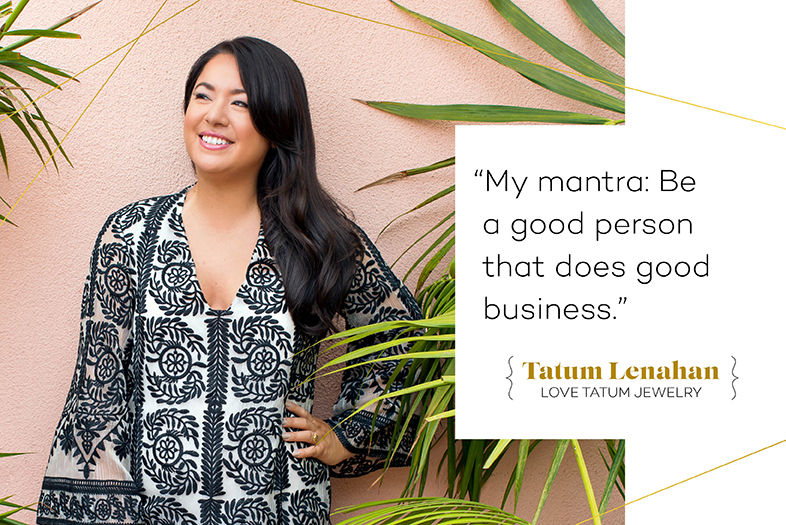 Tatum Lenahan
Owner and Designer, Love Tatum Jewelry
I believe that in order to be successful you need to have an extraordinary amount of courage and endurance.
1. Give yourself a list of goals, write them down and repeat them to yourself every day. Often times we self-sabotage ourselves before we even start. The tasks to reach your goal can feel overwhelming. Recognize this behavior and throw it to the furthest side of the universe! Press restart, and chip away at your goal every single day!
2. Create a lean business.  In the beginning it seems like you need an exorbitant amount of cash flow in order to even get your business off the ground. Well, I'm here to tell you that you don't. In this day and age we have so many free marketing tools such as Instagram and Facebook at our fingertips; all you have to do is utilize them!
3. You are the sum of the five closest people you surround yourself with. Remember when you were little and your mom would tell you, "you are who you hang out with"? This is so true and it translates into your business. Be mindful of keeping those inspiring, motivating, supportive individuals who believe in you close. In order to run a healthy business you need to keep a healthy mind!
4. My mantra: Be a good person that does good business. The majority of your business is based on word of mouth. The best thing I can tell you is that if you love what you do and you want to do this the rest of your life, it's not just about the next account or sale or instant gratification. It's about being a good person at the end of the day and providing good business. This is long-term thinking and I believe it's the right way of thinking.
5. Eyes on your own paper! We should apply this teacher mantra to our own business. In order to be successful you need to focus on your own path and stay in your own lane. Distractions are everywhere so focus on you, your company and what you stand for. The rest will come because you built it!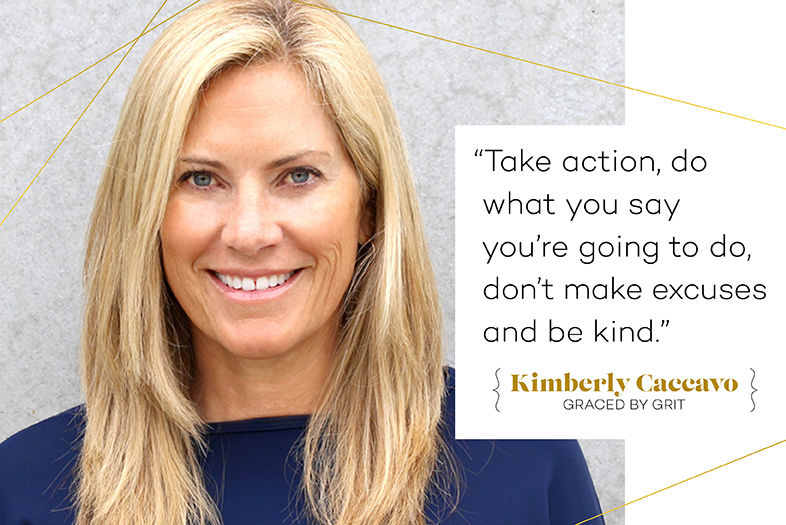 Kimberly Caccavo
Co-Founder and CEO, Graced by Grit
The best advice I have is to take action, do what you say you're going to do, don't make excuses and be kind.
---
The nominations for this year's Celebrating Women awards are still open. Know any inspiring San Diego women who fit the bill? Nominate them here!