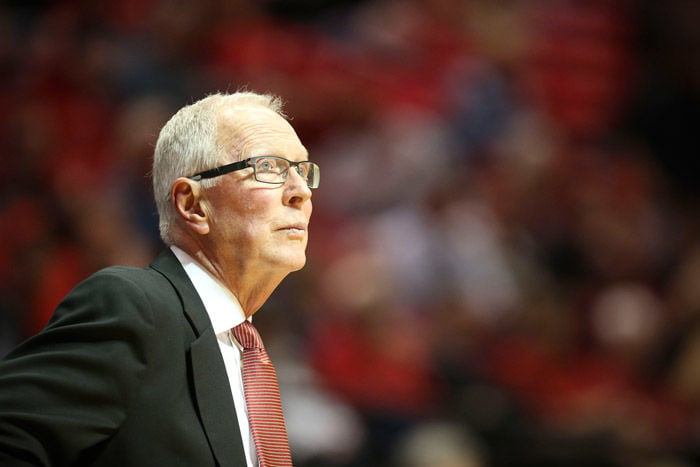 SDSU Coach Steve Fisher
Marching into madness
Fisher heads into tournament season
with a record-breaking 300 wins.
San Diego's sports fans didn't exactly storm Montezuma Mesa on the night Steve Fisher made his Aztecs coaching debut.
Though San Diego State basketball has become the hottest ticket in town, it was barely lukewarm on November 24, 1999, when just 2,697 showed up to watch Fisher—who'd led Michigan to a national championship 10 years earlier—direct SDSU to a 73–57 victory over UC Riverside at Cox (now Viejas) Arena. Empty seats outnumbered people by almost 4–1.
Things got ugly after that opening win, with the Aztecs finishing 5–23 overall and 0–14 in the Mountain West Conference. Plus, only true believers bothered to watch. The average attendance: 2,618.
"Our announced attendance was small, but it was a lot more than were actually in the building," says Fisher, laughing.
"We waited a long time for this to happen," says Tony Gwynn. "Coach Fisher deserves all the credit in the world. It's the hottest ticket in town."
It's easy for Fisher, 68, to smile. He's been the architect of one of the greatest turnarounds in college basketball.
In his 15th season, this March Fisher will take the Aztecs into the NCAA Tournament for the fifth straight season, and the seventh since he was hired. Before Fisher's arrival, SDSU had been a part of March Madness just three times, the most recent in 1985.
Fisher transformed a program that had had just one winning season in its previous 14 to one with nine straight 20-win seasons and 11 postseason appearances.
Today, a long row of championship and tournament banners hangs in Viejas Arena. The team is often nationally ranked, its games shown on national television, and attracts some of the country's top recruits. Every home game for two seasons has sold out, and the "The Show"—a loud, irreverent, and fervent flock of fans—has helped create one of the best environments in college basketball.
The underdog became a top dog, and Fisher says he tries to step back now and then to savor what he's built.
"I'm at a stage and an age where I have enjoyed the whole process," he says. "We talk to the players, 'Enjoy the journey. Don't get so caught up in what's next. Enjoy what's going on.' So yeah, I've been able to do that."
It took hundreds of small steps for the Aztecs to get where they are today.
Following Fisher's first season, the Aztecs signed talented transfer Randy Holcomb, a true difference maker, and climbed to 14–14. In year two, they broke a 30-game road losing streak. "We celebrated like we had just gotten to the Final Four," says Fisher.
In year three they got hot, won the conference tournament, went to the NCAA Tournament and finished 21–12.
It was a shocking transition, but Myron Epps—who came to SDSU the year before Fisher and was part of that first NCAA team—knew it was a sign of things to come.
"It was awesome," says Epps, now a high school coach in Tulare who also runs a youth program called the Aztec Basketball Academy. "It came on overnight. We became known on the national scene and started drawing the interest of kids all over."
The signing of Holcomb—"That was huge," says Fisher—and more winning seasons led to signing a succession of other talented players such as Brandon Heath, Marcus Slaughter, Kawhi Leonard, Jamaal Franklin, and Xavier Thames. The program has thrived on Fisher's formula of athleticism and defense, defense, and more defense.
Epps says SDSU attracts great talent because of Fisher's reputation.
"He can adapt and he can relate to kids from many backgrounds," says Epps. "We could confide in him and trust that he had our best interests at hand."
Another famous Aztec alum sees the same qualities in Fisher.
"When you play a style the kids believe in and you have a coaching staff that preaches playing together and believing in each other, that's the kind of thing that can happen," says Tony Gwynn. "We waited a long time for this to happen. Coach Fisher deserves all the credit in the world. It's the hottest ticket in town. And it's well worth it, too, if you can get in there."
But at 68, how long will Fisher coach?
In 2011, he signed a four-year contract extension through the 2014–15 season. As part of that deal, his longtime assistant, Brian Dutcher, was designated as head coach-in-waiting. Dutcher has taken on more of a central role so that when Fisher retires, the transition will be seamless. Fisher says he has absolute faith the program will continue to flourish and calls Dutcher a terrific coach and tactician.
Fisher wanted Dutcher designated his successor to send a signal to recruits that there will be continuity. In part, that was to counter rumors of retirement that were largely generated by schools competing with SDSU for the same talent.
"Some people were starting to say, 'Well, he's not going to be there for you. Who's going to be your head coach? You don't want to play for a guy you don't know,'" says Fisher.
Fisher will decide after each season if he'll continue or walk away. He has a terrific team this year and a touted class of recruits for next season.
"I could go longer, but I'm not going to go forever," he says, smiling. But he's still enjoying the journey.
"It's always more fun when you win."