Upon the news of Tony Gwynn's death, we immediately started working on a tribute and potential cover options. The Padres and the San Diego Hall of Champions were generous with their time and access to Tony's memorabilia and Petco Park. We ended up shooting the jersey he wore in the 1998 World Series, hanging in one of the player's lockers at the Petco Park clubhouse (Gwynn retired before Petco Park was finished, so he never played there). The team was on a road trip, so we enjoyed total access. We commissioned photographer Paul Body to do the shoot, which took place just a week after Tony's death. We all felt a little solemn that day. When we thanked Body for coming on such short notice, he replied simply, "I'm honored that you asked me to do it."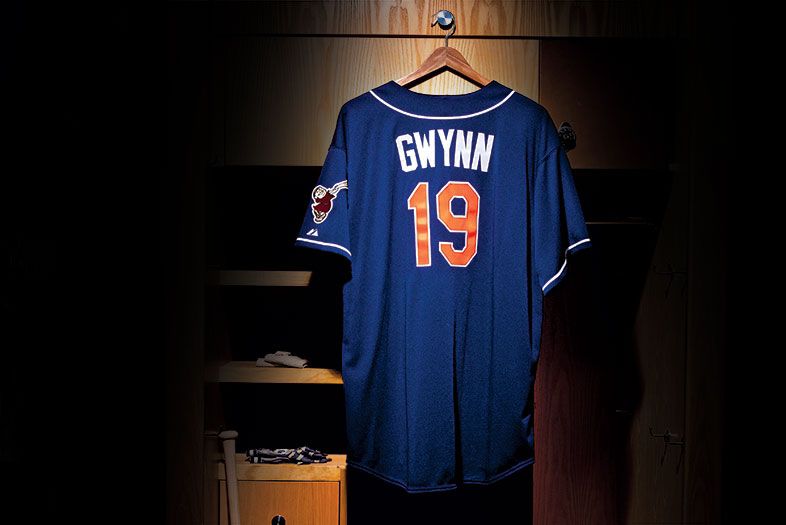 Photographer Paul Body's memories of Tony Gwynn:
"My favorite memory of Tony was when I was photographing him in my Studio, and we needed a prop. I have bats sitting around the Studio so I handed him one, and he took a couple classic Tony swings with it, and I remember thinking… Tony Gwynn is swinging my baseball bat… SWEET!!!"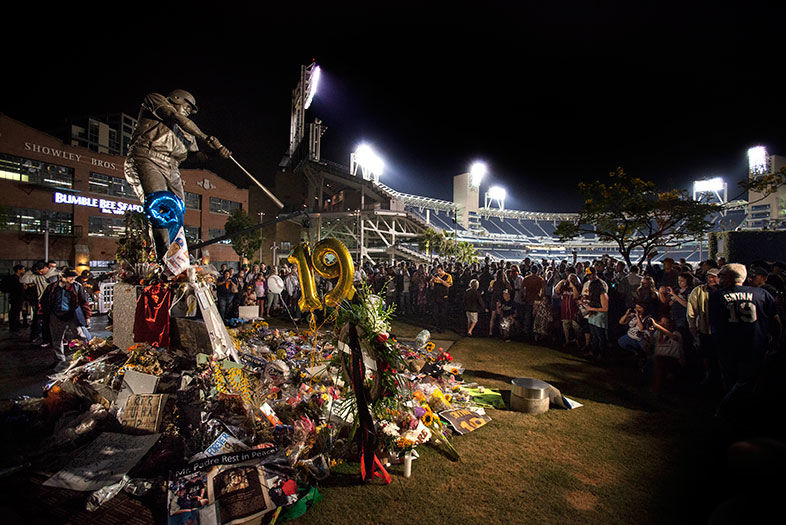 "The Memorial was really emotional. Usually when I'm shooting, I have a job to do and I don't get caught up in the emotion of things. But this was different—there were a few times where I got a little choked up listening to the speakers, and seeing the videos. If you're a San Diegan, you couldn't help but love Tony… he was so genuine, real, and one of us."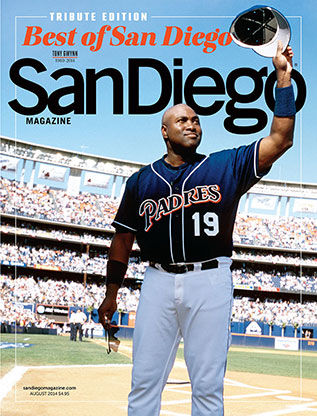 "As a San Diegan and somebody who has watched Tony since he was playing basketball at SDSU, it was humbling to be able to photograph Tony's items in the Padres Clubhouse. He was such a big part of San Diego, I felt like I got to honor him in my own way, which was really cool."
If you want to see the jersey in person, the Padres had it framed immediately after we shot it, and it's hanging at Petco Park now. The Hall of Champions have several of his items on display in Balboa Park.
VISIT
Hall of Champions
2131 Pan American Plaza (in Balboa Park)
San Diego, CA 92101
10am – 4:30pm Daily
In the end, we like seeing Tony's actual face on the cover, so we opted to use this photo in the tribute feature here.