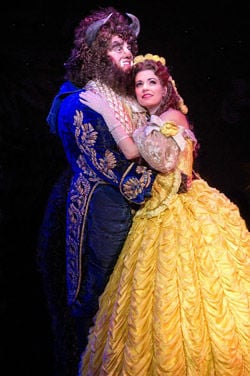 The Beast and Belle | Photo by Amy Boyle
Hilary Maiberger is currently starring as Belle in Broadway San Diego's presentation of Disney's Beauty and the Beast, which opens at the Civic Theatre on January 7. The San Diego State alum talks with San Diego Magazine about playing a princess, her future as a film star, and the local training that led to her dream role.
How would you say your experience in the music department at SDSU shaped you as a performer?
When I applied at the SDSU music department I had no idea what to expect. All I knew is that I loved to sing. I quickly found out that I had my work cut out for me. Taking voice lessons that focused on classical training (which I had never had before), theory, piano, dictation, aural skill, music history… it was the hardest, most fulfilling four years of my life. I was becoming a well-rounded musician, which I never really thought I could be. I wanted to be a pop star when I came to SDSU, and there I was singing Italian arias, playing piano, and composing music! I then decided to continue on to get my master's, and after that, there was no turning back.

Any teachers that were particularly influential?
Enrique Toral taught me that singing is so much more than just simply singing what is on the page.  It is about storytelling and taking people on a incredible journey. Enrique was not only a great performer, but an incredible and inspiring teacher. He put the emphasis on motivating acting choices, while teaching vocal technique. He was my first classical voice teacher and, really, my first acting teacher.
What advice can you give to aspiring actors in San Diego?
Practice, practice, practice. You can never practice enough! You have to put in the time and work if you really are serious about pursuing this career. I would also highly recommend taking dance and acting classes. I did not take any dance classes, and I frequently have trouble surviving a dance call. You've got to learn your strengths. If you are an amazing dancer, but a weaker singer/actor, do what you need to be better in those areas. If you're a confident singer, and not a strong dancer, take the steps to be a more confident mover. School is great for discovering who you are, and gives you lots of opportunities to fail. It is also very important to be a well-rounded musician. Darick Pead, who plays the Beast, said it perfectly, "You can't give of your heart if you're focusing on technique." I couldn't agree more.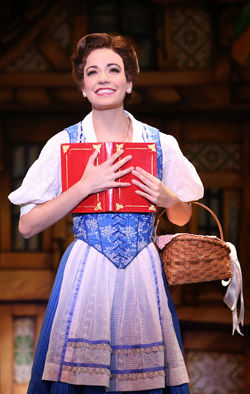 Hilary Maiberger as Belle | Photo by Joan Marcus
What are some things you miss about San Diego?
Oh how I miss the perfect weather, the beautiful people, and the amazing theater scene. And you can't forget the ocean. Lying on the beach for hours with not a care in the world. It feels like home. 

How does the theater scene in San Diego compare to other areas where you've performed?
I've performed in places where there is no theater so we perform in an ice arena that converts to a stage. Then there are places where there are four or five theaters in a two-mile radius.  I didn't really know how good the theater scene was while I was attending SDSU. There are so many places that can help you perfect your craft. Moonlight Amphitheatre, San Diego Musical Theatre, La Jolla Playhouse, The Old Globe… all incredible theaters.
Do you have a favorite role of all time? 
Belle. Hands down.
Why?
She is an incredible human being. Strong-willed, loving, caring, adventurous, spunky. She is everything I wanted to be when I was a kid which is why she was my favorite Disney princess. She was also my favorite because she had brown hair and brown eyes like me! 

Past roles you loved?
Jo March from Little Women. Like Belle, she's fearless and just plain awesome. 

If you could play any other role in Beauty and the Beast, male or female, which would you choose?
Lumiere. I love to make people laugh, and that character makes audience members belly laugh.
Do you see yourself possibly branching out to film in the future?
I would love to try film. I've been told I have the face for film. Not sure what that means but I'll take it.
Disney's Beauty and the Beast runs January 7 through 12 at the San Diego Civic Theatre downtown. For tickets, visit broadwaysd.com.