British Beginnings
Built in the Isle of Man's Ramsey Shipyard in 1863, the iron vessel was originally named Euterpe after the Greek goddess of music and poetry. Its first excursions as a cargo ship between the British Isles and India endured collisions, mutinies, and cyclones. After eight years, it was sold to the London shipping company Shaw, Savill & Albion Line to transport emigrants to New Zealand. It racked up 21 circumnavigations before it was sold to the Kingdom of Hawaii.
Fishing Foray
When the United States annexed Hawaii in 1898, the ship was reregistered to the US and renamed Star of India by its new owner, the Alaskan Packers Association. It carried salmon fishermen from its home port of San Francisco up to the Alaskan shores every summer until its retirement in 1923.
Deemed a San Diegan
In 1927, the City of San Diego purchased the Star of India for the Zoological Society as part of an ongoing campaign to market itself as a major city, envisioning that the ship would serve as a centerpiece to connect the bay to Balboa Park. World War II put that campaign on hiatus and forced the Navy to temporarily cut down the ship's rigging. Long-awaited historical renovations wouldn't come until 1951. Under new ownership of the Maritime Museum of San Diego, the Star took its first sail in 50 years in 1976.
Haunted Fame
With such a long history, it should come as no surprise that a few lives have been lost on the Star of India—a captain who committed suicide and a child stowaway who fell overboard are among the stories that have been passed down. Some visitors and past crews claim the ship is haunted, and it's been featured in paranormal investigation shows on Travel Channel and Science. Every Halloween, the Maritime Museum also embraces this reputation with a Haunted Tales storytelling series.
Kept in Ship Shape
The Star of India relies on volunteers for its upkeep. Step on board any Sunday at 7:45 a.m. and the museum will put you to work on routine maintenance needs—washing decks, touching up paint, and knot tying. Bigger projects, like replacing all 20 sails and dry docking, occur every 10 years and are reserved for professionals. Nearly 60 experienced volunteers take the ship out to sail every two years around the time of its November birthday.
155 Years Young
Celebrating its 155th birthday this year, the Star of India now reigns as the oldest active sailing ship in the world. If it had an odometer, Maritime Museum CEO Raymond Ashley predicts it would read more than 60,000 miles. In his eyes, "She's a spring chicken!"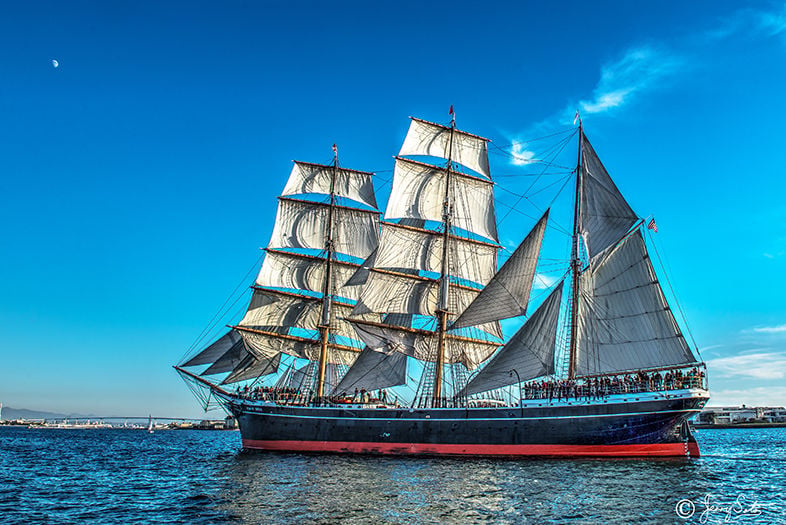 J.G.Soto