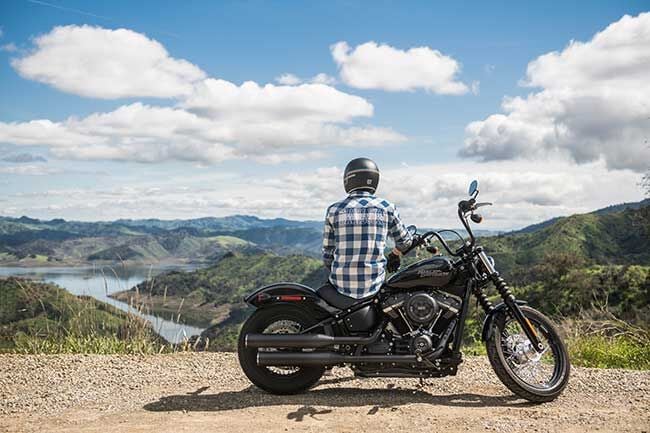 This post contains affiliate links to products and services. We may receive compensation when you click on links.
---
Full coverage motorcycle insurance is not a legal requirement. It can also be expensive, and if you're on a tight budget, it's an expense that might seem unnecessary. So, do you actually need to add those extras to your motorcycle insurance policy or are they just needless expenses?
What's the Minimum Motorcycle Insurance Required?
The minimum requirements differ by state but usually include specific amounts for bodily injury and property damage. In California, motorcycles are required to have the following minimum coverage amounts:
$15,000 bodily injury per person
$30,000 bodily injury per accident
$5,000 in property damage liability per accident
Compare Motorcycle Insurance Quotes & Save!
To find the best rates, please check all that apply:
Best match based on your answers above:
What protection does minimum liability insurance offer?
In addition to providing riders with the legal minimum requirement, the above insurance limits also provide certain protections in the event of an accident. If someone files a claim against you for bodily injury or property damage, you will be covered up to the maximum amounts stated by your policy. If you opt for the minimum, for instance, and there is a claim for bodily injury, you will be covered up to $15,000.But of course, the claim could be greater than $15,000.Experts often recommend calculating your total net worth and then choosing a coverage amount that is greater than this sum, thus protecting you in the event of an expensive claim.
What is Full Coverage?
Basic insurance covers you against injury and property damage claims from other parties, but what happens if your car is stolen or vandalized? What if you hit a deer or wall? Liability coverage won't help you there (unless the deer is particularly litigious), but your collision and comprehensive coverage will.
Collision coverage pays when you are involved in an accident, regardless of who caused that accident. Depending on the coverage options, the bike will be repaired or replaced.
Comprehensive coverage pays for damage caused by events outside of the rider's control, such as vandalism, theft, animal collisions, and weather.
Combined, these insurance options are known as "full coverage". In California, full coverage motorcycle insurance may also include the following options:
Uninsured/underinsured coverage: It has been estimated that 1 in 8 US drivers are not insured, causing a host of problems in the event of an accident. If you're hit by someone with no insurance (uninsured) or not enough insurance (underinsurance), this type of coverage makes up the shortfall.
Custom parts and equipment: Covers parts that were not installed by the original manufacturer. An essential addition for heavily modified bikes.
Roadside assistance coverage: Ensures that a roadside assistance service is dispatched to your location after a breakdown. They will help with roadside repairs and may provide a towing service.
Is it Worth Getting Full Motorcycle Insurance?
We have established that you only need basic liability insurance to stay legal, so why would you opt for full coverage?Well, first let's look at the price.The difference between basic coverage and full coverage can be substantial. The exact difference depends on many variables (including the bike you ride, where you live, your driving record, and your driving habits), but research suggests it is anywhere from 50% to 1,000% more expensive.However, it means your bike is covered for more adverse outcomes, ones that could be extremely costly without the insurance to protect it. With full collision coverage and comprehensive coverage, for instance, you should be covered if your bike:
Is damaged by extreme weather such as hail or flood
Is damaged by fire
Is hit by falling objects such as trees
Is involved in an accident caused by an animal
Hits an object such as a sign, guardrail, or tree
Is stolen
Is vandalized
There's also a deductible to consider. The deductible is the amount that you pay before the insurance company takes over. So, if the deductible is $500 and the bill is $400, you will pay for it out of pocket.Whether full coverage motorcycle insurance is worth it or not ultimately depends on the value of your bike and whether you're able to make any repairs yourself.If you drive a new and expensive bike and have minimal mechanical know-how, it makes sense to get full coverage. It means you won't be left significantly out of pocket in the event of an accident and can simply take the bike to the shop whenever there is an issue.If it's cheap and you know a thing or two about repairs, it might not be worth it. After all, you probably won't care as much if it's a complete write-off or if it's stolen. And if there are minor repairs or replacements needed, you can just do the work yourself.
At What Point Should I Consider Full Coverage Insurance?
It's hard to put an exact figure on when you should consider full coverage motorcycle insurance, but $5,000 serves as a good milestone. If your bike is worth more than this amount, you should definitely consider full coverage motorcycle insurance. If not, you might be better off with basic liability coverage as you could lose more money in the long run.It depends on many different variables though. For instance, if the bike is your main mode of transport then you'll want more coverage so you can arrange a quick solution. It also makes more sense to get full coverage motorcycle insurance if the quotes are reasonable, so you should always run comparison searches and see what prices you get.
Is it Illegal Not to Have Motorcycle Insurance?
Yes, you are required to have insurance in most states. In California, you can face the following penalties if you are not insured:
First Offense: A fine of between $100 and $200
Subsequent Offense (within 3 years): A fine of between $200 and $500
You are also subject to assessments totaling $26 for every $10 in fees, equating to a minimum of $260 for a first offense.
FAQs about Full Coverage Motorcycle Insurance
Why is motorcycle insurance cheaper than auto insurance?
As the most basic form of insurance is liability coverage, insurers are more concerned with the damage that a vehicle can do as opposed to the damage that can be done to it. Where motorbikes are concerned, they are relatively small and light compared to cars, so they don't cause as much bodily harm or property damage to others.
How much does comprehensive and collision coverage cost?
It depends on the value of your bike, your driving record, and a few other factors. Run a few comparison searches to get a better idea. If the prices are high, check with the insurer's discount options, as there are many ways you can bring the prices down.
Do I need collision and comprehensive insurance in California?
No, they are not required by law and only bodily injury and property damage liability are required. Whether you "need" them for personal reasons is entirely your decision.
What is not covered by comprehensive and collision insurance?
Your insurance company will provide you with more details regarding exact coverage. In most cases, however, full coverage will not cover you for damage sustained during track days or commercial use. The same is true for auto insurance.There are insurance companies that provide specialized policies for racing and commercial use.
Summary: Is Full Coverage Motorcycle Insurance Worth It?
Whether full coverage motorcycle insurance is required or not is entirely the rider's choice. It covers many eventualities that basic coverage doesn't touch, including "acts of god", animal collisions, theft, and vandalism, but it can be expensive, and if you ride a fairly old and cheap bike, it might not be worth it.