Seven-year-old Sierra Kerr is her dad's "mini-me." They have the same blue eyes, the same sun-bleached hair, and similarly amiable dispositions. But Sierra has inherited more than her dad's facial features.
At just 57 pounds, Sierra can launch and land skateboarding maneuvers comparable to those flaunted by grown men three times her size. Her repertoire of tricks includes frontside 360s, alley-oops, and disaster stalls. And if she continues to follow in her father's footsteps, she'll just get more radical with age.
Her father, Josh Kerr, professional surfer and Australian native, is at the vanguard of competitive surfing. He just finished ninth in the world after the Billabong Pipe Masters event in Hawaii, where he was cheered on by Sierra and the rest of his family. Last September, he premiered his self-titled movie, Kerzzy, at the La Paloma Theatre, featuring his progressive skateboarding-inspired aerial maneuvers. The place was packed with young amped-up surfers studying Josh's every high-flying move. Sierra made a cameo in both the movie and at the event, telling the audience she has the world's best dad.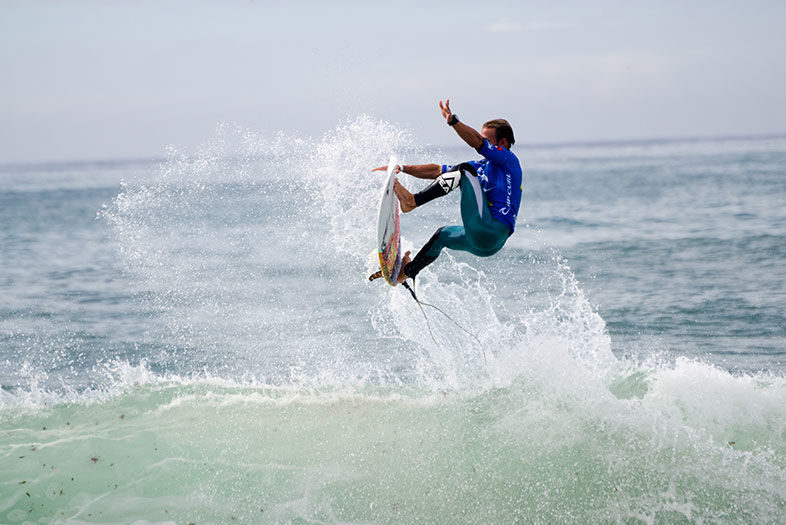 Just like her father, Sierra motivates people of all ages to push the boundaries of extreme sports, regardless of gender.
Josh commenced his first competitive world tour circuit with the Association of Surfing Professionals the year Sierra was born. Through a combination of nature and nurture, she innately took to extreme sports, like her dad—and at an age when most young girls shy away from risk-taking activities.
But Sierra has fearlessness embedded in her bones. When asked how old she was when she learned to skate, she proudly specifies four—and on a Barbie skateboard.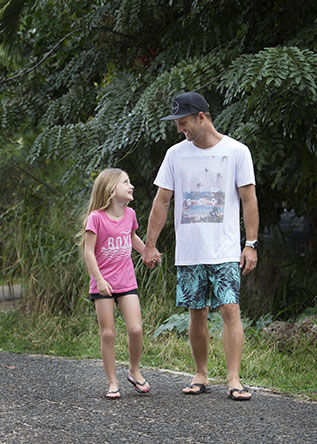 As they both recall the memory, they laugh and debate details of the event. "It was so cute," Josh remembers. "And it was a natural flow, really. I would always put her on the nose of my longboard, and soon she wanted to skate on her own."
Now, three years later, she no longer needs her dad's assistance. And she doesn't call him "coach."
"I don't exactly like to listen when he tells me advice," the skating phenom says. "When he tries to tell me what to do, I say, 'You're trying to coach me, Dad! I want to go over here and try to figure it out myself!'"
"Yeah, she doesn't exactly like to be micro-managed," laughs Josh. "I think she gets that from me."
Her independent nature has fueled a self-confidence that's evident in and out of the skate park. Rather than subduing her girly-girl individuality, she proudly displays it, regularly donning something pink, ruffled, or Roxy.
On almost any day of the week, if she's not traveling the world to support her dad during competitions, Sierra can be found hitting the tile at the Y in Encinitas, dropping into 11-foot bowls or frighteningly steep vert ramps—all while remaining pretty in pink.
But her spunk doesn't make Josh nervous. "I'm confident that she can do these things now," he says. "But as the saying goes, 'You never know fear until you have a child.'"
Sierra, however, is undaunted by new heights and has impressed fans worldwide, especially her 23,000 Instagram followers. After a few scrolls through her feed, you'll see the frilly feminine outfits and her fearlessness. You'll see her sweet charm and short videos featuring her skateboarding prowess. And you'll see an inspirational athlete.
Just like her father, Sierra motivates people of all ages to push the boundaries of extreme sports, regardless of gender. At the age of six, she started to gain popularity, romping around skate parks and impressing all with her princess-like ensembles and mature maneuvers. This quickly encouraged other girls to embrace their innate femininity, and, more importantly, to disregard naysayers who say girls can't skate. In a male-saturated sport, Sierra began to influence young ladies everywhere—a goal she still focuses on, even at such a young age.
"I like to inspire girls to skate and to surf," Sierra says in between hearty bites of the blueberry muffin she shares with her dad. "I have guy friends that I hang out with at the skate park, and then I have my girl friends. When I'm with my girl friends, I'll teach them how to skate, and they'll teach me how to do their stuff."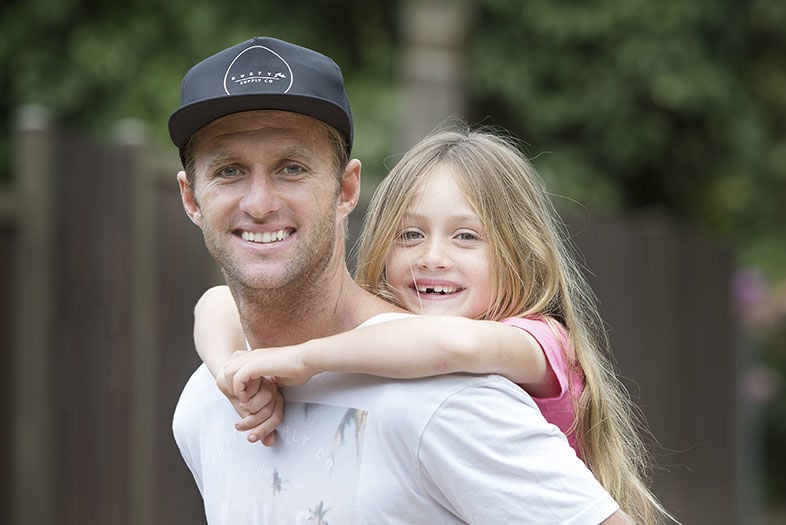 Recently, the pair attended the Exposure skateboarding benefit event held last November in Encinitas, which promoted awareness for women skaters and raised money for survivors of domestic violence. While Josh signed autographs, Sierra gave a skate clinic to all ages and participated in a 10-and-under demo session.
"I think she's getting girls to embrace extreme sports by just doing what she's doing, and being who she is," Josh says. "Through social media, she can show girls that you can be who you are and still do what the boys are doing. And I think she's gained confidence because of this."
Like all fathers, he just wants his daughter to be happy. "If nothing else comes of all of this in terms of a life-long career, I think the self-assurance and lifestyle she's gained from this is just as important."
But she is his daughter, after all, and radicalness runs through her veins. "I want to be a professional surfer and a professional skater when I'm older," she says. "Or an artist. I really like drawing like Pablo Picasso."
"She definitely didn't get that from me," Josh quips. Ask them what else they have in common, and as if rehearsed, they both stick out their tongues sideways, a silly trademark face they both make when launching massive aerial maneuvers. Their smiles are the same, too—only hers has a missing baby tooth.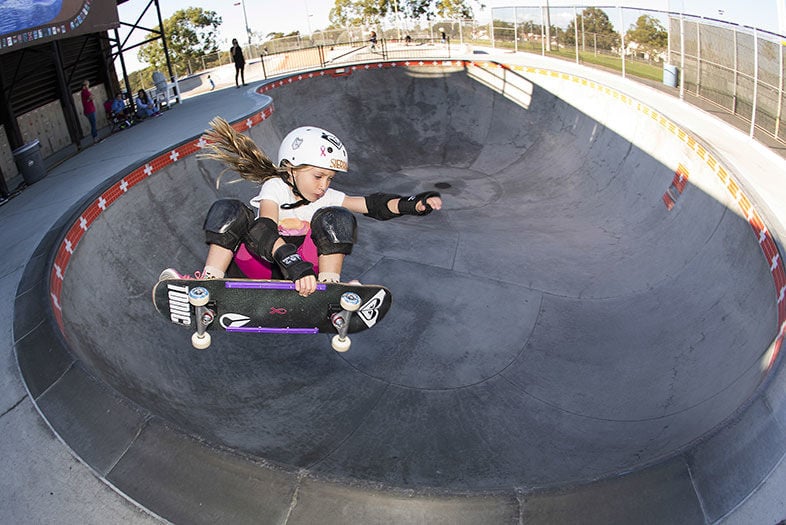 Photography by Joanne Barratt Photography