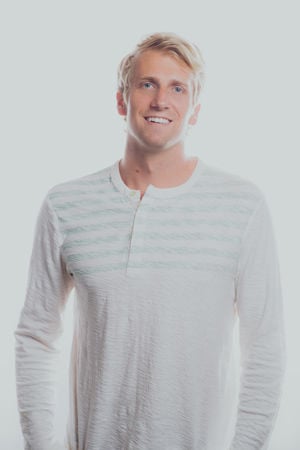 I'm From…
I was born and raised in Ft. Collins, Colorado. I went to college in Boulder, Colorado, living there for seven years before moving out to our current home in Encinitas, California.
I'm currently shooting/working on…
I'm currently shooting all of the e-commerce product and on model photography for Surf Ride. My wife, Shelby, and I also photograph 30 weddings each year in addition to photographing a myriad of lifestyle shoots for a variety of companies, and blogs.
My photography was featured in… January 2013, Tastemaker page
I'm so pumped to have our work featured. How cool is Kelli?! One of my favorite parts about my career is being able to spend time with and tell the story of such incredible and talented people. Kelli is one of those people who is just overflowing with talent, and is such an inspiration to so many, yet remains so humble and kind. Shooting with Kelli is always fun because she has such a fun and unique style, and is very easy going. Obviously, I love working with her whenever I have the chance.
A personal project I'm working on is…
One project that I think is just slowly evolving into a lifetime project is my continual documentation of surf culture. I really love and admire the work of Leroy Grannis and Ron Stoner. I'm drawn to the way that they photographed the surf culture of their day. I love getting in the water and actually shooting surfing, but more than that I love cruising around as a fly on the wall and shooting the unique and vibrant surf culture here in Encinitas.
My favorite thing to photograph in San Diego is…
The unique small town surf culture that seems to permeate every aspect of Encinitas life.
What inspires you…
I am inspired everyday by my family and my surroundings. I am so thankful to have a beautiful wife and a rambunctious little boy that are always keeping me on my toes and reminding me of my remarkably blessed life. I often times find myself standing in complete awe of the beautiful world our Lord and Creator has made for us and find such purpose and inspiration in trying to share that beauty and that story with others.
If I wasn't a photographer, I'd be a…
If I could restore classic cars for a living I'd do it. I love classic cars, and to my wife's dismay, I have owned more than my fair share of them. My grandfather was a diesel mechanic and at 15 years old I was under a hood with him and my dad. Both classic cars and photography give me that feeling of preserving the past, and I love that.
See more of his photography at: