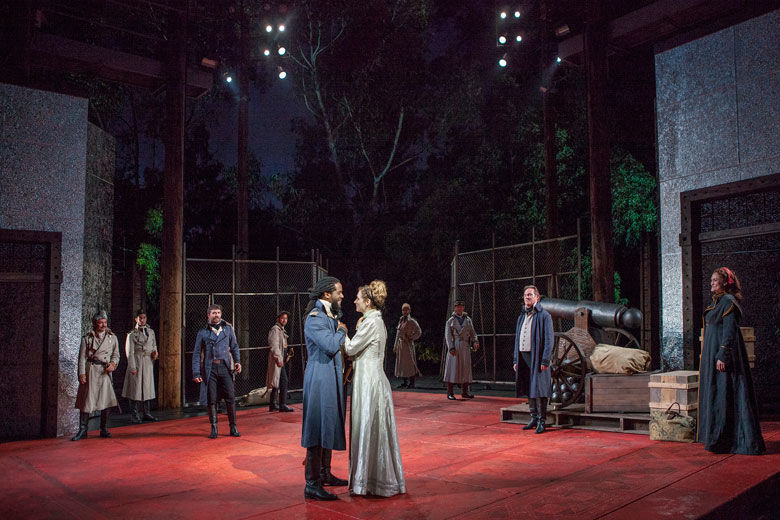 Jim Cox
From the first puff of smoke from Iago's cigarette, which opens the play, to the entrance of the valiant Othello, the audience is swept away to the world of a classic Shakespearian tragedy. The play is performed in The Old Globe's Lowell Davies Festival Theatre, an open-air space in the likes of which Othello would have first been seen by audiences in the early 17th century.
Blair Underwood stars as Othello, a Christian Moor and Venetian general, who has just won the heart of the young, fair Desdemona, played by Kristen Connolly. Emmy Award winner Richard Thomas intrigues as Iago, who narrates the audience through his plot to unhinge Othello.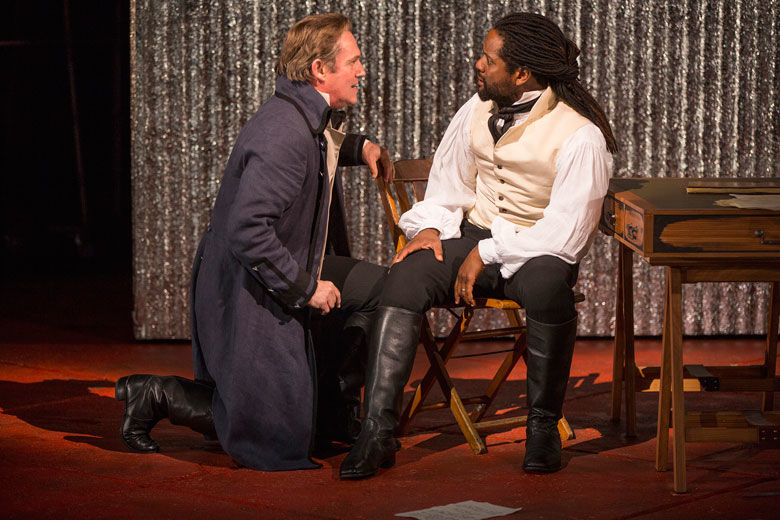 Jim Cox
Honest Iago, to which he is referred, is truly honest with the audience members as he elaborates his scheme to them each step of the way. Though the words are by Shakespeare, the play just as much belongs to Iago, who uses the characters as pawns to do his own will as he "pours pestilence" into the Moor's ear.
Othello is directed by The Old Globe's Artistic Director Barry Edelstein, who is recognized as a Shakespeare scholar and has directed almost half the plays from Shakespeare's 37-play repertoire.
This traditional production of Othello can be seen at The Old Globe through July 27. For more information and tickets, visit theoldglobe.com.