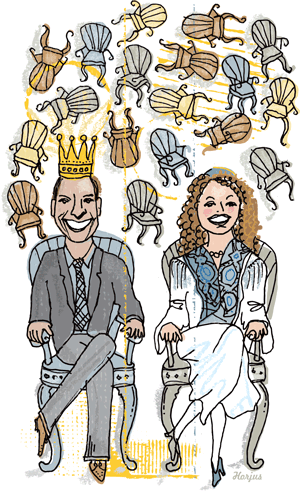 When Bob Filner won the mayor's race, Lorena Gonzalez, the triumphant labor leader who helped make it happen, sent out a shot across the bow.
Filner's win, you see, will rock San Diego's establishment.
Gonzalez said in a recent Voice of San Diego article, "The San Diego 20 becomes the San Diego 200," using a new nickname for the city's small circle of power brokers.
Then came the countershot. In the same article, Vince Mudd, the businessman and office-interior maven who rotates on the commissions and task forces, put a challenge to Filner.
Mudd said it was up to the new mayor and his staff to "mend fences" with the business community.
This brought a sharp response from Evan McLaughlin, the political director of the Labor Council and Gonzalez' top aide.
"The San Diego 20's arrogance will live on even if their relevance does not," McLaughlin tweeted.
The San Diego 20! Who is this amorphous blob of big-headed bozos? What will happen to them?
I picture angry mobs throwing them off Point Loma's southern cliffs. The revolution has come.
McLaughlin is defensive when I ask him who they are. He won't name names. Instead, he offers general criteria: Look at the rolls of the Chamber of Commerce directors, he says. The San Diego 20 live in La Jolla, vote Republican, and "watched Dan Fouts play at Jack Murphy."
That seems like more than 20. I've been to dinners where at least 1,000 people fit that description. Moreover, the one confirmed card-carrying member of the 20—Mudd—doesn't fit that criteria very well.
"I'm a brown guy, who started his own business, and I live in Poway," he explains. And no, Mudd never saw Fouts play in the old Jack Murphy Stadium.
I go back to Gonzalez. Who are these 20 that labor and Filner are displacing?
"I want to be clear that we never said we would get rid of the 20, but they should be supplemented," she says.
When I tell her that I have been teasing Steve Cushman, the perennial port commissioner and dealmaker, about being in the 20, Gonzalez confirms that Cushman is definitely one of the San Diego 20.
Yes! Now I have two of the 20 down. Even better: I've identified the leader of them all!
"Steve Cushman is the king of the San Diego 20," Gonzalez confirms. "But he worked with us and we're not saying, 'No Steve Cushman.' We're saying Steve Cushman should sit next to Rabbi Laurie Coskey." Coskey is the executive director of the Interfaith Committee for Worker Justice.
I call Cushman, who tells me Coskey is actually his rabbi. This, obviously, blows my mind.
Turns out, Cushman may indeed have to change to stay in the thick of it. After the election, he and allies pressed the City Council to get him yet another nomination, and a fourth term, on the port commission.
He almost had it, but it wasn't meant to be. Maybe things are changing.
Life would be nice and simple if we could blame the city's dysfunction on a small batch of bozos. But when you drill down, it's a bit more complicated.
Even Cushman, the king, doesn't fit the criteria for the San Diego 20.
Gonzalez has told me that being an alumnus of San Diego State University is a common thread among the San Diego 20.
Cushman never went to State.  "I was too dumb to get in," he says.
He's been smart enough, though, to embed himself in San Diego's most important conversations for decades.
Filner and the new Democratic coalition see the value in old guys like him.
They'll just make them sit next to their rabbis.