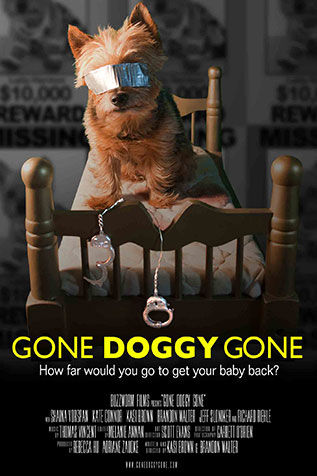 It's not another "cute dog movie," warns filmmaking duo Kasi Brown and Brandon Walter. They co-wrote, directed, and starred in Gone Doggy Gone, that premiered this past weekend at the San Diego Film Festival. The comedy is generating buzz as it continues to win a ton of awards. It also features UCSD alumna and actress Shania Vorspan, who plays a "crazy and likeable" dogsitter. Brown and Walter chatted with us about their inspiration and creative process.
San Diego Magazine (SDM): What inspired the film?
Brandon Walter (BW): Kasi [Brown] had a dog sitter that took her dog Laila to the movies, to get her nails done, and she'd send all these photos to Kasi. Then, Kasi would call me and be like "Oh my god this is crazy…she's treating her like a child" and I said to her, "What if she never brought your dog back?" Because one night…she kept bringing her back later and later, texting "I love your dog"…and the idea just grew from there.
Kasi Brown (KB): And then of course we started seeing how popular pushing your dog in baby strollers was and carrying it in a Bjorn…and dressing it—all the dog boutique stores.
BW: You don't really notice people with dogs, treating them like babies…but once you do, you see them everywhere.
KB: And more people are calling themselves "Mommy" and their dogs their "baby"…
SDM: You wrote, directed and starred in the film. Tell us about that process.
KB: We learned how to communicate with one another from previous work in an IMPROV class and having some success in a web series (Funny or Die). At first we thought Brandon would be more of the technical guy, while I'd be more suited to work with the actors—but we started to morph into one head; one brain. We sort of had this twinspeak going on before we even got to our feature film. So that helped us. However, it did not quite prepare us for how big a mouthful a feature film is. It was difficult and stressful and we had to really learn to deal with the fact that we wrote ourselves as a couple… If you're a couple, you're both in front of the camera at the same time, a lot…so who's watching the monitor (laughs)?
SDM: Tell us about the main characters in the comedy.
BW: Elliot is very dutiful to his wife. He is kind of going along with her obsessive quality of the dog, to a point…whereas real life eventually gets in the way; his job is transferring to San Francisco. So, I think he…
KB: He picks his battles, doesn't he?
BW: Yeah, whereas Abby is intense, a fierce worker…
KB: She's a tornado and can't stop.
BW: When we created the couple we wrote it like, 'They get up at six in the morning, do their thing… they do this and then they do that…'
KB: 'They like this wine…and only this wine…'
BW: Obviously, Abby wears the pants in the family. It's very clear.
KB: Abby does everything she can to not allow for vulnerability to occur. Finally, when the dog is taken from her and she doesn't have the barrier of  'Oh I'm taking care of the dog', she is forced to open up and admit to why she's doing what she's doing [treating her dog like a baby].
Jill is obviously based on a dog-sitter I had. We got the releases…so there are no problems (laughs).
BW: Yeah her friend Jill is nothing like the character Jill.
KB: We took it and went crazy with it. Shaina Vorspan [the actress who plays Jill] is amazing. We fought for her every step of the way, over famous names, because she was just so perfect for the part.
BW: When she walked into the room we just looked at each other and knew.
KB: She [Shaina Vorspan] pulled off crazy and likable, and it's hard to find that in an actress.
SDM: What was it like shooting with a dog on set?
BW: It was great, because Kasi trained Laila for about a year a half. So, she would do all these tricks, jumping in and out of a basket. Laila likes it all—she is really just a ham.
KB: I mean honestly, she has been a little depressed, postproduction. I'm not kidding you! Cause she loved the people and loved having something to do…She might have been the best actress we had—no complaints on the lighting making her look old (laughs).
SDM: What has been the audience reception of the film?
KB: It's been great. We've played in the midwest and then also in big cities, and the reception has been the same. All different types of people, I mean its just this ripple effect of laughter (in the audience)—people will look at each other like should I be laughing at that? (Laughing) We have some controversial jokes sometimes that I think people aren't expecting with a dog on the movie poster. Everyone thinks its going to be a cute dog movie so that's also one of the first things we have to say is it is for a mature audience, I'm sorry (laughing). But, yeah the laughter—God, there is nothing like it when you're a filmmaker.