Neighborhood
Leucadia
Stats
3,000 square feet, with two bedrooms, a converted office, and an enclosed indoor/outdoor kitchen
Their Story
After 15 years on the corporate track, Betsy Vonn Ginn reinvented herself, launching Smid design studio in August 2013. Without an existing portfolio to show prospective clients, the first major project she took on was her own house. She then hosted a gathering of local tastemakers and industry insiders. Things exploded from there. Today she has a client roster that includes residential properties and commercial spaces like Lone Flag boutique in Flower Hill Promenade and the new Café Cantata, which is attracting as much attention for its hip design as for its custom coffee blends. Betsy is a flea market huntress with the keen ability to see past the wear and tear of age to the patina and jewel underneath. As the mom of two dogs and two children (Paxton, 4, and Charlie, 6, pictured above with her husband of 13 years, Stewart), she designs with lifestyle in mind. Her kids whizz through the house on their scooters and draw on the walls, so she widened the hallways and covered an alcove with chalkboard paint. It's all part of her unique aesthetic—modern and glamorous on the surface, livable and functional in reality.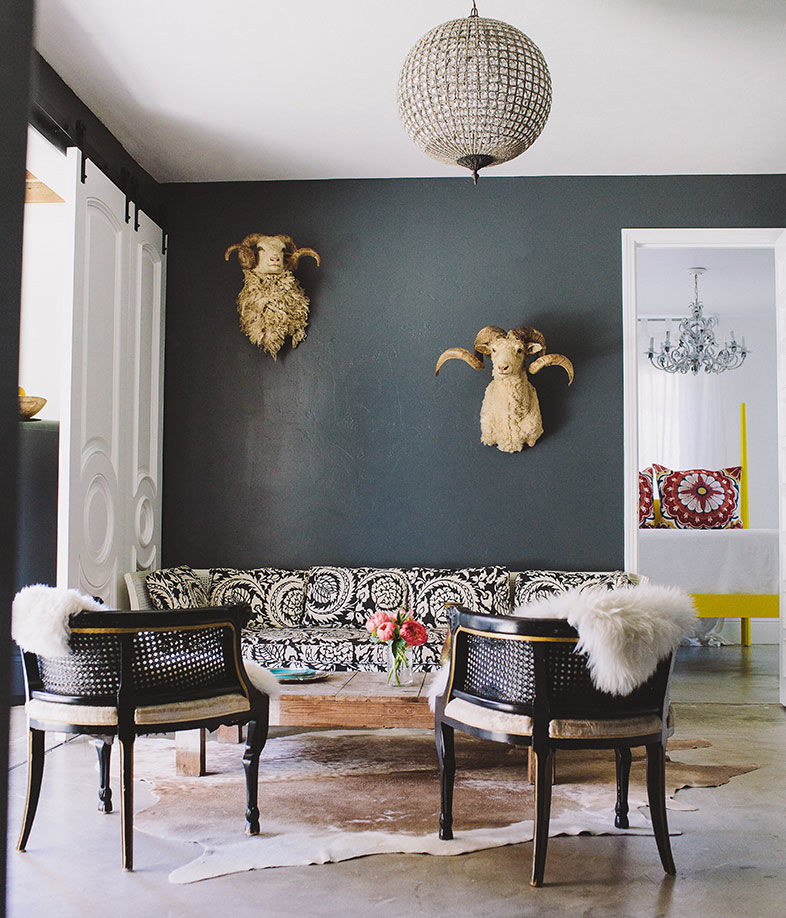 Counting Sheep
"I saw them in a consignment shop, and just knew that was it," Betsy says of the rams that adorn her living room wall. Here, cement floors add an industrial feel, while the antique chandelier (purchased at Bon Bon in Solana Beach) offers a touch of glam. Rather than recover the faded armchair cushions, she threw sheepskin over them for texture. But her favorite design element? The sliding, high-gloss white barn doors that she unearthed at Builders Trading Company in San Marcos.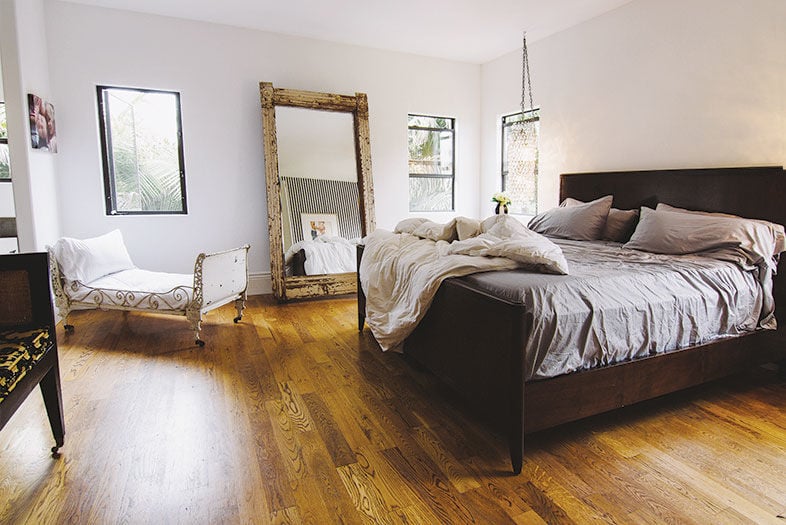 Perfectly Tousled
Like great bedhead and cold pizza for breakfast, there's beauty in the leftovers. Relaxed and effortless, these messy sheets prove things don't need to be pristine to be stylish. Betsy says, "I want to enjoy the things I love, but make it livable."
"The only reason I'm not a hoarder is because I have a design title now. When I'm at a flea market, and I see something really unique, I can't stand that someone else is going to get that prize, so even if I don't have a place for it, I have to get it."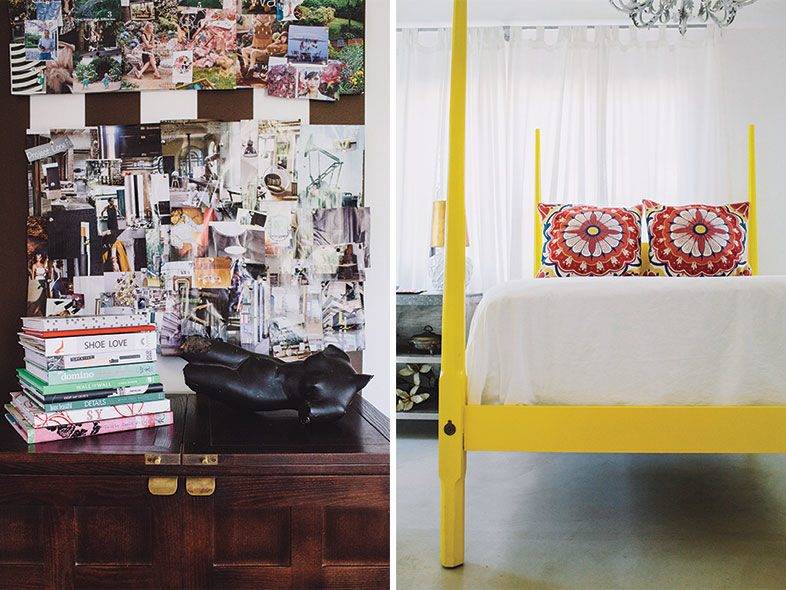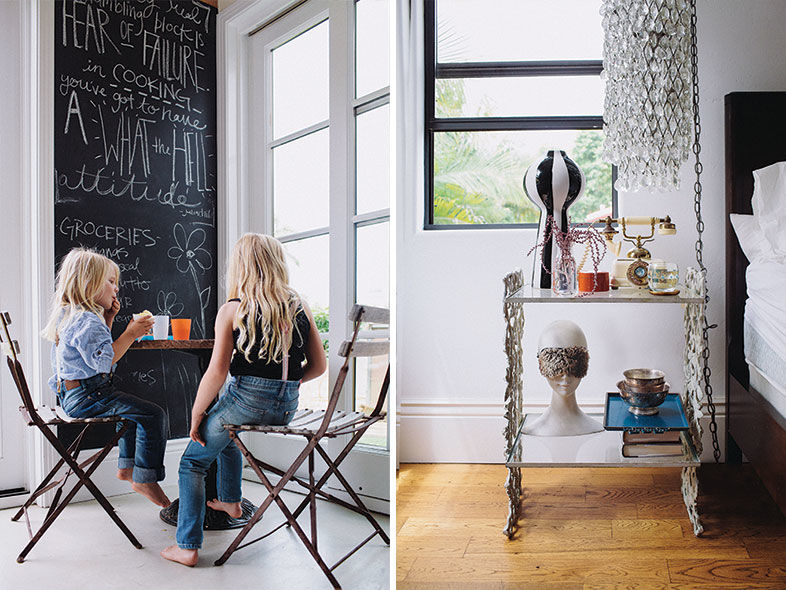 The Details
Clockwise from top left: Get inspired! Betsy stocks her project storyboards with fabric, textures, fashion spreads, images of construction sites and vintage icons, or anything else that strikes her fancy; the designer revived her childhood bed with some high-gloss color—Unmellow Yellow by Behr; a mannequin head with a faux fur sleep mask serves as the ultimate conversation piece; Pax and Charlie enjoy an afternoon snack in the indoor/outdoor kitchen. Betsy says, "I love mixing things up and throwing things off to create something unexpected."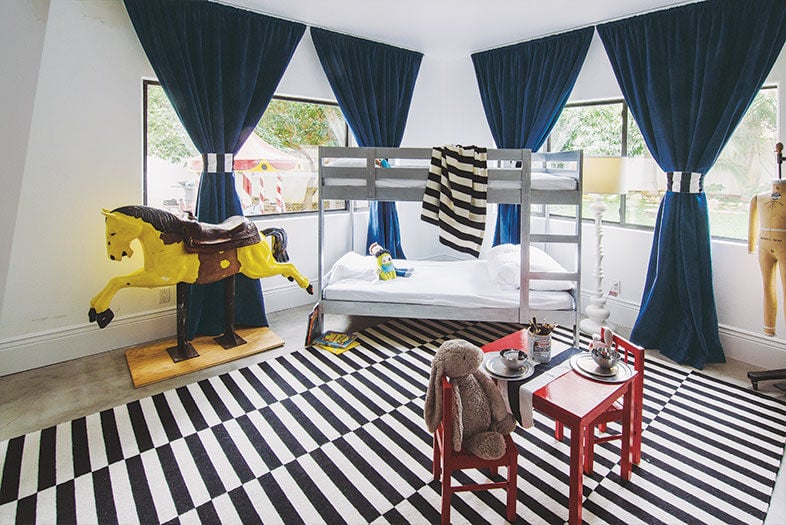 Room to Grow
Because Betsy's "littles," as she fondly calls them, share a room, the designer aimed to create a look that was gender neutral. She added the heavy velvet drapes for height and drama, which complement the glamorous feel found throughout the house. Curtain rods made from galvanized plumbing and a bunk bed painted with Rust-Oleum's liquid metallic silver showcase her industrial side. Betsy found the antique horse at SoLo on Cedros. (Striped rug available at Ikea.)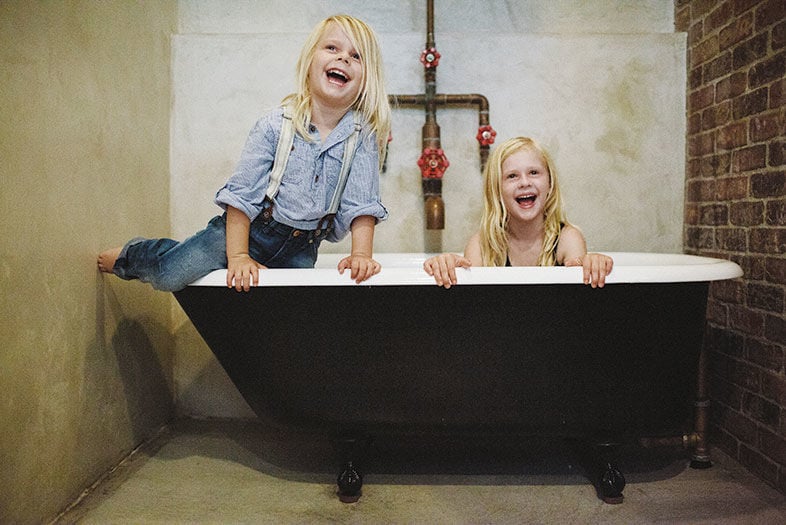 Peek-a-Boo
The kids' bathroom is industrial chic with exposed brick and cement floors. Betsy painted an antique claw-foot tub black and custom designed the faucets out of copper plumbing.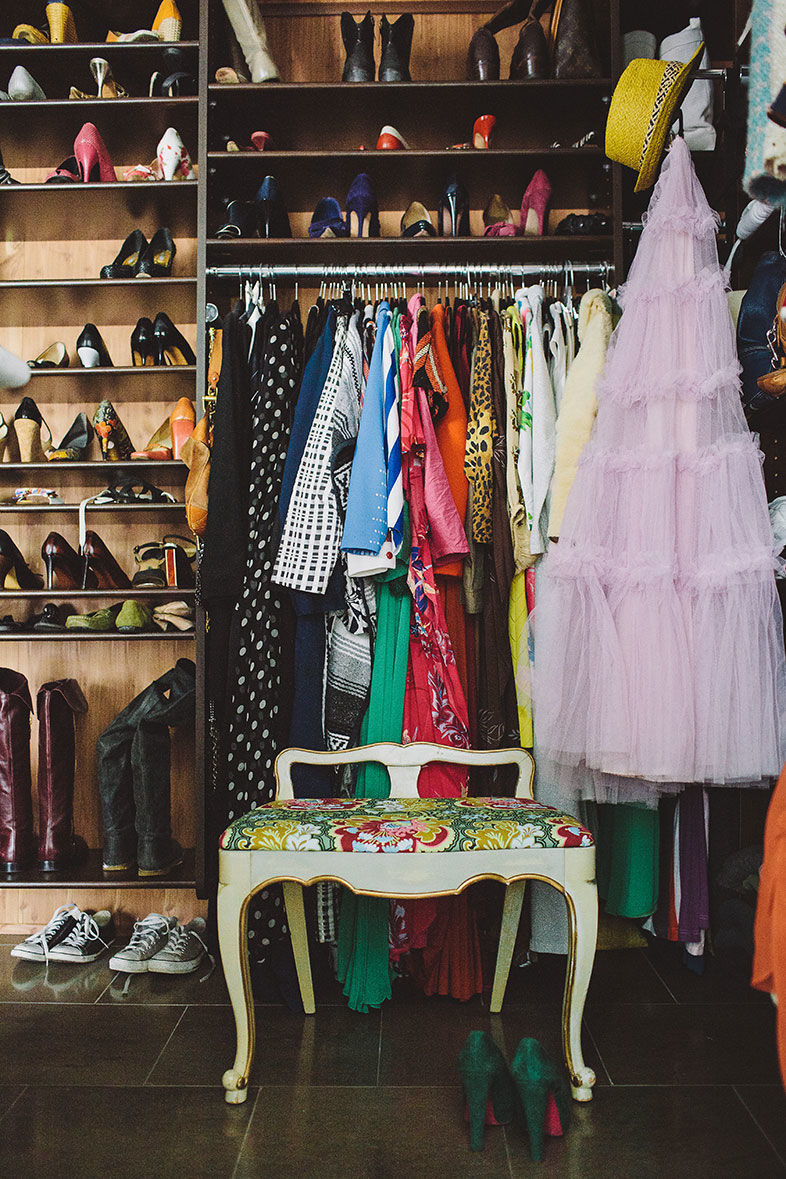 Vintage Queen
Betsy credits her childhood in South Carolina and seven years in New York City as her main style influences. "I think New York made me more daring in terms of what I wanted to pair together," she says. The orange maxi she wears in the top photo once belonged to her mother. And as for that positively Carrie Bradshaw pink tutu? "I love this skirt. I put it on to inspire me. It is actually an old prom dress that I scored last summer. I cut the top off because it felt too much like a princess."