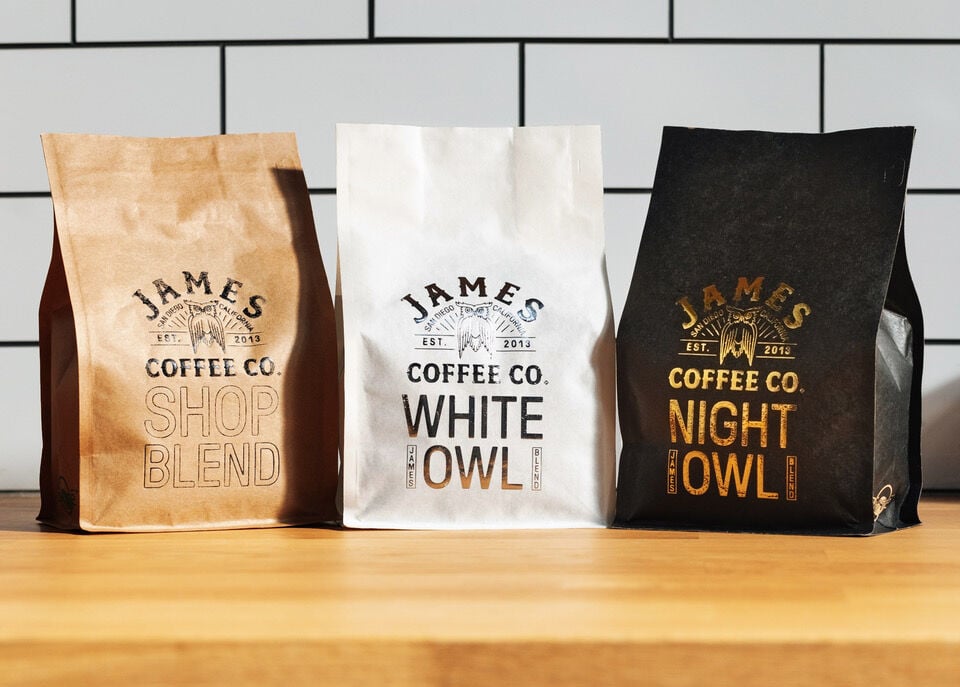 This week on Happy Half Hour, our food and drink podcast that won a national award (and we'll never shut up about that fact), I try, somewhat awkwardly, to establish nostalgic bonds with David Kennedy, co-owner of James Coffee Co.
David is the younger brother of a longtime friend (Lisa Kennedy, who owns The Corner Mercantile & Eatery in La Jolla). I vaguely remember going over to their house when we were in high school, and I'm fairly certain I falsified a memory of him learning guitar while we tried to study (David is a member of the band Angels & Airwaves with Tom DeLonge of blink-182, and he played in Box Car Racer).
David co-owns James Coffee Co with his wife, Carina (the way he tells it, there wouldn't be a coffee company without her and her math brain, or at least her insistence that they manage how much money comes in and how much goes out), and his brother, Jacob. "I got really into coffee shop culture when I was traveling," David says of the start. "I bought an old popcorn maker and started roasting my own beans."
We have an honest conversation about their efforts to get rid of single-use coffee cups and be as environmentally responsible as humanly possible without losing their shirt. James was one of the first shops to get rid of single-use cups and use only durable cups that customers could return and fill. The project didn't really work, he admits. They're still offering it, tinkering with it. But being more earth-friendly while maintaining a sustainable business model isn't an easy thing, and we talk through that frustration.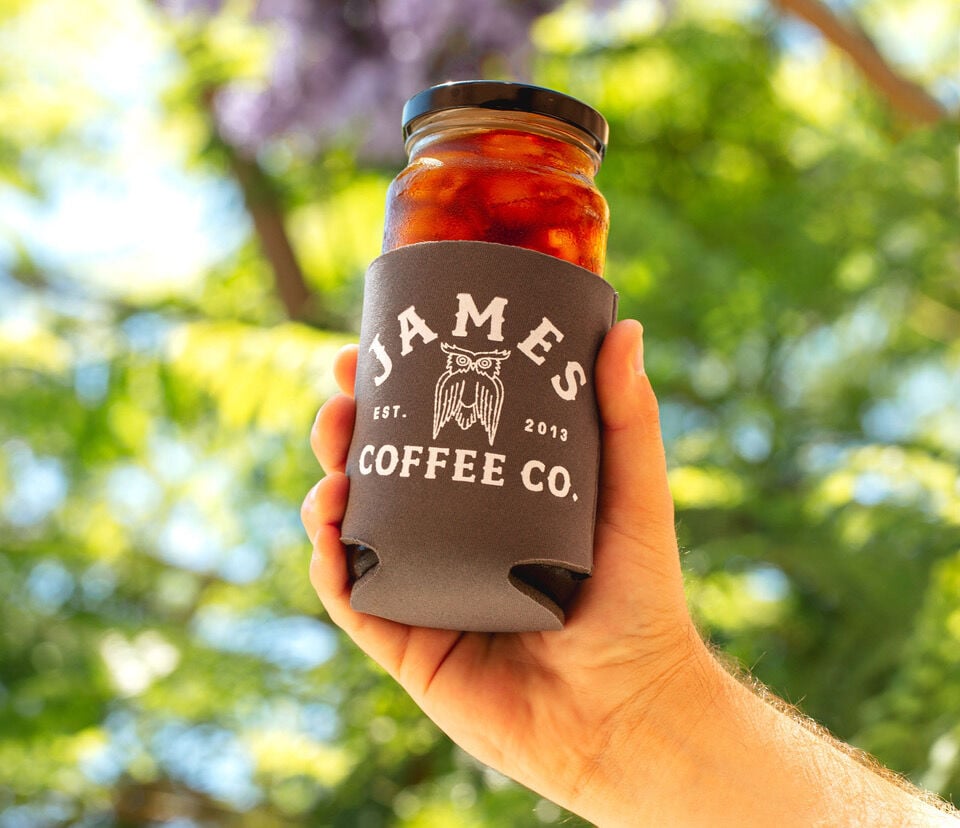 In "Hot Plates," big chef-swap news this week. Jon Bautista, who was lobbed a James Beard nomination for his work at Kingfisher last year, left to join the wholly resuscitated and thriving SD classic, The Fishery. Meanwhile, Mike Reidy—a major player in The Fishery's reemergence—accepted a job at Callie next to Travis Swikard (arguably one of the best restaurants and chefs in the city). That's a hell of a team now.
Downtown gets a new rooftop restaurant, Leave of Absence. The exec chef guiding its light has San Diego roots—Jason Neroni, who longtime food fans might remember as the chef at Blanca in the naughts. Neroni's a talent, and now he's got some operational kitchen wisdom. Good to have him back in the scene. Leave of Absence will be doing wood-fired dishes and brunch options like flatbread pizza with squash blossoms and chicken shawarma meatballs.
In the holy-shit sushi world, Sushi Ichifuji just opened—a new, 10-seat, omakase-only restaurant in Linda Vista, helmed by chef Masato Fujita, who previously worked at Michelin-starred restaurants Soichi and Tadokoro.
Meanwhile, family-owned Our Green Affair is set to open its third location in Solana Beach this summer, featuring clean, healthy food created after one of the family members was diagnosed with Crohns. And in "we can't believe it took this damn long" news, agua frescas have joined the national "harding" movement, in which every liquid that isn't motor oil is getting spiked with booze. El Perquito hard agua frescas are available in the Miralani Makers District. The famed NYC street cart chain Halal Guys have announced plans to open not one, not two, but five locations in San Diego. David and I discuss our excitement and, at the same time, our love for the hometown favorite Kebab Shop.
In "Two People, Fifty Bucks," David K. and Carina are ordering the green goddess bowl and avo toast at Little Lion Cafe in Point Loma, while Troy calls out the shawarma at Hillcrest's Furn Saj. Meanwhile, David M. is hoofing it north of the 8 for a meatball sandwich at Tinleaf Fresh Kitchen in Carlsbad.
See you next week.