Welcome back! This episode is brought to you by our sponsors, Angela Landsberg, executive director of North Park Main Street, and Lara Worm, co-founder of Bivouac Ciderworks, a craft cider company with a taproom in the heart of North Park. Bivouac is currently distributed in bars and restaurants around San Diego County and will be releasing cans next month.
This week's special guest is Steve Billings, the owner of U-31 in North Park and the newly opened Original 40 Brewing Company on University Avenue, which Troy got the First Look at before it opened. Steve is a fifth-generation San Diegan, and he and his wife first got into the business when they bought Buster Daly's bar in back in 2006, and converted it into U-31 the following year. North Park was a very different neighborhood back then compared to what it is now. Steve shared in the podcast that after just two weeks of opening his first bar, there was a drive-by shooting right outside the front doors.
Original 40, which Steve says is "a brewery that your wife or girlfriend is going to want to go to," is their second business in the neighborhood. When Steve talked about opening up Original 40, he said his wife had two conditions: they had to serve wine and it had to be comfortable. Steve bought some comfortable chairs online and learned how he could sell wine out of a brewery.
Steve gave us two picks for Two People, $50: Tribute Pizza and One Door North. Erin shared that she, after two years, was finally able to try Himitsu, a small sushi bar in La Jolla. Lauren's pick this week was Goi Cuon, a new Vietnamese restaurant in Hillcrest dedicated to making spring rolls. Troy's pick was Chiko, a Chinese/Korean restaurant that's been on his radar for a while now—he said the orange-ish chicken dish there is a must.
In Hot Plates, we talked about the fraud investigation of Gina Champion-Cain, who owned the Patio restaurants and Saska's in Mission Beach. The Union- Tribune released a story talking about whether or not her restaurants will be shut down as this investigation moves forward. The Windmill Food Hall just opened in Carlsbad, and this is the area's first food hall establishment. It has 14 vendors in the 12,000-square-foot space including Cross Street Chicken and Beer, Notorious Burgers, and The Poke Stand. A new Italian restaurant, Siamo Napoli, just opened in North Park on 30th Street taking over the space where Il Postino was. And lastly, Restaurant Week is coming up with some great deals at over 180 restaurants all over San Diego!
This week's Hot Topic is an innovative Happy Hour happening in Finland, which we read about in the New York Times: A grocery store happy hour! S-market, a grocery chain that has 900 stores throughout the country, has a "happy hour" every day at 9 p.m., where they slash the prices of food that is about to expire by 60 percent. The store started this to combat food waste, and local shoppers the New York Times interviewed said they're getting hooked on the sales and are becoming "regulars" at the store. In the podcast, Steve says that in his restaurant, he would much rather not have enough of something than throw it away.
Thanks for listening, and we'd love to hear from you! Call us at 619-744-0535 and leave a message. Or if you're too shy to call, you can email [email protected]. You can give us your recommendations for Two People, $50, tell us about any news happening in San Diego's culinary world, let us know who you'd like to hear featured as a guest on the podcast, or ask Troy a question!
Subscribe to the Happy Half Hour on Spotify, iTunes or Google Play, or listen below.
Recent Episodes
For all previous episodes, click here.
Would you like to sponsor a podcast episode at your restaurant or bar? Email David, our producer and digital media director.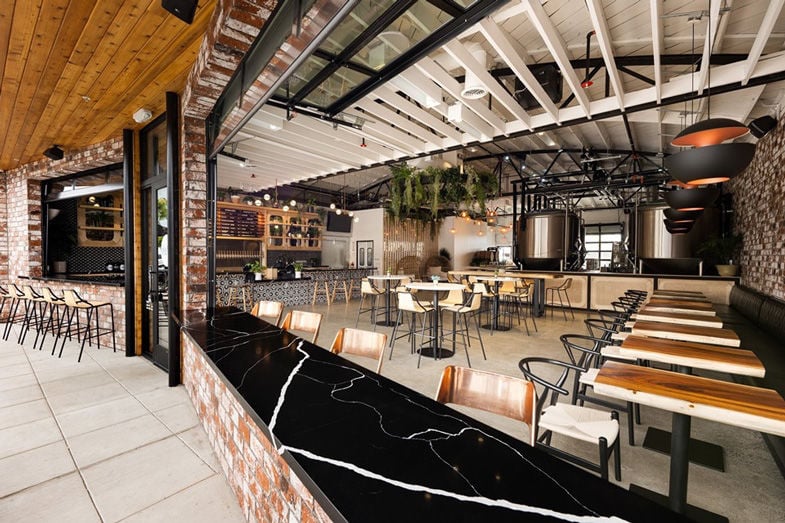 Original 40 Brewing Company | Photo by Spearhead Media