This week we have a very special episode, and it's a must-listen. Our guest is Steven Yeng, the co-founder of OB Noodle House, The Holding Company and Skrewball Peanut Butter Whiskey, which launched nationally and will be available in all 50 states by the end of this month. Steven is a Cambodian-born immigrant and polio survivor, and he grew up in Ocean Beach, where he met his now-wife, Brittany. He's known in the community for his philanthropy, and last year he won the Humanitarian of the Year award from the Ocean Beach Town Council.
Steven shared his origin story with us, and it's harrowing: His family had to flee Cambodia to escape the Khmer Rouge, and they spent four years in a refugee camp in Thailand before they made it to the U.S., eventually settling in Ocean Beach. We learn how Steven's parents started working at, and eventually bought, OB Donuts, and the backstory to Steven and his brother opening OB Noodle House. Skrewball Peanut Butter Whiskey is his latest venture, which he co-founded with Brittany, who has a master's degree in chemistry. Steven tells us that peanut butter has a special place in his heart, because it's one of the first foods he was introduced to when he arrived in the U.S.
David's 60 second beer review this week is Pedaleur, a limited edition session IPA collaboration brew from Rouleur Brewing Company in support of Padres Pedal the Cause, a leading nonprofit that raises money for cancer research organizations throughout San Diego.
For Two People, $50, Steven chose a gathering of street food vendors stationed at the Wat Sovannkiri Buddhist temple in City Heights. He said it's a great place to pick up some yakitori and papaya salad, and your money goes to helping those in need. Lauren's pick this week was Animae, where she tasted several of their appetizers. And Troy's pick this week was the mango habanero and chipotle hot wings at Buffalo Wing Star in Linda Vista.
In Hot Plates, we talked about two recent restaurant closings: The Land & Water Co. in Carlsbad and Oscar's Mexican Seafood in the East Village. We also talked about "Wasted," an event where 35 local and national chefs and bartenders are challenged to prepare dishes and cocktails using food that might otherwise be thrown away. There was also a lot of chicken news this week: Dave's Hot Chicken is expanding from Los Angeles and opening in San Diego, and Pluck just opened in Carlsbad. This is perfect timing because Troy is currently on the hunt for the best chicken wings in San Diego.
Thanks for listening, and we'd love to hear from you! Call us at 619-744-0535 and leave a message. Or if you're too shy to call, you can email [email protected]. You can give us your recommendations for Two People, $50, tell us about any news happening in San Diego's culinary world, or let us know who you'd like to hear featured as a guest on the podcast.
Subscribe to the Happy Half Hour on Spotify, iTunes or Google Play, or listen below.
Recent Episodes
For all previous episodes, click here.
Would you like to sponsor a podcast episode at your restaurant or bar? Email David, our producer and digital media director.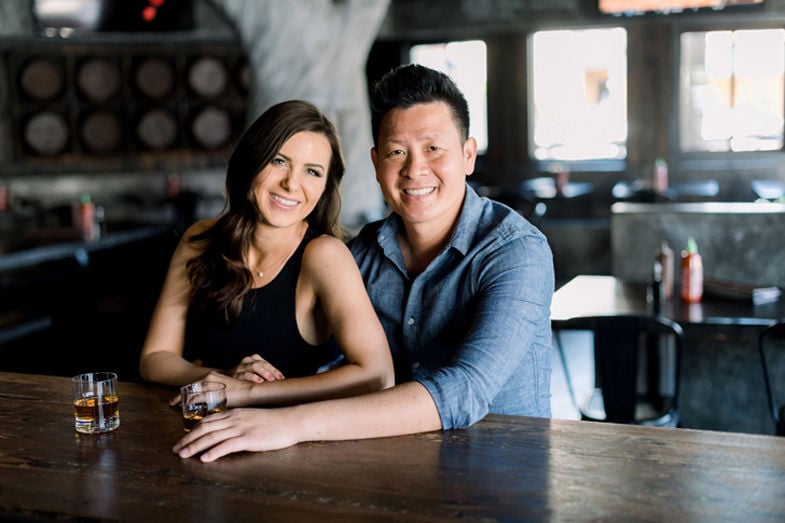 Steven and Brittany Yeng | Photo: Courtesy of Crowe PR