Welcome back to Happy Half Hour! This week's special guest is Gustavo Tonella of Doggos Gus in Imperial Beach. Gustavo started his catering company in 2010, serving up Sonoran-style bacon-wrapped hot dogs in brioche buns. Then in 2019, he opened a brick-and-mortar restaurant right across from the IB pier, and introduced micheladas and White Claws topped with chamoy to his menu.
Gustavo grew up eating street hot dogs in Mexicali, where they're wrapped in bacon and topped with chipotle, vegetables, and meats like carnitas—what he says is a far cry from the hot dog offerings in the US. Realizing the missed opportunity, Gustavo started his catering business serving this specialty. He saw a lot of success in the wedding industry, as hot dogs are a popular late-night snack after all the pomp and circumstance is over. Two of his favorite menu items are the Sonoran, topped with queso, Soyrizo, and Ruffles chips, and the Surf and Turf, loaded with shrimp, bell peppers, and chipotle sauce.
Like many businesses, the pandemic brought major challenges for Doggos Gus. Even though it's now operating out of a storefront in Imperial Beach, a chunk of their income still came from catering, and 92 weddings and events cancelled practically overnight, resulting in a loss of nearly $100,000. In order to keep his staff employed, Gustavo started the Help the Helpers campaign, where customers could buy a catered meal for a front-line worker and he would match it with a second—and personally deliver the meals to the hospitals with the help of his employees.
Gustavo credits this and a few other things with his being able to keep his team together even while restaurants are struggling to find help: He aims to create a fun, family-like atmosphere where his staff enjoys coming to work and gets to have fun experimenting with new ideas. Splitting tips evenly between front- and back-of-house staff was another incentive to keep his cooks motivated. Doggos Gus has been seeing some increase in business as weddings are starting to book catering again, and Gustavo experienced a little bit of normalcy as he recently catered for an outdoor concert and saw people enjoying themselves outside without masks on.
In Hot Plates, An's Dry Cleaning, whom we voted best gelato in San Diego, is opening a second location in Del Mar Plaza in June. Two new food-and-drink spots are coming to Seaport Village: Zytoun Gourmet Mediterranean, from the owners of Aladdin in Clairemont; and a distillery and seafood restaurant by Old Harbor Distilling. Scoop San Diego is hosting a drive-thru ice cream festival this Saturday from 11 a.m. to 6 p.m. with 23 samples of ice cream and gelato available. The event is a fundraiser for Feeding San Diego, and tickets are $45 for a carload of up to four people.
In Two People for Takeout / Two People for $50, Gustavo's pick is Madison in North Park, where he always orders the pork chop. Noah's pick for the week is Bánh Mì Hôi An in Point Loma for their Hôi An special, a fresh, inexpensive sandwich. Troy chose the recently redesigned Neighborhood for their new atmosphere and crispy potato served "animal style." David tried out the brunch at Civico by the Park, where he got the French toast and tableside gelato.
Thank you for listening! As always, we want to hear from our listeners. Need a recommendation for takeout? Is there a guest you want us to book on the show? Let us know! You can call us at 619-744-0535 and leave a voicemail, or if you're too shy, you can email us at [email protected]. See you next week!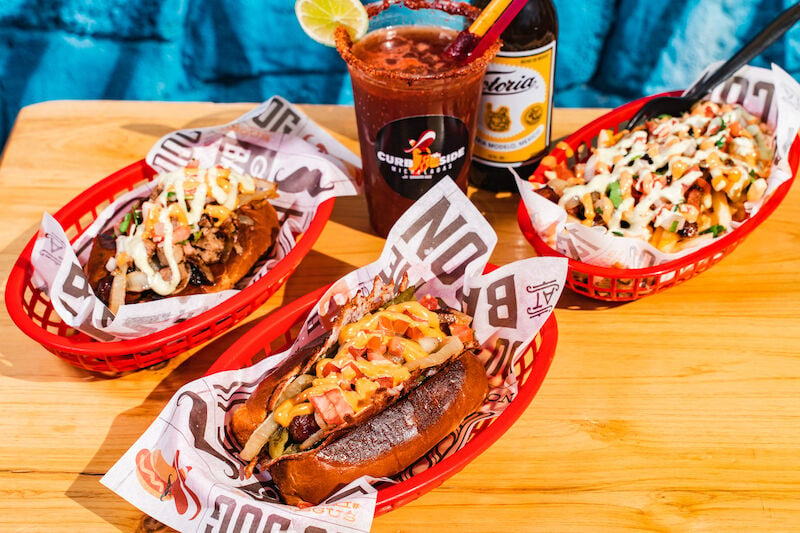 James Tran and Valerie Durham