Welcome back to Happy Half Hour! This is our first live in person recording of the podcast since this spring. We taped this episode, at our sponsor, the Hotel Del Coronado's brand new Sun Deck, a bar and restaurant that overlooks Coronado Beach. It was the first time in seven months we've been outside and together for a podcast (socially distanced, of course!), and the fresh air and ocean view made for a welcome return.
Today's special guest is Stefan Peroutka, the executive chef right here at Hotel del Coronado. Stefan is from Austria, and he was classically trained at the Salzburg Hospitality and Culinary School. He earned his chops as executive sous chef of the Michelin-starred Aureole restaurant at Mandalay Bay in Las Vegas, where he was invited to join the prestigious Les Amis d'Escoffier Society of Las Vegas. After serving as executive banquet chef of The Venetian and The Palazzo Resort, he landed at Hotel Del, where he now oversees the resort's wide range of culinary offerings.
Stefan walked us through some dishes that are on the Sun Deck's menu (which Troy and David made sure to sample right away). This included the California mezze plate, which features whipped goat cheese and edamame lemon hummus, and charred octopus served with fennel and olive oil puree, David's pick as the best. Stefan says the menu features light California fare with lots of vegetables and seafood.
Stefan spent a lot of his career in Portugal. He shares that the culinary scene around Europe is completely different from Vegas, something he had to navigate when he moved and started working as a sous chef at Stratosphere Casino and Resort.
Stefan talks about the pressure of being a chef, and how different cooking as a chef is versus cooking at home or even at culinary school. He says it's a stressful profession, and while you can be an amazing cook, running a restaurant or an even bigger operation like in a hotel is not something that can be learned in school. While he said working in Las Vegas was an awesome run, California was always on his radar as he looked for his next step.
How has the hotel been operating during the pandemic? The Del has been undergoing a $400 million makeover and continued the work this summer, opening three new eateries. Stefan says he feels fortunate that the hotel has a large outdoor space, including a big lawn and enviable beachfront property. Along with the Sun Deck, Babcock & Story Bar opened this summer, and Stefan talks about everything that went into rebuilding as they looked to restore the bar to its former glory.
In Hot Plates, the beloved Rubio's, which was founded in San Diego, just filed for Chapter 11 bankruptcy. They closed restaurants in Colorado and Florida, though none yet here in California. They are operating as normal, so you can still get the famous fish tacos. Martinis Above Fourth in Hillcrest announced they filed for Chapter 7. The restaurant and bar was known for its live shows and extensive martini menu, but the owners' post on Facebook sadly said that it wouldn't make sense to reopen. We tried to end this segment on a high note: El Cruce+241, a restaurant in Chula Vista devoted to Baja cuisine and ingredients, is finally open on Third Avenue. It specializes in seafood, wine, and beer from Baja with dishes like grilled octopus, oysters, fish tacos, and craft beer from breweries such as Tijuana's Insurgente.
In Two People for Takeout/Two People for $50, Stefan recommends the seafood at TJ Oyster Bar. Marie went with ice cream from Salt and Straw: They have a special Halloween edition that mixes matcha ice cream with chocolate-covered crickets. Troy continues his ramen quest at Hironori Ramen in Hillcrest, giving rave reviews of the shoyu ramen and creamy tonkotsu ramen. David ventured out of North Park to Miramar to the Ballast Point Tasting Room, putting aside his dislike of pumpkin spice for the Pumpkin Down Scotch Ale.
Thank you for listening! As always, we want to hear from our listeners. Do you have a question for Troy? Need a recommendation for takeout? Is there a guest you want us to book on the show? Let us know! You can call us at 619-744-0535 and leave a voicemail, or if you're too shy, you can email us at [email protected]. And if there's another patio you think we should record on, let us know!
This episode is sponsored by Hotel Del Coronado.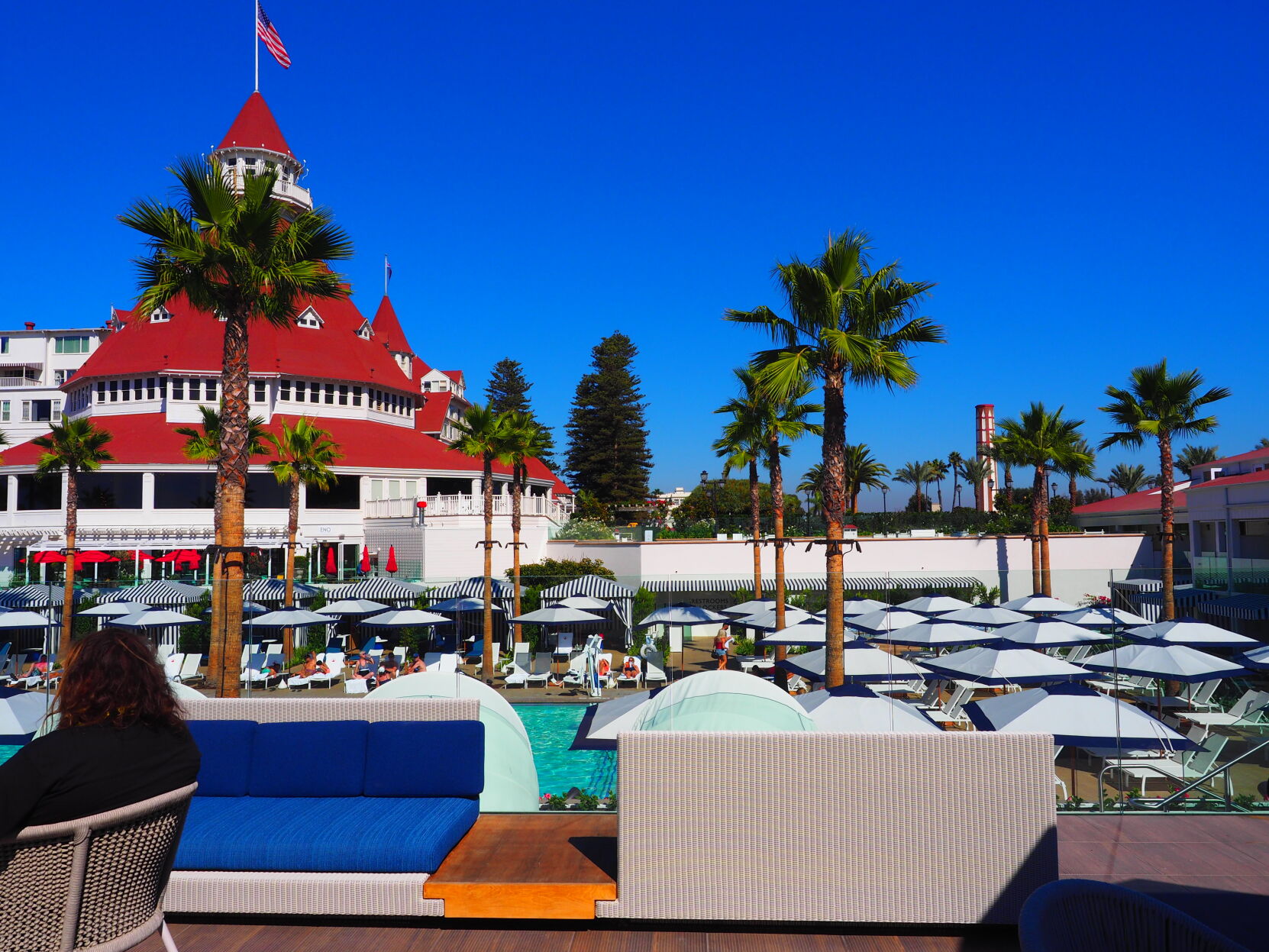 Samantha Daichendt