Hope you enjoyed the holiday weekend! We have another great episode of the Happy Half Hour for you. This week, we're recording from our sponsor, Sycuan Casino, which recently underwent a huge renovation, and are taping at their new restaurant, Bull & Bourbon Steakhouse. We talked with Marcel, Bull & Bourbon's sous chef, about the restaurant's in-house dry-aging program and a special tomahawk steak that is aged for 120 days.
Our special guest this week is Arturo Kassel. He's the CEO of Whisknladle Hospitality, which brought us restaurants like PrepKitchen, Catania and of course, Whisknladle in La Jolla. In 2017, Arturo sold the company's Prepkitchen locations so he could focus on his next big project, Gravity Heights, a brewery in Sorrento Valley that just opened in January of this year. Gravity Heights was just named the all-around winner of Best New Brewery in our annual Best Restaurants list—this means that both Troy and our readers agreed that Gravity Heights deserved the title. Arturo is also working on another project in Sorrento Valley, a 10,000-square-foot food hall called Park Commons. His pick for Two People, $50, was The Fishery. Troy liked Cross Street Chicken and Beer, and Lauren's pick was Morning Glory (which Troy reviews in our upcoming August issue!)
In Hot Plates, we talked about Troy getting the First Look at Ciccia Osteria, Mario Cassineri's new Italian restaurant in Barrio Logan, Puesto taking over Gordon Biersch's location in Mission Valley and starting their own brewery, and Home & Away, a two-story cocktail and beer bar, opening in Encinitas.
This week's Hot Topic: soon, you'll be able to order food from McDonald's, and even a burger from Juniper & Ivy, and have it delivered by drone. San Diego is one of ten cities in the country where the tech giant partnered with McDonald's to test out drone delivery.
We got an email from a listener who needed a recommendation for good Mexican pastries and desserts—listen to find out what Troy and Arturo had to say.
As always, we want to hear from you! Call us at 619-744-0535 and leave a message. Or if you're too shy to call, you can email [email protected]. You can give us your recommendations for Two People, $50, tell us about any news happening in San Diego's culinary world, or let us know who you'd like to hear featured as a guest on the podcast.
Subscribe to the Happy Half Hour on Spotify, iTunes or Google Play, or listen below.
Recent Episodes
For all previous episodes, click here.
Would you like to sponsor a podcast episode at your restaurant or bar? Email David, our producer and digital media director.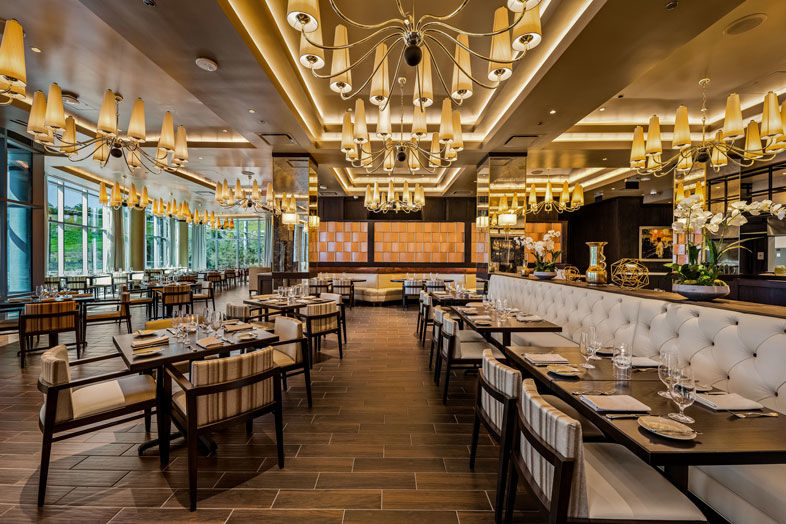 Bull & Bourbon | Photo courtesy of Clique Hospitality