This week's special guest is Justin Vaiciunas, the executive chef at the new Guild Hotel on Broadway, and its in-house restaurant Luca. Justin is from Detroit, where he was the chef at the city's prestigious Detroit Athletic Club. He loves to travel and experience new cultures, foods, and cooking techniques. His taste for adventure recently brought him to Food Network to compete on the show, "Cutthroat Kitchen," where he had to make breakfast tacos on a pullout couch.
Justin gave us two picks for Two People, $50: Stone Brewing in Liberty Station and Nolita Hall. Erin shared that she celebrated her 11-year anniversary with her husband at one of their favorite restaurants, Jaynes Gastropub, where she can always count on a perfect martini and classic menu. Lauren's pick this week was Bivouac where she was able to try some great, dry ciders (even a festive Pumpkin Spice flavored cider). Troy's pick was Galaxy Taco, where he chose their grilled yellowtail taco as the Very Important Taco in April.
In Hot Plates, we talked about the latest update on the Patio restaurants: The Patio on Goldfinch, Fireside by the Patio, The Patio Express, and Bao Beach and Swell Coffee have closed. Blade 1936 is now open in Oceanside and Troy got the First Look at this new Italian restaurant named after the newspaper that occupied the space in the '30s. WhipHand in the East Village closed. Lastly, there will be a food festival at the San Diego Asian Film Festival called "Chew the Scene."
This week's Hot Topic is DoorDash's recent security breach, where nearly 5 million customers and drivers may have had their personal data exposed, according to the Washington Post. Jason shared on the podcast that Luca does partner with all of the delivery apps, and is hoping to gain more business through them.
Thanks for listening, and we'd love to hear from you! Call us at 619-744-0535 and leave a message. Or if you're too shy to call, you can email [email protected]. You can give us your recommendations for Two People, $50, tell us about any news happening in San Diego's culinary world, or let us know who you'd like to hear featured as a guest on the podcast.
Subscribe to the Happy Half Hour on Spotify, iTunes or Google Play, or listen below.
Recent Episodes
For all previous episodes, click here.
Would you like to sponsor a podcast episode at your restaurant or bar? Email David, our producer and digital media director.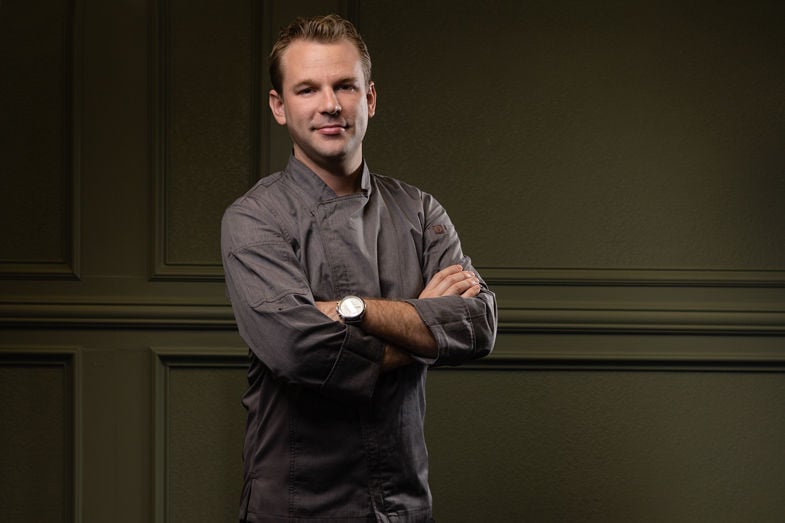 Photo courtesy of Raluca State Public Relations